Real Time host Bill Maher says the current Writers Guild of America strike has some good arguments, but doesn't understand why they think writers "owed a living," while also blasting his fellow late-night hosts.
Another day, another hot take by Real Time host Bill Maher. This time, he's taking on the ongoing Writers Guild of America strike as well as his fellow late-night talk shows and hosts. Let's just say, they're not great at what they do … and he is.
In fact, talking about the general "art form" of late-night television, which has been around just about as long as television has, Maher can't believe it's even still around.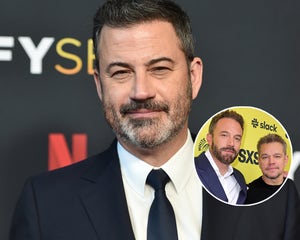 Jimmy Kimmel Was 'Intent' on Retiring Before Strike, Affleck and Damon Offered to Pay Staff
"No knock on the guys who do it," he said. "I don't know how this art form has survived up until now."
Unable to render YouTube Video.
A little later in his chat with comedian Jim Gaffigan on his own Club Random podcast, though, Maher did knock on the guys pretty hard. It came when Gaffigan tried to argue on behalf of late-night TV and the hosts, saying it's about the relationship they build with their audiences.
Gaffigan said that viewers come back for their specific take on topics, but Maher didn't see that at all. "It's not a take. Those guys don't have takes," he argued. He then touted his own horn, adding, "I have takes. I have a take on things. What they do is exactly what a liberal audience wants them to say about that. That's not a take."
It's certainly an interesting perspective. Stephen Colbert's Late Show surged to the top of the ratings amid the Trump presidency largely because of his strong political stance which was, yes, liberal. But does that mean it's not Colbert's actual take?
Even Maher seemed unsure of his position, waffling a little bit on whether or not the hosts mean what they say. "I'm not saying it's not sincere, I guess it is on their part," he conceded. "But even if it wasn't, that's what they would do."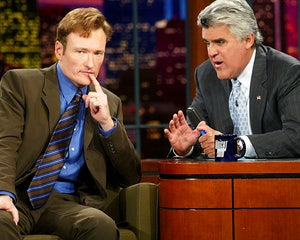 Leno Says He Never Intended to 'Deliberately Sabotage' Conan, Apologizes to Kimmel
Maher also patted himself on the back when talking about the state of late-night in general. After he said he wasn't sure how it's survived at all, he created an exception for himself and his HBO show.
"I understand why I'm on," he said. "Because I'm on HBO. It's an hour without commercials. And, I mean sorry, it's just a lot more entertaining, it's a lot more edgy, it's a lot more unpredictable, it's true talk."
At the same time, he seemed in some ways to be railing against the linear, broadcast television format, in general. He argued that "in an era when you can do anything at any time" and "you can watch anything," why would you tie yourself to a late-night show when its airing.
That, of course, has been a seismic shift in how people consume television, which many late-night shows have embraced. James Corden's "Carpool Karaoke" segment and others quickly found viral fame online, while monologues and guest segments are often consumed via YouTube and social media.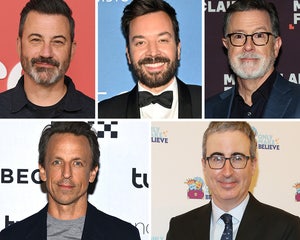 Five Late-Night Hosts Unite for New Podcast to Support Staffs During Ongoing Strikes
It's not a very hot or fresh take, as television has been dealing with this transitional era for years now. There are those who consume their media exclusively on demand, but there are others who enjoy the passive viewing of programming on television — even if they are DVRing it for later, or so they can skip ads.
Maher even argued, as a segue into on of his "edgy" takes, that the current late-night hosts would just stay out on strike forever because "this is the correct point of view on that."
"Those guys would never go back," he argued. "This strike would go on 'til the 24th Centrury. They would stay out."
As for the strike itself, Maher tried to have it both ways. After all, he has writers on his team. "I feel for my writers. I love my writers. I'm one of my writers. But there's a big other side to it," he said. "And a lot of people are being hurt besides them."
He then tried to say it had quickly become a bipartisan thing where there is no middle ground. "You're either for the strike, like they're f–king Che Guevara out there," he said. "You know, like this is Cesar Chavez lettuce-picking strike or you're with Trump."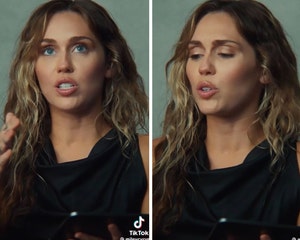 Miley Cryus Details Being Strapped to a Gurney in South Africa While Her Malibu Home Burned Down
He also acknowledged, as he put it, "they're getting screwed a bit by the streamers." But mostly, he thinks they're trying to fight for something that shouldn't be a guarantee.
"What I find objectionable about the philosophy of the strike, it seems to be they have really morphed a long way from 2007 strike where they kind of believe that you're owed a living as a writer and you're not," he explained. "This is show business. This is a make-or-miss league."
He didn't fully explain what that meant. The WGA strike is arguing that too many writers are below a living wage now, that this number has increased precipitously in this age of streaming — which Maher acknowledged "a bit." It's not that all writers are owed a living wage, but that writing should be a career that can offer that.
Maher also tried to argue that they chose the wrong time to strike, saying that they have no leverage and that the strike isn't even being felt by consumers "down the pipeline."
This, however, isn't exactly true. After all, the fall season kicks off this month on a broadcast television landscape that is basically missing all of the biggest scripted shows. And, of course, late-night television remains dark.
The WGA has been on strike now for 126 days, as of this writing. They were joined 53 days ago by SAG-AFTRA, the actors union. Hollywood is effectively shut down, so it's just a matter of time before the financial impact is dramatic enough to bring everyone to the table.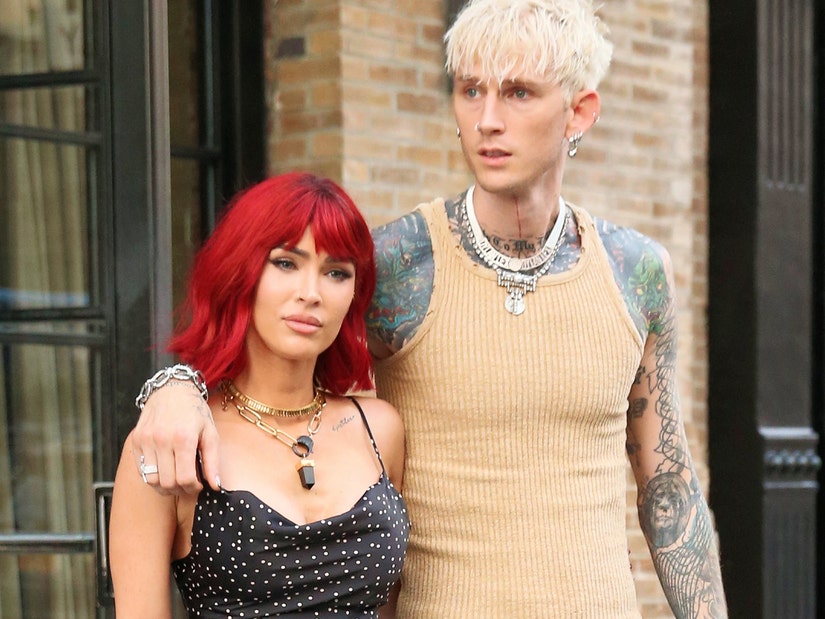 Source: Read Full Article