Robert Pattinson isn't exactly a typical Hollywood celebrity. Popping up in the "Harry Potter" film franchise before finding fame as one of the stars of the "Twilight" movies, the actor notoriously hated the teen-dream vampire flicks that shot him to the top of many industry A-lists. From there, he embarked on an arguably unexpected career path that has involved everything from indie flicks to a turn as one of the most popular superheroes of all time. At the same time, he has attracted loyal fans, kept longtime devotees, and earned new admirers as he transitioned from a crush-worthy heartthrob to a respected entertainment industry mainstay.
However, how much do you really know about Pattinson? Seemingly unafraid to stay true to himself when it comes to both his professional choices and personal opinions, he appears to live his life in a way that suits him as opposed to one that caters to the spotlight. "Pattinson isn't just one of the most talented celebrities in Hollywood right now, but one of its most interesting," Insider pointed out. Bringing up everything "from the stories that come out of how he prepares for roles, to the wild comments he makes in interviews," the outlet rightfully noted that "he is never a bore."
That's why there may be plenty of facts about Pattinson that you never knew. Keep reading to find out some info about Robert Pattinson that might totally surprise and intrigue you.
Robert Pattinson was expelled from school over adult magazines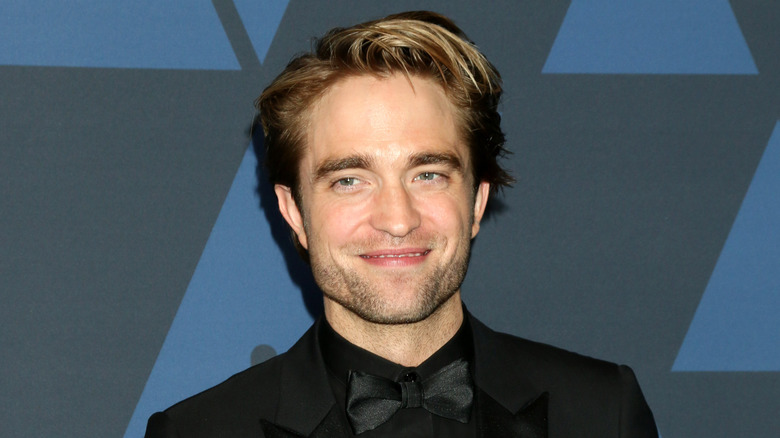 Robert Pattinson isn't exactly the kind of star who's afraid to do what he wants to get what he wants even if that means not always doing the right thing. That's apparently part of his charm. In fact, even fellow star Rachel Weisz commented on his non-conforming ways, telling MTV, "He's got a whole rebel vibe, right? Yeah, that was his vibe. He's kind of iconoclastic. He's flaunting authority." Beyond that, People noted that he's taken on that same kind of onscreen role when he appeared in "Remember Me" as "an angst-ridden rebel without a cause." Granted, in real life, he's a rebel with a cause, according to The Mirror (via The Free Library). Indeed, even when he was getting in trouble at a young age, there was still a purpose behind his mischief: money.
Just consider the fact that when Pattinson was 12 years old, he was kicked out of school for an undeniably naughty reason, according to BBC America. Not only was he selling things to other students that he had stolen, but his sales just so happened to involve "adult magazines."
While opening up about his days as a sticky-fingered young criminal on "The Howard Stern Show" in 2017, Pattinson revealed, "I got so cocky that I would take the entire rack." Unfortunately for him, he was caught red-handed by an employee of the store who informed his school of what he'd been up to.
Robert Pattinson's sister competed on The X Factor UK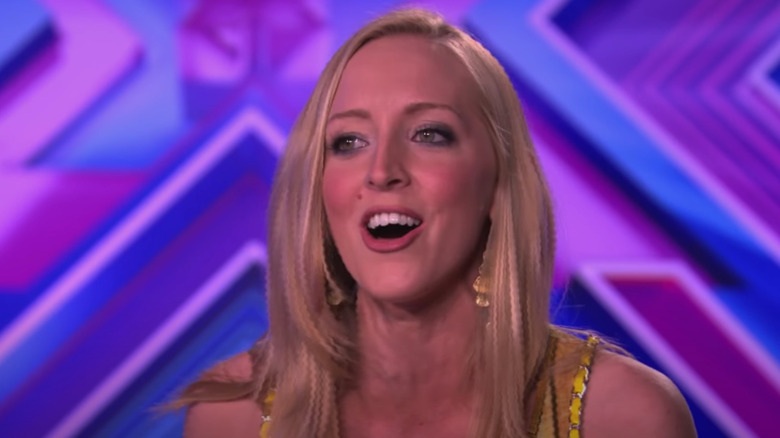 There's no doubt that Robert Pattinson is the most famous member of his family. However, it turns out that he's not the only one of his siblings who aspires to be in the spotlight. While the actor's father, Richard Pattinson, is in the vintage car industry, and his mother, Clare Pattinson, is a modeling agency booker, per IMDb, their three children have taken different career paths. Robert's one sister, Victoria Pattinson, works in advertising, while his other sister, Lizzy Pattinson, is a personal assistant. Granted, there's something else that Lizzy would apparently like to do: be a singer.
In fact, you might have seen Lizzy perform. If you happened to watch "The X Factor UK" back in 2014, then you definitely saw Robert's sister take the stage to compete. While attempting to win the talent show, she took on tunes like Chris Isaak's "Wicked Game," Blake Shelton's "Don't Make Me," and Bonnie Raitt's "Feels Like Home." IMDb even noted that she made it into the top six when it came to her category, which is pretty darn impressive.
Although Lizzy didn't make it to the top spot, Robert told Entertainment Tonight that he was "so ridiculously proud of her." He added, "I would never have the balls to do that ever in a million years. I can't believe she's done it, so that's amazing." Obviously, there are some sweetly supportive siblings in the Pattinson family.
Music came first for Robert Pattinson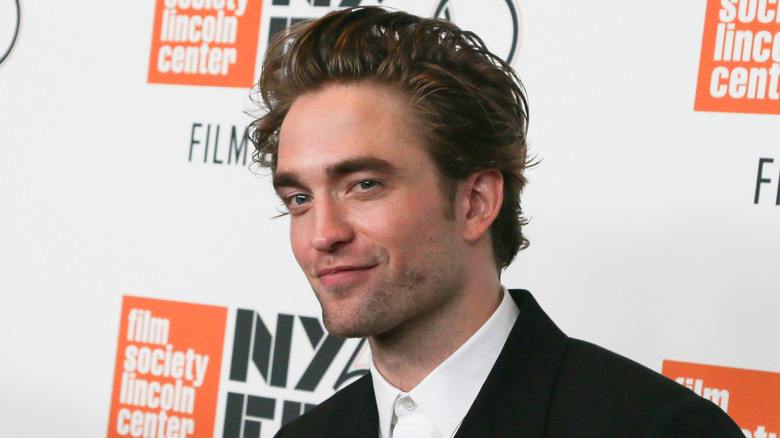 Robert Pattinson's sister, Lizzy Pattinson, isn't the only member of his family who's interested in music. In fact, before he found fame as an actor, Pattinson, himself, was interested in pursuing his passion for music. According to KUSC, the star has not only been singing and playing the guitar since he was a child, but he also wrote his own tunes. Bustle added that he can also play the piano, which just makes his multi-instrumental musical ways even more impressive.
If you can't believe that Pattinson has a musical side, the fact is that you might already be a fan of his singing skills. That's because his performances have been featured in films like his 2018 thriller "High Life" — take a listen to "Willow" by Tindersticks — as well as "Twilight." Yes, that's right. Two songs by Pattinson were included on the "Twilight" soundtrack. Both "Never Think" and "Let Me Sign" are the actor's contributions despite the fact that they were originally "included by director Catherine Hardwicke without his permission (don't worry — he later agreed)" (via Bustle).
While Pattinson has clearly achieved some relatively under-the-radar success when it comes to his music, you have to wonder if that would have happened if he'd gone with his first musical direction: rap. While appearing on "Late Night with Seth Meyers," Pattinson revealed that he tried to be a rapper as a teenager and went by the name Big Tub. Big … Tub.
Modeling came about for Robert Pattinson because he 'looked like a girl'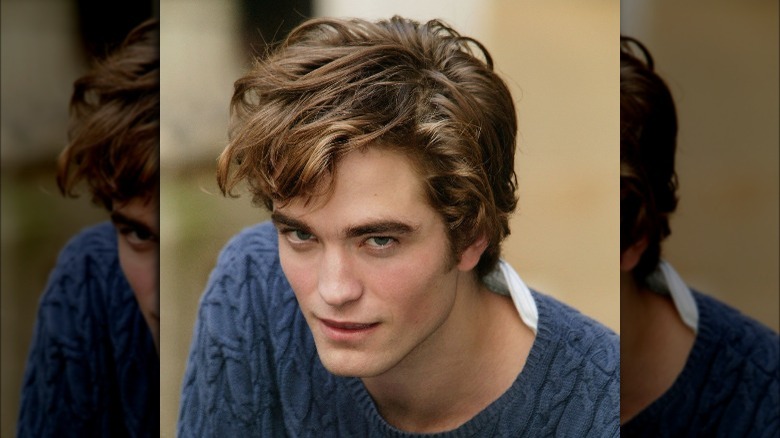 It's not unusual for an actor to work as a model before getting into the film or television industry. Stars like Cameron Diaz and Riley Keough have done it, per Cosmopolitan, not to mention "Carnival Row" star Cara Delevingne. The same can be said for Robert Pattinson, who may have wanted to be a rapper and ended up as an actor, but who worked as a model as a teenager.
Stepping in front of the camera when he was just 12 years old, Pattinson — whose mother, Clare, you'll remember, worked at a modeling agency, per IMDb — had a look that apparently suited the ad campaigns of the time. He explained to Closer (via Express), "When I first started I was quite tall and looked like a girl, so I got lots of jobs, because it was during that period where the androgynous look was cool."
Pattinson definitely nailed that vibe when he posed in just a scarf, polka-dotted boxers, nearly knee-high socks, and formal shoes for one particular modeling photo, which Allure tracked down and shared. With his fluffy hair, sharply-angled features, and smoldering stare, he definitely looked pretty.
Unfortunately, for any lingering modeling aspirations that Pattinson may have had, his appeal changed as he got older. "I guess, I became too much of a guy, so I never got any more jobs," he admitted to Express. He also noted, "I had the most unsuccessful modeling career."
Science says Robert Pattinson is the 'most handsome man in the world'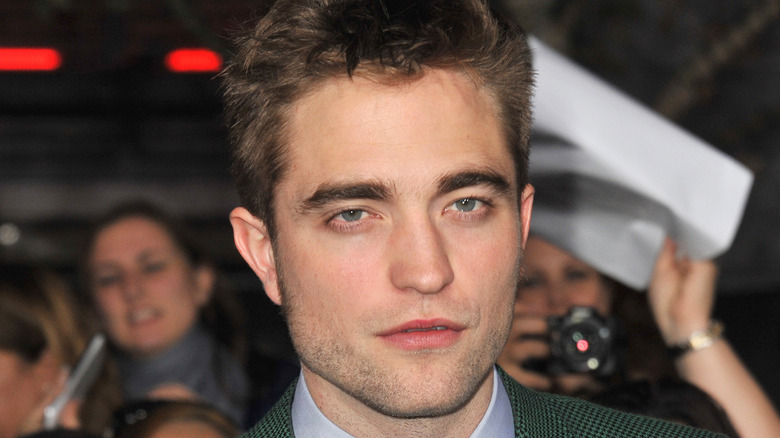 If you have a crush on Robert Pattinson, that's totally understandable, according to science. That's because, in February 2020, a study found the actor to be "the most handsome man in the world" after setting out to find the "perfect face," according to the Daily Mail. Facial cosmetic surgeon Dr. Julian De Silva made the determination after using modern technology and applying it to ancient standards. He explained, "These brand new computer mapping techniques allow us to solve some of the mysteries of what it is that makes someone physically beautiful."
Pattinson's particular appearance was picked because when the Golden Ratio of Beauty Phi is considered — "which is said to measure physical perfection" — he came in at an impressive, and aesthetically pleasing, 92.15%. To break it down further, "His eyes, eyebrows, nose, lips, chin, jaw, and facial shape were measured against other celebrities and came closest to the ancient Greeks' idea of perfection." De Silva noted that "Pattinson was the clear winner."
Granted, Pattinson wasn't the only star in the running. Henry Cavill came in second with 91.64%, followed by Bradley Cooper (91.08%), Brad Pitt (90.51%), and George Clooney (89.91%). As for the ladies, Bella Hadid took the top spot, with Beyoncé, Amber Heard, and Ariana Grande coming next. However, as they say, beauty truly is in the eye of the beholder.
A small failure led to a huge gig for Robert Pattinson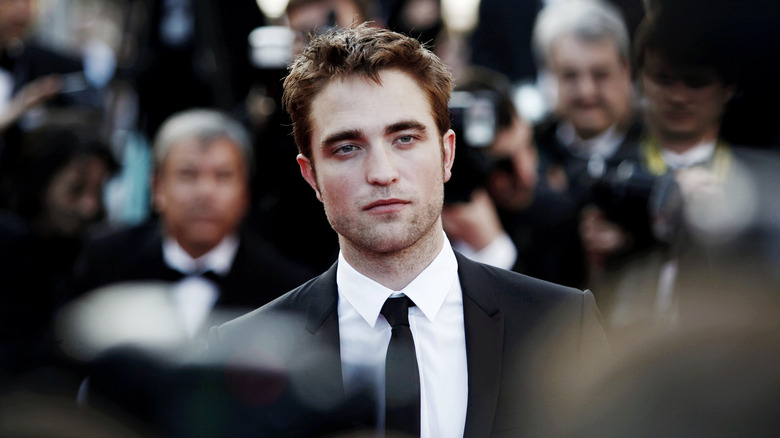 Robert Pattinson may be a successful star these days; however, his start in show business wasn't exactly smooth. After landing an agent, thanks to his work in a theater production, Vanity Fair noted that the actor scored a role in 2004's "Vanity Fair" as Reese Witherspoon's son (he also later played her lover in 2011's "Water for Elephants," per IMDb, so, you know, that's kind of weird). If you're confused because you've seen "Vanity Fair" and don't remember Pattinson being in it, that's because his work didn't make it into the final cut, which resulted in a seriously awkward situation.
While attending a screening for the film when it was first set to be released, Pattinson watched when it came time for his scene. Exciting, right? It definitely would have been, especially since it was his feature film debut. Or was supposed to be. That's because he soon realized that his part hadn't made it past the editing process. "I'm sitting there going, 'Ummm . . . really?' No one had told me that I had been cut out," he recalled. Being cut and not being told before you show up to the screening? Ouch! That double-cringeworthy situation is apparently why the casting director — who felt so guilty over what had happened — gave him the opportunity to audition for another film: "Harry Potter and the Goblet of Fire."
Robert Pattinson didn't go to college because of his hectic filming schedule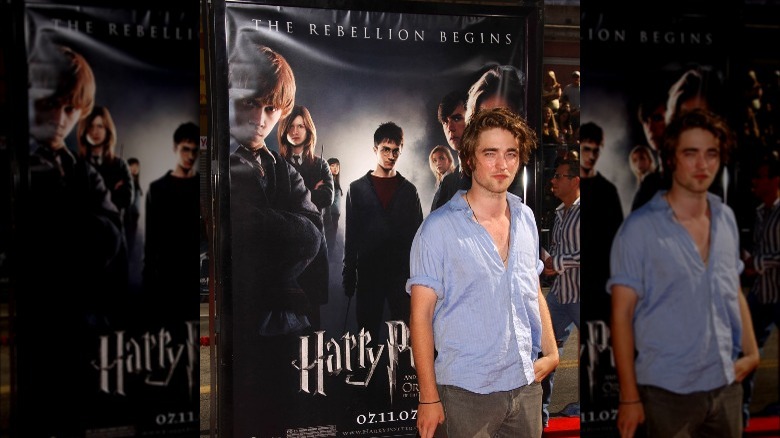 When it came to the stars of the "Harry Potter" films, Daniel Radcliffe, Rupert Grint, and Emma Watson were tutored on the set during filming, according to Bustle, while E! News reported that Watson went on to study at both Brown University and Oxford. However, Robert Pattinson ended up taking a very different direction when it came to education, and it turns out that the wizarding movies played a big part.
While chatting with Time Out in 2017 about his experience working on the franchise, Pattinson recalled that "it was so nice to be a part of it. That, more than anything, changed my life." How exactly did it change his life? Well, it may have opened up more opportunities for him and helped to lead to his eventual stardom; however, the actor revealed that there was another way, saying, "It's the reason I didn't go to university."
Pattinson went on to explain that filming "went so far over schedule, [he] couldn't go." In fact, while the job was only "supposed to be four months" long, "it ended up being [10] or 11." Granted, it's not like Pattinson didn't have plenty of time on his hands. He added, "I'd turn up to set every day but not work for weeks at a time [because he wasn't needed for filming]. I was 17 and I was the only person who wasn't in school. I'd just hang about."
Robert Pattinson took a stalker out for dinner and never heard from her again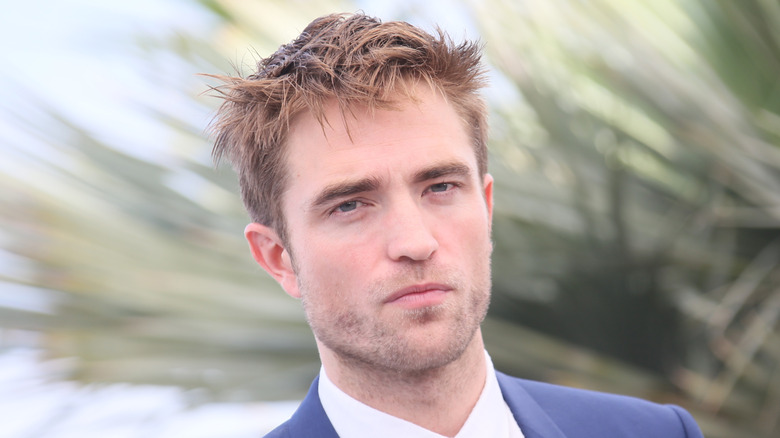 Dealing with a stalker is no laughing matter. In fact, it can sometimes be incredibly dangerous and is nothing to take lightly. However, when Robert Pattinson had what you might call an overly-eager fan in his midst, he dealt with the situation in an unusual (and surely unadvisable) way. "I had a stalker while filming a movie in Spain last year," Pattinson told Crème Magazine (via Today) in 2009. "She stood outside of my apartment every day for weeks — all day every day." Yikes! So, did he call for help? Did he change hotels? Did he do any of the things you might expect one to do when faced with such a potentially scary situation? Nope! Instead, he admitted, "I was so bored and lonely that I went out and had dinner with her."
While that could have turned out to be a bad decision in all kinds of unfortunate and unthinkable ways, the unexpected date didn't go well for a reason that the stalker likely never anticipated. Pattinson revealed that instead of charming his companion, he "just complained about everything in [his] life." Apparently unimpressed with the real-life version of her celebrity crush, the actor noted that the stalker "never came back." Using this as an example of a bigger pattern, Pattinson also claimed, "People get bored of me in, like, two minutes." That's probably a good thing when it comes to a stalker.
Robert Pattinson has an asteroid named after him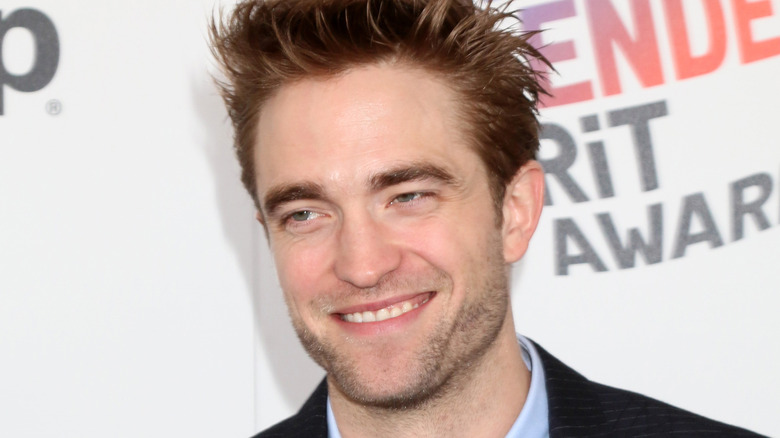 Robert Pattinson may be a famous movie star, but his name also happens to belong to a relatively obscure asteroid. In 2014, RIA Novosti reported (via UPI) that an amateur astronomer named Timur Kryachko, who studies the sky over Russia, noticed an asteroid that was previously detected back in 2009 and, at the time, was given the less flashy moniker 2009 DM89. Kryachko opted to give the asteroid a new name: 246789 Pattinson. While that might suggest that the astronomer is an admirer of the actor, NASA explained that the name was, in fact, "suggested by [the] wife of the discoverer and his Russian fans."
Stretching 1.4 miles wide, the asteroid was making its way across our solar system when it was spotted by Kryachko and is now listed in the International Astronomical Union registry. Although this might impress you, Mental Floss actually pointed out that there are "hundreds of asteroids and minor planets … named after celebrities." In fact, you can look up at the night sky and try to spot 116939 Jonstewart, 23990 Springsteen, and 26858 Misterrogers. But if you're a fan of Pattinson, then his asteroid is likely what you would try to see through a telescope.
Robert Pattinson is skilled in Brazilian Jiu-Jitsu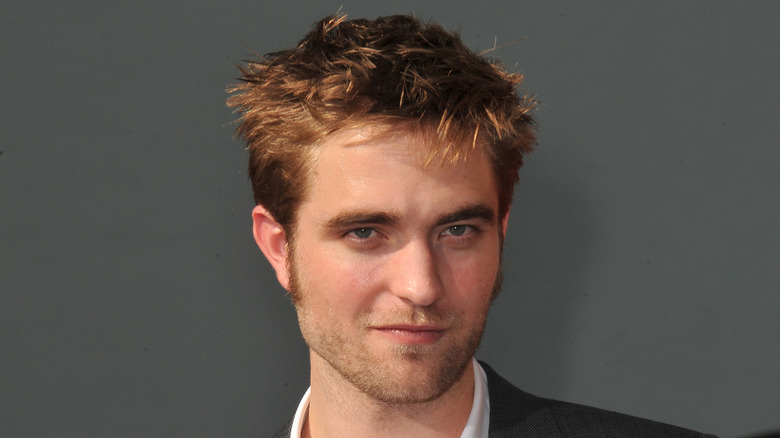 When you think about tough action stars in Hollywood, Robert Pattinson might not be the first celebrity who comes to mind. However, it turns out that the actor can hold his own in a fight, thanks to the fact that he's studied a specific form of martial arts "to learn how to kick bad guy a** like a [bona fide] superhero," according to Men's Health. That's right, taking on the role of Batman is what prompted this famous figure to gain what sounds like some pretty intense skills. "Working with the same guy that trained John Wick" (aka Keanu Reeves), per the outlet, Pattinson was instructed by Rigan Machado, who is "an [eighth] degree red and black belt in Brazilian jiu-jitsu." That's why he's also worked with other stars like Scarlet Johansson, Ashton Kutcher, and Usher, per BJJ World. Machado even took to Instagram to post photos of himself with Pattinson, writing, "My new Jiujitsu brother."
So, what is Brazilian Jiu-Jitsu? Men's Health explains that "is a variation of the martial art which specializes in grappling and ground fighting." It also allows those who know how to use it to "overpower a physically stronger opponent by using leverage to bring them down to the ground, where they can be subdued through chokeholds and joint locks." Eek! It sounds like Pattinson's Batman will be able to get down and dirty while taking on evil villains.
Robert Pattinson has owned some impressive real estate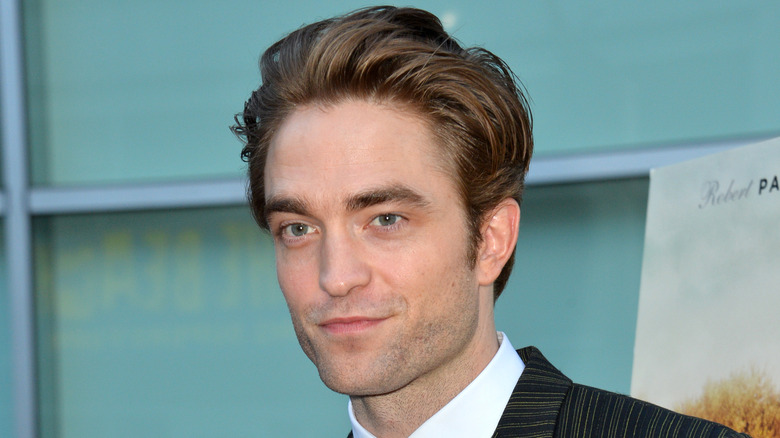 Robert Pattinson may not be a typical Hollywood star; however, his former home was previously owned by plenty of other celebrities, including Tim Curry and Noah Wyle, according to The Hollywood Reporter. The house found itself with another famous resident when "The Big Bang Theory" star Jim Parsons bought the home from Pattinson in January 2014 for $6.375 million, per The Los Angeles Times. What Parsons got — and what Pattinson once enjoyed when he first got it for $6.275 million in 2011 — was a three-bedroom, three-bathroom home that sits on a 1.5-acre lot. Originally built in 1922, it now "melds plenty of original details with state-of-the-art technology updates."
If you're wondering why Pattinson would sell such an incredible residence, he surely didn't want to live there anymore since it was the home he shared with his ex, "Twilight" co-star Kristen Stewart. Following their split (which came after she had an affair), she moved out before he found his own place.
In November of that same year (and in a new relationship with FKA twigs), Pattinson snapped up another amazing abode. Variety reported that he downsized somewhat when he paid just $2,176,500 for a 1,940-square-foot home with two bedrooms and two bathrooms. Located in an area of the Hollywood Hills that's popular with stars, "the single-story hacienda-style casa" includes "interconnected main living spaces" with plenty of enviable features both inside and out.
Robert Pattinson isn't always great at managing his money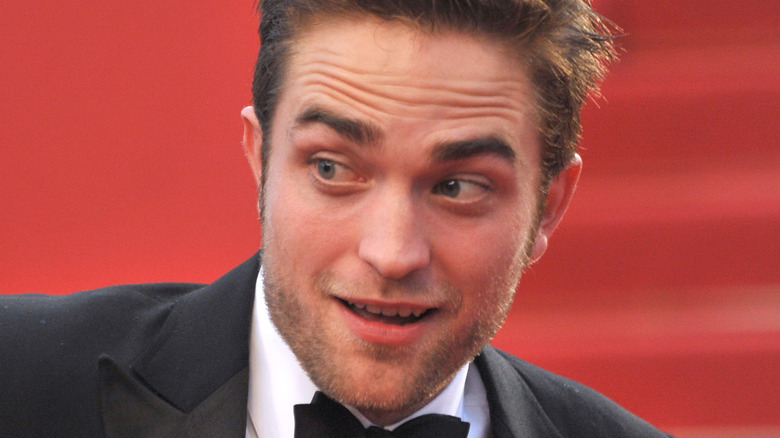 Thanks to Robert Pattinson's success in show business, you might not be too surprised to find out that he's pretty darn rich. However, he he hasn't always handled his funds in the best manner — like once accidentally spending fake money from a movie. Beyond that, when he started to bring in some serious cash, it might have benefitted him to take some time to really consider what he wanted to do with his fortune before spending it, according to the star himself.
After Pattinson sold the home that he had once shared with Kristen Stewart, he reflected on the major purchase while talking to the Independent, saying, "The house was so amazing." However, he added, "I wasn't really thinking when I got it. I was just living in LA and had been living in and out of hotels." On top of that, he had "money for the first time." And not just a little bit of money. The Independent noted that he was reportedly paid $20 million for the final film in the "Twilight" franchise.
Granted, thanks to the fact that Pattinson has continued to take on other (likely lucrative) on-screen opportunities, he's brought in plenty of other plump paychecks. That's partly why, according to Celebrity Net Worth, he now has a net worth of around $100 million. And, considering his star keeps continuing to rise, his fortune will probably continue to do the same.
Source: Read Full Article