"Love Island" is back for Season 3 with 12 new singles who are so hot they might burn your TV screen. One of the sexiest new contestants of the bunch (though it's hard to choose) is Josh Goldstein. And he's already finding himself entangled in drama.
According to MeAww, Josh has been coupled with Shannon St. Claire. But as you can imagine, there has been some trouble in paradise. During a challenge, Josh kissed fellow contestant Aimee Flores, which sent Shannon into a tizzy. In summary, she felt like he was pulling the wool over her eyes, especially since Aimee was already interested in and pursuing somebody else. Josh apologized, per MeAww, and when the time came to recouple, Shannon chose to be with Josh again.
But now a new contestant, Florita Diaz, has entered the villa, and she has made it clear that she has her eyes on Josh too. Could a love triangle be in Josh's future? What makes him so desirable? Keep reading to find out more about the contestant's life off-screen. 
Josh is a college athlete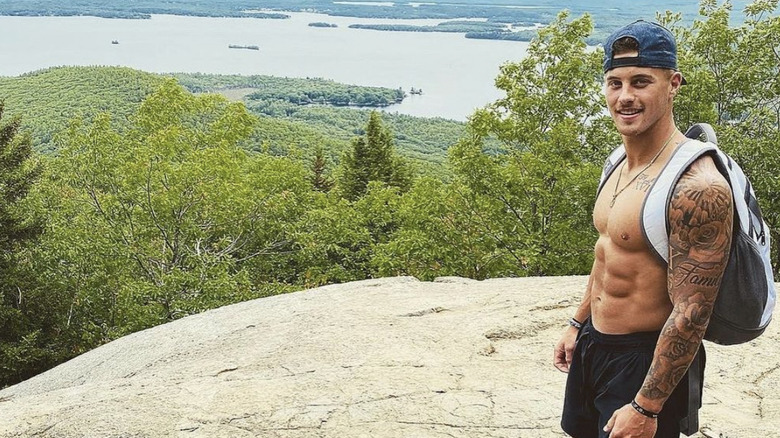 According to ScreenRant, Josh Goldstein is a 24-year-old college baseball player originally from Haverhill, Mass. He began playing baseball for the Southern New Hampshire University Penmen team in 2017, where he also studied business administration. He served as captain of his baseball team, and is a versatile player, serving as a second baseman, shortstop, and centerfielder. Put him in, coach!
Although Josh is a self-proclaimed "nice guy," he admits to also being a bit of a player. "If I meet a girl and I know that she is special, I'm going to take her on a date, and I'm not going to take her into my bedroom," he says in his promo video. "But for the majority of girls, that's where we go." And it's easy to see why Josh's Instagram is full of photos showcasing his symmetrical face, his chiseled body, and his athleisure style.
In an interview with Parade, Josh compared himself to a vodka Red Bull. "I can get your night started and get your energy up," he said. "It's a refreshing drink and it tastes good." He also made another admission. "I've only been in one serious relationship, and I was very young in college. One thing led to another and ultimately, I did cheat on her. … I made a mistake, and I'm a completely changed person now." We'll see how his relationships pan out on "Love Island!" 
Source: Read Full Article