Oprah Winfrey has had quite a journey. From her iconic talk show, to her popular book club, the producer, author, and actor has become one of the richest and most powerful women in the U.S. and is loved and admired by many globally, thanks to her unparalleled influence on television and culture, often known as "the Oprah effect."
Overcoming a tough childhood in Mississippi shadowed by financial struggles, Oprah built an entire media empire. Her talk show — "The Oprah Winfrey Show" — has been broadcasted in 145 countries, making it the most successful daytime television show in history. It has also won her multiple Emmy awards (via Time). Oprah's acting career has also been an eventful one. She's received Oscar and Golden Globe nominations for her role in Steven Spielberg's "The Color Purple." Her prolific career also includes co-authoring several best-selling books; she's also the publisher of O, the Oprah Magazine, an American monthly which she started in April 2000.
The media mogul's long and fruitful career has had numerous moments worthy of celebrations — one that will mark her forever as one of the most influential women in modern history. Really, there's plenty to explore, so let's look at the transformation of Oprah from childhood to 65 years of age — from her childhood to the peak of her career which now sees the world admiring her contribution and influence on media and popular culture.
Oprah Winfrey was a smart child born into challenging family circumstances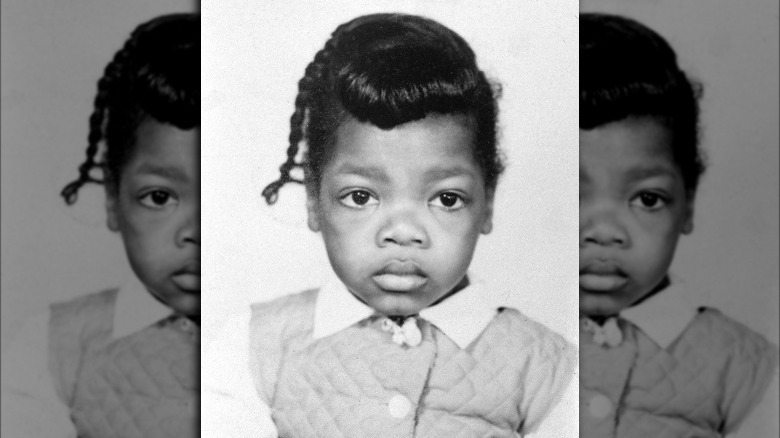 Oprah Winfrey was born on January 29, 1954, in Mississippi's Kosciusko to an unwed couple who did not live together. Oprah was initially brought up on a pig farm with her maternal grandmother (per Encyclopedia of World Biography). However, when she grew up, she was made to live with her mother, half-sister, and half-brother in Milwaukee.
Oprah was fond of acting right from her childhood. She would playact in front of an "audience" of farm animals. However, it was not just all play for little Oprah — she was taught to read when she was two-and-a-half years old under her grandmother's guidance. At two years of age, Oprah addressed her church congregation on Easter Day. Oprah's been quite vocal about what she's wanted right from her childhood. One day, little Oprah skipped her kindergarten class, writing a note to her teacher, saying that she belonged in the first grade. Following the note, Oprah was promoted to the third grade, which was a significant acknowledgment of her advanced intelligence.
Oprah was learning fast, and despite the lack of security and emotional comfort which might have come from a healthy parent-daughter relationship, Oprah ensured that she kept learning — an attitude that would help her tremendously in the times to come.
Oprah Winfrey gave birth to a premature baby at age 14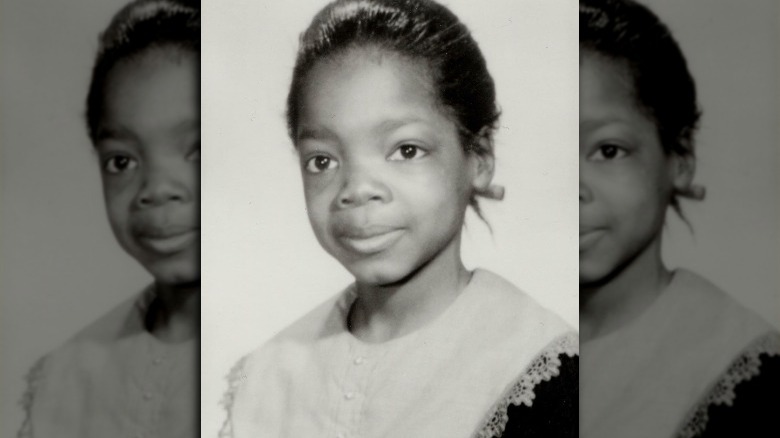 Oprah Winfrey's teenage years form memories of a painful past, which involved sexual abuse when she was young, resulting in pregnancy at the age of 14. Speaking to an audience of 15,000 at Melbourne's Rod Laver Arena, Oprah recalled an interview she did with a reporter before said Australia trip. During the interview, the reporter told Oprah that she should name her baby son, who'd died. "So I have named him, I had a little boy named Canaan," Oprah said (per news.com.au). "I did have a son. And I named him Canaan because Canaan means new land, new life."
Oprah went on to add how her sexual abuse at a young age resulted in pregnancy. "I was raped at 9 years old by a cousin, then again by another family member, and another family member," Oprah said, per the outlet, adding that she could not talk about her pregnancy because she felt the "pain and shame" around it.
When her premature son died three weeks after his birth, young Oprah was devastated. "I took to my bed and cried for three days. I felt devastated. Wounded. Betrayed. How could this person do this to me?" she revealed in a 2007 issue of O, The Oprah Magazine (via People).
Oprah Winfrey landed her first television gig at age 19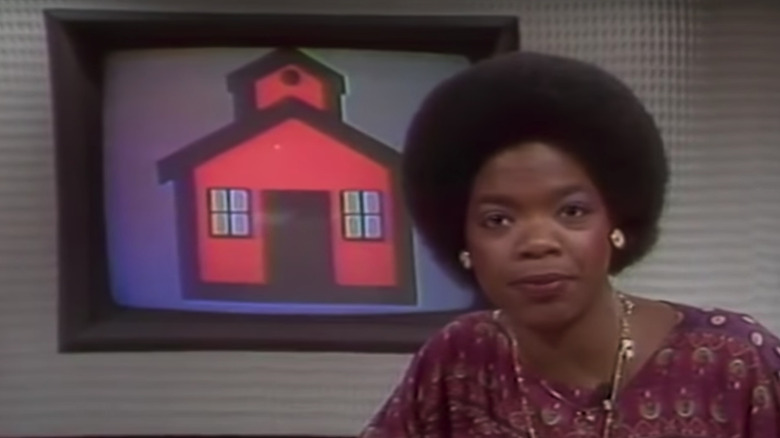 Hard work and perseverance pays, and Oprah Winfrey would agree. She landed her first TV gig while she was still a teenager. At age 19, Oprah joined WLAC-V (now WTVF) in Nashville, Tennessee. Six years later, she was transferred to WJZ-TV — an ABC affiliate — in Baltimore, Maryland. However, Oprah knew she had to do more than just go along with the objectivity of news reporting, and this is when she got on a new morning talk show called "People Are Talking" in 1977. Oprah's "casual, improvisational style helped her develop a natural rapport with guests, who felt comfortable telling their personal stories" (via Investopedia).
"My goal at that particular phase in my life was to learn as much as I could," Oprah recalled in conversation with Baltimore magazine in May 2011. "I looked at Baltimore as a learning opportunity, as a 'teach me' school for life. I learned the absolute most about myself there. It was my first time away from home starting out as my own true self — not with any family member — and learning how to negotiate in the corporate world. I look at those years as how they made me into the woman I am now."
For Oprah, the 1970s set the foundation for a highly successful and influential career, and what was to come would be a cornerstone for many more show hosts to follow.
Oprah Winfrey became the first Black person to have a nationally syndicated talk show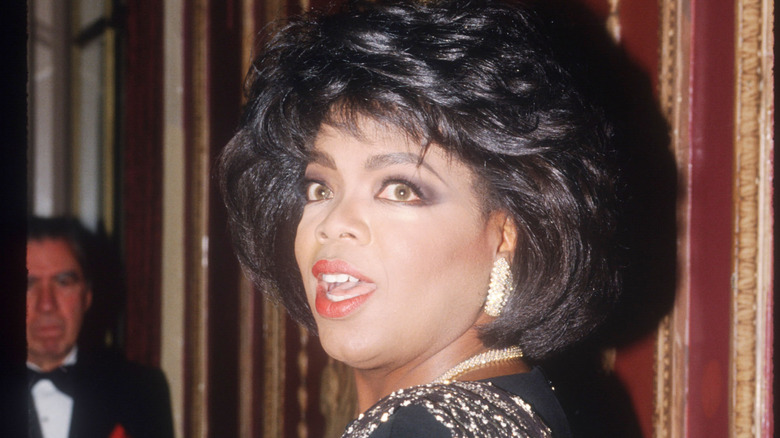 By the 1980s, Oprah Winfrey knew what she was getting into. The stage was set to showcase her skills as a talk show host and her ability to get people to talk about subjects that added to social well-being and discourse.
Oprah's transition to a TV professional took place when Chicago's ABC affiliate WLS-TV got her on board for a 30-minute morning show called "AM Chicago." Oprah cast her magic on the show, and it topped the ratings. By now, people had started noticing Oprah. In 1986, film critic Roger Ebert told her that she should license her show for a national audience. It was then that "AM Chicago" was renamed "The Oprah Winfrey Show." Oprah got a 60-minute slot for her show, becoming the first Black person to host a nationally syndicated television program (via Investopedia).
By now, Oprah had become a household name. She soon ventured into acting and was nominated for an Academy Award for Best Supporting Actress for her role in "The Color Purple." She also launched Harpo Inc., a production company, which made her the third woman and the first Black person to have their own production studio. However, Harpo Inc. would become only one of Oprah's many companies (via The Org). In 1996, Oprah also launched her own book club (per History), which has essentially revolutionized the way readers enjoy modern literature.
Oprah Winfrey's expansive net worth allowed her to grow her business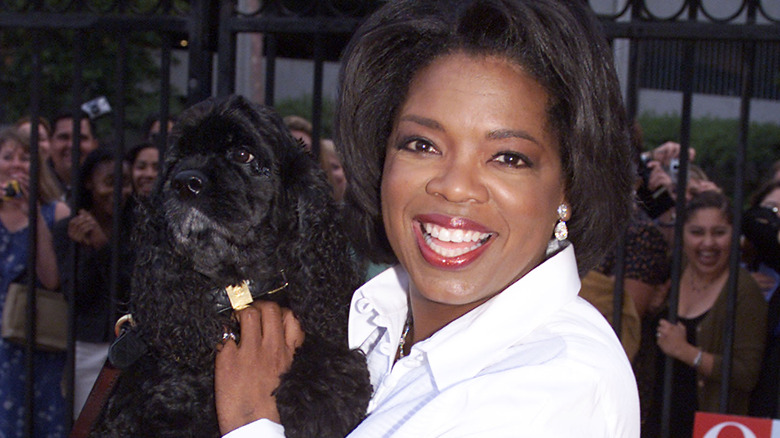 By this point, nobody could look at Oprah Winfrey and say, "Well, she's still getting her footing." Instead, Oprah represented the industry standard — an inspiration to everyone in television. Her TV ratings continued to climb, too. The reason behind it was that she did not entertain a lot of gossip and sensation on her platform but chose to focus on issues with social context.
Oprah's net worth continues to grow, too, which likely inspired her to expand her business. She started publishing O, The Oprah Magazine in 2000 and even co-authored several books, the latest of which was released in April. Written alongside Dr. Bruce D. Perry, "What Happened to You?" discusses "trauma, resilience, and healing." As Oprah wrote on Instagram, "We hope that through these pages, we help people hold more empathy for themselves and others as we learn to shift from asking 'What's wrong with you?' to 'What happened to you?'"
And now Oprah's much more selective with her interviews. Her 2021 television special, "Oprah with Meghan and Harry," devoured media headlines as it featured Meghan Markle and Prince Harry opening up about their struggles with mental health and the royal family. The interview garnered mixed reviews, but it did raise several questions on the importance of mental health, inclusion, acceptance, and more.
Decades into her career, Oprah continues to amaze and inspire people. Her name embodies talent, skill, perseverance, and empowerment. Her interactions with notable figures feed the public narrative. When Oprah has a story to tell, the world listens.
Source: Read Full Article