"NCIS" has come a long way since it first appeared on TV nearly 20 years ago. It's given birth to two successful spin-offs taking place in Los Angeles and New Orleans, respectively. And in April, a third spin-off was announced: "NCIS: Hawaii." For the first time in the history of the "NCIS" franchise, the series will revolve around a female special agent, played by "Love Is Blind" co-host Vanessa Lachey, according to TV Line. The series is set to premiere on Monday, September 20 at 10 p.m., per the outlet.
Though each series takes place in a different locale, they all take place in the same universe, providing plenty of opportunities for characters from the main bureau in DC to appear with the teams in Los Angeles and New Orleans, or vice versa. In fact, it's happened several times — even on shows that aren't explicitly part of the "NCIS" orbit. 
Keep reading to find out what our top five "NCIS" crossover moments are.
Dwayne Pride and Christopher LaSalle appeared on NCIS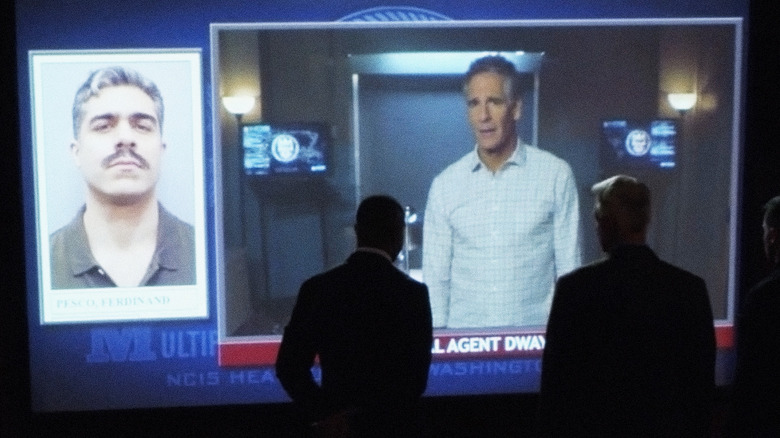 First on our list is a two-part crossover between the main "NCIS" and "NCIS: New Orleans." In part one of "Pandora's Box," Dwayne Pride and Christopher LaSalle of "New Orleans" — played by Scott Bakula and Lucas Black, respectively — appear on the mother show to help Homeland Security find a hacker who stole the agency's entire terror attack response playbook, per Entertainment Weekly.
But let's backtrack a little bit. Prior to realizing they had been hacked, Homeland Security staged a mock terror attack to test law enforcement response. The staged attack sent balloons filled with 'sarin gas' attached to 'explosives' — all fake, of course … except for one. It turns out that one of the operatives in the Homeland think tank sent real gas and explosives into the VIP box of a Bosnian diplomat as revenge for killing his parents. Once the think tank realizes this, they also realize that there's enough missing gas "to kill hundreds of people."
Once Pride and LaSalle video chat with the team, they learn that the hacker who stole the terror response playbook also created fake intelligence about sarin to trick the think tank into staging the kind of attack they did. So who is this mystery hacker? To find out, we have to go down to The Big Easy.
Timothy McGee and Nick Torres went down to New Orleans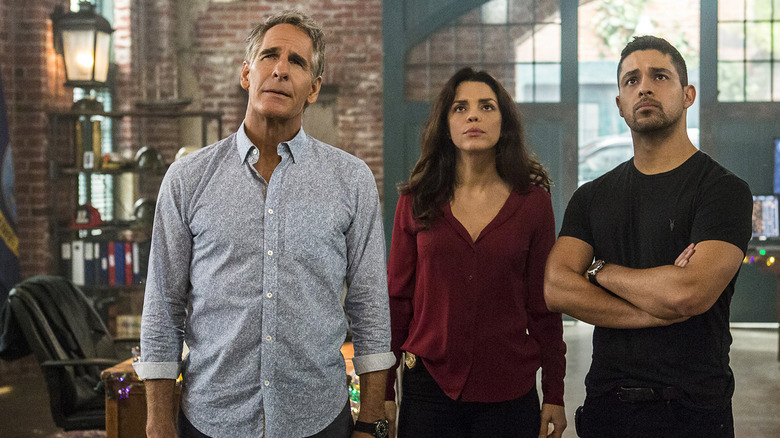 In part two of "Pandora's Box," an episode of "NCIS: New Orleans," agents Timothy McGee and Nick Torres, played by Sean Murray and Wilmer Valderrama, respectively, head from D.C. to the birthplace of jazz to hunt down the Homeland Security hacker, per Entertainment Weekly. But because it's Mardi Gras and everybody is wearing a mask, the hunt proves more difficult than they thought.
After the New Orleans team manages to track down a potential playbook buyer who wound up dead, Special Agent Tammy Gregorio (Vanessa Ferlito) goes undercover as the buyer and meets the seller, who turns out to be Eva Azarova, a Russian sleeper agent who appeared on the previous crossover between "NCIS" and "NCIS: New Orleans." They instantly reach a tense standoff, which takes them all the way to Eva's hotel room. Gregorio manages to outmaneuver Eva, but two masked gunmen suddenly storm into the room, stealing the laptop containing the playbook and kidnapping Torres in the process.
Eva reveals that the playbook thief is a man named Victor, the Russian agent who kidnapped her from her family and made her a spy. She wants her revenge and offers to be traded for Torres so she can get it. So McGee and the team set up a trade. Eva kills Victor and the team finds Torres. Eva gets sent to prison but assures Gregorio it was worth it. Looks like revenge is a dish best served cold.
Hetty from NCIS: Los Angeles appeared on Scorpion
Back in 2014, Operations Manager Hetty Lange from "NCIS: Los Angeles," played by Linda Hunt, appeared on an episode of the CBS drama "Scorpion," a show that is not specifically part of the "NCIS" universe. In the episode of "Scorpion," Walter O'Brien (played by Elyes Gabel) leads a team of socially inept savants who must crash a Halloween party to recover a rare painting. Per Entertainment Weekly, Lange comes in to help the team go undercover.
While fans of "NCIS: Los Angeles" were excited to see Lange, the critics were less than crazy about the episode. Den of Geek gave the episode just two and a half out of five stars, and ripped the storytelling to shreds, calling parts of it "cliché" and "beyond forced." The reviewer wrote, "It's a perfectly fine hour of television, but it feels as by-the-book as they come, almost as if an algorithm or piece of science was used to construct this. Mathematically it has all the right pieces, but it's nothing special."
Fans also noticed a plot hole, per Express. Robert Patrick plays Cabe Gallo, a U.S. special agent, on "Scorpion." But he appeared in a 2009 episode of "NCIS" as Colonel Merton Bell, who was killed in the same episode. "If Scorpion existed in the same world as NCIS," the publication asked, "how was this late Colonel reappearing some years later as a Special Agent?" Maybe we'll find out during the crossover with "Supernatural."
Tony DiNozzo soaked up some sun in L.A. …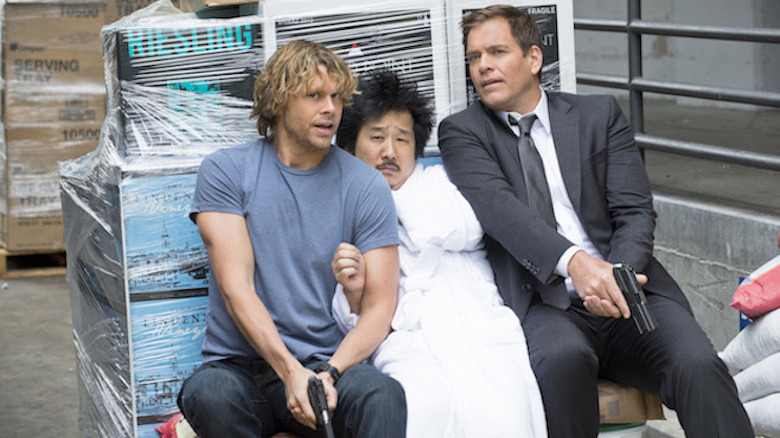 Michael Weatherly's beloved character Tony DiNozzo appeared on a 2015 episode of "NCIS: Los Angeles" in a crossover event so hyped it made the cover of TV Guide. "We've been trying for years to find a way to get DiNozzo on the show that's not just a cameo," "NCIS: Los Angeles" executive producer Shane Brennan told the magazine. "We wanted Tony to really be part of the story." In the episode, DiNozzo reaches out to the L.A. team for help tracking down an escaped money launderer, played by MAD TV's Bobby Lee. And so, DiNozzo heads across the country, from the cherry blossoms of D.C. to the palm trees and traffic of L.A.
Weatherly told TV Guide he was excited to play DiNozzo in a different environment. "For 13 years, besides a tiny part here and there, I've just been playing DiNozzo," he said. "So having other experiences with the character is super important to me. Plus, I love to see how DiNozzo travels, how he'll be in different settings."
However, Weatherly also expressed some trepidation about bringing DiNozzo to another show. "To be honest, I was a little nervous about going into 'NCIS: Los Angeles' because I wasn't sure how DiNozzo would be received — not just by the team," he said, "but by the audience." Well, IMDb users gave the episode, "Blame It On Rio," an 8.8 out of 10 stars, so it looks like L.A. fans loved DiNozzo.
… And made a pit stop in New Orleans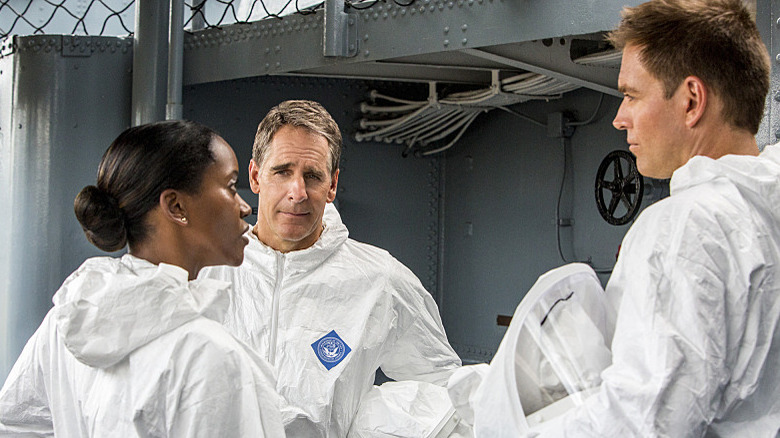 "NCIS: Los Angeles" isn't the only spin-off that's had a guest appearance from Michael Weatherly as Tony DiNozzo. He actually appeared on the second-ever episode of "NCIS: New Orleans." In the episode, called "Carrier," DiNozzo swoops in to help the New Orleans team find the source of a bubonic plague outbreak on a Navy ship. According to Celeb Dirty Laundry, DiNozzo refers to himself as "the plague whisperer" (if only he could solve COVID!), so he and Special Agent Dwayne Pride risk exposure to the plague and board the ship to question the seamen still on it.
While aboard the ship, they find another dead seaman and learn that the infectious strain appears to have been made in a lab. A lab had also recently reported a break-in. The agents put two and two together: This was an act of bioterrorism.
As it turned out, the ship's doctor was the one infecting the officers. He ran a pharmaceutical company developing a cure for the bubonic plague and was in the process of declaring bankruptcy, so he developed a get rich quick scheme: cause a bubonic plague outbreak so people need to buy the medicine, lining his pockets and saving him from bankruptcy. Now that's sick and twisted.
Source: Read Full Article