Long before the other "Friends" were parents, Ross Geller (played by David Schwimmer) was a dad. Viewers first met baby Ben Geller in the Season 1 "Friends" episode "The One With the Birth." The little boy was the child of Ross and his ex-wife Carol (played by Jane Sibbett), who had left him for a woman, Susan (played by Jessica Hecht), by the time Ben was born.
Since Ben was born into a broken home, it's not a huge surprise that he was not seen with his dad in every episode of the NBC sitcom. But why is it that Ben had less screen time than, say, Marcel the Monkey? Ben was only seen in a handful of "Friends" episodes over its 10-season run, the final one being "The One Where Joey Dates Rachel" in Season 8, per IMDb. And when his dad went on to father a second kid — this time with Rachel (Jennifer Aniston) — Ben never met his little sis, Emma. Well, at least not on onscreen, anyway.
Turns out there are some fan theories out there about Ross' parenting skills — and they are not good.
One fan theory suggests that Ross lost custody of Ben because he was an unfit parent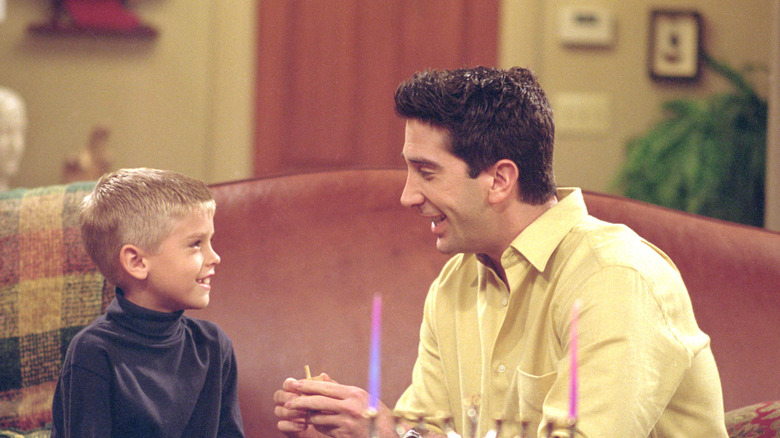 Ben was seemingly not a part of his dad's life so much so that he was not even invited to Ross' wedding to Emily (played by Helen Baxendale) in London, despite the fact that the entire Geller family flew across the pond for the ceremony. "Friends" fans also know that Ross sometimes appeared unstable. He even lost it over a sandwich in one memorable episode, flipping out at his boss who dared to snatch his turkey sandwich out of the break room refrigerator. (That stunt landed him a trip to a psychiatrist and a mandatory leave of absence from work so he could deal with his anger issues.) According to Glamour, a fan theory on Reddit suggested that Ross' instability may have caused his ex to seek full custody of Ben.
Ranker also noted that, once his daughter Emma came into the picture, Ross pretty much never mentioned Ben again. And in a weird side twist, he seemed totally okay when Rachel seriously toyed with the idea of moving to Paris for work — and taking Emma with her. In fact, Ross was way more worried about how much he would "miss" Rachel if she relocated to France, and didn't seem to care that his daughter would be living thousands of miles away from him.
The child star who played Ben had his own opinion of Ross' parenting skills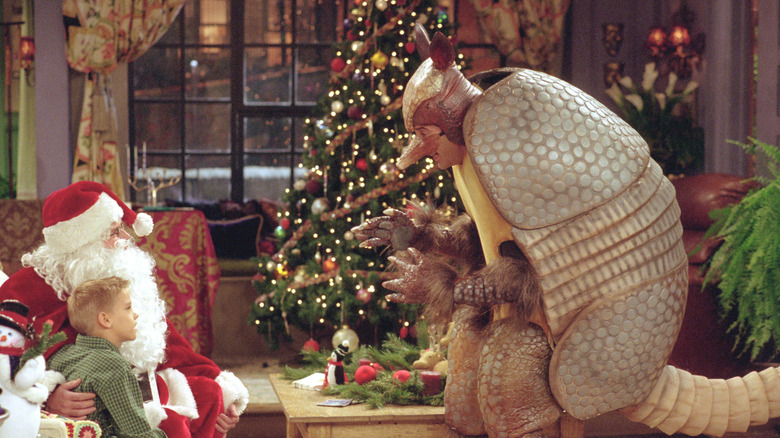 Cole Sprouse, the former Disney star who got his start playing young Ben on "Friends," also weighed in on Ross' deadbeat dad status. In a fan Q&A for GQ on YouTube, Sprouse responded to a fan who asked him how he felt about his character "basically being killed off of Friends[.]" 
"Critics would agree that Ross was never really the most present father," Sprouse said. "And so it doesn't surprise me too much." He also noted that his role on "Friends" was a rare time in which he and his identical twin brother, Dylan, did not have to "share" a part. Even with the strict child labor laws in California, Ben was seen so rarely in scenes that only one Sprouse twin ever needed to be on the set. "Honestly, our appearance as the same character was sort of dependent on how much screen time we had," Sprouse said of his days as a child actor alongside his brother. "In 'Friends,' for example, my role was not too present. They only really needed to hire one twin…"
Sprouse's "Friends" character was even snubbed for the recent "Friends" reunion on HBO Max. Director Ben Winston told The Wrap that producers "couldn't have everybody on" because they only had an hour and 45 minutes for the special and the show was really about the six main cast members. It's no wonder Ben didn't make the cut!
Source: Read Full Article