Oprah Winfrey and Stedman Graham first met at a charity event back in 1986, according to Vanity Fair, and began dating shortly thereafter. In the 90s, the two toyed around with the idea of possibly getting married, and Graham even proposed, according to People magazine. The idea, however, never actually amounted to anything. Despite setting a tentative wedding date, the pair ultimately decided to call things off, and felt it was best for them if they didn't exchange vows. 
In a 2017 interview with Vogue, Winfrey revealed that staying unmarried all of these years has taught her to "live life on her own terms." She also told the outlet that she and Graham wouldn't have lasted this long had they decided to tie the knot. "We would not have stayed together, because marriage requires a different way of being in this world. His interpretation of what it means to be a husband and what it would mean for me to be a wife would have been pretty traditional, and I would not have been able to fit into that," she said.
And so, Winfrey and Graham have been together through thick and thin, but they've managed to do so while never becoming husband and wife. They've traveled the world together, too, but, believe it or not, they've never actually taken a vacation together, just the two of them. Keep reading to find out the real reason why.
Oprah Winfrey has always brought her best friend along on trips with her husband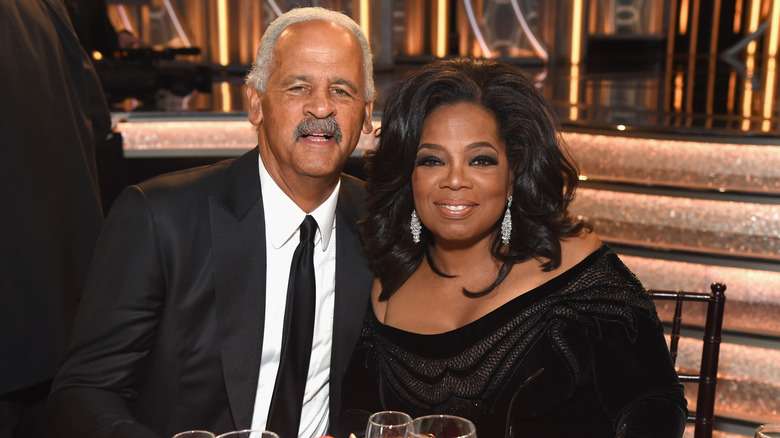 As one of the wealthiest women in the country, Oprah Winfrey is well-traveled — and she owns six different pieces of property, according to PopSugar. However, the former talk show host has always shared her vacations with a very special person in her life — her best friend, Gayle King. They two have been vacationing together since King's 1993 divorce from ex-husband William Bumpus.
In a new series called "The OG Chronicles: Joy Ride," Winfrey and King discussed the fact that King has been included in every single vacation that Winfrey has taken — with or without Graham — for the past 30 years, according to the Daily Mail. "Since after your divorce, you were on every vacation with me and Stedman," Winfrey told King on the program. "The three of us have had a wonderful time. If I was the third wheel, I didn't know it! If Stedman didn't like me, that would've been tough," King says in response. 
Winfrey had a quick answer to that, however, letting King know that if Graham didn't like her, he would have been out the door. "If Stedman didn't like you, Stedman wouldn't have lasted. Husbands and boyfriends come and go. Best friends last forever," Winfrey said, according to the Daily Mail.
Oprah Winfrey and Gayle King have been best friends for decades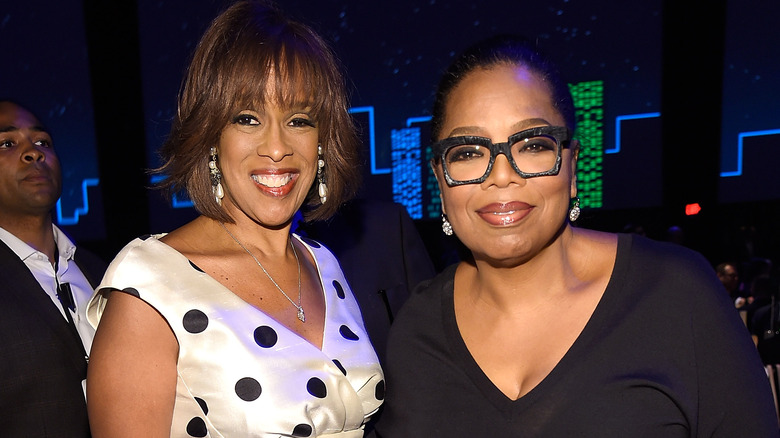 Oprah Winfrey and Gayle King have been friends for more than 40 years. Back in July, the two women filmed a video in which they addressed their long-lasting friendship, and shared it on Oprah Daily's Instagram account. "Surround yourself with someone who is as happy for your happiness as you are for your happiness," Winfrey said."You need friends that are happy in their own lives so that they can actually be authentically happy for you," she added. In the caption of the post, the women summed things up nicely; they say that the "same values" and a "little bit of humor" has kept them so tight-knit over the years. 
In an interview for Oprah Magazine in 2006, the ladies revealed that they talked on the phone with each other about four times each day. The two showcased a very playful banter that seemed to solidify the aforementioned "little bit of humor." It's no secret that Winfrey and King have been in each other's lives for so long because they love and support each other through the various ups and downs that life throws at them; and we're sure that the memories they've made on vacation — with Stedman Graham — are ones they will both cherish forever!
Source: Read Full Article