AMC's "The Walking Dead" has taken its viewers through a whirlwind of emotions over the years, ultimately wrapping things up with its eleventh season. The post-apocalyptic horror show based on the comic book series of the same name has amassed millions of viewers who continue to show their devotion by watching the spin-offs "Fear The Walking Dead" and "The Walking Dead: World Beyond." 
It's safe to say that "The Walking Dead" wouldn't be the success it is today without its brilliant cast and the characters they portray. Audiences have watched relationships between characters grow, divide, and even fall in love because lust can still be found with two strangers in a world full of killer zombies. Throughout the seasons, fans have met many characters who have formed romantic relationships with one another, and while some of those fans wish these relationships were real (ahem, Maggie and Glenn), the stars who play the characters are in real-life relationships with totally different people. 
Gear up, because we're about to get into the love lives of "The Walking Dead" cast. Oh, and fair warning: There are series spoilers ahead.
Sarah Wayne Callies drew a parallel between her real life and character's life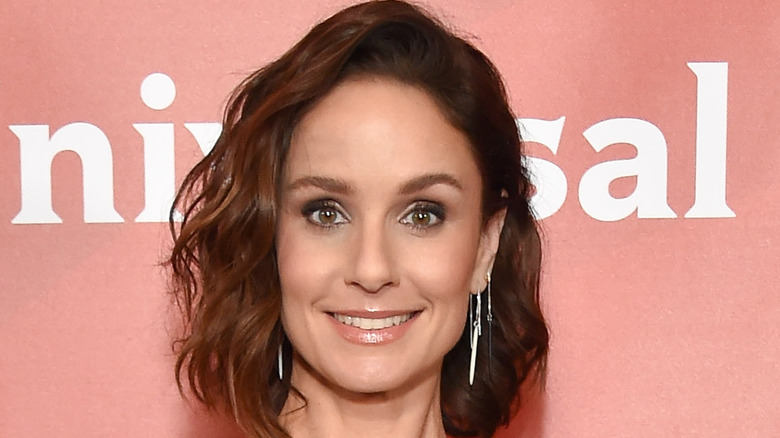 Sarah Wayne Callies starred as Lori Grimes, Rick Grimes' wife, on the hit show. After learning how to fight off zombies and even some humans, Callies' character faced a tragic end on the third season, which the actor was all in favor of after reading the comics. "I've said from the beginning, not only am I OK with Lori dying but I think she has to," she told The Hollywood Reporter. "I've played this character with an eye toward an end." 
Callies' character was also known for her intimate relationship with Rick's work partner Shane Walsh, which began after she believed her husband was dead. However, that all ended when Rick appeared at the campsite and the two faced their marriage head-on, especially when she learned she is pregnant with Walsh's daughter. Of course, this scenario is nothing like Callies' real-life relationship: Per Married Biography, she's been married to Josh Winterhalt since 2002. Winterhalt sure seems to keep a low profile (and sure steers clear of Callies' Instagram account, apparently), but we do know that the couple met while attending Dartmouth and had their daughter in 2007 and adopted their son in 2013. 
Callies has opened up about the adoption, comparing the experience of her husband raising a child that isn't biologically his to Rick protecting her daughter in "The Walking Dead." She stated to Cinemablend, "My son is adopted and my husband is my son's father. … Anybody who has kids, I think, would recognize that [not being related by blood isn't something] that matters."
Steven Yeun has been married since 2016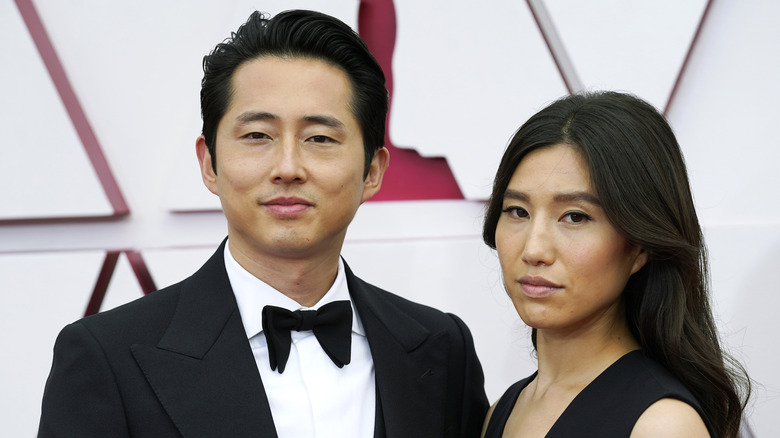 While "The Walking Dead" was never without hundreds of flesh-eating zombies and badass characters like Rick Grimes and Michonne fighting to stay alive, it also gave us some of the most memorable couples on the show, including the love story between Steven Yeun's character Glenn and Lauren Cohan's Maggie. Of course, that all came crashing down when Glenn met his untimely death in the Season 7 premiere, which is regarded as one of the most heartbreaking moments in the show's history. Still, many fans speculated that Yeun and Cohan were romantically involved in real life. However, Cohan shut down those rumors in an interview with Rolling Stone where she shared, "There are entire websites dedicated to the proof that Steven and I are in a real relationship. Which is always funny, because it's not."
As Steven Yeun fans know, the actor has actually been married to his wife, photographer Joana Pak, since 2016. According to Martha Stewart, the two met in 2009 with Yeun sharing, "she walked into the bar where I was a really s***** bartender, and it was kismet. After that, I saw her every day for six months." In 2015, the pair were engaged, and a year later, Yeun married Pak in a California wedding with breathtaking views of Los Angeles. Pak and Yeun have since become parents to two kids.
Jon Bernthal is a family man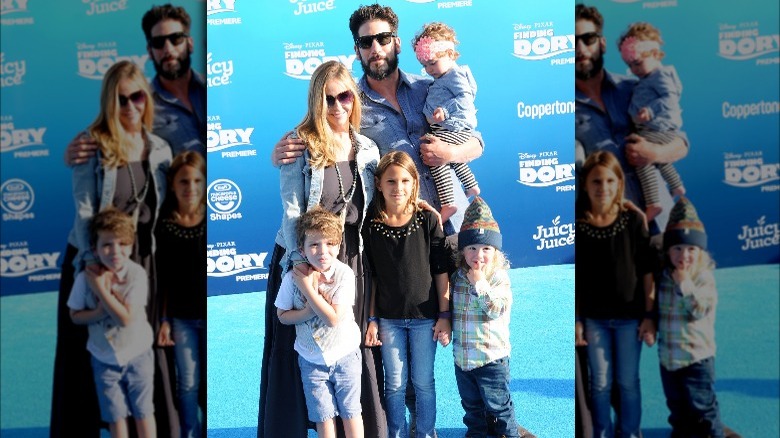 Actor Jon Bernthal was a part of "The Walking Dead" in its earlier seasons, starring as Shane Walsh, Rick Grimes' partner at the King County Sheriff's department and best friend, who begins an intimate relationship with Grimes' wife, Lori. Fans all witnessed his character change drastically from a caring person to a deceitful antagonist in Season 2 where he eventually meets his death at the hands of Grimes. Despite getting killed off early on in the show, Bernthal's character is still regarded as one of the best villains in the series. 
In real life, Bernthal is nothing like his Season 2 character. The actor is a devoted husband to his wife Erin Angle, a trauma nurse, who he met at a local bar, telling Men's Health, "I came over and was just rudely messing around, and I know this is the corniest thing in the world, but when I saw Erin, it was literally like angels were singing. I had never seen anyone so beautiful."
Bernthal is also a family man and has three children with Angle. When speaking to ABC News about becoming the Punisher, a Marvel character who loses his family, for Netflix's "Daredevil," he said, "There's no way I could even begin to tackle this role if I wasn't a father and a husband in my mind," adding, "You realize what it's like to love somebody more than yourself and be willing to give up your life for them in a heartbeat." 
Jeffrey Dean Morgan gushes over his wife Hilarie Burton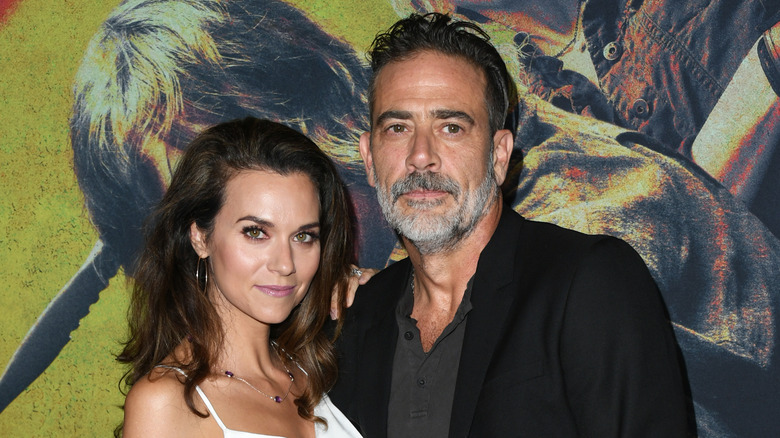 Jeffrey Dean Morgan stars as Negan on "The Walking Dead", a once vile villain who has since carried on the complexities of an anti-hero. Negan is also well known for his obsession with his bat Lucille, named after his dead wife, and used countless times to kill humans and walkers. Of course, while Morgan is nothing like his brutal and stone-cold character, fans could say that like his beloved bat, Lucille, he does have an obsession for his real-life wife, Hilarie Burton.
As Morgan shared with HuffPost, he and Burton were set up on a blind date by his "Supernatural" co-star Jensen Ackles. The A-list stars kept their romantic relationship hidden from the public for quite some time until they welcomed a child in 2010. The pair welcomed a second in 2018, and finally tied the knot in 2019, with Burton telling People, "We had built this life together. We'd had kids together. I think there comes a point where you just don't want to go another day by being inauthentic about it." And, if that's not enough to make fans gush over these two stars, just check out their social media pages where Morgan has called Burton his "best friend" and "perfect" after wishing her a happy birthday on his Instagram. 
Coincidentally, Burton got a chance to star in "The Walking Dead" alongside her husband as Lucille in Season 10's bonus episodes, per Entertainment Weekly. 
Did Norman Reedus and Diane Kruger get engaged?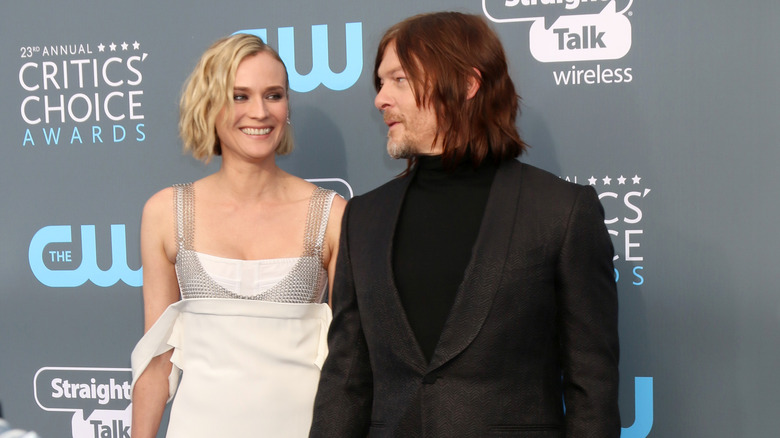 Norman Reedus' character Daryl Dixon on "The Walking Dead" has outlived many of his counterparts thanks to his survival skills, tough exterior, and ability to shoot arrows right through a walker's head. Dixon is not a character in the comics, but Reedus impressed the people steering the ship during an audition for another character so much that they added him in as Merle's younger brother, per ScreenRant.
Throughout most of the series, Reedus' onscreen counterpart is a lone wolf, but in real life? The actor is romantically linked to Diane Kruger. According to Us Weekly, the two met on the set of their 2015 movie "Sky," and began dating shortly after Kruger split from Joshua Jackson. In 2018, Reedus and Kruger welcomed a daughter, and the couple continues to share snippets of their family life on social media. In July 2021, Kruger posted a photo on her Instagram of the duo on the beach while celebrating five years together. 
What's more, People reported in August 2021 that the two are apparently engaged, but they have yet to confirm it. Either way, Dixon has found his match.
Christian Serratos is raising her daughter with partner David Boyd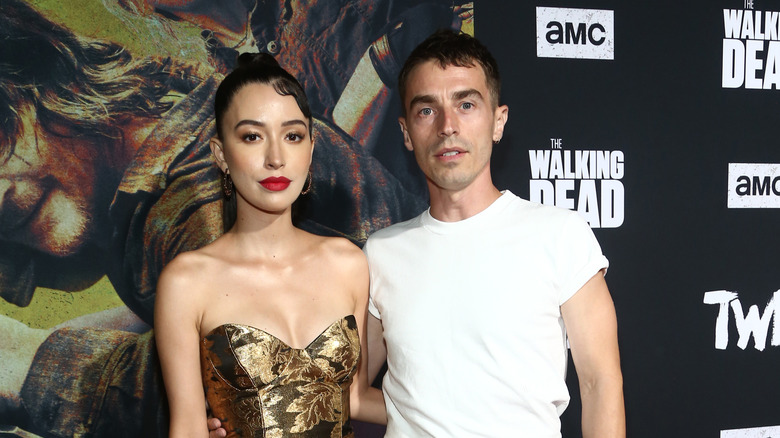 Christian Serratos portrays Rosita Espinosa in "The Walking Dead" and has been on the series since Season 4, portraying a fierce warrior, battling both humans and walkers, with fans excited to see what becomes of her as the show ends with its 11th season. While her character has been romantically involved with characters like Abraham Ford (Michael Cudlitz), Siddiq (Avi Nash), and Gabriel Stokes (Seth Gilliam), in real life, Serratos is happily raising a family with her boyfriend David Boyd. 
According to People, Serratos and her partner Boyd, who is a Danish-American singer for the band New Politics, welcomed a daughter named Wolfgang in 2017. The new mom announced the birth of her daughter on Mother's Day on Instagram, sharing a sweet close-up holding her baby. Talking to People about raising her daughter, she shared, "I wanted to be a mom for a long, long time. It's been everything that I thought it would be. That girl has Mommy and Daddy wrapped around her finger!"
Interestingly enough, Boyd got a chance to partake in "The Walking Dead" with Serratos, playing a zombie that his wife's character gets to kill. She told Entertainment Weekly, "He has just the perfect face for the walker makeup," adding, "I was like, well if we're going to have him on the show, I need to kill him. So he was a walker in the episode with me and Sonequa, and I killed him."
Andrew Lincoln walked away from the series to be with his family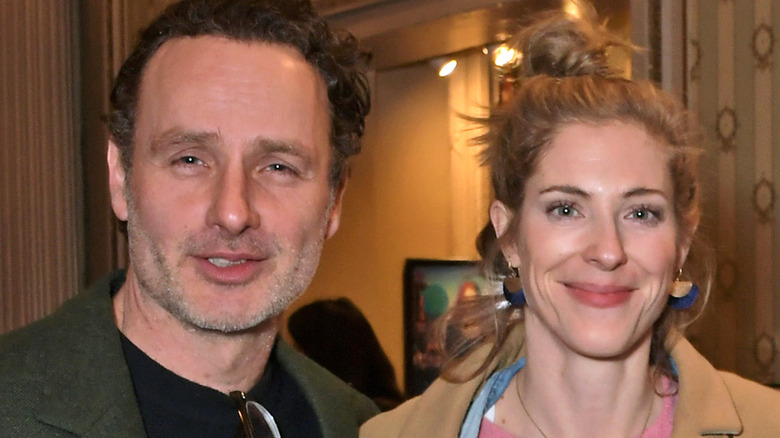 Andrew Lincoln's most recognizable role is without a doubt "The Walking Dead" protagonist Rick Grimes. He was a strong leader throughout the show and carried on being a survivor of a zombie-filled world even though viewers watched him "disappear" in Season 9. While Grimes began his journey with his wife Lori, played by Sarah Wayne Callies, who later dies, he ends up being romantically linked to Michonne Hawthrone, played by Danai Gurira. 
Lincoln revealed that he left the show in 2018 to be with his family, telling Entertainment Weekly, "I have two young children, and I live in a different country, and they become less portable as they get older. It was that simple. It was time for me to come home." Lincoln has been married to his wife Gael Anderson, the daughter of Ian Anderson of the rock band Jethro Tull, since 2006. Talking to The Guardian about how understanding Anderson is with his hectic work life, he shared, "She's the reason I'm able to do this mad job. She has built a life in Atlanta while I'm away filming. I don't have a smartphone or apps or anything and people ask me why. I say: 'My wife is my app.' She's magnificent. She's in the most honorable profession in the world — she's a full-time mom.'"
Tom Payne marries model Jennifer Akerman during the coronavirus lockdown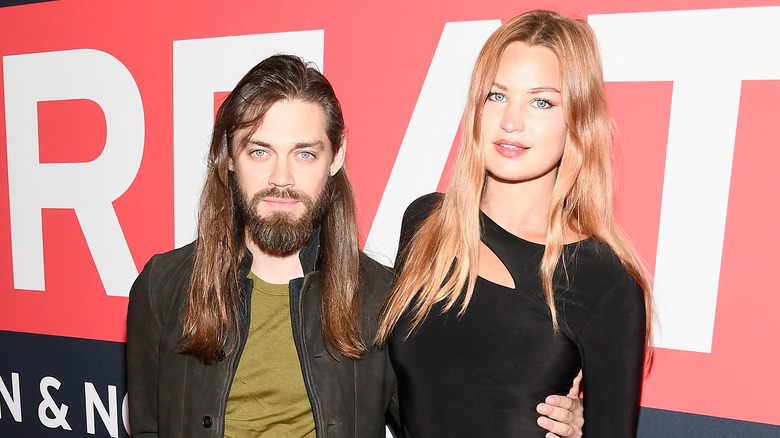 Actor Tom Payne portrayed Paul "Jesus" Rivera on the AMC series, arriving later on in Season 6 up until his death in Season 9 by a walker, which Payne was all on board for after telling Comicbook that he was "kind of ready to leave anyway." He went on to share that he was "apprehensive" and unsure of how Jesus would die, given that "he is the most capable fighter out of anyone." That apprehension fell to the wayside, as Payne said that it was "really cool" how his character met his fate. 
Now that Payne is no longer a part of the series, he might have more time to spend with his new wife Jennifer Akerman, who he married in December 2020, after delaying their wedding because of the coronavirus. As Payne recalled on "Live with Kelly & Ryan," the pair decided to get hitched at their home with their contractor as their officiant. Akerman shared her wedding bliss with her Instagram followers, captioning a photo of the pair, "Last night me and the love of my life got married. After having to cancel our wedding back in April and not knowing how long the world will be under lockdown, we felt like we still wanted to end this year as husband and wife, so we did."
David Morrissey separated from his wife Esther Freud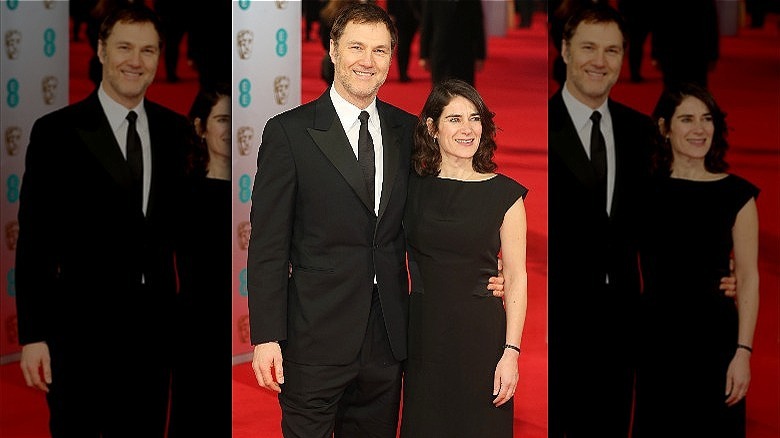 There is no doubt that when looking at a list of the evilest villains on "The Walking Dead, " Philip Blake, best known as "The Governor" scores high in the rankings. Portrayed by actor David Morrissey, this antagonist was purely sadistic and a mad man and Morrissey brilliantly captured all that until his death in Season 4.
While Morrissey's character was too busy being manipulative and conniving for a long-lasting relationship, in real life, the actor was married to novelist and great-granddaughter of Sigmund Freud, Esther Freud for 13 years until they separated in 2019, per Daily Mail. 
Before the two split, Morrissey, who shares three children with Freud, had nothing but nice things to say about his former wife, telling The Independent in 2011, "My greatest inspiration … is my wife, Esther. I thought writers were inspired people, but she taught me that it's about getting to your desk each day, not waiting for magical inspiration to fly through the window and hit you."
Andrew J. West met his future wife on the set of another show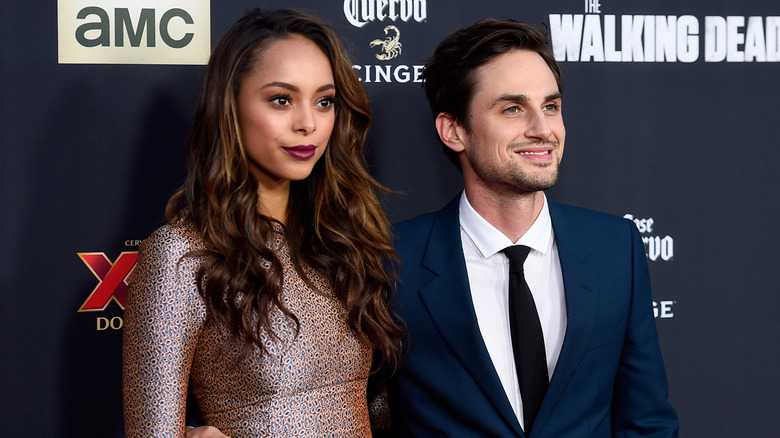 When viewers look back at the villains of "The Walking Dead" they'll remember Gareth, the leader of Terminus played by actor Andrew J. West in season four. While his character was devious and extreme, he was no match for Rick Grimes who quickly took him out at the start of the very next season with his red-handled machete. Even with a brief appearance on the AMC series, West was happy with the outcome of his character, telling Entertainment Weekly, "[I]t's such a monumental and brutal blaze of glory way to go out. So there wasn't some big traumatic shock reading the episode. I knew what was coming and I could just enjoy it at that point."
Before portraying a vile murderer on "The Walking Dead," West was known for his character Fisher, a college student in the comedy-drama "Greek" on ABC Family. It was also where he would meet his future wife Amber Stevens who starred as his love interest. According to Page Six, after learning that West would play her boyfriend on the show, she immediately took interest in him and the two began speaking on Facebook. Just a few weeks later, they began dating, with Stevens telling the outlet, "We've been together ever since and that was 10 years ago."
People reported that the pair got married in 2014, and have since welcomed two children named Ava and Winona.
Sonequa Martin-Green married fellow actor Kenric Green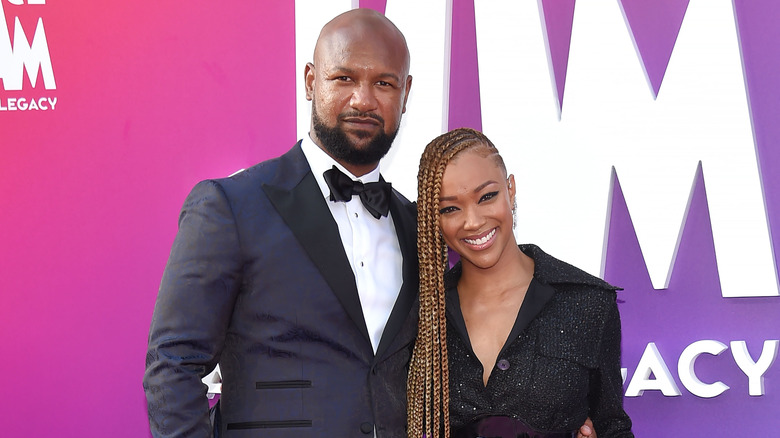 Actor Sonequa Martin-Green starred as the fierce Sasha Williams in "The Walking Dead" and even though her character was supposed to have a minor role and wasn't in the comics, the series creator Glen Mazzara knew that her character would become an asset to the killing of walkers and humans, and she stuck around until Season 7. Martin-Green told The Hollywood Reporter, "Sasha was supposed to be a recurring character and as we kept going forward, they picked up my option to be a regular. It's very rare and I'm still quite dumbfounded about it but Glen and I hit it off and I still appreciate him."
While Martin-Green's character had minor relationships in the show, in real life, she has been married to actor Kenric Green since 2010. They are parents to two children named Kenric Green II and Saraiyah Chaunté, with their daughter arriving during the coronavirus pandemic in 2020. The actor shared the news of the birth of her daughter on Instagram, captioning a picture holding her while gazing at her husband, "It was a profoundly beautiful home birth, and now both of our children have been born in the water. We never felt that anything was missing, but now that she's here, we feel a perfect sense of completeness."
Martin-Green's husband also stars in "The Walking Dead," portraying Scott in the AMC show.
Xander Berkeley found love on the set of 24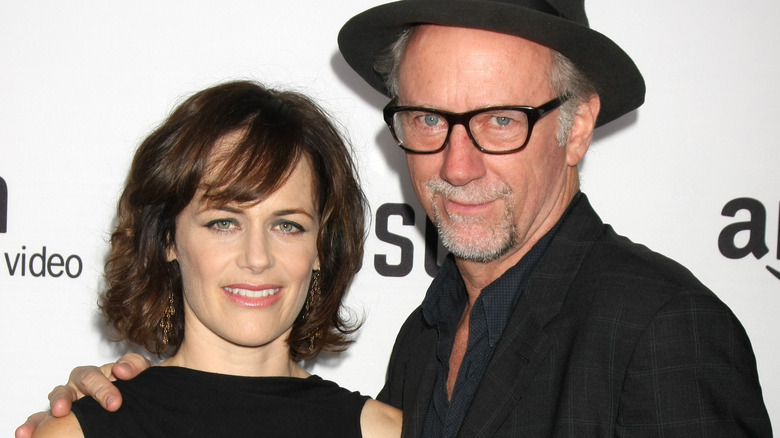 Actor Xander Berkeley found himself playing the role of Gregory, the self-absorbed leader of the Hilltop Colony who meets his untimely death in "The Walking Dead" Season 9 premiere. Speaking to The Hollywood Reporter about being killed off so early on in the season, Berkeley said, "There's so many moving parts and pieces and the way in which it all fits together, and there's all these truly beloved characters that they knew maybe they had a short amount of time left with, and they needed to maximize the real estate on their characters and that meant bringing other things around to a conclusion. I can't even imagine what that mental dance is. But I'm always a little in awe and impressed by it." 
Besides his role as Gregory in the horror drama, Berkeley is also best known for the role of George Mason of Fox's "24." It is also where he met actor Sarah Clarke, who starred as agent Nina Myers, and who he ended up marrying in 2002, per 24 Spoilers. Talking to the outlet about falling in love on set, Berkeley gushed, "It was like there was no possibility of escape for either of us — and no desire to either."
According to Decor Maine, the couple, who lived in busy Los Angeles because of their acting careers, have settled in Maine with their two daughters. "This is the place to create the bigger picture," Berkeley shared with the publication in 2020. 
Source: Read Full Article