Glee is a show that defined a generation. And every time the holidays come around, almost every Gleek is transported back when the Glee Christmas songs and episodes also defined the festive season.
Undoubtedly, no matter how old you are, if you're a fan of the musical comedy, then there's a big chance that you're listening to the show's holiday albums every December. So, to celebrate the season, we put together a list of the top 10 best Glee Christmas songs.
10. 'Let It Snow' kicks off our top 10 'Glee' Christmas songs list
A Glee Christmas album isn't the same without a Kurt and Blaine duet, and "Let It Snow" is one of their most memorable songs.
In 1945, Vaughn Monroe originally performed "Let It Snow," written by Sammy Cahn and Jule Styne. The song has been covered many times, most notably by Frank Sinatra and Dean Martin.
Chris Colfer's and Darren Criss' voices blend beautifully in the Glee version. And their interpretation of this holiday classic is whimsical and perfect for the season. It's fast-paced, festive, and puts you in the holiday spirit.
9. 'Blue Christmas'
It's hard to replicate the same feelings that people get when they listen to Elvis Presley sing "Blue Christmas." But the good thing about the Glee version of the sad Christmas song is that they weren't trying to copy the King perfectly.
Damian McGinty's character Rory tenderly sang "Blue Christmas" during the third season's holiday episode. His emotion came across as raw and heartbreaking as he expressed his sadness at not being with his family during the holidays, something many of us will experience this year.
8. 'All I Want For Christmas Is You'
If there's one person that can capture the charm and delight of Mariah Carey's Christmas classic, "All I Want For Christmas Is You," it's Amber Riley.
Riley's character, Mercedes, can sing the rooftop off of any room she walks into. And when the Christmas episode in Glee Season 3 had Mercedes lead "All I Want For Christmas Is You" while the characters decorated the choir room, it was pure magic.
7. 'Happy Xmas (War Is Over)'
This Glee Christmas song wasn't featured in an episode, but it's a favorite, thanks to Cory Monteith and his character Finn Hudson.
Finn's voice matured and significantly got better over the years, and by the time Glee Season 4 rolled around, it was a pleasure whenever he got a solo. He was just a joy to listen to.
Monteith perfectly balanced the innocence and heaviness of "Happy Xmas (War Is Over)," originally sung by John Lennon and Yoko Ono. We're still mad we didn't get to see Finn sing the Christmas song in Glee, but we'll take what we can get.
6. 'Santa Baby'
Naya Rivera was one of the most underrated and underused artists in Glee. But whenever her character, Santana, performed, everyone stopped to watch and listen. And her performance of "Santa Baby" in a deleted scene from season 3 was no different.
Santana's voice lends itself perfectly to the sultry song, and we have a hard time understanding why "Santa Baby" got cut from the episode. Nevertheless, Rivera turned a song that some may find cringeworthy into a catchy tune that is a must-listen during the holidays.
5. 'River' is an underrated 'Glee' Christmas song
To be honest, we think that "River" by Joni Mitchell is an underrated Christmas song in general, but that's a topic for another day.
Not all Christmas songs can and should be happy and cheerful. That's why we're so glad Glee covered 'River." It's an achingly beautiful song highlighting the loneliness and sadness some people feel during the holidays. And Lea Michele perfectly captured that emotion.
Lea Michele's character, Rachel, expressed the despair she felt the previous year after she cheated on Finn during her performance. It was raw, beautiful, and memorable. Michele brought a theatrical quality to "River" that changed the song slightly, but the impact was all the same.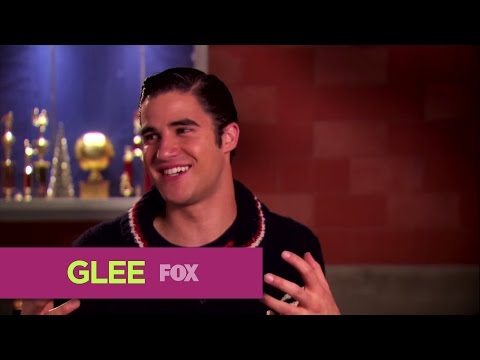 4. 'Do They Know It's Christmas?'
It's always a good time when all the characters in Glee get to sing together on one song. And their performance of "Do They Know It's Christmas?" perfectly showcased all of their voices.
Band Aid, a charity supergroup, performed the original version of "Do They Know It's Christmas?" to raise money for anti-famine efforts in Ethiopia in 1984. And according to Playbill, all proceeds from the Christmas song by the Glee Cast went to benefit The Band Aid Trust, which was formed with the same mission in mind.
3. 'Christmas Wrapping'
Heather Morris didn't usually get to sing in Glee, but it was always a delight when she did. And her character's performance of "Christmas Wrapping" was especially fun.
The song by The Waitresses isn't a popular one that many hear when December comes along. So Glee introduced this energized and festive song to a brand new audience who absolutely loved it.
Many Gleeks praise "Christmas Wrapping" for its lighthearted nature and ability to make anyone get up and dance along to it. Brittany's rendition of the Christmas song in Glee is undoubtedly a favorite among fans.
2. 'Last Christmas'
People adore listening to "Last Christmas" by Wham! during the holidays, so it's no wonder that Glee covered it.
"Last Christmas" fit perfectly into Finn and Rachel's storyline during the season 2 episode, and it broke our hearts almost as much as it did theirs. Their version of the song strayed a bit from the original melody, and in doing so, made it entirely their own.
It's no wonder why so many fans love Glee's "Last Christmas" because Cory Monteith and Lea Michele were born to sing together. And their interpretation of the song is a must-listen during Christmastime.
1. 'Baby, It's Cold Outside' is the best 'Glee' Christmas song
The controversy surrounding "Baby, It's Cold Outside" aside, this Kurt and Blaine duet stands out among the rest of the Glee Christmas songs.
Their version is filled with even more tension than the original because the audience knows how much Kurt was crushing on Blaine. Their back-and-forth throughout the melody leaves you hanging on every word. And the chemistry between the couple is just outstanding.
If there's one Glee Christmas song you listen to this holiday season, it should be "Baby, It's Cold Outside."
Source: Read Full Article