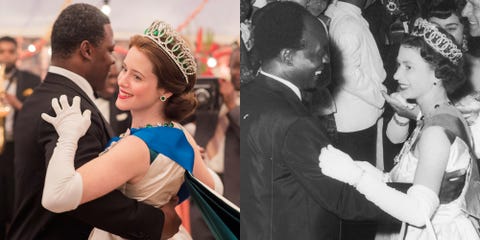 Now that season 5 of The Crown on Netflix has arrived faster than you can say Megxit, let's take a sec to appreciate the cast compared to their real-life counterparts. The new season brings with it loads of new actors, like Imelda Staunton taking over the role of Queen Elizabeth following Olivia Colman's seasons 3 and 4 performances. We also have Lesley Manville taking over Princess Margaret for Helena Bonham Carter, Jonathan Pryce taking over Prince Philip for Tobias Menzies, and Elizabeth Debicki taking over Princess Diana for Emma Corrin. With all these exciting changes—and as an excuse to look at all your fave characters again—let's see what 56 actors from The Crown look like next to the real people they portray on-screen.
WATCH THE CROWN ON NETFLIX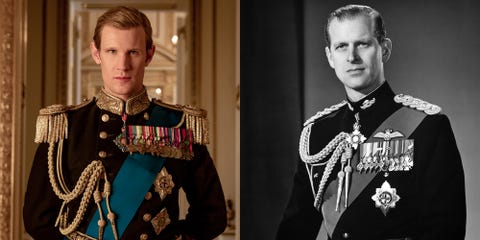 When it comes to playing Prince Philip, Matt Smith (of Doctor Who fame) has his stature to thank: Queen Elizabeth's late husband stood at a regal six feet tall—the actor's exact height.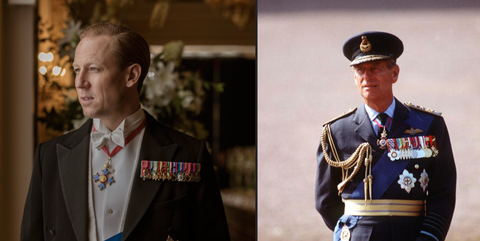 When the show moved on to a new era, English actor Tobias Menzies took over the role of Prince Philip. After news of the casting broke, Tobias said in a statement, "I'm thrilled to be joining the new cast of The Crown and to be working with Olivia Colman again. I look forward to becoming 'liege man of life and limb.'"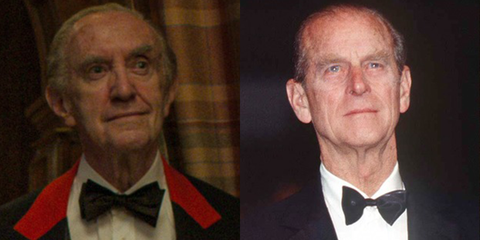 Oscar nominee Jonathan Pryce is the next Prince Philip for seasons 5 and 6 of The Crown. To get into character, the actor studied carriage-driving, a sport the royal was very passionate about. "They were hugely fond of him and said that he was a joy to be with, had a great sense of humor and a great zest for life," the actor told Vanity Fair of Philip's carriage-driving friends. "That was all very helpful, because it's not what we saw from him as a public figure—this man had such a joy for life."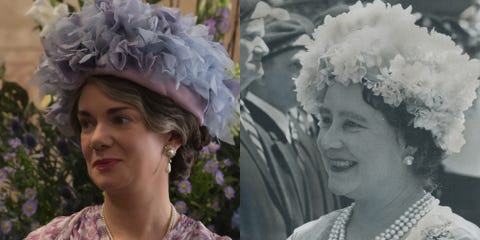 Played by English actress Victoria Hamilton, whose résumé includes episodes of Pride & Prejudice (the BBC one with Colin Firth) and Call the Midwife, the Queen Mother was a constant rock for Elizabeth at Buckingham Palace and beyond. In real life, the Queen Mother, who was the longest-lived member of the British royal family (and always one of the more popular royals), lived until the age of 101. She died in her sleep on March 30, 2002, just weeks after Princess Margaret passed away.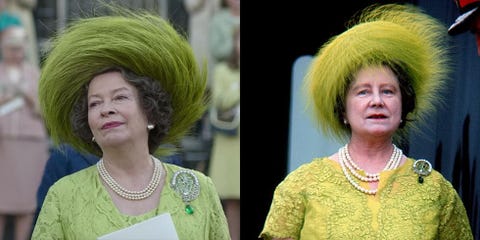 As the characters age in The Crown, Marion Bailey took over for Victoria Hamilton as the Queen Mother. Marion's résumé includes a movie adaptation of Jane Austen's Persuasion as well as Allied, which stars Brad Pitt and Marion Cotillard.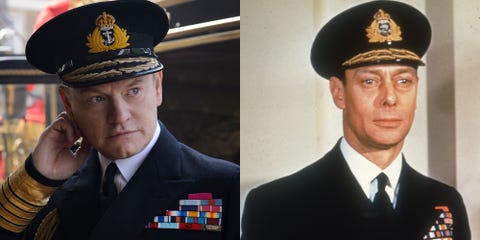 Perhaps best known for playing Lane Pryce on Mad Men, British actor Jared Harris was the face of Elizabeth's father, King George VI, on season 1 of The Crown (along with some flashback scenes in later seasons). George VI's reign famously began in 1936 when his brother Edward abdicated the throne and married American socialite Wallis Simpson. In 1952, following the stresses of World War I and a long battle with lung cancer and other illnesses, the King died in his sleep at the age of 56 while the future Queen Elizabeth was on an official royal tour of Australia and Kenya.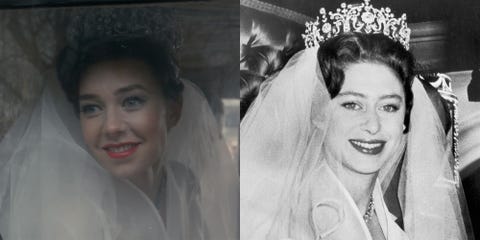 Vanessa Kirby played Princess Margaret, whose love life provided two key storylines during the first two seasons of The Crown. Following her doomed relationship with Group Captain Peter Townsend, which was forbidden by the Church of England given Townsend's status as a divorcé, Margaret fell in love with photographer Tony Armstrong-Jones. Their wedding at Westminster Abbey in 1960 was the first royal wedding to be televised.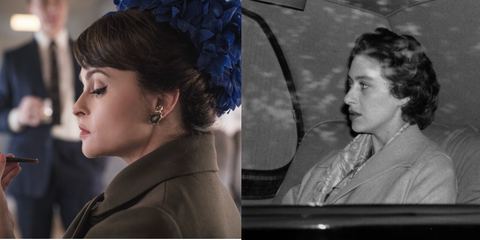 Helena Bonham Carter took on the role of rebellious Princess Margaret for seasons three and four. Once the news was released, the actress stated, "I'm not sure which I'm more terrified about—doing justice to the real Princess Margaret or following in the shoes of Vanessa Kirby's Princess Margaret." Which…fair.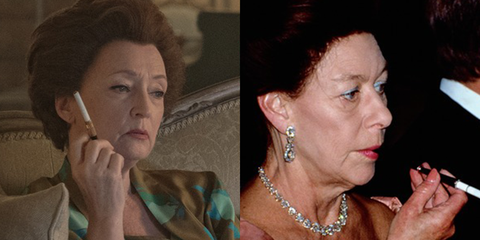 Lesley Manville, who acted in Maleficent, is the third actress to play Princess Margaret. Along with the news, she stated, "I could not be happier to be playing Princess Margaret. The baton is being passed on from two formidable actresses, and I really don't want to let the side down. Furthermore to play siblings with my dear friend Imelda Staunton will be nothing short of a complete joy."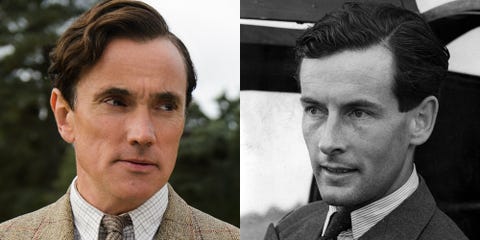 Played by English actor Ben Miles, Peter Townsend led a rather impressive professional life as an officer with the Royal Air Force. For nearly 10 years, he was also an equerry (which is pretty much a fancy way of saying "personal attendant") for the British royal family, serving under both King George VI and the Queen Mother. His personal life was rather dramatic. As shown on season 1, Townsend divorced his first wife, proposed to Princess Margaret, and shortly thereafter, he was sent to serve as an air attaché in Brussels. (BTW, an air attaché just means an Air Force officer who is part of a diplomatic mission.) On season 2, Townsend was shown writing a letter to Margaret to announce his engagement to a young Belgian woman. That woman would be Marie-Luce Jamagne, with whom Townsend would have one daughter.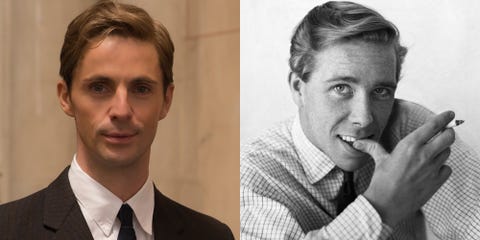 Where does actor Matthew Goode end and the real Antony Armstrong-Jones begin? The photographer who won Princess Margaret's heart made history when he became the first commoner in 400 years to marry into the royal family. During their nearly 20 years of marriage, Margaret and Tony (who later became the 1st Earl of Snowdon) raised their two children and endured endless headlines about their infidelities (on both sides), all while attempting to live their best lives in the most unconventional of settings. Following their divorce, Tony continued to maintain a professional relationship with the royal family, photographing Queen Elizabeth, Princess Grace of Monaco, and Princess Diana over the years. His nonroyal subjects were just as impressive—Elizabeth Taylor, David Bowie, Laurence Olivier, and J. R. R. Tolkien all posed for Lord Snowdon at one point or another.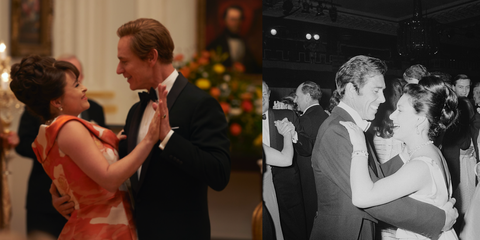 Ben Daniels, most known for his roles in Jesus Christ Superstar Live, House of Cards, and Rogue One: A Star Wars Story, played the 1st Earl of Snowdon through season four. Season 3 followed the complicated relationship between him and Princess Margaret.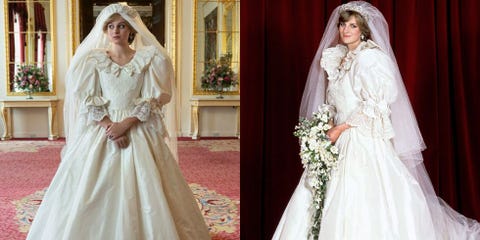 Season 4 of The Crown went deeper into Queen Elizabeth's life, and focused on the much-examined relationship between Elizabeth's son Prince Charles and Princess Diana, with Netflix casting newcomer Emma Corrin to play Lady Di. Emma said of the part, "Princess Diana was an icon and her effect on the world remains profound and inspiring. To explore her through Peter Morgan's writing is the most exceptional opportunity and I will strive to do her justice."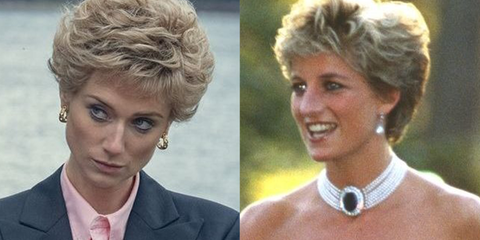 Despite booking the coveted role for season 5—and being a Lady Di doppelgänger—actress Elizabeth Debicki had doubts about whether or not she'd be able to pull off the role. "I think in the very beginning that did overwhelm me, the idea of this kind of collective [of Diana disciples] out there," she told British Vogue. After reading the scripts, however, the nerves started to disappear. "This isn't meta. These are characters," she continued. "It's a part."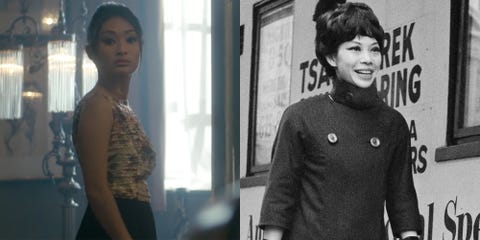 On season 2 of The Crown, Alice Hewkin played Jacqui Chan, an actress and dancer who dated Antony Armstrong-Jones for years. According to Tony's biographer, Anne de Courcy, Jacqui was "Tony's first real love" and was even invited to his and Princess Margaret's wedding. The scene of Jacqui getting ready for the wedding while staring at an old photograph of herself and Tony in episode 7, "Matrimonium," is both chilling and emotional, a far cry from the steamier, intense moments she shared with Tony earlier in the episode.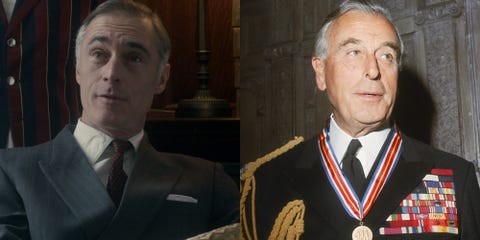 If The Crown's Louis Mountbatten, 1st Earl Mountbatten of Burma, looks familiar, it's probably because the actor Greg Wise played Willoughby in Sense and Sensibility. (Fun fact: Sense and Sensibility also starred the great Emma Thompson, who happens to be Greg's wife of nearly 15 years.) In real life (and as shown on The Crown), Prince Philip's Uncle "Dickie" became a great mentor to Philip and Queen Elizabeth's son Prince Charles. Tragically, though, the mentorship ended in 1979 when Mountbatten and members of his family were assassinated by the Provisional IRA while the group was fishing in Ireland. Mountbatten received a ceremonial funeral at Westminster Abbey, which included a reading from Prince Charles.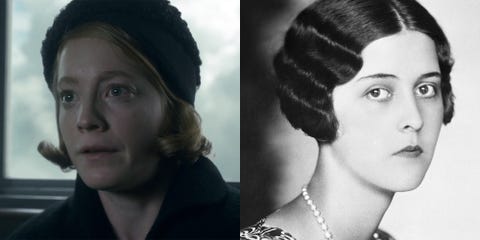 German actress Leonie Beseech played Prince Philip's older sister Princess Cecilie of Greece and Denmark. As shown in "Paterfamilias" (season 2, episode 9), Cecilie, her husband, their two sons, and her mother-in-law were killed in a plane crash in 1937 when the group set off from Germany to attend a family wedding in London. Cecilie was eight months pregnant at the time of the crash.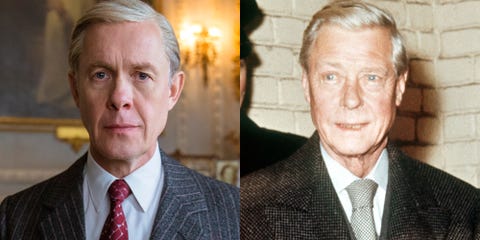 In case you thought this was Alex Jennings' first time channeling the royal fam, you are mistaken. The English actor played Prince Charles in the 2006 film The Queen, which starred Dame Helen Mirren as the eponymous role. On The Crown, Alex is equally excellent as David, Duke of Windsor, who famously abdicated the throne in 1936 to marry his American lover, Wallis Simpson. It was a risky and scandalous move but one that was probably worth it: The Duke and Duchess of Windsor were married for 35 years, until the Duke's death in 1972.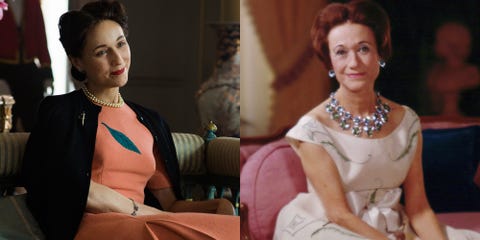 The American socialite's relationship with King Edward VIII changed the British royal family forever. Edward abdicated the throne to be with Wallis, which paved the way for King George VI and later Queen Elizabeth II. It was also pretty controversial because Wallis had been married previously. Together, the Duke and Duchess of Windsor (played by English actress Lia Williams on The Crown) lived a life of leisure, hanging with their many pugs (see next slide) and hosting dinner parties all over the world. Wallis died in 1986, some 14 years after the Duke of Windsor's death.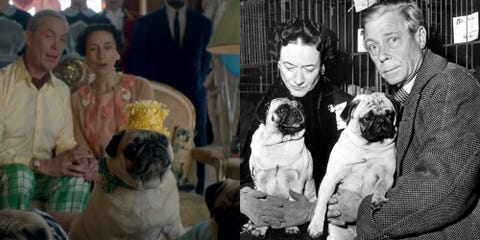 Between the many pug pillows and the pugs themselves, The Crown has been diligent in its portrayal of one particularly cuddly aspect of the Duke and Duchess of Windsor's life of luxury. Over the years, the couple's grumble of pugs included Disraeli, Davey Crockett, Black Diamond, Imp, Ginseng, and arguably the cutest one of them all, Trooper. [Editor's note: A group of pugs is called a "grumble." Cutely ironic, eh?]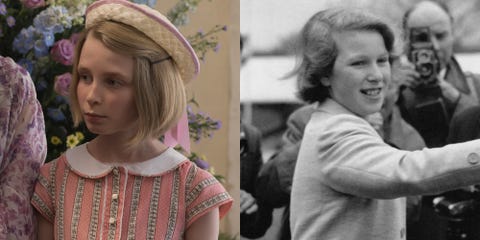 Lyla Barrett-Rye played Princess Anne (the daughter of Queen Elizabeth and Prince Philip) from age 7 through 13. Princess Anne is one of the more philanthropic members of the royal family, serving as patron for more than 200 organizations, including Save the Children, St. Andrew's First Aid, and the Royal National Children's Foundation.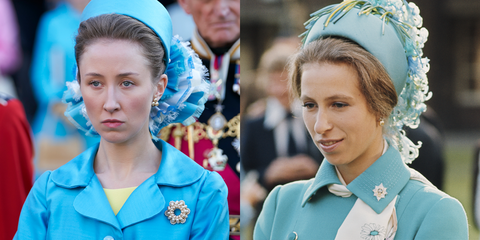 British actress Erin Doherty, who you might recognize from her roles in Call the Midwife and the Les Misérables TV series, was cast to play Princess Anne in seasons 3 and 4. Since 1987, Anne has held the fancy title of Princess Royal, which is given by a monarch to his or her eldest daughter. Princess Charlotte will likely be the next royal to receive this title, as she's the eldest daughter of Prince William.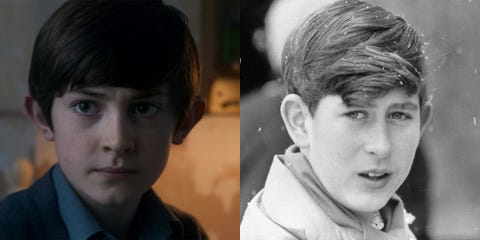 One of the more emotional episodes of season 2 is "Paterfamilias," which follows Prince Charles's first days of boarding school in Scotland at the insistence of his father, who attended the same school years earlier. Played by Julian Baring, TV Charles struggles with the physical demands of the Gordonstoun School, which real-life Charles has described as a "prison sentence."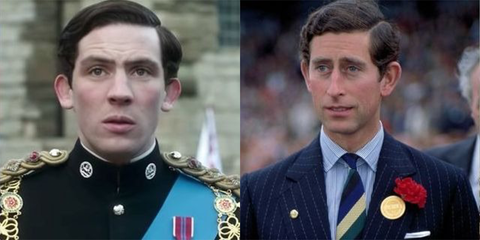 The young Prince Charles, Queen Elizabeth II's oldest child, is played by British actor Josh O'Connor, best known for his role in God's Own Country.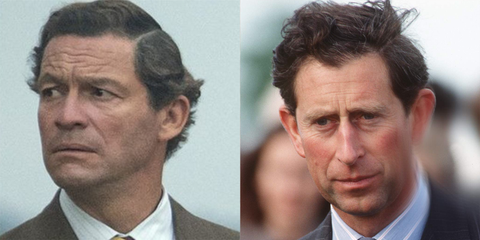 In season 5, Dominic West took over the role of Prince Charles. The actor did his research to prepare for the part. He rented a cottage on Charles's estate in Cornwall, bought plants from the royal's nursery, and even listened to him narrate his 2010 book Harmony. Fun fact: Dominic gets to act alongside his real-life son, Senan West, who was cast as a young Prince William!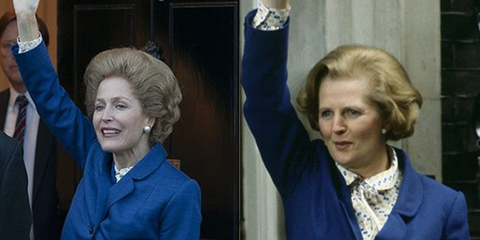 Gillian Anderson played Prime Minister Margaret Thatcher in season 4. In real life, Thatcher earned the nickname Iron Lady after demonstrating her strong attitude toward the world when it came to dealing with politics.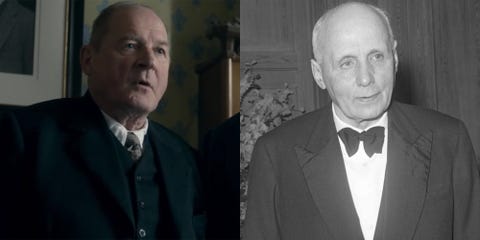 German film legend Burghart Klaussner played Kurt Hahn, a progressive educator who founded Gordonstoun in 1934 after fleeing from Nazi Germany. Over the years, the Gordonstoun School educated a number of royals, including Prince Philip, Prince Charles, Prince Andrew, Prince Edward, and Charles's niece Zara Phillips. (The school finally opened its doors to women in 1972.) Gordonstoun has quite a few nonroyal alumni, too, including Charlie Chaplin's granddaughter Oona Chaplin (aka Talisa in Game of Thrones), Sean Connery's son, Jason Connery, and David Bowie's son, Duncan Jones.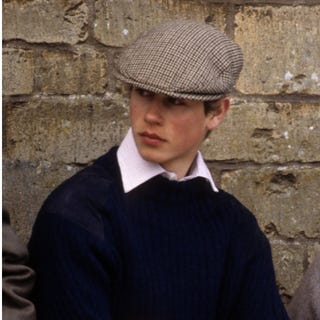 Source: Read Full Article