New Zealand-based visual effects giant is behind the characters Gollum and Caesar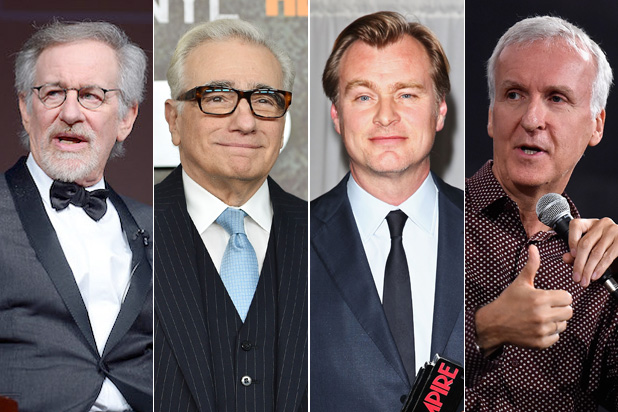 AGAINST: Roland Emmerich
The "Independence Day: Resurgence" director joined the chorus of Parker detractors saying, "it's crucial that we support and protect the cinematic experience." 
Getty Images
FOR: Peter Jackson
The "Hobbit" helmer said the device "does not play off studio against theater owner. Instead it respects both, and is structured to support the long term health of both exhibitors and distributors." 
Getty Images
FOR: Steven Spielberg
Perhaps the most important of all backers, Mr. Spielberg is also an advisor to Parker. 
Getty Images
AGAINST: James Cameron 
The "Titanic" and "Avatar" director joined producer Jon Landau in blasting the conceit, saying, "we don't understand why the industry would want to provide audiences an incentive to skip the best form to experience the art that we work so hard to create."
Getty Images
FOR: Martin Scorsese
The iconic director also serves as one of Parker's advisors.
Getty Images
FOR: J.J. Abrams
The gatekeeper of the "Star Wars" universe sits on Parker's panel of advisers.
Getty Images
AGAINST: Jon Landau
The mega-grossing producer blasted Parker's notion in a joint statement with director James Cameron, saying "both Jim and I remain committed to the sanctity of the in-theater experience. For us, from both a creative and financial standpoint, it is essential for movies to be offered exclusively in theaters for their initial release."
Getty Images
AGAINST: Christopher Nolan
The "Interstellar" director echoed support for Screening Room dissenters James Cameron and Jon Landau, saying "it would be hard to express the great importance of exclusive theatrical presentation to our industry more compellingly than Jon Landau and James Cameron did." 
Getty Images
FOR: Ron Howard
In remarks with Grazer, Howard said "Screening Room uniquely provides [a] solution." 
Getty Images
AGAINST: M. Night Shyamalan
The "Signs" director has opposed the proposal, tweeting, "Once filmmakers & theater owners open the door to this idea, there is no going back. The movie going experience is something to fight for!"
Getty Images
FOR: Brian Grazer
In a joint statement with director Ron Howard, the prolific producer said Screening Room is "fair, balanced and provides significant value for the entire industry that we love. We make movies for the big screen and for as many people to see it."
Getty
FOR: Frank Marshall
The prolific producer is on a board of Parker's advisors for this specific concept. 
Getty Images
Major directors and producers are divided over the tech entrepreneur's plan to stream new movies at home for $50 the week of opening
Source: Read Full Article