The Real Housewives of Potomac's seventh season is currently underway. Whether or not Candiace Dillard will return to the show has yet to be determined. There are reports that allege Dillard is not happy with the current contract she's being offered. She also has been outspoken about her grievances with the network, hinting at feeling she is discriminated against while other Housewives on other franchises are not held to the same standard.
The reality star has reportedly not signed her contract yet due to ongoing negotiations
Speculation regarding whether or not Dillard will return for season 7 has been rumbling for weeks now. Several social media users alleged that she was fired from the show. But Dillard took to Twitter to shoot down those claims.
Some of her co-stars have been spotted out and about together, without her, leaving to more questions regarding her status on the upcoming season. TV Deets reports that contracts have been received by the cast and given filming is set to begin this month. But Dillard has yet to actually sign her contract.
The "Drive Back" singer is reportedly not happy with the initial contract she was offered. Fans believe that because of Dillard being such an integral part of the drama during the past few seasons, she may want a pay bump, which is why she is stalling on signing. The report notes that she's in ongoing negotiations with the network executives.
This comes after Dillard put out a separate tweet following her denial of being fired. "When one door closes, another will opens," she wrote. Some feel the Tweet was in response to her not being happy with her contract and she potentially may walk away from the show.
She previously said her co-stars rely on her for a storyline
Much of Dillard Bassett's storyline has centered on her relationship with her overbearing mother Dorothy. Dorothy is critical of Dillard's husband, Chris Bassett. Bassett previously co-owned a restaurant but sold it amid the coronavirus pandemic.
Season 6 followed Bassett taking on the role of Dillard's manager as her singing and acting career began to blossom. According to Dorothy, Bassett quit his job after their wedding and is riding off of Dillard's coattails. Dorothy often shares her opinions with Dillard's co-stars.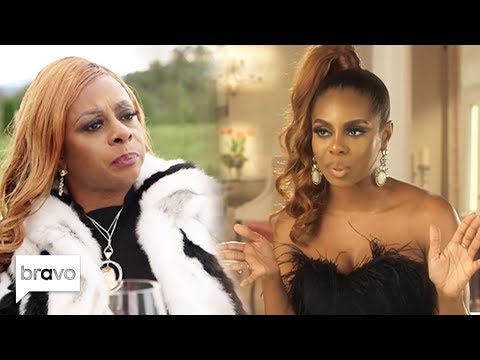 In an interview with Angela Yee's Lip Service podcast, Dillard spoke of being disappointed in her mother. She says that her family is being used for the purpose of good TV and her mother is blind to it. Dillard claims network executives go out of their way to ensure Dorothy is featured on the show.
"And my mom was always like, 'We're not gonna let the show come between us. The show is just the show and we are a family.' So then for her to do this, it's like you let the girls basically use you and use us for a storyline, for a moment cause it was talked about for the rest of the season. And it became its own thing," Dillard said.
Who else received a contract to return for Season 7 of 'RHOP'?
TV Deets reports that the entire cast from last season – Gizelle Bryant, Robyn Dixon, Karen Huger, Wendy Osefo, Ashley Darby, Mia Thornton, and Dillard — have received contracts. It's unclear whether friend to the show, Askale Davis, will return, or what other potential friends may film.
Huger is reportedly filming her own family spinoff. The show is scheduled to premiere this Fall.
Source: Read Full Article