Khloe Kardashian stopped being "calm" two days after she found out Tristan Thompson, her boyfriend and the father of her daughter, True Thompson, cheated on her with Jordyn Woods, the best friend of her younger sister, Kylie Jenner. 
On part two of the Keeping Up with the Kardashians Season 16 finale, Khloe took a girls trip to Kris Jenner's Palm Springs home with her best friend, Malika Haqq, and her sisters, Kim and Kourtney Kardashian. While there, Khloe decided to stop being "calm" about the cheating scandal.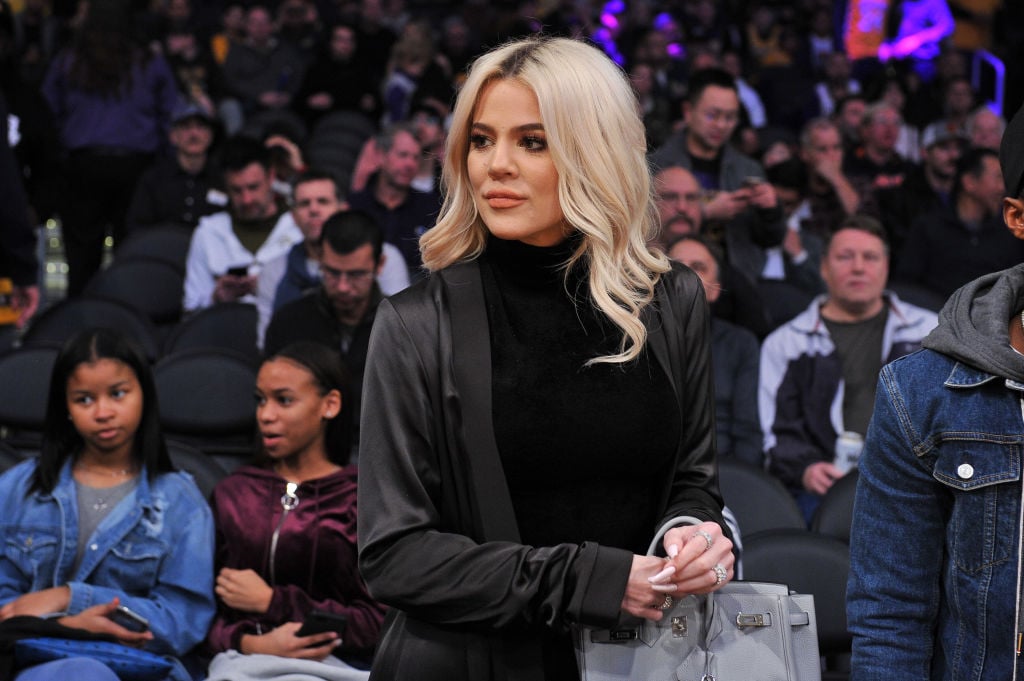 Previously, Khloe had said she felt "numb" and "in shock" immediately following the scandal, not really sure about how she felt. 
While having dinner and drinking tequila, Khloe received a kind video message from "Cheap Thrills" singer, Sia. With her voice shaking, Sia called Khloe "loveable and valuable." 
"I'm sorry this is happening to you but you'll never be alone because I'm always here if you need me," she added. 
Then, the group spoke with Kimora Lee Simmons on FaceTime. 
"I just think, you guys, cannot let people take advantage of you like this," Simmons said.
https://www.instagram.com/p/BoS3-KGn1oX/
"Like, Kim said, Khloe, that you were, like, trying to take the high road and you were saying, you know, 'I'm too old for this,' and this girl is young. But if you don't protect your family, you don't protect your child, your house, what goes on in your home, what kind of s— are you running? That's your baby daddy, whether you're with him or not, you cannot allow this kind of disrespect." 
Khloe agreed with Simmons and declared, "I'm going to go back to the old Khlo-money." 
She continued, saying, "Kim and Mom have calmed me down so much in my life…I wish you guys would let me go back to who I used to be." 
Kim then made a FaceTime call to their mom to tell her Khloe didn't want to be calm about the situation any longer. 
"We're not doing this the Kris Jenner way anymore," Kim told Jenner. "We gotta change the tone." 
In an interview for the show, Kim explained why she felt Khloe kept her emotions inside the first time she dealt with Thompson's infidelity. She thought her sister "held a lot back" because she had just delivered a baby and "wasn't able to really let it all out and have that anger." 
Kanye West jokingly suggested Khloe tweet her feelings
"I'm so sick and tired of these people calming me down and making me try to be f—ing zen. I'm over the zen unless it's Sunday. Other than that, game over."
"How 'bout you send just 200 tweets?" West replied, making the women laugh. 
https://www.instagram.com/p/Bydb4DSBLH1/
After Khloe's cathartic dinner, the women decided to apply face masks and get massages. But while Kim and Kourtney were getting massages, Khloe continued to let her emotions out on Thompson's friend, Savas Oguz. 
Hearing Khloe raise her voice, Kim and Kourtney got concerned but then decided to let Khloe continue, thinking it'd be good for her to get all of her feelings out instead of keeping them pent up inside. 
Now that it's been more than four months since the scandal, Khloe's publicly stated she's been focusing on the positive things in her life.
Source: Read Full Article