Tom Cruise is renowned for being one of the most welcoming and warm movie stars out there. As per the BBC, he regularly turns up hours early for premieres so he can spend time with his adoring public. Shaking hands, chatting, signing autographs, and posing for selfies. Few other A-listers are as open and kind as Cruise is when it comes to meeting and greeting their fans.
However, when he's "off duty," Cruise is notoriously guarded. He values his privacy and keeps a tight circle comprised of trusted friends and immediate family. Cruise made an uncharacteristic privacy exception during his last marriage — which was a PDA-packed, TMI-sharing tabloid cringe-fest. But since that ended in a blindsiding divorce in 2012, his walls are firmly back up.
These days, Cruise devotes his time to his kids, career, and the Church of Scientology. According to People, Cruise bid farewell to La La Land in 2016, selling his Hollywood homes and purchasing an apartment in Clearwater, Florida. The swanky penthouse pad is just around the corner from Scientology's international HQ. The move means Cruise can now devote more time to his bromance with the church's controversial leader, David Miscavige. However, it doesn't mean Cruise has lost that loving feeling. He's just keeping his romantic life on the down-low, as he always had before leaping around like a lunatic on Oprah Winfrey's sofa. Buckle up Goose, it's time to buzz the tower — we're swooping inside Tom Cruise's super secretive love life.
The high school sweetheart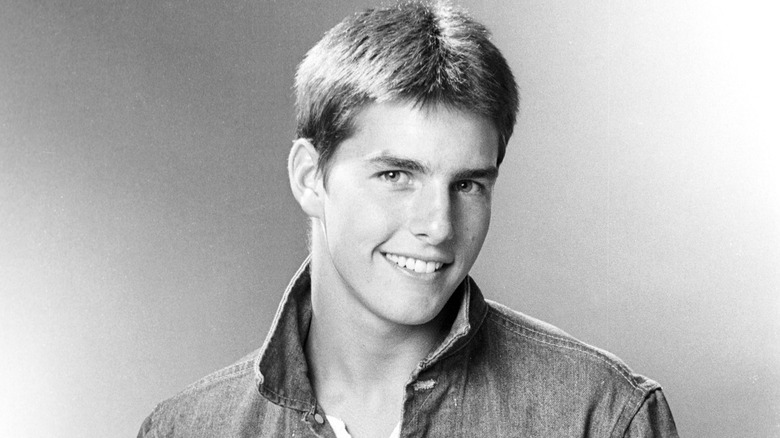 Before Tom Cruise, the movie star, there was Tom Mapother, the high school senior. It would be another four years before the 18-year-old stripped down to tighty-whities and slid his way into superstardom. However, the crooked grin and easy charm were already evident. Diane Cox noticed both when she first met Cruise at their 1979 high school prom. "I came out of the bathroom and with a bottle of booze and a huge grin, he was waiting there," Cox told The Washington Post. "He's not a tall guy, but he had this big a**, and he was super charming," she continued.
It was the start of an intense two-year-long relationship, with the couple making out whenever, wherever, and as often as possible. "Whenever we could, we'd have sex." Cox shared. "We would have used my dad's car if my parents weren't around. We once used his parents' garage."
As Cruise started auditioning for roles, they began spending more and more time apart. However, absence didn't make the heart grow fonder, and before long, the green-eyed monster reared its head. "He got very jealous, very overprotective," Cox told The Post. "The intensity of the whole personality of Tom really put me off," she admitted. They eventually split after Cruise discovered Cox was seeing somebody else. Cox said she bumped into Cruise at a party two years after "Risky Business" had launched his career. "He said to me, 'I'm going to take Hollywood by the a**,'" she shared.
The Hollywood hook-up dishes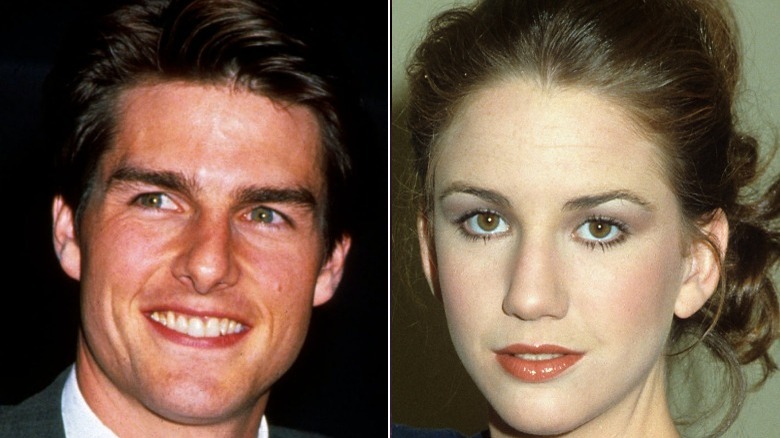 Tom Mapother kept his love life secretive even before he became the world-famous film star, Tom Cruise. Despite dumping his high school sweetheart for seeing somebody behind his back, it appears Cruise was also sowing his wild oats during their relationship. While living in Los Angeles as a struggling actor, Cruise regularly enjoyed a Hollywood hook-up, courtesy of Melissa Gilbert. The "Little House on the Prairie" star spilled the Tom Cruise tea during an appearance on Bravo's "Watch What Happens Live with Andy Cohen."
Gilbert laughed and then dished when asked if there was "any truth at all" to the rumor that she once dated Cruise. "That is true," she admitted. "Actually, when I dated him, he was Tom Mapother still. It was when he first moved to Los Angeles, and I think I was 16." If Gilbert was 16 at the time, then it would have been 1980, and Cruise would have been one year into his two-year-long relationship with Diane Cox.
Cohen pushed Gilbert for more details, pointing out that Cher had once claimed Cruise was "one of the best lovers she'd ever had." "I did not have sex with him," Gilbert insisted. "We made out, but, honestly, there was no sex." Cohen continued to push through, asking about Cruise's kissing skills. "He was a good kisser," Gilbert conceded. "But you know, he was just like a struggling, starving actor, and I was working. I actually bought him his first set of dishes."
The Risky Business dance disaster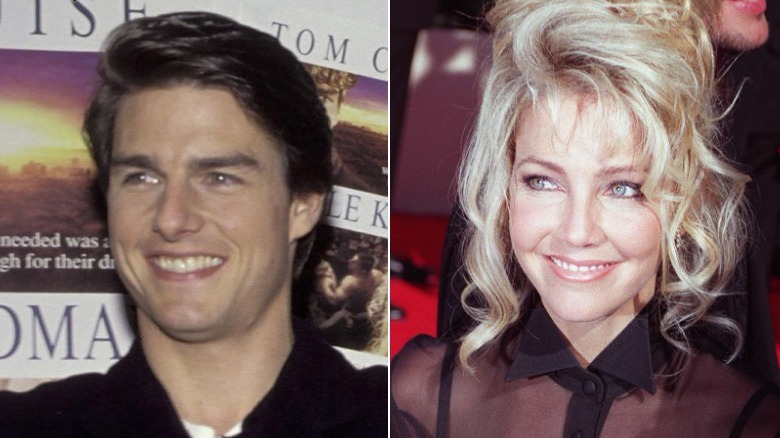 Back in 1983, Tom Cruise may have had the moves like Jagger onscreen, but he failed to make the cut when it came to busting-a-move off-camera. In fact, Cruise was unable to seal a dating deal thanks to his disastrous dance floor performance. Heather Locklear gave the lowdown on her cringe-worthy night out with Tom Cruise — and his dirty dancing debacle — during a 2013 "Chelsea Lately" interview.
After insisting "it wasn't really a date," Locklear spilled on the evening she spent with Cruise. She said that after they'd finished a joint audition, they ended up hitting the town together because the actor didn't really know anybody in Los Angeles. "So we went out, and we went dancing," Locklear explained. However, she claimed that it all started to go rapidly downhill after Cruise decided to re-enact his infamous "Risky Business" semi-naked dance scene.
"You know, er, Risky Business where he does that dance in his underwear and does the splits? We were dancing in a club, and he went into that," Locklear said. "You just kind of stand there, and you don't know what to do. Do you dance around him? Do you? So, I was like, I'll just sit down," she later shared. So was her night out with Cruise really just a one date (not really a date) wonder, Handler asked. "I think so," Locklear replied hesitantly.
The call girl co-star coupling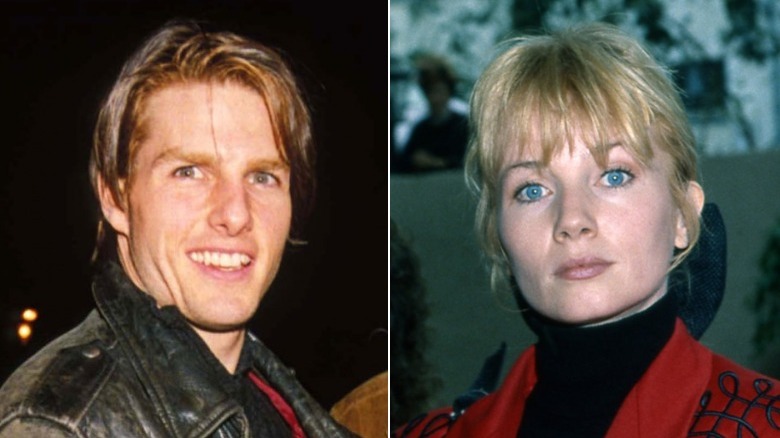 The release of the iconic teen flick "Risky Business" in 1983 propelled Tom Cruise to fame. It wasn't just his movie career that was started, though. The film also sparked a two-year-plus passionate relationship with Cruise's costar, Rebecca De Mornay.
De Mornay, 23, played a call girl who honed 19-year-old Cruise's bedroom skills — then helped turn his parents' house into a brothel while they were away on vacay. Their onscreen chemistry was electric, but they didn't start dating until after filming wrapped — thanks to De Mornay's boyfriend, Harry Dean Stanton, being on set. But Cruise didn't waste any time moping around. The actor's bedroom was like an Atlantic City fairground, with a stream of teenage girls outside, waiting their turn. "I found three or four young girls — late teens, I suspect — lined up in the hall outside of Tom's room," Curtis Armstrong, who worked on the movie, wrote in his book, "Revenge of the Nerd." "Tom's door opened, and another girl came out, adjusting her hair and taking off down the hall, while the first girl in line slipped into Tom's room," he later claimed.
Cruise still had his eye on the prize, though, and he finally got De Mornay — quite an achievement given her initial impression of him. "I thought he was very annoying when we first started," she told Celebrity Page. "He was extremely annoying. But he came to grow on me because we wound up together for two-and-a-half years."
The older woman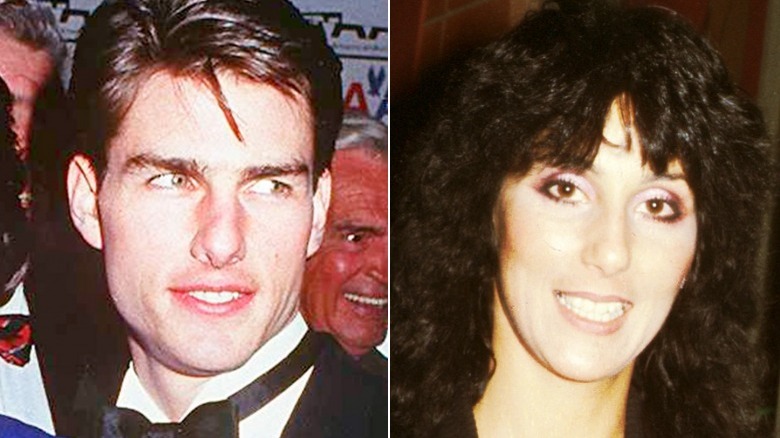 As far as unexpected Hollywood couplings go, you can file Tom Cruise and Cher under B for bizarre. The Daily Mail reports that the unlikely lovers met at Sean Penn and Madonna's wedding in 1985. At the time, 22-year-old Cruise was just two years into his career, but 38-year-old Cher was already a hugely successful superstar. According to The Washington Post, things took a romantic turn after seeing each other a second time, at a White House function two months later.
Cher told the Daily Mail there was an immediate spark, but they "didn't go out till way later." However, once they started dating, things turned pretty serious, pretty quick. "Is it true [you dated] Tom Cruise? … How much of a date was that?" Oprah Winfrey asked during the "Oprah, Cher, Tina" 2008 TV special. "Oh, that was a long date. I lived in his apartment. So that was long," Cher said. "You know what? He was so wonderful, and I was so crazy about him, and he was so different. He was a shy boy; he didn't have any money."
She dished more during a "Truth or Cher" game on "Watch What Happens Live with Andy Cohen" in 2013. After being asked, "Who was your all-time best lover?" Cher played coy, explaining that she'd been lucky enough to have "had just the greatest lovers ever." Cohen pushed further. "Where did Tom Cruise rank on that list?" He asked. "He was in the top five," Cher admitted.
The marriage of enlightenment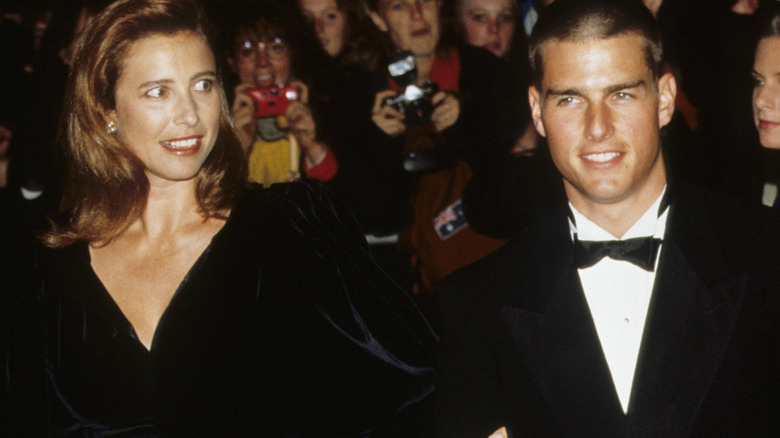 Mimi Rogers drastically changed Tom Cruise's life course forever after introducing him to Scientology. Cruise told Rolling Stone in June 1986 that he'd met Rogers at a dinner party a year previously. "She was dating a friend, and, uh, I thought she was extremely bright," he admitted. In May 1987, the two married in a super-secret ceremony. People reported that "the wedding was very small, intimate and beautiful" and that Emilio Estevez acted as best man.
It wasn't Mimi's first time down the aisle. According to The Telegraph, she'd previously married Jim Rogers, a Scientology counselor. The union was short-lived, though, and they divorced when she moved to Hollywood. However, Mimi didn't break her strong ties with Scientology. As per The Hollywood Reporter, Mimi was raised in the church. Her father was one of sci-fi writer L. Ron Hubbard's "original disciples."
Cruise admitted that Mimi introduced him to the controversial religion but insisted that he joined on his own accord. Tom Cruise went on to develop an intense, long-term relationship with Scientology. But his marriage didn't fare as well — the couple split in January 1990. Mimi blamed the break-up on Cruise's religious zeal and sexual reluctance. "Tom was seriously thinking of becoming a monk," she told Playboy (via E!). "At least for that period of time, it looked as though marriage wouldn't fit into his overall spiritual need. And he thought he had to be celibate to maintain the purity of his instrument."
The Days of Thunder are torn asunder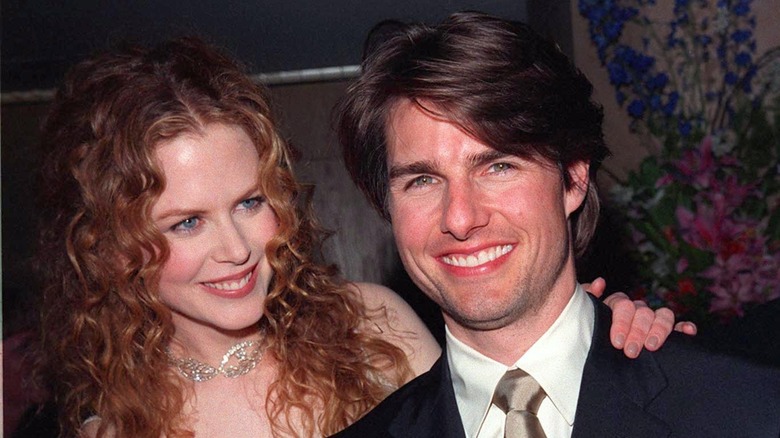 When "Days of Thunder" started filming in 1989, Tom Cruise instantly sparked with Nicole Kidman, despite being married to his first wife, Mimi Rogers. Kidman was equally dazzled by her handsome leading man. "He basically swept me off my feet. I fell madly, passionately in love," she told Vanity Fair.
In December 1990, Kidman became the second Mrs. Cruise. For a while, Cruise and Kidman were Hollywood's golden couple. They adopted a couple of kids and starred in two more movies together, "Far and Away" and "Eyes Wide Shut." However, by February 2001, it was all over. Cruise filed for divorce after 10 years of marriage, citing "irreconcilable differences," per Entertainment Weekly.
Neither has ever publicly spoken about the reason for their split, but the finger's been pointed at Scientology. Kidman was raised Catholic, and she ultimately refused to join Cruise's beloved church. "I was introduced to it by him, and I explored it," she told Vanity Fair. "But I'm not a Scientologist." According to The Daily Beast, David Miscavige was concerned Kidman was enticing Cruise away from the fold. So, the Scientology leader ordered that she be "gotten rid of," a former church executive alleged. "She became, in the eyes of Scientologists, a 'Suppressive Person,'" Mike Rinder claimed. "And a Suppressive Person in Scientology is a person who's at the best to be utterly and completely disconnected from, and the worst, if you're a Suppressive Person like me … to be utterly destroyed. Tom had to disconnect from her."
When The Cruise met Cruz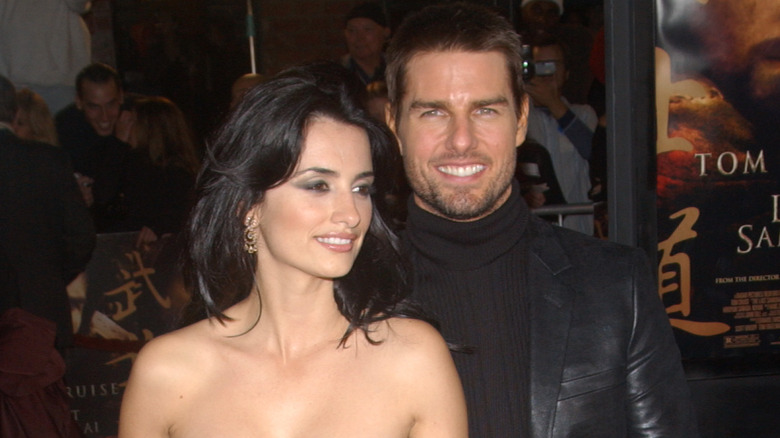 Proving that the best way to get over somebody is to get under somebody else, Tom Cruise wasted no time moving on from his second failed attempt at marital bliss. Cruise was still with Nicole Kidman when he met Penélope Cruz on the "Vanilla Sky" set. But, they insist they didn't become involved until after his divorce in 2001. "I've never fallen in love with someone I'm working with," Cruz claimed (via The Telegraph). "It's always been afterwards. If something becomes friendship, then maybe months later it becomes something else."
The ink on his divorce papers was barely dry when Cruise and Cruz made their couple's debut at the "Captain Corelli's Mandolin" premiere. Their combined star power dazzled the red carpet, and Cruz loved that her new boo was basking in the spotlight with her. "He came and shared it with me," Cruz told "Good Morning America." "It was special for me that he wanted to share it with me that way." They dated for three years before splitting in January 2004. "The relationship just ran its course and they decided not to be girlfriend and boyfriend anymore," a source told People.
However, once again, speculation was rife that Scientology was behind the break-up. According to Vanity Fair, Cruz had managed to land on David Miscavige's hit list. He allegedly branded her a "dilettante" for refusing to ditch Buddhism and embrace Scientology.
The relationship audition winner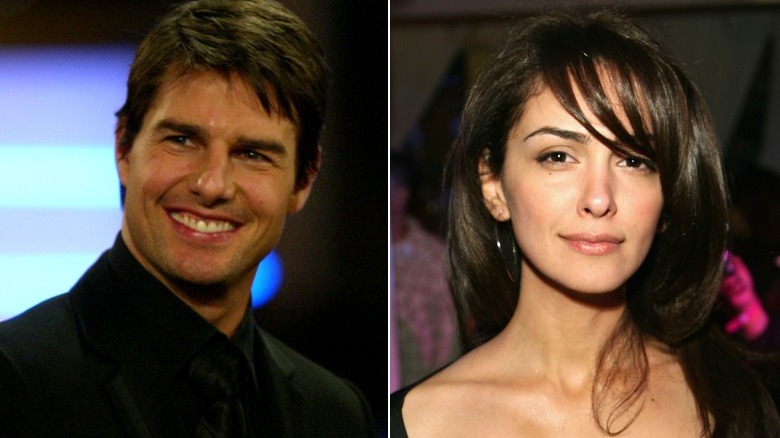 Tom Cruise's love life had hit a low in 2004, with two divorces and several failed relationships under his belt. So, Scientology reportedly stepped in to play cupid and land him the perfect partner. According to Vanity Fair, Shelly Miscavige was tasked with finding Cruise, "a drop-dead-beautiful true believer to share his life."
Marc Headley, a former Scientology film studio exec, alleges an "audition process" was created. He claims he watched multiple "three-to-four-minute audition videotapes" of young female Scientologists but that none were judged to be good enough. They eventually struck gold in October, though, when Nazanin Boniadi, a 25-year-old second-generation church member, was deemed to be the perfect match.
Boniadi reportedly had no clue she was being groomed to be Cruise's next squeeze. She was allegedly told she'd "been selected for a very hush-hush mission" that would "make the world a better place." According to Vanity Fair, after a month of "procedures," Boniadi dumped her boyfriend and signed a "confidentiality agreement." She was then allegedly flown to New York where she'd finally learn her fate. Cruise immediately launched an intense wooing offensive that resulted in Boniadi falling "head over heels in love." She reportedly moved into his house, even sleeping with him, before being unceremoniously dumped in January 2005 for no apparent reason. Boniadi was then allegedly dispatched to Scientology's Mecca for "counseling" to help her understand why she just wasn't good enough to make the Cruise cut.
The one that got away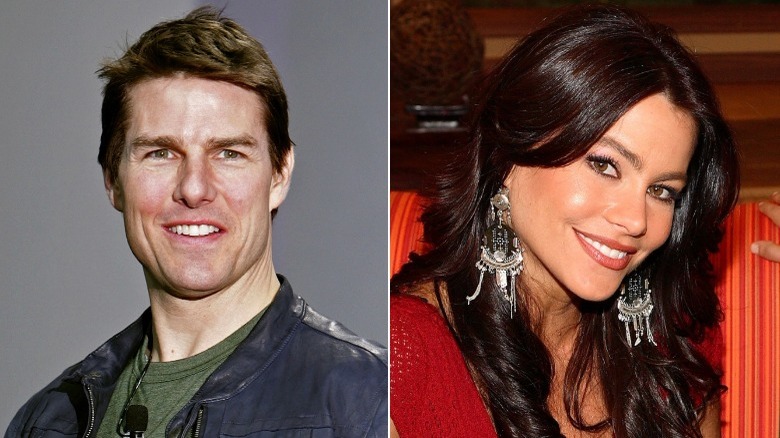 Fresh off his Scientology matchmaking experiment gone wrong, Tom Cruise decided to reclaim his romantic destiny. It wasn't long before a stunning 33-year-old actor caught his eye. Sofía Vergara was still waiting for her big break in Hollywood when she received a call from Will Smith, inviting her to a pre-Oscars party. When she arrived, Cruise was waiting, and he quickly made his move.
As per Andrew Morton's book, "Tom Cruise: An Unauthorized Biography" (via New York Post), Cruise immediately went on the charm offensive. He bombarded Vergara with "phone calls, flowers, and chocolates," and she was suitably impressed. However, things took a downward turn after Cruise suggested a trip to the Scientology Center. The couple was met by David Miscavige and a barrage of questions. According to Morton, Vergara was being vetted to see if she was a suitable Mrs. Cruise III.
However, a friend of Vergara's said that there was no way the devout Catholic would turn her back on her faith. "She was fundamentally terrified of Scientology," the source told Morton. "She sincerely believed that she would be struck down by God and burn in hell if she joined." And, so, another one bit the dust. Vergara has kept schtum about her brush with Cruise. The Daily Beast pointed out that not much is known about her and Cruise. "Let's keep it that way!" Vergara said. "I don't want to talk about that!"
The Disney romance turned Grimm's fairytale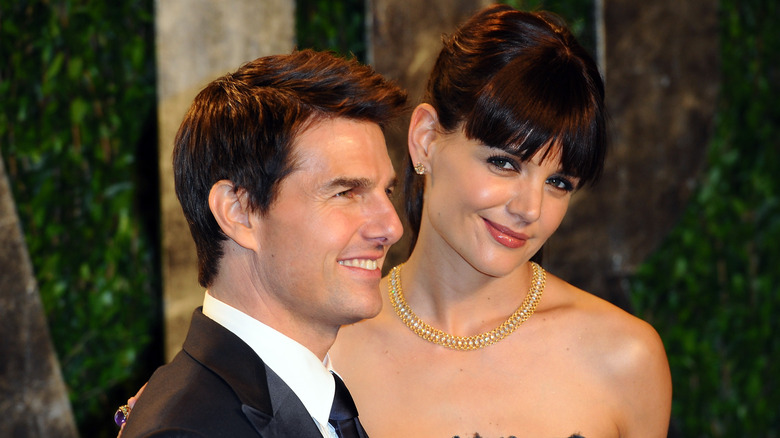 Growing up in Ohio, Katie Holmes' wall was littered with Tom Cruise posters. In 2004, Holmes admitted to Seventeen magazine (via The Hollywood Reporter) that she'd dreamed about marrying her celeb crush one day. Oh, girl! Be careful what you wish for.
Holmes' dream started becoming a reality in 2005. She met with Cruise under the guise of auditioning for "Mission: Impossible 3," but that was just a ruse. The starstruck Holmes was easy pickings for Cruise, who turned on the charm and swept her off her feet. It seemed like a fairytale romance. Cruise and Holmes jetted worldwide — living a life of luxury, wining and dining in all the fanciest restaurants, and hobnobbing with the elite. Holmes even took Cruise's infamous Oprah Winfrey cray-cray "couch-jumping" cringe-fest in her stride.
She converted to Scientology, and after just eight weeks of dating, they were engaged. "Today is a magnificent day for me, I'm engaged to a magnificent woman," Cruise announced, per People. Four months later, the newly dubbed "TomKat" were expecting a baby. Holmes gave birth in April 2006 (via Today). By November, they were married. However, in 2012, it quickly went from a Disney dream to a Grimm's fairytale after Holmes shocked the world — and her husband — by filing for divorce. "I don't have any fear now, I don't have a lot of rules for myself, and I don't take myself that seriously," she told People about life post-TomKat.
The 'perfect' Scientology princess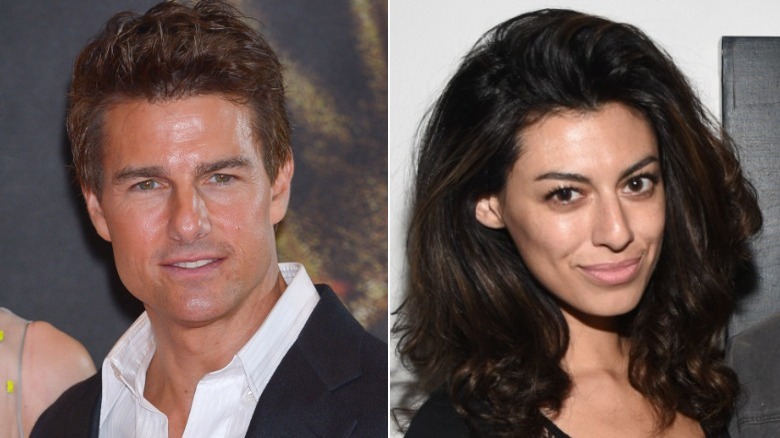 After being blindsided by his third divorce, Tom Cruise must have been feeling down. But, when it came to looking for love, the actor definitely wasn't out. To help in his eternal quest to find the "one," Cruise turned to Scientology again. And, the church seemingly came up trumps with Yolanda Pecoraro.
According to The National Enquirer (via Radar), the 27-year-old Latinx aspiring actor was a devout, second-generation Scientologist who'd been studying the religion since she was 13. "[Yolanda is a] Scientology princess, perfect for Tom," a source said. They claimed that Cruise had even been splashing out some serious cash for Pecoraro to "attend expensive Scientology courses at the Celebrity Centre in Hollywood." They pointed out there was one hindrance to Cruise finally achieving true love though — Pecoraro's live-in boyfriend. But, where there's a will, there's a way, and David Miscavige has a reputation for overcoming inconvenient hurdles.
Cruise and Pecoraro already had history. In his tell-all, "Tom Cruise: An Unauthorized Biography," Andrew Morton claims Cruise and Pecoraro first met back in 2004 in Spain. Morton alleges the couple actually dated briefly. There's even a photo of them posing together at a soccer match with David and Victoria Beckham. Sadly, however, as history would appear to show, it wasn't meant to be — and Cruise was, once again, back on the market.
The successful ending to Tom Cruise's mission impossible?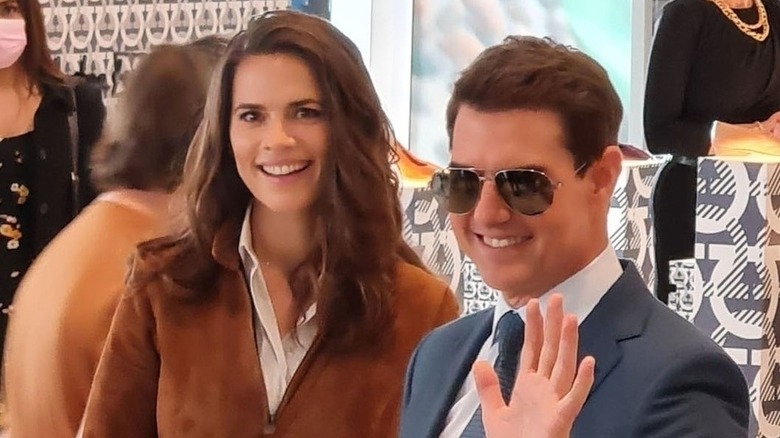 A lesser man might have thrown in the towel by now if they had a relationship batting average as low as Tom Cruise. However, this hopeless romantic's lust for love hasn't dampened one bit. Cruise was back in the dating saddle yet again in the summer of 2021 — cozying up to "Mission: Impossible 7" co-star, Hayley Atwell.
As per Page Six, Cruise and Atwell were snapped together as they headed to the women's singles final at Wimbledon on July 10. The actors had been working on the latest installment of the action franchise since shooting began in September 2020. The movie's multiple international filming locations combined with a world pandemic had made for a stressful two years. So, it's no surprise tempers started boiling over. The Sun obtained audio of Cruise unleashing an F-bomb-filled rant about lax adherence to onset social distancing rules.
However, it appeared that when it came to his leading lady, Tom Cruise was, true to form, all smiles and charm. A source told The Sun that the couple immediately bonded and just grew stronger after working together during COVID-19. "Lockdown, and all the difficulties that came with it, brought them even closer, and they've become fairly inseparable," the source said. "They've been meeting up after hours, and she's been to his London pad. They get on brilliantly, and both seem very happy." Hopefully, for Cruise's sake, David Miscavige is just as ecstatic.
Source: Read Full Article