Before she made headlines for her bullying scandal, Chrissy Teigen was known as a celebrity who loved to keep things real on social media. In fact, a day didn't go by that she didn't share her daily musings on Twitter or behind-the-scenes photos of her family on Instagram. Some would even say that Teigen gets so much attention for the things she posts online that you'd almost forget she was once a model. But then again, even Teigen herself had a hard time seeing herself in that role. She once told PorterEdit, "I never thought of myself as a real model. I made consistent money working for catalogues and websites, where they didn't care if your eyes were open or closed, because you didn't even see my face. I was modeling the back of a shirt with words on it."
And even though Teigen might not see herself in the same category as the Naomi Campbells or even Gigi Hadids of the world, she's confident enough in her looks that she doesn't mind posting bare-faced photos of herself for the world to see. Don't believe us? Scroll down to see Teigen sans makeup.
Chrissy Teigen like you've never seen her before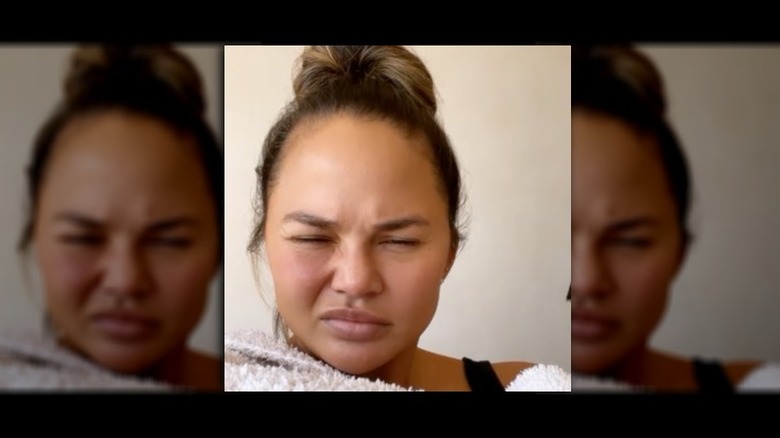 Chrissy Teigen has a loving and supportive husband in John Legend, two adorable children, millions of social media followers and perhaps the most enviable skin on the planet. And while it might take some people hundreds of dollars in products, bi-weekly facials and a healthy discipline in chia seed water to achieve the results that Teigen wakes up to every morning, the former model admits that she too suffers from bad skin days.
"If my skin is bad, I'm out for the day. Like, I really mentally am not there. I hate that feeling," Teigen told PopSugar back in 2016. "My esthetician Shani Darden has this thing called Retinol Reform which is like a spot treatment, and I love it so much. I used to use it all the time, 'cause I used to have bad skin when I'd get periods."
So, what is it that Teigen does to make her skin look so flawless both day in and day out? The answer might surprise you.
Chrissy Teigen doesn't take her good looks for granted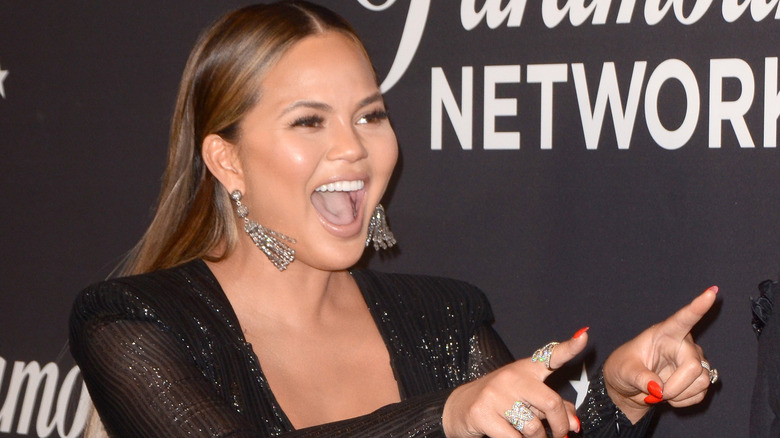 While some people spend a good amount of time every night taking care of their skin care routine every night before they go to bed, Chrissy Teigen keeps things simple — and we mean really simple — with just a hint of "magic." The former "Sports Illustrated" model took to her Instagram stories back in November 2020 to credit Le Prunier Plum Oil ($72) for the natural glow she wakes up to every morning. Needless to say, many of her social media followers wanted to try it out themselves so much so that the oil sold out within 24 hours of Teigen's Instagram story and wasn't available and in stock nearly a year later, according to InStyle.
But then again, this shouldn't surprise anyone, seeing how Teigen has always been considered one of the most beautiful celebrities out there. With that said though, Teigen isn't someone who takes her genetically good looks for granted. "Beauty is being able to see how powerful your body is," she told People's "Beautiful Issue" in March 2021 (per the Chicago Sun-Times). "It's really, really nice to be able to come to an age where I can appreciate every little scar and see my body as something that's done incredible, miraculous things."
Source: Read Full Article