[This post contains spoilers about episode three of Euphoria.]
It's kind of an understatement to say that Euphoria is ruffling some feathers. From that episode with a bajillion penises to uh, IDK, everything else on the show, the new HBO series is filled with the kind of stuff your distant relatives love to rant about on Facebook. The most recent Euphoria controversy is about THAT animated Harry Styles and Louis Tomlinson fan fiction scene…and it's absolutely insane.
Kat (Barbie Ferreira) is a regular schmegular girl who is sort of a fly on the wall at school, but totally famous on the internet. She gained a massive following by writing smut fan fiction about Harry Styles and Louis Tomlinson's supposed secret romance. It's actually a topic that's incredibly popular on the internet IRL, and fans have a lot to say following the most recent episode of Euphoria. Here's what you need to know about the real life details of this big mess.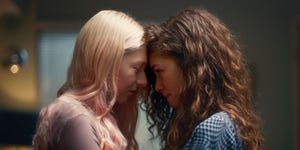 First thing's first, Larry Stylinson is the name of a conspiracy theory and a ship.
This is complicated, okay? Yes, Larry Stylinson is the name that some One Direction fans use to ship Harry Styles and Louis Tomlinson. (Fans of the ship are called Larries, btw.) But, the ship is also technically a conspiracy theory…and there are tons of videos and photos that fans have thoroughly analyzed in an attempt to prove that the guys are in love.
The whole Larry Stylinson thing is a huge deal, and some of the videos of their best moments have racked up over five million views. Everything from their body language to tattoos are used as proof that they're a couple, and some Larries have even gone as far to say that Louis's son with Briana Jungwirth was just a ploy to make it seem like he wasn't secretly in a relationship with Harry. It's…a lot.
It goes all the way back to The X Factor.
It looks like Euphoria slightly fudged the timeline of the Louis and Harry ship. Kat's fanfic, which the show said was the very beginning of Larry Stylinson, started during the "Take Me Home" tour. But that was in 2013, and fans have actually been shipping the two since their days on The X Factor in 2010.
awww, Larry Stylinson <3 pic.twitter.com/z5zCK8PB
People are super mad about the Euphoria episode for a bunch of different reasons.
Personally, as a real life human being who used to watch compilations of Niall Horan farting in interviews, I was thrilled to see One Direction fanfic getting its dues on Euphoria. But…I think I'm in the minority. Mostly, people are pissed that Louis and Harry's names were mentioned in the episode.
okay but these people who will make a scene from a larry fanfic were allowed to do this? because the name of harry and louis will appear in this and if they have not obtained authorization this will give a huge shit. i am afraid
i've never watched euphoria and i don't plan on watching it,, but this shit is so nasty and embarrassing. things like this are the reason why they're not close anymore. and the fact that they used harry and louis' real names makes it worse. lawsuit wya ? pic.twitter.com/AWZnciMLfg
Some say it makes Larries look bad.
it just makes me sad to think that there are all these people watching this at home right now thinking all these negative things about us larries
People are even dragging After (the movie based on a book that started out as Harry Styles fanfiction) into the conversation, which…yikes.
There's even a petition to remove the scene, calling it "beyond disgusting." It has almost 6,000 signatures already…but there might be way more by the time you read this, because it's spreading faster than dick pics.
here's the petition to get the nasty l*rry scene off of euphoria https://t.co/BL1Gk21RBQ
So, yeah. If you have any further questions about the whole Larry Stylinson thing…I do NOT advise turning to Google. This is the perfect amount of information to know about this topic, and if you start to dig for more, you'll end up in a very weird part of the internet.
Source: Read Full Article