Since the tragic death of Alex Trebek in November 2020, the fate of "Jeopardy!" has hung in the balance. Following the iconic host's final episodes, a slew of guest hosts tried their luck behind the podium, and fans passionately picked favorites while also decrying some major snubs, like CNN's Laura Coates. According to a 2018 interview with TMZ's Harvey Levin (via The Grio), Trebek actually offered up a number of potential successors when asked whom he'd like to see take over his job. Those included Los Angeles Kings announcer Alex Faust, "Turner Classic Movies" host Ben Mankiewicz, and CNN legal analyst Laura Coates; however, none of them were given a chance to show off their chops on-air.
Eventually, after months of speculation, it was announced on August 11 that executive producer Mike Richards had been chosen as the show's new permanent host, while Mayim Bialik was tapped to host primetime specials and spinoff series, per The Globe and Mail. Then everything turned upside down. Now, fans are once again wondering who'll succeed Alex Trebek. Here's everything that's gone wrong with the new "Jeopardy!" hosts so far.
Mike Richards was involved in numerous lawsuits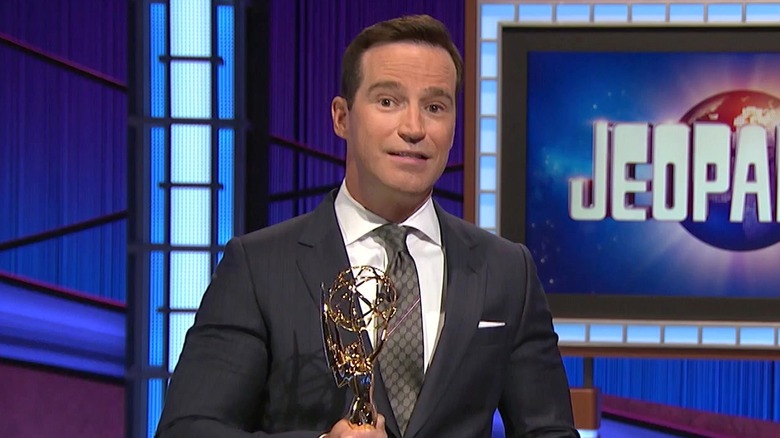 Mike Richards served as executive producer of "The Price Is Right" from 2008 to 2018. During that time, he got mixed up in serious legal drama — all of which resurfaced days before he was confirmed as the new "Jeopardy!" host.
Former model Brandi Cochran filed a lawsuit against CBS and Fremantle Media in 2010, alleging discrimination and harassment after announcing her pregnancy. In the suit, she claimed she wasn't allowed to return to work after maternity leave and that Richards reportedly "did not talk to her as frequently as before." When she revealed she was having twins, he's said to have "put his face in his hands" and asked "in an annoyed tone, 'Twins? Are you serious?'" Cochran also claimed she "was booked to work less often" and that Richards told another model, per The Hollywood Reporter, "I fire five models, what are the odds one of the ones that I keep gets pregnant?" The lawsuit, which Cochran won in 2012 (she was awarded $7.7 million in punitive damages, per the Associated Press) also stated that Richards asked for the models to wear bikinis more often and to wear shorter skirts.
Model Lanisha Cole also sued Richards directly in 2011. She claimed he "completely refused to talk with her directly" and made her feel "great uncertainty" about her job. The case was later settled out of court (via the Los Angeles Times).
Mike Richards was caught making unacceptable comments on a podcast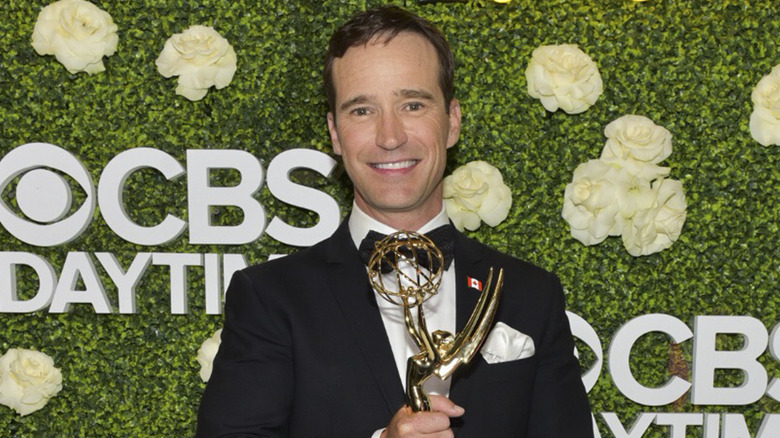 Despite "The Price Is Right" lawsuits resurfacing, Mike Richards was appointed as the new "Jeopardy!" host. But, soon after, his past came back to haunt him again when The Ringer discovered his 2013-2014 podcast, "The Randumb Show." After listening to all 41 episodes, the outlet highlighted countless occasions where Richards made "bawdy and sometimes vulgar" comments, including calling his then-assistant Jen Bisgrove a "boothstitute" after she said she's once worked as a model at CES. In another instance, he joked about telling a "The Price Is Right" employee who had started baking that they'd "have to saw her out of her room because she was going to be so giant that she wouldn't be able to fit out the door."
Most of the eyebrow-raising remarks, however, were geared toward co-host Beth Triffon. For example, when she showed him a photo of her and two friends, Richards unabashedly proclaimed, "They all look terrible in the picture. They look fat and not good." When Triffon opened up about problems with her apartment, he shot off, "Does Beth live, like, in Haiti?" And when she spoke of receiving unemployment insurance, he asked, "Do you feel dirty? Seriously, and I'm not trying to be mean." In their investigation, The Ringer also caught Richards using the R-word, flinging "a derogatory term for little people," and responding to a comment about big noses with, "She's not an ew-Jay."
Mike Richards tried to respond to the controversy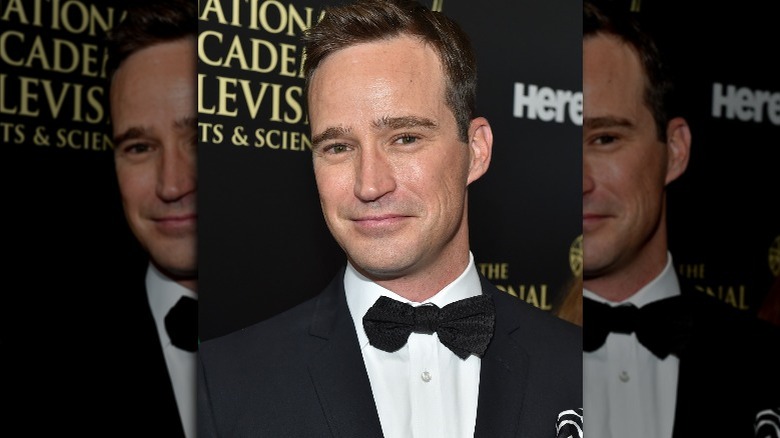 Mike Richards began damage control by sending an email to "Jeopardy!" staff to address the allegations made against him during his time as producer for "The Right is Right." In his note, per Deadline, he underscored the fact that the allegations were technically made against the show and not him specifically. He was adamant that the complaints regarding his comments and behavior did "not reflect the reality of who I am." Acknowledging Brandi Cochran's complaints directly, he continued, "I know firsthand how special it is to be a parent … I would not say anything to disrespect anyone's pregnancy and have always supported my colleagues on their parenting journeys," he assured.
Days later, Richards was apologizing again, this time about "The Randumb Show," his former podcast which cast him, yet again, in a negative light. After deleting all episodes of the podcast, as well as its hosting site, Richards told The Ringer, "It is humbling to confront a terribly embarrassing moment of misjudgment, thoughtlessness, and insensitivity from nearly a decade ago." Saying he was "deeply sorry," he tried to explain that he was aiming to be "funny and provocative" but admitted that the way he went about it was "not acceptable." He concluded, "My responsibilities today as a father, husband, and a public personality … means I have substantial and serious obligations as a role model, and I intend to live up to them."
Mike Richards eventually stepped down as host of Jeopardy!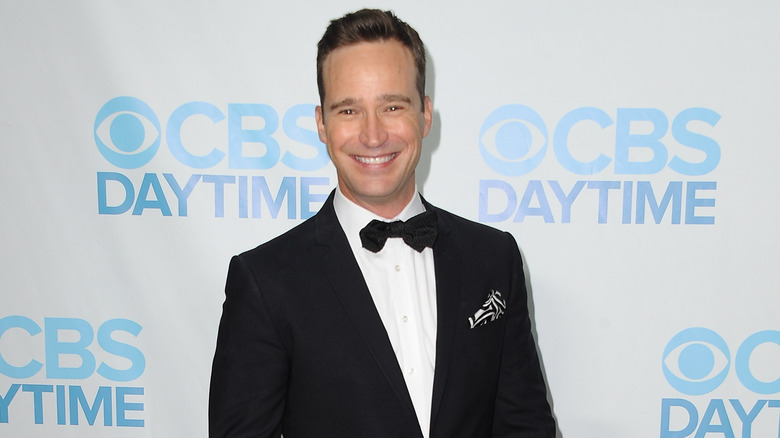 No matter how hard he tried to explain away the controversy surrounding him, Mike Richards could not escape the mounting calls for his resignation from "Jeopardy!" On August 18, the producer said in a statement (via Rolling Stone), "Moving forward as host would be too much of a distraction for our fans and not the right move for the show," revealing that he was "stepping down as host effective immediately." Richards added that the show would return to using guest hosts while the search for a new permanent replacement resumed. He also apologized once more, this time "for the unwanted negative attention" that the drama has brought to the show and the delays it's caused. He concluded his statement by saying that he has "a lot of work to do to regain [viewers'] trust and confidence."
But, while he stepped down as host, Richards was still able to keep his job as executive producer of the show, a position he has held since 2020, according to his official "Jeopardy!" bio. Sony Pictures Television, which is in charge of the show, said they were "surprised" to learn of "The Randumb Show" and, more specifically, the comments that Richards had made on the podcast. They added, however, that Richards is aware of their "expectations moving forward" in which he is expected to demonstrate "professionalism and respect" during his tenure as executive producer.
Mayim Bialik's medical claims had fans calling for her resignation, too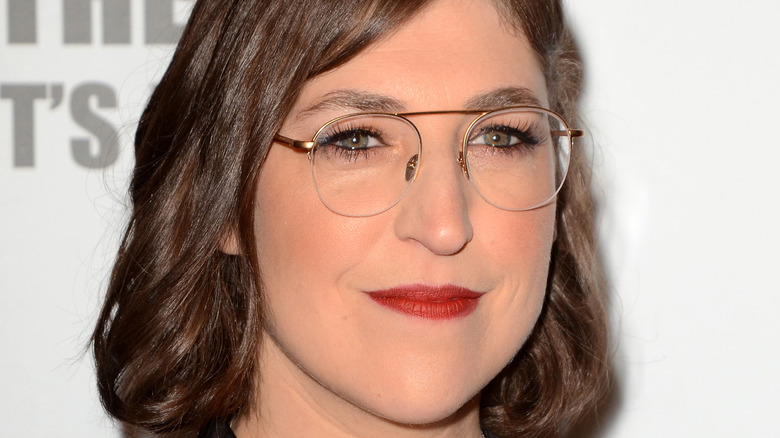 Just like Mike Richards, Mayim Bialik has had to reckon with her "ugly history" since being hired by "Jeopardy!" Following Mike Richards' resignation, "Jeopardy!" fans turned their target on Bialik who was originally tapped to host primetime specials and spinoff series. As Best Life reported, Bialik was plagued by her own controversial past comments, namely about vaccines. As the outlet noted, the actress revealed in her 2012 parenting book, "Beyond the Sling," that she and then-husband Michael Stone "made an informed decision" not to vaccinate their children after conducting "sufficient research." She also added that said research was "within reach" of all parents "regardless of their medical knowledge or educational status."
Bialik later explained in a YouTube video that she had delayed vaccination for medical reasons. She said that her two sons have received some, but not all, vaccinations recommended for children. Even so, criticism was harsh. Journalism professor Jeff Jarvis, for example, tweeted, "Keep in mind that Mayim Bialik, though vaccinated, spreads vaccine doubt and hawks brain quackery. She is no representative for a show about facts and authority." Meanwhile, another Twitter user called her "an anti-vaxxer who pushes some fake 'brain' product on TV commercials," referencing her promotion of brain supplement Neuriva, which Psychology Today called a "snake oil." 
Mayim Bialik tried to dispel all of the anti-vax rumors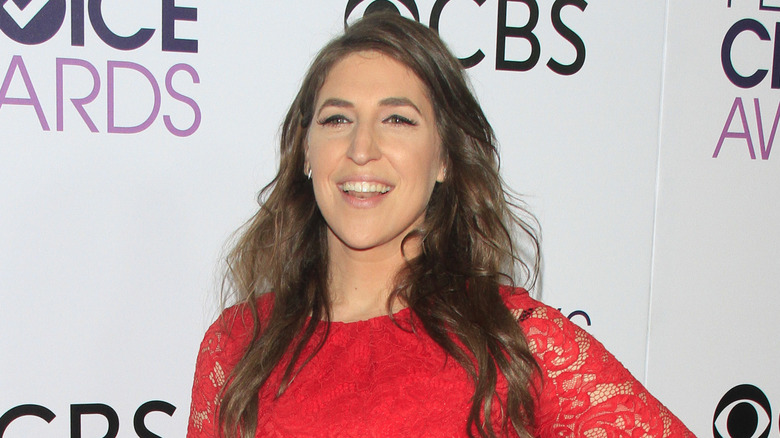 Mayim Bialik's controversial stance on vaccination resurfaced in August 2021, sparking calls for her to resign from "Jeopardy!" The actress' spokesperson was quick to tell The Wrap that she was "fully vaccinated for the COVID-19 virus and is not at all an anti-vaxxer." Indeed, Bialik, herself, told fans in a 2020 YouTube video that she planned to get both the COVID-19 vaccine and the flu shot (which she hadn't gotten in 30 years). The actress was also adamant that she has never claimed that "vaccines are not valuable, not useful, or not necessary, because they are." She also previously took to Twitter to dispel "anger and hysteria" by declaring, "I'm not anti. My kids are vaccinated."
Even so, Bialik, who has a PhD in neuroscience, didn't completely backtrack. Her position on vaccines is seemingly that she simply chooses which vaccines to get for herself and which to give her children. She argued that kids get "way too many vaccines" compared to when she was a child and noted that "most people don't even know what Hepatitis B is but vaccinate their newborns for it anyway because they're told to." She then made claims about the medical community, claiming it "often operate[s] from a place of fear in order to make money," and added that she feels "icky about injecting babies and children with tons of chemicals and parts of cows and chickens and eggs."
Mayim Bialik's Harvey Weinstein comments came back to haunt her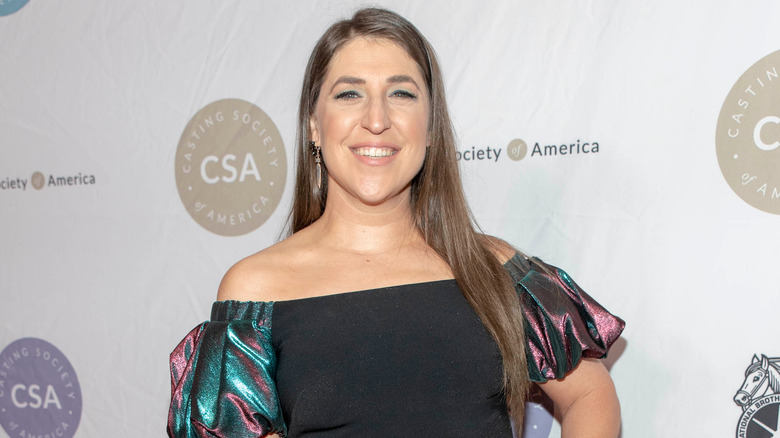 In addition to Mayim Bialik's shaky stance on vaccines, "Jeopardy!" fans are calling for her resignation after pointing to her controversial 2017 op-ed for The New York Times, titled "Being a Feminist in Harvey Weinstein's World." In it, the actress recalled joining Hollywood in 1986 as a "prominent-nosed, awkward, geeky, Jewish 11-year-old" who made "conservative choices," like not accepting anyone "calling me 'baby' or demanding hugs on set." 
Bialik took a break from acting at 19 to pursue academia, but returned in her early 30s. Writing that it served her well "not being a 'perfect [10],'" she claimed to have "almost no personal experience with men asking me to meetings in their hotel rooms." The actress then seemingly went on to shame victims, writing how she makes choices that are "self-protecting and wise," like dressing "modestly" and not flirting. She continued by describing her own choices regarding sexuality. "I have decided that my sexual self is best reserved for private situations with those I am most intimate with," before concluding, "Nothing — absolutely nothing — excuses men for assaulting or abusing women. But we can't be naïve about the culture we live in."
Bialik tweeted an apology days later, saying she was "very sorry" and clarifying, "You are never responsible for being assaulted."
Jeopardy! is sticking by Mayim Bialik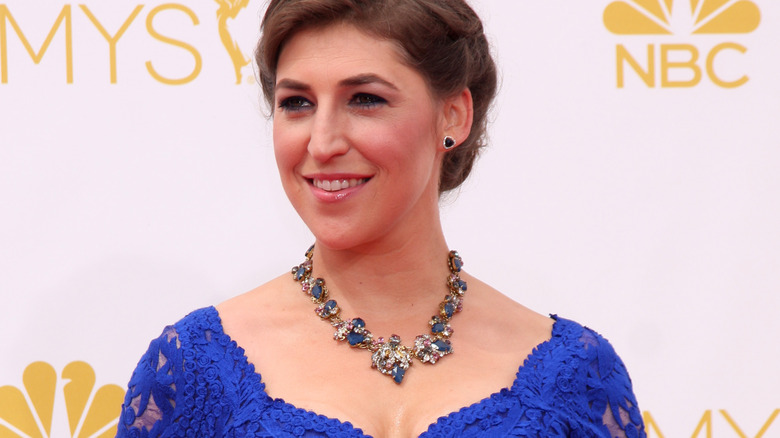 Following Mike Richards' announcement that he would be stepping down as "Jeopardy!" host but continuing his executive producer duties, the network once again started its search for Alex Trebek's successor. In the meantime, Sony Pictures Television announced that, rather than halt production, Mayim Bialik would tape three-weeks worth of episodes, per People, for a total of 15 episodes, despite the mounting controversy surrounding the actress. As it stands, the show is set to kick off its 38th season on September 13. And, following the actress' run, execs plan to tap a new round of guest hosts before introducing the world to a new permanent host, hopefully for real. What's more, the five episodes that Mike Richards taped before handing in his resignation as host will also air, per The Wrap.
So how can "Jeopardy!" fix this hosting mess? According to fans (including Ryan Reynolds), the show should hire LeVar Burton. But the "Reading Rainbow" host's future on "Jeopardy!" is uncertain, as TMZ recently reported that he was never seriously considered for the role, despite his fans' take on an incredibly successful guest run.
Source: Read Full Article