Fox baking competition wraps up its first season Wednesday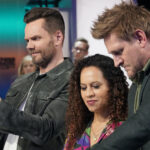 With one team set to be cut immediately after the finale's dessert round, that means only three pairings will be competing in the big showpiece challenge. And if everyone is this stressed for the first dish of the night, we can't imagine what the grand-finale recipe will turn out to be.
"Crime Scene Kitchen" airs Wednesdays at 9/8c on Fox. McHale serves as host and judges alongside chef Curtis Stone and cake artist Yolanda Gampp.
The show is produced by Fox Alternative Entertainment and Fly on the Wall Entertainment. Conrad Green, Allison Grodner, Rich Meehan and Joel McHale serve as executive producers.
See TheWrap's exclusive clip from Wednesday's Season 1 finale of "Crime Scene Kitchen" via the video above.
Source: Read Full Article