Captain Lee Rosbach from Below Deck was less than thrilled when chef Ben Robinson and stew Emily Warburton-Adams started dating during season 4.
While Rosbach doesn't necessarily have a problem with romance, he does take issue when it interferes with crew members doing their job, which he says happened between Robinson and Warburton-Adams. The giant flower arrangement didn't help matters either, but Rosbach was mainly concerned that the chef and the stew were more concerned with each other than the guests.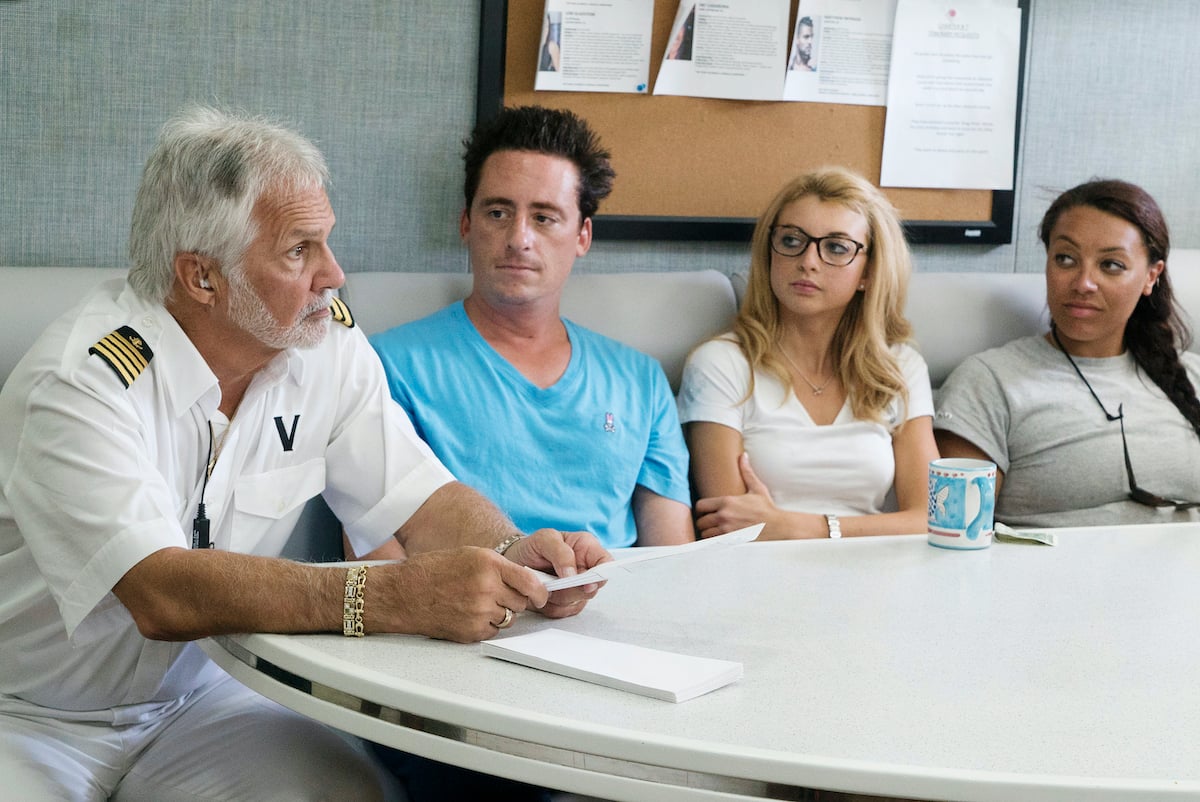 Captain Lee mainly blames Chef Ben for creating the distraction
Rosbach blogged about the romance, first telling Robinson his food is impeccable. But Rosbach wished Robinson would stop distracting Warburton-Adams from her job. "I really wish you would let 'Ems' get on with her work and stop being a distraction to her," Rosbach wrote. Robinson chose a pet name of "Ems" for Warburton-Adams and often referred to her that way.
"I'm sure she could have gone without that back rub in the corner of the galley when she was being paged on the radio," he continued. "Oh, I forgot, you don't use a radio, and she didn't have hers either. I feel if you would concentrate more on the galley and less on 'Ems' we might all be better served."
Warburton-Adams was also guilty of shirking her duties on charter. "Emily, I think that most of the issues you had on this charter could be traced back to you being distracted by Ben," Rosbach shared. "Maybe, maybe not. But I thought that you did not put forth your best effort."
'I Wasn't Pleased with Our Overall Performance This Season' according to Captain Lee
While Robinson and Warburton-Adams weren't the only crew members on Rosbach's radar, he knew the two could have done a better job. Rosbach noticed that Warburton-Adams pulled it together at the last minute but he blamed Robinson for her distraction.
"I did think that you lost your way a bit when you became involved with Ben, but I suppose that happens," Rosbach wrote in his final blog of the season. "One thing that bothered me though was how you kept telling Ben you didn't want to get in the middle of him and Kate, but you still did." Robinson and Kate Chastain had a tense working relationship, which worried Warburton-Adams. Chastain and Robinson were romantic in the past and Warburton-Adams was not sure if their tension was due to underground passion for each other.
And while Rosbach believed Robinson's food game was on point, he wished Robinson could have dialed back his personal life. "Really would have liked to see the galley run better this year from a morale standpoint," he wrote. "I mean to have the guests comment on the yelling going on was embarrassing as hell. Not the professionalism I expect. But in the end, as I stated, your food production and presentation never suffered, and so neither did the guests, which ultimately is what we are there for. It just could have been so much easier though I feel. I would also expect you to keep your knickers on as well in the future."
Source: Read Full Article