Biff Tannen's ongoing rivalry with the McFly family is the stuff of Back to the Future legend. In terms of cinematic rivalries, Biff solidified himself as a bully when he terrorized George McFly and Calvin Klein, a.k.a. Marty. Watching him get his comeuppance in each part of the movie trilogy was both satisfying and cheer-worthy. He deserved that manure dump.
But off camera, actor Tom Wilson was not like his character, and he wound up bruised on set on account of his Marty McFly co-star.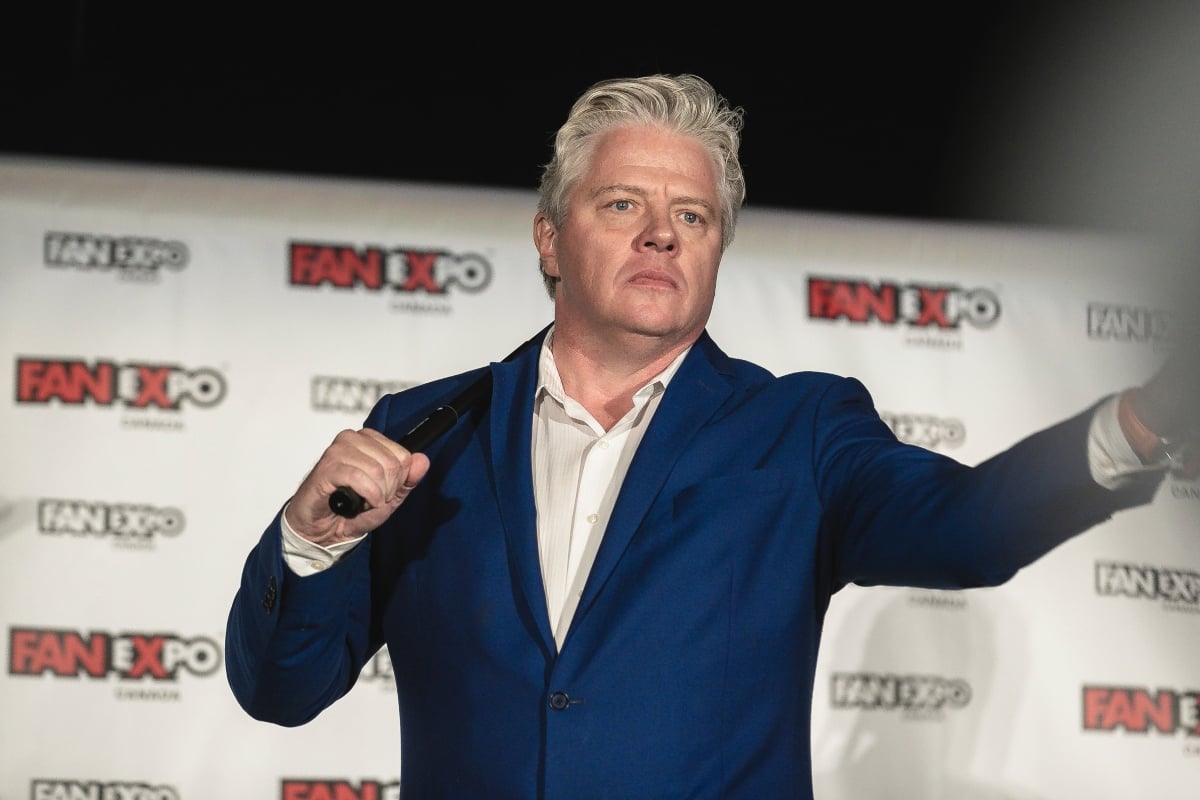 Tom Wilson and Eric Stoltz had issues on 'Back to the Future' set
Tom Wilson played Biff Tannen in all three Back to the Future films, but originally, Eric Stoltz was cast as Marty McFly. Writers Bob Gale and Robert Zemeckis later let Stoltz go when they figured out his acting style wasn't a good fit, but not before he got on Wilson's bad side.
In Caseen Gaines' We Don't Need Roads: The Making of the Back to the Future Trilogy, the author interviewed cast and crew members from the entire franchise. He learned about an antagonistic working relationship between the actors behind Biff and Marty that stemmed from the 1955 cafeteria scene.
Remember the pushing match when Marty confronts Biff and tells him to leave Lorraine alone? Wilson claimed Stoltz used extra force "take after take, unwilling to play pretend." Wilson repeatedly asked Stoltz to ease up, but he didn't. Instead, he dug into Wilson's collarbone with each strike.
"The result was a perfect shot and a number of bruises on Wilson's collarbone. A score had been created and the bully of Hill Valley High was seeking to settle it in a few weeks," wrote Gaines. Wilson did not report it because he didn't want to sabotage his first feature film role.
So, he waited to shoot the scene at the Under the Sea dance where Biff hits Marty. It never happened. When word spread about Stoltz's exit, Wilson's only regret was that he didn't get payback for what he endured.
He spoke about it during an appearance on a podcast and described the way Stoltz drove "the heels of his hands" into him. Wilson attempted to defuse the actor's "method" style antics in between takes, but to no avail.
Wilson enjoyed working with Michael J. Fox
When Michael J. Fox came aboard following Stoltz's firing, most of the footage (with some exceptions) was shot over again. Wilson had an entirely different dynamic with Fox. That punch in Lou's café was so make-believe that Fox never touched Wilson.
Further, Fox's performance was so great — and humorous — that everyone predicted the movie would become a hit. Wilson later signed on for the two sequels without any hesitation, as he loved working with Lea Thompson, Fox, Gale, and Zemeckis.
How to stream 'Back to the Future'
These films never get old, and for fans who want to relive the moments and look for noteworthy footage, Back to the Future is available to stream on Amazon Prime. And according to Wilson, if one looks closely, it's Stoltz's hand that hits him in that diner punch scene.
Source: Read Full Article