Michael Bay's new movie, Ambulance, stars Jake Gyllenhaal and Yahya Abdul-Mateen II as adopted brothers who rob a bank and wind up being chased through LA. The film features several thrilling action sequences, including one that required Gyllenhaal to hang off the side of an ambulance. 
The actor recently revealed how the scene was improvised and filmed last minute. And he joked that these exhilarating moments were what drew him to the Bay film.
Jake Gyllenhaal reveals the action sequence in 'Ambulance' was improvised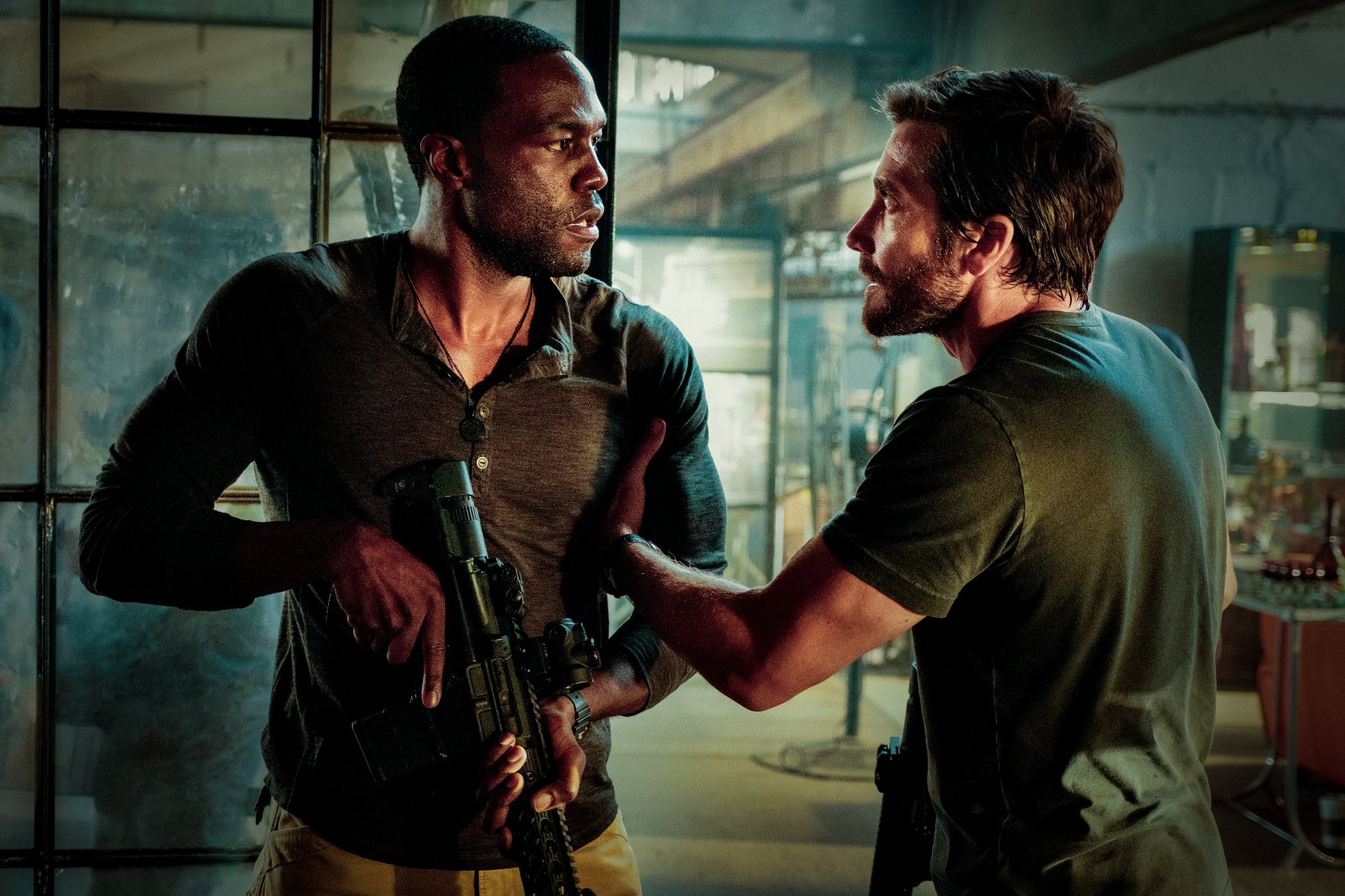 In one of the most exciting scenes in Ambulance, Gyllenhaal's Danny Sharp hangs out of a moving ambulance to shoot at helicopters chasing above. Abdul-Mateen's Will Sharp drives the vehicle at top speed, while the duo's hostages hang on for dear life inside.
But at the film's LA premiere, Gyllenhaal revealed that the scene wasn't in the original script. And he recalled how Bay called him and Abdul-Mateen back in to film the improvised sequence. 
"We were on our way home, Yahya was driving the ambulance," Gyllenhaal said via Variety. "We were almost finished with our day, and we were driving to get back into our civilian clothes, out of our character's clothes."
"Michael called us on the radio and was like, 'Wait, come back! They opened up the L.A. River!'" he continued. "He was like, 'I have an idea! I have two helicopters!' And I was like, 'How? What are you talking about, you have two helicopters?"
Bay told Gyllenhaal and Abdul-Mateen that he just came up with the idea, wrote it, and then hired helicopter pilots to film it. Gyllenhaal noted that the excitement and improvisation was the reason he signed up for the Bay movie.
"Every day was a little like that," the actor noted. "And I was like, 'That's why you make a Michael Bay movie.' That's the reason. To hang out of a moving vehicle and have fun.'"
Michael Bay thought the 'Ambulance' stunt might scare Jake Gyllenhaal 
Ambulance was filmed in under six weeks in LA with a budget of $40 million. Bay improvised as he went along. And for the helicopter chase scene, he managed to coordinate production quite quickly. 
"I write my own action, and I'm a very fast writer doing that," Bay said at the premiere as reported by Variety. "I go, 'I need a helicopter scene.' I wrote this for the best helicopter pilots in the world. And we shot that scene in two and a half hours — I'm very fast at coordinating action."
Bay noted that the scene features helicopters flying low and quite close to the ambulance Gyllenhaal was hanging out of. Thinking the actor might be a little hesitant, he assured Gyllenhaal he'd be safe.
"I said 'Listen, Jake, the helicopter's way up there, it's gonna come down about 20 feet from you," Bay said. "These are the best pilots in the world, these guys have flown for 25 years. It might scare you, but don't be scared. 'And he loved it. He thought it was great."
Yahya Abdul-Mateen II enjoyed Michael Bay's improvisational style
Abdul-Mateen II is no stranger to action films. But the Matrix Resurrections star suggested that filming Ambulance and its improvised scenes was a uniquely thrilling experience.
"This was a very exciting movie and the making of this movie was very much like the experience of watching it, it was all hands on deck," Abdul-Mateen said as reported by Variety. "The game was basically to say, 'Yes and…' And the entire job was to keep the ball in the air. So I had a great time."
Source: Read Full Article