Actor Amber Heard played a major prank on her Paranoia co-star, Liam Hemsworth. However, it's all thanks to the props department for allowing the actor to borrow a "big black dildo" to pull off the joke. Heard proudly remembered the joke, as she made Hemsworth quite uncomfortable on the set.
Amber Heard and Liam Hemsworth co-starred in 'Paranoia'
Paranoia director Robert Luketic worked on a screenplay written by Barry Levy and Jason Hall. However, they managed to attract some big names to the project. The Paranoia cast brings Heard and Hemsworth alongside Gary Oldman and Harrison Ford.
The story follows Adam Cassidy (Hemsworth), who is an up-and-comer at a global tech company that Nicolas Wyatt (Oldman) runs. Nicolas makes Adam become a corporate spy to retrieve trade secrets from a rival company, but these tech giants are willing to do anything to protect their secrets.
Amber Heard said she pulled a prank on Liam Hemsworth on the 'Paranoia' set with a 'big black dildo'
CONAN interviewed Heard about her experience working with Hemsworth on Paranoia. Host Conan O'Brien brought up the sex scene that she has with Hemsworth in the movie but wanted to learn a little bit more about that experience. It turns out that Hemsworth was pretty nervous about filming the scene.
"He was really nervous," Heard recalled. "I guess guys typically are in those sort of scenes or situations and he was really, really nervous."
However, Heard recalled pulling a prank on Hemsworth on the Paranoia set involving a "big black dildo."
"The whole crew, everybody's tired, we've been shooting all day," Heard remembered. "It had been a long, long day. I was returning a watch to the prop truck. When I was there, I noticed that there was a large black dildo. It was a big black dildo."
Heard continued: "It was kind of discarded on the side and I asked, of course, as you do when you find a dildo lying around. You ask if you can please use it or borrow it. The former is always better. (Laughs). So, I asked the proper guy if I could borrow it."
The actor already had the perfect set-up for how she would use it for the prank.
"I go to the bed, pull it into the bed with us, and I made sure that we had the scene," Head said. "I asked the director, Robert Luketic, if we got the take. He said, 'Yes' and gave me the signal and so in the scene, he's supposed to passionately grab my arm and turn me around. I just substituted my arm for the dildo."
O'Brien wanted to know what Hemsworth's reaction was to the big prank.
"Well, as you can imagine, he was slightly surprised," Heard responded to laughs from the audience.
Critics panned the movie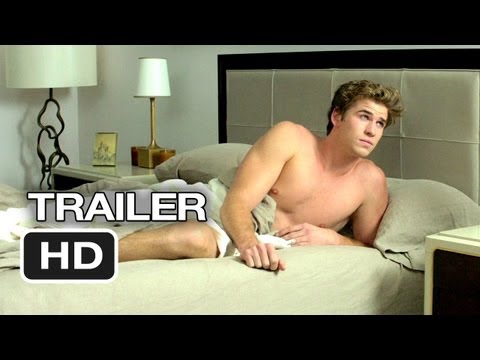 The Heard and Hemsworth-starring Paranoia hit theaters in 2013, but it certainly didn't open to very positive reviews. The Rotten Tomatoes Tomato-meter shows a 7% approval rating from critics and 35% in the audience score.
Additionally, critics slammed performances from both Heard and Hemsworth that lack urgency in a supposed thriller.
Source: Read Full Article