Barbra Streisand is known for her strong opinions, and she's never shied away from sharing her feelings about former President Donald Trump. Streisand has been an active Democratic political fundraiser since the '60s, and the EGOT winner took part in a virtual concert in 2020 that raised $760,000 for then-presidential candidate Joe Biden, per Deadline. And a 2020 New York Times feature about the legendary singer and actress noted that she raised money for every Democratic presidential candidate since John F. Kennedy.
Like Streisand, Trump doesn't hold back when something is on his mind. On August 7, Trump's spokesperson, Liz Harrington, shared Trump's opinion about President Biden's infrastructure bill on Twitter (via Newsweek). Harrington tweeted, "President Trump: 'Joe Biden's infrastructure bill is a disgrace. If Mitch McConnell was smart, which we've seen no evidence of, he would use the debt ceiling card to negotiate a good infrastructure package.'" 
Trump was kicked off Twitter in early 2021 because the company thought his tweets were "highly likely to encourage and inspire people to replicate the criminal acts" of the January 6 Capitol insurrection. After Twitter permanently banned Trump, Facebook banned him from its platform. So, what has Streisand said about all of Trump's actions? Keep reading to find out the connection between the two personalities.
Barbra Streisand says Donald Trump's presidency was "unforgivable"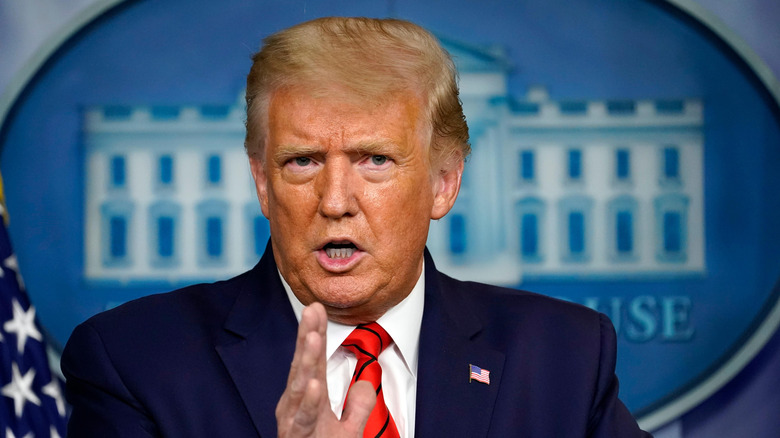 In an August 2021 Variety interview, Barbra Streisand didn't hold back her thoughts about former President Donald Trump. Streisand said, "That was four years in a black hole. Unforgivable. Four years of people dying unnecessarily because they didn't tell the truth. The truth is so important. Tell people the truth, they can deal with it."
The outlet reported that the eight-time Grammy award winner weighed in about the January 6 insurrection as well. Streisand said, "What's so hard to understand is all the hate and violence that Trump invoked during his years and how that manifested itself in the January 6 insurrection and the falsities and the lies that are still floating around about an election that Biden won by 7 million votes."
Streisand also talked to Variety about her new album, "Release Me 2," and life during the pandemic. But the EGOT winner talked about Trump because she is passionate about political causes. Speaker Nancy Pelosi told The New York Times in November 2020 that Streisand has a powerful voice in political circles. Pelosi said, "It's not just because she's a celebrity. She knows the issues. She's studied. She can explain why she supports what she does. That's what's persuasive."
Barbra Streisand sang about Donald Trump in 2018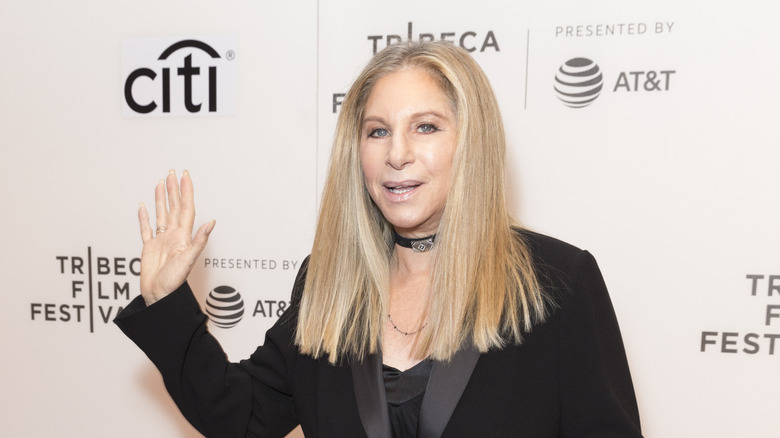 Barbra Streisand has spoken out about former president Donald Trump before, too. In March 2020, Streisand wrote a column for Variety about the importance of defeating Trump in the 2020 presidential election. In her Variety column, Streisand wrote, "He has demolished our standing in the world with his laughable boasts and breathtaking ignorance. He has put the security of this country, and our planet, in a precarious position by abandoning the Paris climate accord and the Iran nuclear deal. He's a one-man weapon of mass destruction … so reckless that he almost started a war."
In 2018, Streisand even sang about then-President Trump! The New York Times reported that Streisand's 2018 album "Walls," was the "musical embodiment of her singular dislike of President Trump." Streisand told the Times, "I would lie awake at night with Trump's outrages running through my head, and I had to do another album for Columbia Records, so I thought, why not make an album about what's on my mind?"
In a 2018 interview with The Guardian, the singer explained why she felt compelled to sing about Trump. Streisand said, "This is a dangerous time in this nation, this republic: a man who is corrupt and indecent and is assaulting our institutions. It's really, really frightening. And I just pray that people who are compassionate and respect the truth will come out and vote."
Source: Read Full Article