Any TikToker worth their salt should have at least heard of Willow's hit single "Transparentsoul (ft Travis Barker)." The daughter of Will and Jada Pinkett Smith, Willow truly escapes her massively famous parents' shadows with her latest musical stylings. "Transparentsoul," frequently featured as a "popular sound" for use on the video-making platform, is the lead single off Willow's July album, per People. And it gives the indication that her upcoming album, "Lately I Feel EVERYTHING," will lean into the punk-pop stylings of bands like the chart-topping Paramore. 
Boasting a drum track produced and performed by Blink-182's Travis Barker (practically a godfather of punk-pop as far as the TikTok generation's concerned), the single marks a bold departure from Willow's 2010 audio guilty pleasure of the year (and beyond) — the bouncy, hip-hop-influenced "Whip My Hair." The latter put Willow's name on the musical map, charting on Billboard's Hot 100 for 18 weeks and peaking at No. 11. The song's explosive success forced Willow to grapple with the scrutiny of pop stardom and the pressures that come with at just age 9. "[I] totally lost my sanity for a moment there," Willow said on a 2018 episode of "Red Table Talk."
Now in 2021, the young artist returns with a decidedly more sophisticated sound and vibe. Here is the true meaning behind this turning point of a song for the artist.
Willow Smith sees through Hollywood suck-ups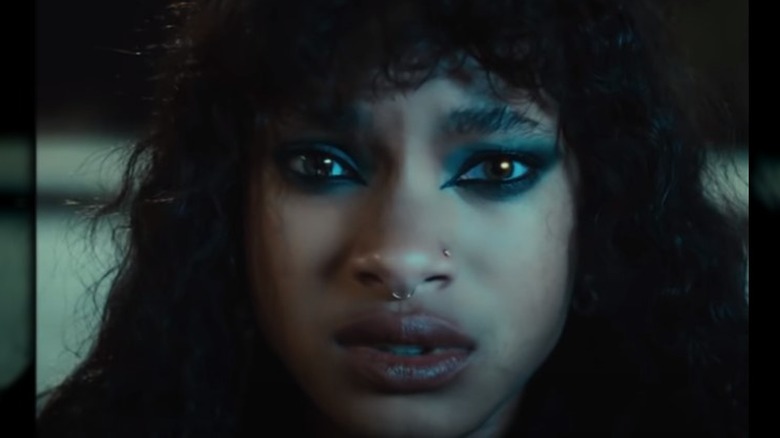 Featuring a propulsive drumbeat courtesy of Travis Barker and guitar melodies via Willow herself, "Transparentsoul" has the confessional songwriting and rhythmic pacing of a Machine Gun Kelly song (like 2020's "Bloody Valentine"). The music video shows the singer entering a nightclub, haunted by images of an extremely creepy masked figure — until she just gives in and starts jamming with Barker and the rest of the band. Via Complex, the singer explained her single in an official statement, "It was created in such an introspective time [during the first couple months of quarantine]. It… proved to me that I needed to let go of the insecurities I had about making a project of this genre." 
The lyrics to "Transparentsoul" also see Willow divorcing from insecurities of another kind — the phoniness of those in showbiz around her. Lines in the beginning of the track, like "Smile in my face, then put your cig out on my back" and "Yeah, they're treating me like royalty, but is it kissin' a**?" (a probable nod to the Hollywood royalty of her parents), show Willow wise to that many around her might be using her for personal gain. But as she sings later in the bridge, "It's clear to me now / You're so scared of me wow," social climbers now think twice before pinning her as a mark. 
What a masterful transition for this 20-year-old into a new genre and new decade of her life.
Source: Read Full Article