As one of the biggest groups in the world, BTS has helped bring K-pop into the homes of music lovers around the world. Signed in 2010, the seven-piece singing group, which includes members Jin, Suga, J-Hope, RM, Jimin, V, and Jungkook, was formed by Big Hit Entertainment and has released music in Korean, Japanese and English. 
The group continues to dominate the charts and social media channels, boasting an incredible 30.9 million followers on Twitter. BTS has broken concert ticket sale records set by Ariana Grande and Taylor Swift, brought in billions of dollars for their home country of Korea through album, concert ticket, and merch sales, and has become a global phenomenon, appearing everywhere from the Grammys to "The Tonight Show Starring Jimmy Fallon." In 2020, Time named BTS 'Entertainer of the Year,' the same year that the group's massive single "Dynamite" broke the record for most weeks at number one on the Digital Song Sales chart. 
Although the band's meteoric rise may seem fast to the newer North American members of the BTS Army, a title lovingly given to their fans, the septet has spent years growing its fan base and breaking chart records. Even with its incredible success, there are still several rules that BTS must follow as members of Big Hit Entertainment.
Why can't BTS members date?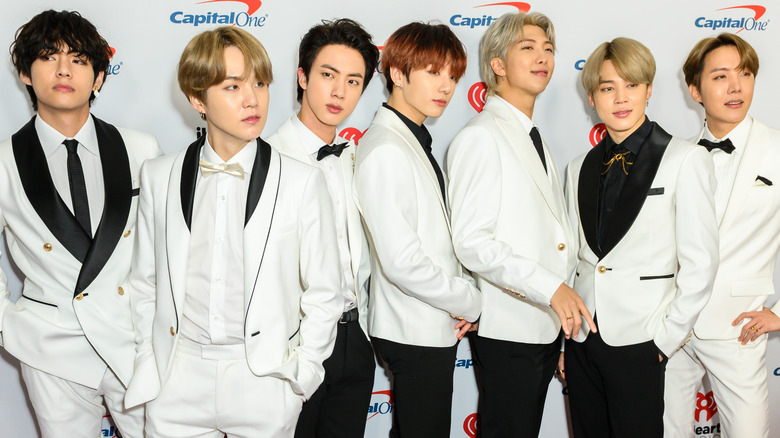 BTS is known for hit love songs, but members of Big Hit Entertainment are reportedly restricted from dating. In BTS' song "A Typical Trainee Christmas," RM seemed to allege as much. "I have no girlfriend because our debut is soon," he sings (English translation via Koreaboo), adding, "Ha, idols are getting married yet we separate male and female trainees? What's the point? We can't love so how do we write love songs? If it were up to me, I'd encourage dating." 
Big Hit Entertainment hasn't publicly stated Idols are forbidden from dating, but it's widely speculated that the management company follows a policy similar to rival K-pop entertainment group JYP Entertainment, who's founder once stated that he "advises" Idols to "not meet friends and only stay focused on practicing for three years" following their "debut" (via SCMP). Still, dating rumors create a constant swirl of speculation around BTS and other K-pop groups. In fact, many BTS members are rumoured to be dating members of other k-pop bands, which makes sense. Who else would understand the grueling schedule and high pressure of being in a hugely successful pop band than another performer?
If members of BTS do have a significant other, their desire to keep the relationship out of the public eye and off their label's radar is understandable. Not only are fans sometimes harsh to the lovers of K-pop idols, but some performers, including Triple H members Hyuna and E-Dawn, were suspended by their label Cube Entertainment after their relationship went public.
Scandal of any type is widely discouraged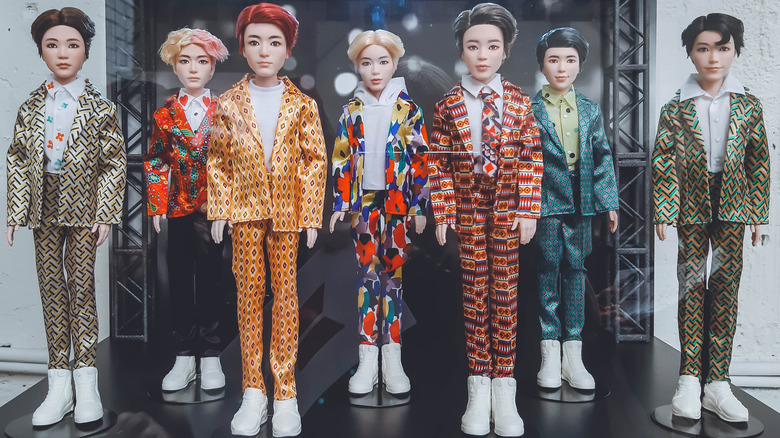 K-pop groups mean big money both in the South Korean and international financial markets, with many businesses invested in the entertainment groups. The success of K-pop groups has not only stimulated the financial sector through massive endorsement deals and an increase in tourism revenue to South Korea, it has also results in tangible jobs. BTS' 2020 song "Dynamite" made so much money for the South Korean economy that it helped recover almost 8,000 jobs that had been lost during the COVID-19 pandemic.
Big Hit Entertainment, which has made millions in merchandise, album, and concert ticket sales from BTS, are rumored to have a strict 'no scandal' rule for their artists, including BTS. Any type of scandal, whether it involves drinking, drugs, romantic relationships, or political views, is heavily discouraged among all four of the big K-pop entertainment groups — SM Entertainment, YG Entertainment, JYP Entertainment and Big Hit Entertainment.
In an interview with CNN, Korean music industry executive Bernie Cho pointed out that scandals can have a massive financial impact since "many of the biggest Korean music management companies are also publicly traded stocks." For example, following negative news coverage, including the discovery that Triple H's Hyuna and E-Dawn were dating, Cube Entertainment's stock price reportedly dipped. "Sensational headlines can take a serious hit on the bottom line," Cho told CNN.
BTS must stay in shape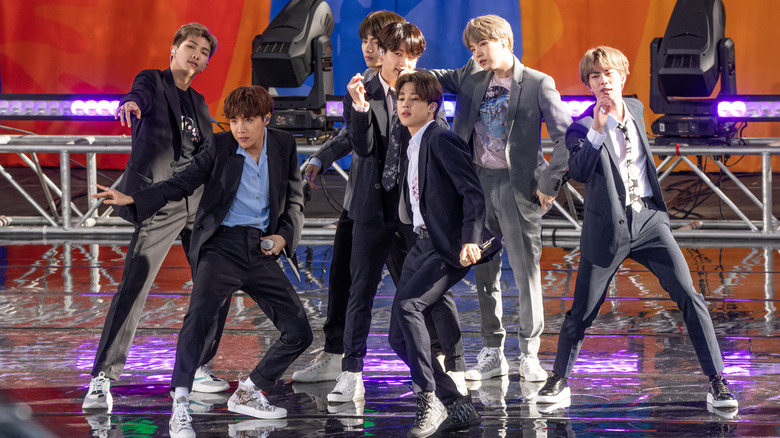 In a 2020 interview with Soobin and Yeonjun, the TXT singers said Big Hit Entertainment mandated that all their trainees workout regularly and stick to a strict and limited diet. "We were working out a lot and were not supposed to eat it," said the singers (English translation via Koreaboo), who recalled one day during their training period when someone brought in pig's feet or 'jokbal' in Korean, a delicacy that was not included on their list of approved food items.
With BTS sharing the same management team, it's highly likely that they too would be expected to adhere to the same training regiment and dietary restrictions. Granted, Soobin and Yeonjun seemed to imply that their dietary restrictions were eased once they went from trainee to idol, following their "debut." But, considering the intricate dance moves and highly choreographed performances by BTS both at award shows and during their concert events, it's likely that band members are willing to adhere to workouts and nutritional guidelines set out by professionals in order to maintain the energy necessary to deliver their show-stopping performances.
Big Hit Entertainment employees aren't allowed to eat at company headquarters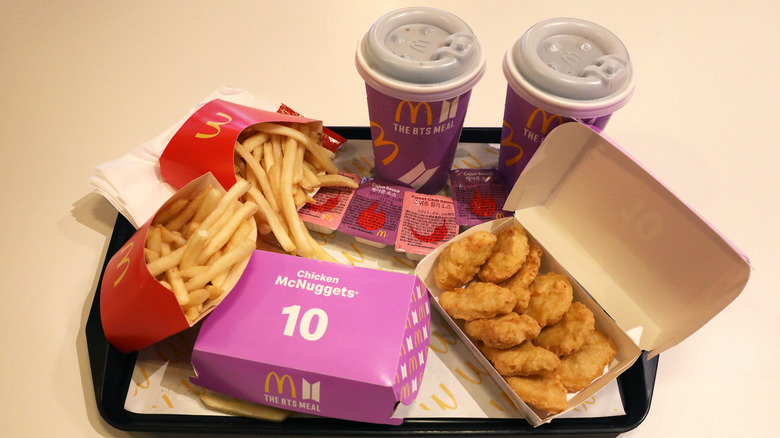 In the same interview in which they discussed their strict workout regime and limited diets, TXT members Soobin and Yeonjun also revealed that while employees of Big Hit Entertainment were in the company's office building, they were not allowed to eat. "We were not allowed to eat in the building," said Soobin (English translation via Koreaboo), adding "You couldn't bring food in." This rule would include BTS, which was also formed by the mega entertainment corporation. Although BTS was busy touring the world pre-COVID, the pandemic kept them close to home in Korea and likely spending more time at the Big Hit Entertainment offices than they had in previous years.
In May 2021, McDonalds launched a BTS-themed meal in 50 countries around the world, with each meal slightly differing depending on where K-pop fans were ordering their McNuggets. The special edition meals have seen success in most markets and even sold out in several McDonalds, but we have to wonder: Does the meal land under the "acceptable food items" for BTS members?
You probably won't see individual BTS members in anyone else's music video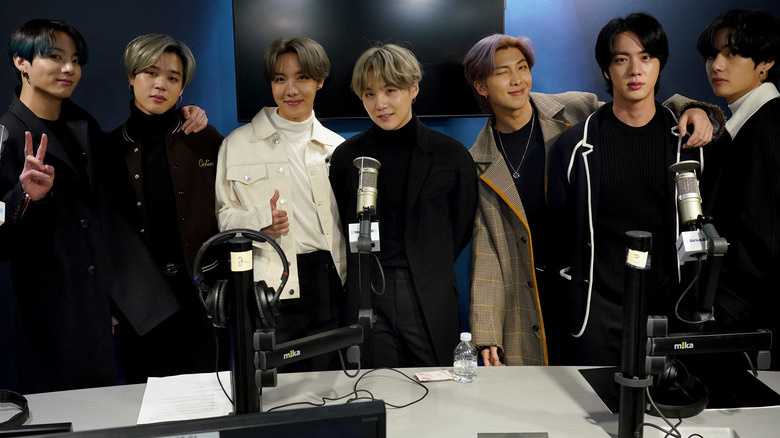 Members of BTS are continuing to pop up as featured artists on songs by their fellow pop stars, but the musicians have never appeared in music videos without all seven members, which could be a rule put in place by management or a group decision to appear only as a cohesive whole on-screen. 
RM has a guest verse on the remix for Lil Nas X's "Old Town Road," but does not appear in the video. The entire group did, however, perform with the American rapper at the 2020 Grammys. J-Hope and Suga lent their vocals to a remix of Jason Derulo's "Savage Love," but the only music videos featuring the BTS members with Derulo have been made by fans and are not official releases. Suga also has a verse on former Nickelodeon star and American singer Max's song "Blueberry Eyes," but did not appear in the music video.
On the flip side, if an artist collaborates with BTS as a whole, they typically do appear in the official music video. This was the case with Halsey, who appeared on the group's single "Boy With Luv" and joined the seven-piece for a highly choreographed dance breakdown in the 2019 music video. Following the release of the first video in August 2018, scenes of Nicki Minaj rapping her verse for BTS' remix of their single "Idol" were added to a second video in September 2018.
BTS adheres to a strict rehearsal schedule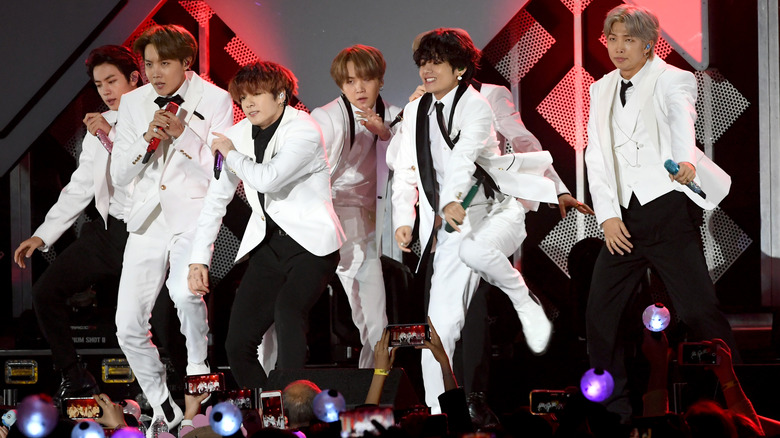 Whether you've seen BTS perform at the American Music Awards, on "Good Morning America," or watched any of their music videos, it shouldn't come as a surprise that the band is expected to adhere to a strict rehearsal schedule when preparing to release new music. Their fast-paced dance moves and highly stylized choreography is consistently delivered with precision and impeccable timing by all seven members, a feat that is only achieved through three things — practice, practice, practice.
BTS said they'll often practice their new songs and dance moves for hours a day in preparation for concerts and TV appearances. "When we're getting ready for an album, we just remove all of the scheduling for a month, and we just spend [it] practicing and working for the music. … When we have no schedule in one month, it's a big deal," the group told the BBC's Adele Roberts in a 2018 interview. Before they were the biggest band in the world, BTS said they were required to practice up to "15 hours a day" in preparation for their debut. We're tired just thinking about that schedule.
If BTS members want to change their hair, Big Hit Entertainment must approve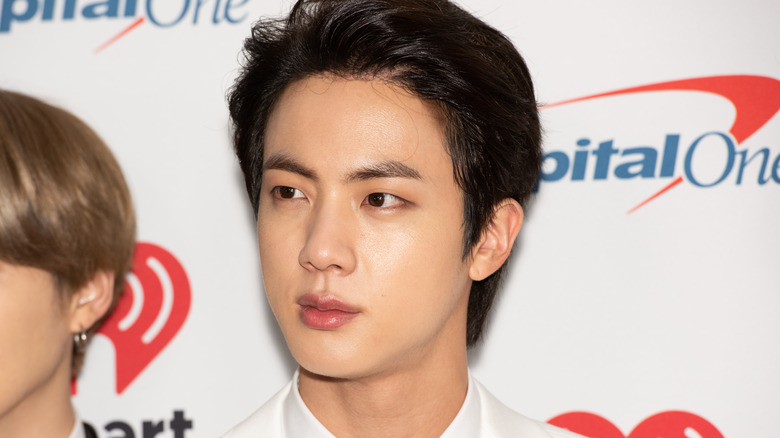 It's rumored that BTS members must have all hairstyle changes approved before cutting and coloring their hair, but some band members are beginning to push back on the rule. Jin released a video in 2018 (translated to English by Hellokpop), saying that he was tired of bleaching his natural black hair, because of how "dry and damaged" it had gotten. "I've been promoting with blonde hair, but the roots started growing out a lot and it didn't look great on TV. I didn't want to do root touch-ups," said Jin, adding that he told the staff he would dye his hair back to black if they didn't do it for him. After an hour-long meeting among members of the management team, it was agreed that Jin could go back to black.
The singer also added that he often pushes back on his team's rule that he needs to keep his hair short, blaming his face shape. "I have chubby cheeks. If I have a short haircut, it makes my chin standout." We get it, Jin. It's important to know your best angles!
No individual social media accounts for BTS members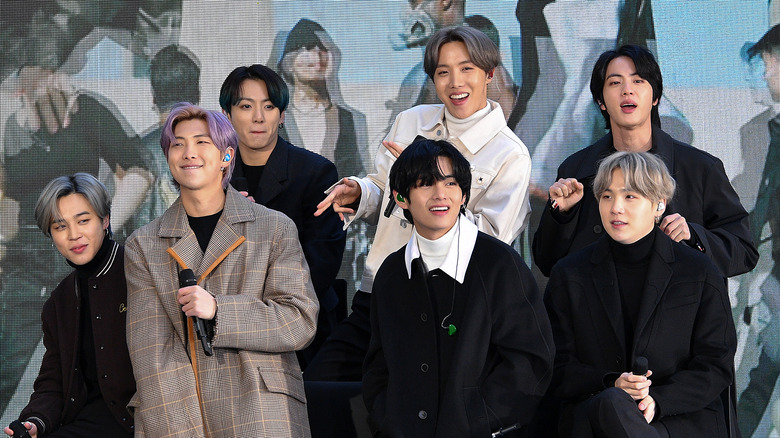 BTS is one of the most-followed groups on the planet, boasting an impressive four-year streak as Twitter's most popular musical act in the world. As of this writing, the K-pop superstars have over 30 million Twitter followers and more than 44 million Instagram followers. The group's efforts — as well as those of their Army of fans — to bring awareness to social causes through social media, including the global mobilization of the Black Lives Matter movement, have had significant results. According to Reuters, after BTS donated $1 million to the Black Lives Matter organization in June 2020, the group's fans used to hashtag #MatchAMillion to organize their efforts and collectively donate another $1 million, which amazingly took "just 25 hours." 
Part of BTS' online success comes from band members focusing all their communication and promotional efforts through group accounts. None of the members of BTS have their own personal accounts, which may be a rule put in place by management or yet another decision by the band to maintain a united front. By focusing all their social media messaging and announcements on label-run social media accounts that represent all seven members of BTS, fans only have one place to go to get the official word on all news related to the K-pop supergroup, which clearly helps to maintain their social media dominance. 
But sometimes, rules are actually bent in favor of superstars like BTS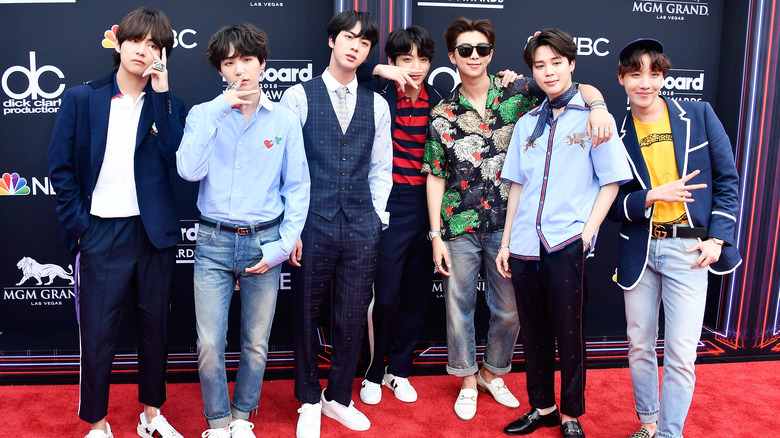 While BTS have several rules they must abide by, there are some cases where the band's popularity has led to rules being bent in their favor. Starting at 18-years-old, all able-bodied Korean men must begin serving 20 months in the military either before or by the time they turn 28. On December 1, 2020, a surprising revision to the Military Service Act in Korea was made that allows members of K-pop groups to delay their mandatory military service for an additional two years. The timing of the act's passage was particularly serendipitous for Jin, who would have been required to start his military service by no later than December 4, 2020. 
Referred to as the 'BTS Law,' the revision to the military rule is a first for pop musicians, but not totally unheard of for famous Koreans. Successful musicians and athletes who represent Korea at the Olympics or other international sporting events have previously been exempt from mandatory military service. The military exemptions are typically made for Koreans who have made positive contributions to their country, which definitely includes BTS. Per Forbes, The group was honored with the fifth-class Hwagwan Order of Cultural Merit from the President of Korea in 2018 thanks to their contributions to bringing K-pop music to international audiences.
Source: Read Full Article