The following article includes mentions of sexual assault.
Nicki Minaj made her relationship with Kenneth Petty public in December 2018 when he rapper posted a picture of herself snuggling with Petty — now her husband — on her birthday. "Did you ever make it out of that town where nothing ever happens?… it's no secret… that the both of us… are running out of time," Minaj captioned her Instagram post, referring to Adele's "Hello." However, not long after posting the pictures, Minaj had to disable her comments, as her fans had become familiar with Petty's past, which did not go over too well with them.
Through Petty's online records, fans found out that "he was convicted for the first-degree attempted rape of a 16-year-old girl in 1995" (per People). Petty was subsequently sentenced to 18-54 months in prison and ended up spending four years in behind bars. Minaj's association with a convicted criminal worried her fans and suggested a pattern, as Us Weekly reports that, in 2017, Minaj's brother Jelani Maraj was also found guilty of sexually assaulting an 11-year-old girl. The Grammy nominee had also extended her support to rapper Tekashi 6i9ine when he was sentenced to probation for being involved in a sexually explicit video that featured a 13-year-old girl.
Now, the latest development in Petty's case has made things more complicated for him and Minaj. Read on to find out how Nicki Minaj's husband's legal troubles have taken a turn for the worse.
Nicki Minaj's husband Kenneth Petty pleaded guilty to this charge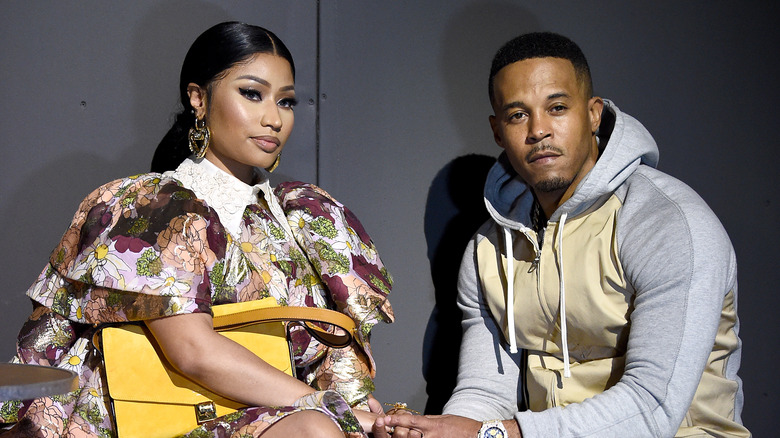 Kenneth Petty's fresh set of legal troubles began after he moved to California in July 2019. Per TMZ, the Beverly Hills police department pulled Petty over in November of that year and found he was a registered sex offender in the state of New York. They also determined Petty had failed to register himself as a sex offender in the state of California upon his arrival. Thus, Petty was arrested and released on $20,000 bond — but that was only the start of his legal troubles in California.
In March 2020, Petty was arrested again for failing to register himself as a sex offender in California. Per People, he pleaded not guilty and had to post a bail bond of $100,000. Finally, on September 9, Petty pleaded guilty to not registering himself as a sex offender in California. His sentencing is to take place on January 24, 2022, and he may face a prison sentence of up to 10 years. He may also be supervised for a lifetime after his release.
In response, Petty is "suing the State of New York and its Criminal Justice Services division to have his name removed from the sex offender's registry, because he claims he never got notice of a hearing about it back in October 2004 while he was incarcerated" (per TMZ). As Petty's legal troubles continue to mount, he's seemingly not alone, as Nicki Minaj has found herself wrapped up in said legal perils, too.
Nicki Minaj is facing a lawsuit along with her husband Kenneth Petty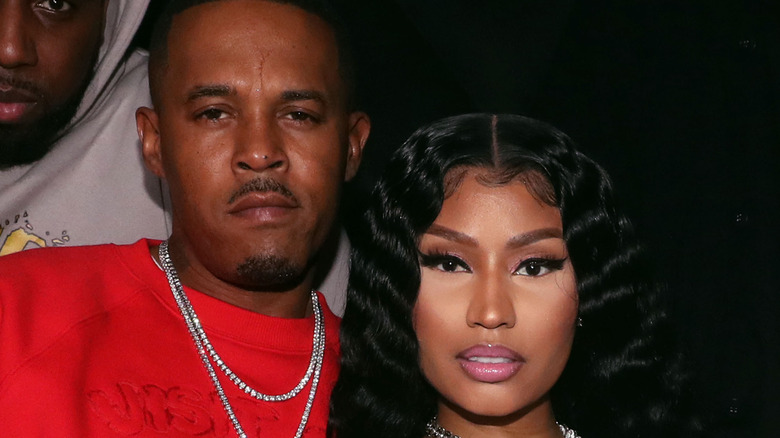 Jennifer Hough — the woman Kenneth Petty assaulted in September 1994 — has filed a new lawsuit against both Petty and Nicki Minaj. She alleged that the couple "harassed and intimidated her while trying to convince her to recant her account" (per The New York Times). Petty's victim also claimed that and "intermediary offered Ms. Hough $20,000 in exchange for signing a prepared statement recanting the accusation" and ultimately forced Hough to move out of her home.
Hough is now suing the couple for "harassment and witness intimidation, as well as intentional infliction of emotional distress," as Hough hasn't been able to work since May 2020 because she's "currently living in isolation out of fear of retaliation." Per The New York Times, Hough revealed in an interview that she had no intentions of accepting a bribe and changing her story. "If I lie now and say that I lied then, you know what that does?" she said. "Do you know what that's going to say to my two little girls, or even my sons?"
It remains to be seen how the new lawsuit — along with the existing lawsuit around Petty failing to register himself as a sex offender in the state of California — will affect Minaj and her career. Her husband's sentencing, which is due in 2022, might also affect the dynamics of their relationship.
If you or anyone you know has been a victim of sexual assault, help is available. Visit the Rape, Abuse & Incest National Network website or contact RAINN's National Helpline at 1-800-656-HOPE (4673).
Source: Read Full Article