In the meantime, Cardi B says the 'Big Energy' hitmaker should officially release 'Nasty', one of the leaked tracks, while twerking to the song during Instagram Live.
AceShowbiz –Nicki Minaj's name is being dragged into Latto (Mulatto)'s drama. The Trinidadian raptress has been accused by the "Big Energy" hitmaker's fans of leaking her 130 unreleased songs on the Internet.
In multiple reports, it alluded that a Twitter user with the name Pinkleaks decided to share 130 of the 23-year-old Ohio-born raptress' songs. Taking to the social media platform, Pinkleaks shared a file claiming to hold all of the rapper's songs, both released and unreleased.
The user did clarify that they are unaware of which songs haven't been released and urged the rapper's fans to go through them. "130 Latto Songs. Haven't listened to them. Don't know what's out what's not," the caption read.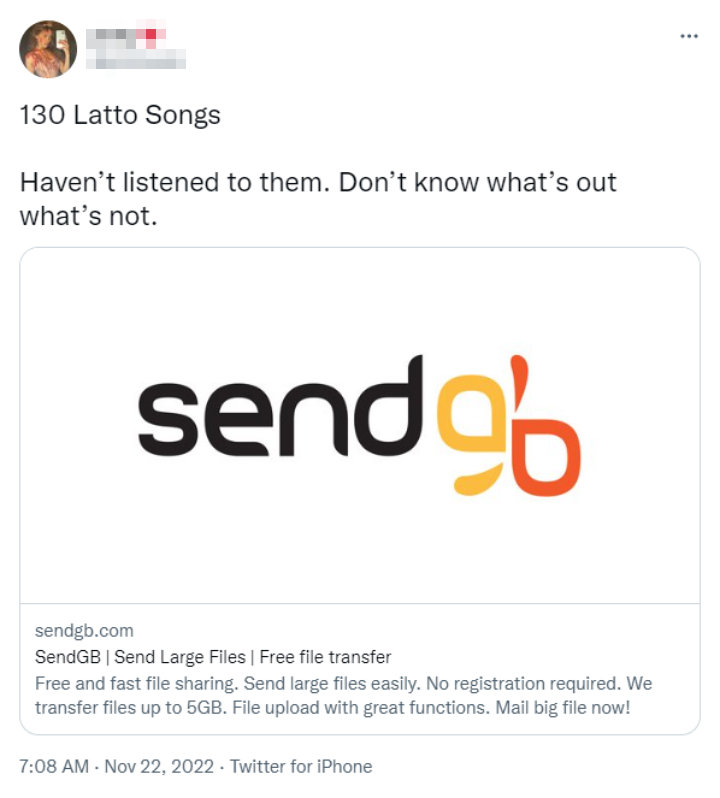 Pinkleaks leaked Latto's unreleased songs.
Upon learning of the tweet, some Latto fans believe that Nicki was the one behind this after Nicki was snubbed by Grammys following her feud with Latto, who received two nominations. "i feel like nicki is behind this leaking latto s**t and i'm being fr bc how is it getting leaked THAT easily?? only someone that can get access to the would be able to," one person tweeted.
Another alleged, "SOO…latto shut down Nicki ONE good time & barbs so damn hurt by it, they leak all her Unreleased songs, & Nicki APPROVES OF that behavior? Somebody gotta give its getting old." Someone else suggested that Doja Cat might have helped Nicki in leaking the tracks, tweeting, "Doja stealing latto's hard drives from RCA headquarters so Nicki can leak it online."
While Latto has yet to address the alleged leaks, Cardi B shared her two cents after listening to "Nasty", one of the leaked songs. During an Instagram Live on Monday, November 21, the "Bodak Yellow" raptress told the viewers that the song remains stuck in her head.
After a few moments of twerking to the song, Cardi said, "She needs to put that song out because that s**t in my head." The wife of Offset then reiterated her comments, "She needs to put that song out. She needs to put that song out 'cause I can't stop singing it."
Source: Read Full Article