Since emerging as a unique multitalented star in the '60s, Cher has spent six decades pushing against norms and expectations in shaping a public persona that's been continually fun, camp, and surprising. While her music and acting careers have seen her enjoying conventional commercial success, Cher has often used fashion as a conduit through which to playfully express herself and her identity alongside the often complicated nature of her personal life.
Cher became known for her "outsize persona" — a personality who would arrive at just about any event wearing the loudest, most improper outfit possible against the dress code — but she also knew how to play with public perception of her. In leaning on her camp sensibilities, the fashion renegade "developed a reputation for humor and almost self-consciously terrible taste," as The New York Times once put it.
As Cher has glibly admitted to Vogue, "I was kind of ahead of my time" — and how. Many of the inappropriate outfits Cher has been caught wearing across her career have been deemed "inappropriate" simply because of expectations put upon her by society at large. But as history has proved time and again, however, whilst Cher may have received criticism for dressing against what is deemed "appropriate" for that time, many of these looks have later become celebrated as groundbreaking, and popularized by others. Who wants an appropriately dressed superstar, anyhow? Here are all the inappropriate outfits Cher has been caught wearing over the years. 
The outfit which upset the London Hilton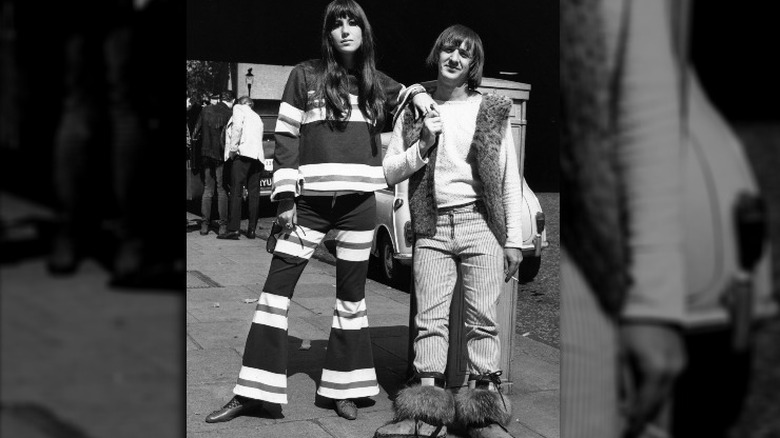 Though Cher would later become notorious for her body-baring ensembles, it was her red, white and blue flared pantsuit that became her first major inappropriate fashion moment. In 1965, the outfit prompted the London Hilton to request that Cher and her then-husband Sonny Bono leave the premises due to their apparently improper attire. It probably didn't help that Bono was casually decked out in Eskimo furs at the time, either.
As Cher explained to CBS News, the couple were aesthetically ahead of the curve and the world simply wasn't ready for what they were serving. "People forget it was a time where … The Beatles had nice little hairdos and little round collars," she said, "Hippies wouldn't be in for a long time. And Sonny and I were wearing Eskimo boots and elephant bells." Obviously, her outfit is comically tame — and exceptionally stylish — by modern standards, but at the time it caused a furor: She had the audacity to walk into the London Hilton dressed like that?!
Cher had designed her Hilton-disapproved outfit herself (via Vogue) and the controversy surrounding the incident only helped to promote them as artists. "That was an important moment," Cher reflected proudly to the NZ Herald, who pointed out that the publicity generated from the happening "helped boost sales" of the couple's tune "I Got You Babe." Simply put, "Inappropriate" would prove to be a good look for the icon.
Beachwear at the Oscars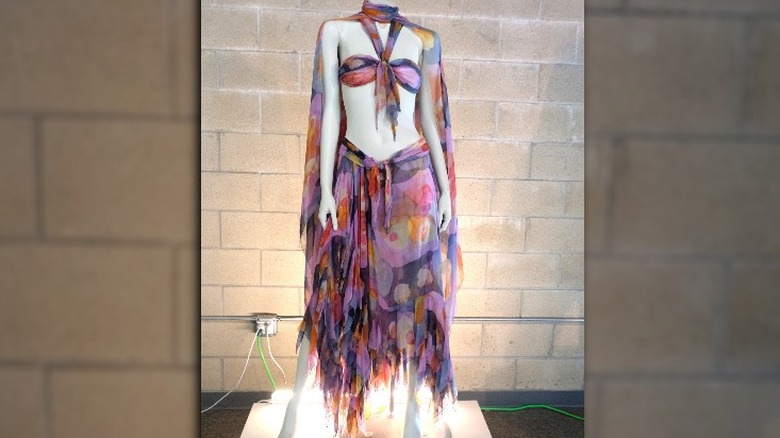 In the 70s, Cher had graduated from wearing self-designed looks to jaw-dropping ensembles by her friend and frequent collaborator Bob Mackie, who eventually designed some of her most iconic looks. For the 1974 Academy Awards, she made the assured decision to turn up to one of America's most publicized black-tie events in high-end beachwear. The romantic multicolored dress had a dramatic floor-length finish, but it also featured what amounted to little more than a halterneck bikini on top. And it was everything.
At the time, few women wore such revealing outfits to otherwise conservative events, as Cher did. In an interview with Vogue, she even confirmed that she was the first woman to show her belly button on TV, and as a result, midriff-bearing cuts became one of her signatures. By all accounts, she didn't seem to care whether the Academy approved of these looks or not. As she told Vogue, they "didn't really like" her anyway, so it gave her a little more freedom to just wear whatever she wanted.
Just the previous year, for instance, Cher had proudly flashed her midriff at the Academy Awards but her outfit was a little more traditional, taking the form of a gold two-piece that made her look like an Oscar being clutched in the middle. And in years to come, she'd continue to rebel against the standards of the Academy with her radical red carpet choices.
This is what a serious actor looks like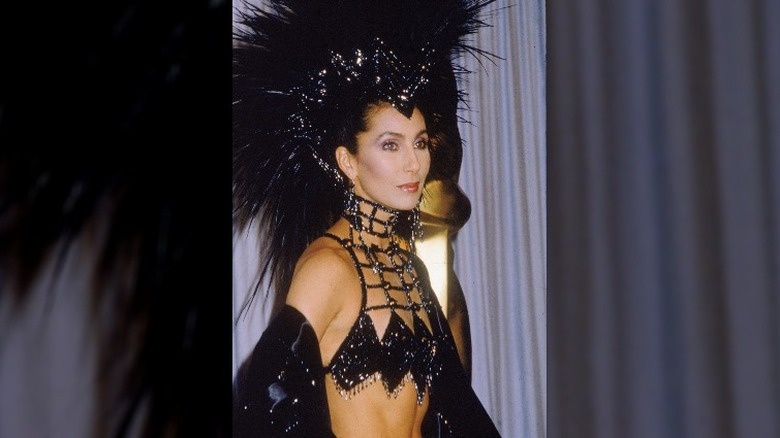 Being the creative force of nature that she is, Cher has often used fashion as a tool with which to make bold statements. And she very much had plenty to say with her jagged, cropped showgirl look for the 1986 Academy Awards. Calling it one of her "favorite outfits," Cher described to Vogue how she'd asked Bob Mackie to design her something "so over the top that it's next week."
The outfit was conspicuously inappropriate, and for good reason — it was being worn as a clapback against the Academy. Not only did Cher suspect that they "hated" how she dressed and the "young boyfriends" she had, but she also thought they didn't take her seriously as an actor. The solution was to serve them a sharp dose of irony, "I came out and said, 'As you can see I got my handbook on how to dress like a serious actress,'" she told Vogue. However, Mackie tells the story a little differently.
"She was pissed off because she didn't get nominated for 'Mask,'" he told The New Yorker and elaborated that the outfit was exactly what it was supposed to be, "There were a lot of people who said, 'That's not fashion!' and I said, 'Of course it's not fashion. It's a crazy getup for attention.'" But the "crazy getup" worked and the outfit remains one of the most memorable and notorious Oscar red carpet looks to this day.
Flashing skin for her Oscar win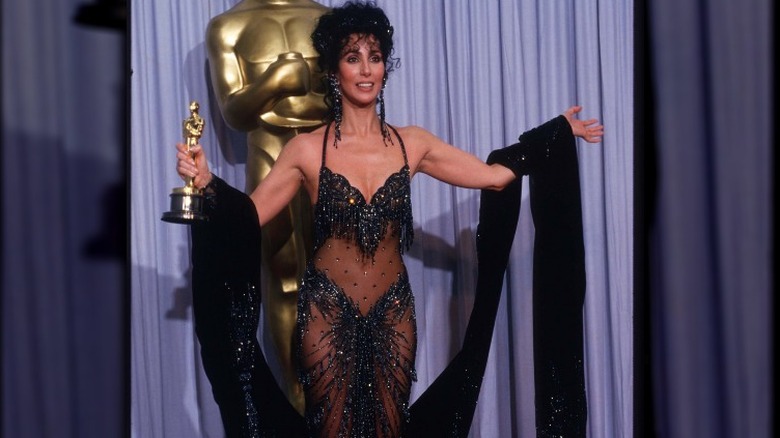 Apparently, the jagged showgirl number from 1986 made some kind of an impact on the Academy because just two years later, Cher managed to snatch the Best Actress Oscar for her phenomenal performance in "Moonstruck" – and for which she wore another sheer gown sure to have stirred up a little drama with the Oscar squad. Cher revealed to Vogue that — given her standing with the Academy — she honestly didn't expect to win and "just thought this would be a beautiful dress."
Bob Mackie once again designed the dress, and suggested to The New Yorker that his main notes for the look were that, "She just wanted to look like Cher." However, Cher "just" wanting to look like herself essentially meant a return to her dazzling nude comfort zone. "She wanted to wear one of those sheer dresses that covered just what you needed to cover," he said, "and the rest was up for grabs."
The result was a stunning extension of Cher's showgirl persona, which allowed for the performer to shine as herself. The outfit had a shawl, which at the very least made it a little event-appropriate. As Cher told Vogue, however, the rest of the outfit was a bit of a mess. Not only did she lose an earring whilst walking the event stairs, but her shoes also tortured her feet so badly she had to take them off, "I was standing next to Michael Douglas … on my tiptoes," she said.
Nudity at the Met Gala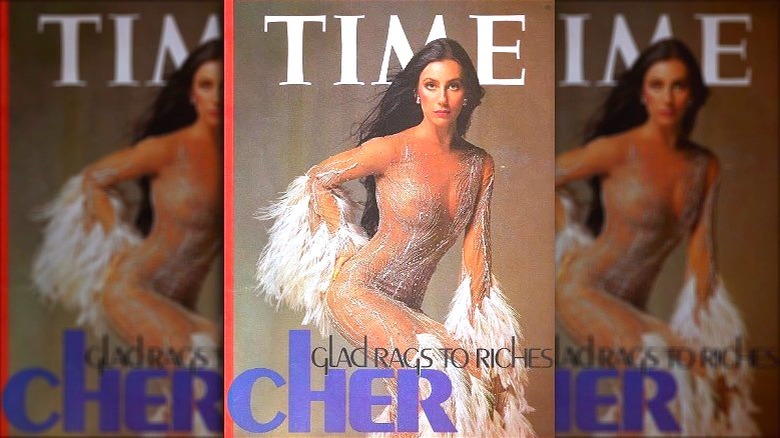 These days, the "naked dress" is a red carpet staple, but in 1974 it still had the power to shock. Especially so when said dress is made from an "outlawed" French fabric, and when it's been literally sprayed onto the body of one of the most beautiful women in showbusiness. Regardless, the dress' designer Bob Mackie told The New Yorker that he was surprised by people's reactions to the ballsy gown at the Met Gala, "I didn't know it was going to cause such a hullabaloo," he said. But it did and it continues to be legendary.
The dress notoriously left little to the imagination, even letting nipples and the curves of Cher's breasts be visible beneath the sheer fabric. Speaking to Vogue, she speculated that the banned nature of the fabric was at the core of "what was shocking for a lot of people," and that she didn't feel provocative. When asked by a man at the Met Gala how it felt to be naked at the event she cooly responded, "I feel just fine" (via Vogue).
Following the event, Time magazine invited Cher to wear the dress for the cover, at a time when the magazine "reserved its covers for world leaders or someone who invented something important" Mackie told Vogue. "Newsstands sold out of it almost immediately," he said, noting that "Some cities even banned it from being sold." But arguably Cher and Mackie did invent something important: The "naked dress" continues to wow to this day.
Did she appropriate Native American culture?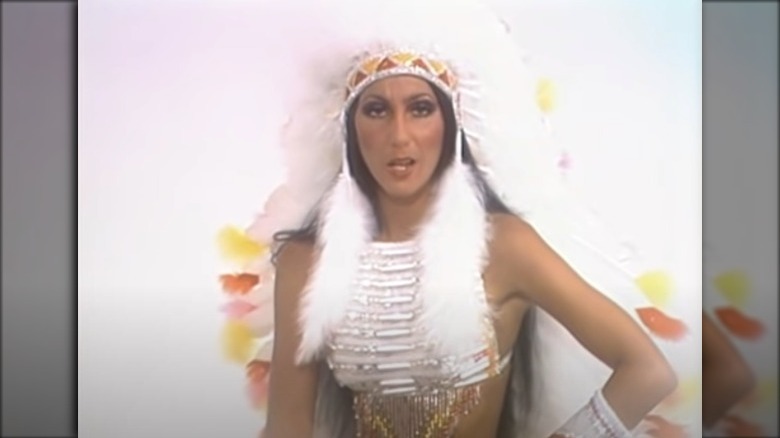 Throughout her career, Cher has courted controversy for her repeated adoption of traditional Native American garb as costumes for her videos, stage shows, or even red carpet appearances. Her music video for "Half Breed" — a song about her mixed heritage which continues to prompt heated discussion online — contains perhaps the most egregious example for critics and shows Cher wearing a Native American headdress with a cropped two-piece featuring traditional Native beadwork.
Criticisms regarding Cher's use of Native culture hit a peak in 2017, when she was pulled into a Twitter debate regarding Donald Trump's decision to appoint Kaya Jones the Native American Ambassador — a blonde former Pussycat Doll with "unproven claims of being 'half-Apache'" (via ET Canada). Jones referenced Cher's "Half Breed" song in proud reference to how she herself culturally identified — a loaded term regarded as a racial slur by many.
It's worth noting that Cher has claimed her mother was apparently of "Irish, English, German, and Cherokee" descent (via People). However, on Twitter people alleged that her mother's claim to Native ancestry may have been false. Cher was not happy and lashed out at an Indigenous woman for the criticism via Twitter. However, she later posted a calmer response that noted the song was done fifty years ago and wasn't meant to be "offensive."
Was the Egyptian look ever okay?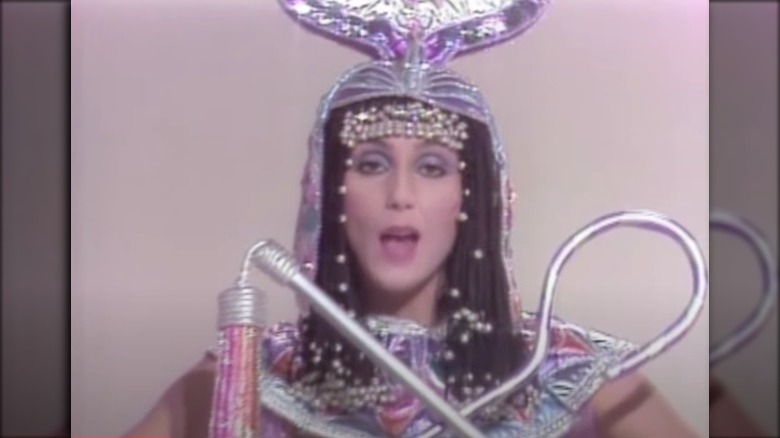 Like her repeated Native American looks, Cher also has a long history of wearing looks inspired by Egyptian culture. One of the most notable examples is her jaw-dropping Egyptian goddess look for the "Ain't Nobody's Business If I Do" music video. Bob Mackie once said, "Nobody looks better in Egyptian clothing than Cher" (via The New Yorker), however, many critics would argue that there are plenty who do, like actual Egyptians.
Cher pulled another incredible Egyptian look out of her razzle-dazzle dress-up box for the launch of her scent, "Uninhibited" in 1988. Wearing a striking beaded Egyptian headdress with a translucent kaftan two-piece that exposed her stomach, Cher looked unreal. Back then, nobody appeared to give much thought to issues of cultural sensitivity, so few eyebrows were raised by Cher hitching a style-ride off the back of Egyptian culture. However, it certainly hasn't aged well by modern standards where other artists such as Katy Perry have been criticized for reducing Egyptian culture to costume (via Mic).
However you feel about Cher adopting Egyptian culture as her own — fabulous or offensive — there's no denying that she's obviously got an obsession for Egypt that runs deeper than merely occasional costuming. Notoriously, the flamboyant star even lived in an "Egyptian Palace" in Beverly Hills (via Variety) which sold for $88 million in 2020 (via MSN Money).
Going sheer for the sailors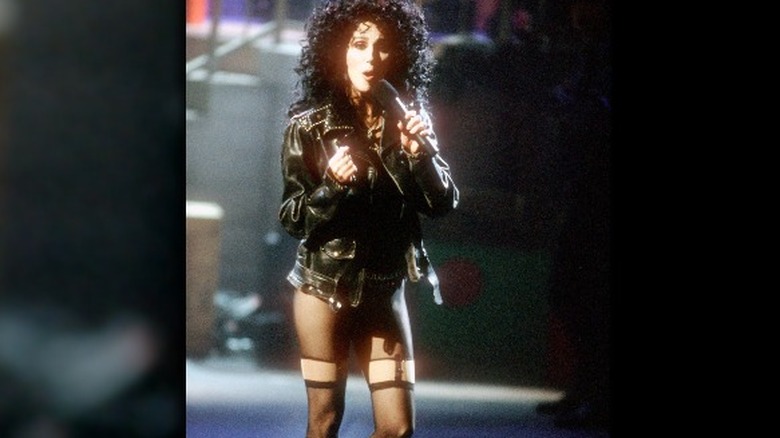 By 1989 Cher had done the "nearly naked" sheer look in a variety of ways. But the butt-baring sheer one-piece she wore for the "If I Could Turn Back Time" music video might've been one of the first times she didn't feel completely comfortable with her look. "It made her very nervous," Bob Mackie told Variety, "and it's the only time I know she ever got that nervous." As ever, Mackie designed the look which he called "the seatbelt outfit" due to its minuscule V-shaped belt that (just about) covered her modesty.
That belt was smart considering the setting of the video: The USS Missouri was a legitimate Navy ship filled with legitimate sailors (via We Are the Mighty) who were all understandably very excited to be there that day. Mackie also recalled that Cher's 12-year-old son at the time was also featured in the video playing bass guitar — all the while "his mother is out there half-naked" (via Variety). So by all accounts, Cher's nerves were warranted. 
Cher's outfit was so shocking that the Navy's entertainment liaison even requested she be given something more conservative to wear — a request that director Marty Callner politely declined. But even MTV balked at the look. Per "I Want My MTV: The Uncensored Story of the Music Video Revolution," the video was initially banned from broadcast due to the "visibility of Cher's butt cheeks." However, it later became suitable for a post-9pm viewing slot (via We Are the Mighty).
Cher turns back time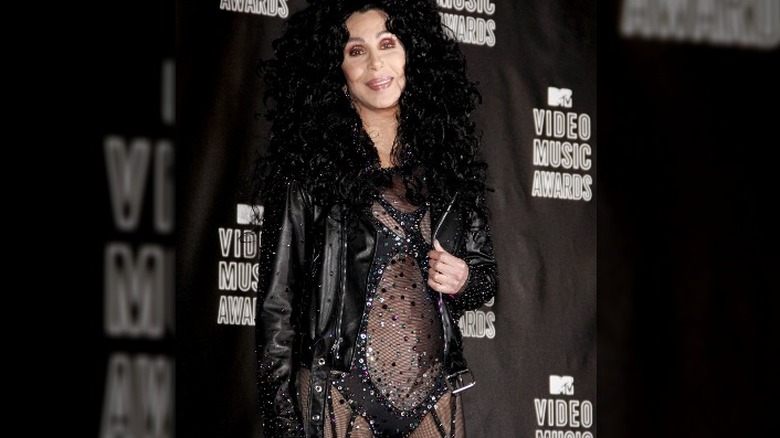 The "If I Could Turn Back Time" outfit is hardly provocative by today's music video standards — we're living in a post–"WAP" world after all — but there is one way that it could continue to test boundaries: When a 64-year-old wears it. Cher took to the stage at the 2010 MTV Video Music Awards in an outfit that paid clear tribute to her former controversial look — one which she admitted "[seems] so tame now" whilst speaking at the event (via Daily News).
As ever, Cher's talent for rocking ensembles that teeter confidently and gloriously across the tightrope of appropriateness won her just as many fans as naysayers, and she was "greeted with a standing ovation" when walking out in the outfit. The cheeky head-nod was also more than appropriate for the task that Cher was to accomplish that night: Presenting Lady Gaga with the Video of the Year Award for "Bad Romance" (via Vanity Fair).
Clearly, Cher understood the assignment. Like many modern pop stars, Gaga owes a great deal to the performer – and certainly her Biker jacket and sheer tight combo in the "LoveGame" music video offers a salute to "If I Could Turn Back Time" — so the moment felt like a powerful passing of the torch. Especially since Gaga was wearing a dress made out of raw beef to receive said torch — making Cher's once-banned outfit look even tamer by comparison. 
A drag king tribute to a former suitor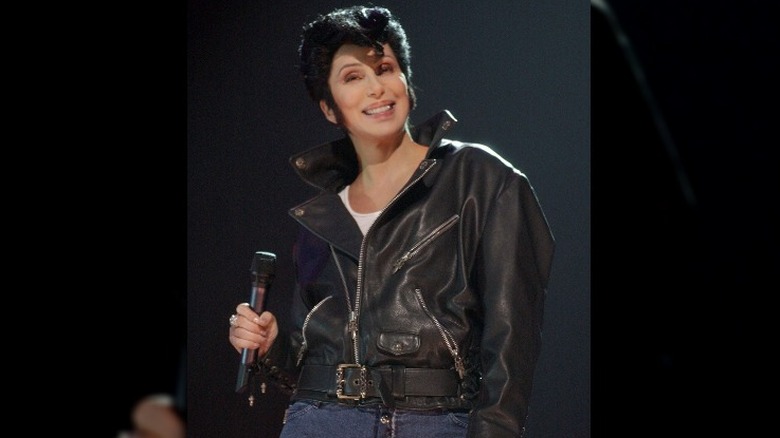 Once a queer cabaret reserved for peripheral performances of downtown dive bars, drag has become far more mainstream and ubiquitous in recent years. In 2002, Cher served a drag king tribute to Elvis Presley that was far ahead of its time — and seven years before the first episode of "RuPaul's Drag Race" would usher in a new era of drag acceptability. Pairing a wig styled like The King's signature pompadour with a set of blue jeans and a zipped-up leather biker, Cher's tribute was an unconventional choice for her to flex at a VH1 Divas event.
The look was seasoned with an additional layer of intrigue, however: Cher has maintained that Presley was one of her romantic suitors before his death in 1977, and also one of her biggest regrets in not pursuing him. Cher revealed that she "almost" dated Presley while on The David Letterman Show, but that she "got nervous" and didn't get to even go on one date with him because of it, "but I wish that I had," she said, sadly.
Funnily enough, this wasn't the first time that Cher had dressed up as The King. In 1995, the singer chose a Drag King-esque tribute to Elvis as her costume of choice for a performance of "Walking in Memphis" on "Top of the Pops" in the U.K. For this earlier incarnation, she added a pair of Presley's Neostyle sunglasses and some thick sideburns to complete the look.
Defying age in beads and pasties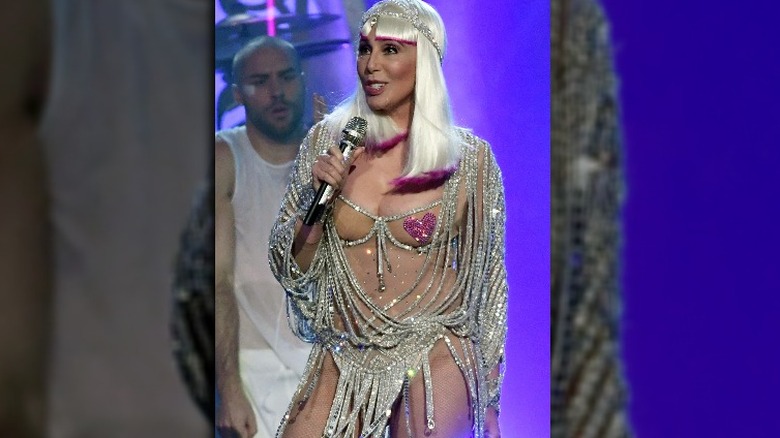 Performing in heart-shaped pasties and a body-baring dress constructed solely from beaded threads can be a dicey and daunting prospect for most people at just about any age. But at 71-years-old, Cher looked right at home in wearing exactly this look for a performance of her gay-club anthem "Believe" at the 2017 Billboard Music Awards.
Finishing the revealing beaded curtain look with a platinum wig, Cher proved that she absolutely doesn't give a damn about dressing "appropriate" for her age, and the world absolutely loved her for it. The pop superstar received the Icon Award at the Billboard Music Awards and used her acceptance speech to reflect on how she's used her unique qualities to maintain her extraordinary presence in the industry for 53 years. "When I was really young my mom said, 'You're not going to be the smartest, you're not going to be the prettiest, you're not going to be the most talented, but you're going to be special,'" she said.
And that unique selling point is arguably something that has been reflected in Cher's fashion choices throughout her career, which have been consistently special — if utterly unconventional — at every step. For anyone wondering how the 71-year-old managed to maintain the confidence to wear such a revealing outfit, she also bragged, "I can do a five-minute plank." So – mystery solved.
She got blue, babe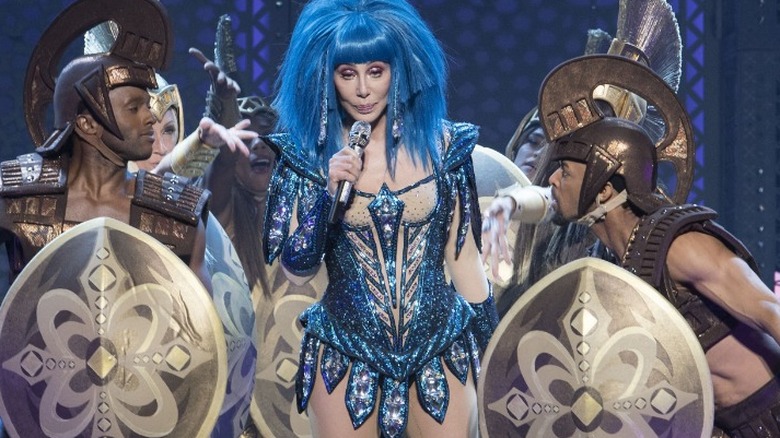 For her career retrospective tour "Here We Go Again," nobody expected looks that were anything less than wild from the fashion extrovert. Thankfully, Cher didn't disappoint, with an opening ensemble that looked like a lurid flirtation between Roman goddess and the sci-fi operatics of Luc Besson's "The Fifth Element."
Entering the stage in an oversized blue wig, Cher adorned her body with a sparkling blue floor-length toga which flashed purple when caught by the stage lights. The performer then removed the gown to reveal a Roman warrior bodysuit that made her look like she was performing cabaret for Julius Caesar — topped off by a whole army of Roman Centurion backing dancers, complete with shields (via Daily Mail).
As opening looks go, it's everything fans know to expect from Cher. The look is as surprising and bombastic as it is camp and self-referential. For her golden era, the pop pioneer has earned every right to dress like a warrior, because — as she told The Guardian in 2020 — she was continuing to fight hard in maintaining her voice, body, and career. "I've worked my whole life to keep my strength in my body," she said, "There are 20-year-old girls who can't do what I do."
Source: Read Full Article