The pandemic somewhat forced everyone to do a little self-reflection and hit the reset button. Harry Styles says this forced pause led him to explore what his own time alone looks like. While preparing for his new album, he applied a few new realizations he learned in during the COVID-19 lockdown.
The powerhouse performer's latest solo album is something entirely new, at least from a creative standpoint. In fact, Styles admitted to unplugging from listening to music entirely. He deliberately stepped away from sounds and inspiration from some of his biggest idols.
This time around, Styles only sampled classical music, and his new album is definitely better for it.
Harry Styles' new album 'Harry's House'
In an interview with Better Homes & Gardens, Styles discusses his latest album and the production process. The 28-year-old took a new approach this time around. He wanted "a blank canvas" from which to draw inspiration. Styles tuned out all types of music entirely to avoid contaminating his creative flow.
The "Watermelon Sugar" singer did, however, admit to immersing himself in classical music as a method for resetting his mind and soul. Styles wanted to explore deeper for the album Harry's House with themes of "discovering domestic bliss," belonging, and peace. To achieve this meant that he would also have to find his own peace, which is where classical music comes into play.
Styles is anything but cliché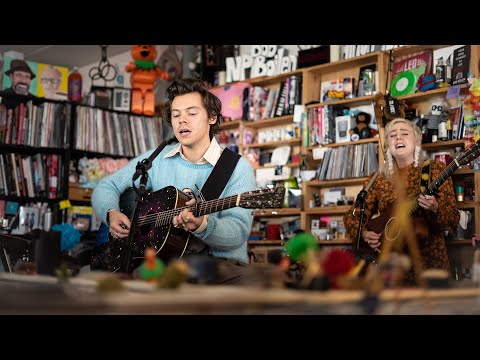 Styles was committed to a reset, as many others did in their own ways due to the coronavirus-related shutdowns. The "As It Was" singer admits it all "sounds a bit pretentious" and maybe cliché, but "who didn't get caught up in a rush" of what he called "pandemic life-improvement epiphanies."
The Dunkirk star also discusses taking the opportunity to self-reflect or do a "lot of navel-gazing." Making an album is just a "self-absorbed" way to express yourself. "I don't know if there's anything more navel-gazing" than that, Styles went on to say.
His journey these last few years, according to his interview, has involved enjoying things for what they are in order to "be in the moment."
The pandemic, which stalled all creative endeavors and engagements, made Styles realize the value of self-improvement. He set out to be a better friend, brother, and son. He sought his own peace "at home" and discovered his sense of belonging. From those sentiments, Harry's House was born.
The "Sign of the Times" singer continues to find success, and fans love his every move. Sharing his creative process is just another reason they endear Styles so.
Source: Read Full Article