After the death of Nirvana frontman Kurt Cobain in 1994, drummer Dave Grohl formed Foo Fighters. What started as an independent project in Seattle turned into the formation of an iconic band with worldwide acclaim. Performing for more than two decades, the MTV Global Icons have sold over 32 million albums and received 31 Grammy nominations. All except one of their Grammy wins have been in the rock genre.
Foo Fighters scored nominations for three Grammy Awards in 2022. Much to the delight of adoring fans, they swept the rock category, winning all three awards. The triumph was undoubtedly bittersweet due to the recent untimely death of drummer Taylor Hawkins.
Foo Fighters' history at the Grammy Awards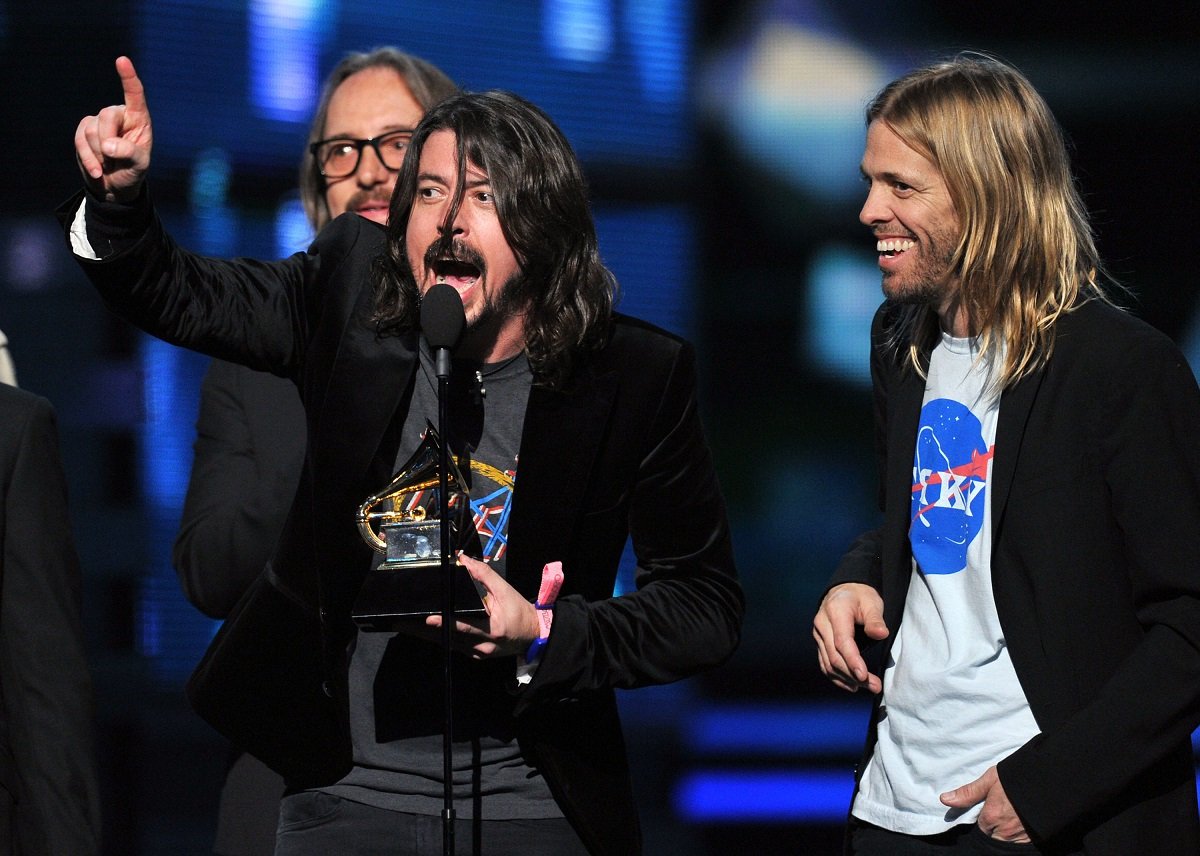 Before the 2022 ceremony, the band had taken home an astonishing 12 Grammy Awards. They received their first golden gramophone in 2000 for the Best Rock Album There Is Nothing Left To Lose.
Foo Fighters had a record-breaking year in 2014, receiving five Grammy Awards. Their performances of "Rope" and "Walk" during the live telecast marked a highlight of the show.
According to the Grammy website, the only win the Foo Fighters experienced outside the rock genre occurred that same year. They won the Best Long Form Music Video Award for the documentary Foo Fighters: Back and Forth.
The Foo Fighters sweep the 2022 Grammys rock category
The 64th Annual Grammy Awards included a tribute to Hawkins, with the legendary grunge band winning three more Grammys during the pre-show Premiere Ceremony. The group won for Best Rock Performance: "Making a Performance," Best Rock Song: "Waiting on a War," and Best Rock Album: Medicine at Midnight. They have five career Grammy wins in the Best Rock Album category.
The Rock and Roll Hall of Fame inductees were scheduled to perform at this year's Grammys but canceled after the death of their beloved band member. They did not appear at the ceremony, and the awards were accepted on their behalf.
How the unexpected death of Taylor Hawkins has affected upcoming performances
During her recent Grammy performance of "Happier Than Ever," singer Billie Eilish wore a Hawkins t-shirt honoring the late drummer. Later in the show, a tribute to Hawkins kicked off the touching in memoriam segment. A video montage included live concert footage of the legendary drummer at his best, set to the Foo Fighter's hit song, "My Hero."
The Grammy Award's host, comedian Trevor Noah, introduced the video. "We would have been celebrating with them as they won three Grammy Awards earlier today. But they are, of course, not here, due to the passing of their legendary drummer Taylor Hawkins." Noah continued, "Our thoughts go out to Taylor's family, his friends, the Foo Fighter family, and all of their fans around the globe. We'd like to take a moment now to remember Taylor."
Hawkins died unexpectedly on March 25, 2022, right before his scheduled appearance at a music festival in Colombia. According to People, the drummer "complained of chest pains shortly before his death, and paramedics dispatched to his Bogota hotel room attempted unsuccessfully to resuscitate him."
The Foo Fighters have canceled the remainder of their South American tour and all upcoming appearances. E! News reported the band released a statement. "We're sorry for and share in the disappointment that we won't be seeing one another as planned." They continued, "Instead, let's take this time to grieve, to heal, to pull our loved ones close, and to appreciate all the music and memories we've made together."
Source: Read Full Article