Dave Grohl's proudest achievement in music isn't recording a song with Paul McCartney. It isn't holding the most Grammy Awards by any American band with Foo Fighters, and it isn't being one of the best drummers of the 1990s, thanks to his work with Nirvana. No, Grohl's "proudest musical achievement" is Prince covering Foo Fighters' "Best of You" during his 2007 Super Bowl Halftime performance.
Prince didn't like Foo Fighters covering 'Darling Nikki' and might have gotten revenge
In 2003, Foo Fighters recorded a cover of Prince's 1984 song, "Darling Nikki," and released it as a B-side on the Australian version of their "Have It All" single. According to MTV, the cover became so famous that Foo Fighters began playing it at the end of their shows in 2004.
Hawkins said the band recorded it as a joke. "Dave loved 'Darling Nikki' because it was really funky," Hawkins said. "And so we just recorded our version in my garage, and somehow it ended up getting played on radio — which was weird, because we just did it as a sort of joke."
However, the cover did not please Prince at all. According to one of Grohl's True Stories (via Instagram), the band asked for his blessing. "He shut us down faster than you can say, 'Dearly beloved…'" Grohl wrote. "I believe I remember him saying, 'They should write their own tunes…' or something along those lines."
Grohl had it right. Prince told Entertainment Weekly that he didn't appreciate the cover and that Foo Fighters needed to write their own material.
"We wanted to put it out here in the States, but Prince wouldn't let us," Hawkins said. "I heard that he didn't like our version. Or maybe he just didn't like us doing it."
Four years later, during his Super Bowl Halftime performance, Prince performed Foo Fighters' "Best of You" in his medley that included "Let's Go Crazy," "Baby I'm a Star," and Creedence Clearwater Revival's "Proud Mary."
Everyone was shocked. However, Hawkins was skeptical that Prince covered the song because he admired them.
"Dude, I have no idea why he did it, but I'd love to find out," Hawkins laughed. "I mean, the thought went through my head that maybe he was doing it as a sort of 'F— you' to us, or maybe he really likes the song. Either way, it was pretty amazing to have a guy like Prince covering one of our songs — and actually doing it better than we did."
Grohl was shocked, too, although he seemed to be one of the few who knew Prince would play the song.
Dave Grohl said his greatest musical achievement came when Prince covered 'Best of You'
After Foo Fighters released "Darling Nikki," Grohl was under the impression that he and the band were on Prince's "s*** list." So it's understandable that Grohl couldn't believe Prince would cover "Best of You" during his Super Bowl Halftime performance.
In his True Stories, Grohl wrote that someone told him that Prince would perform the song. He said he was shocked and didn't understand. Grohl didn't even watch the Super Bowl because he "wrote the whole thing off as something that was too good to be true."
Grohl describes himself as "cautiously optimistic." So, imagine his surprise when someone told him that Prince actually performed the Foo Fighters' song.
"As my tears hit the keyboard like the Miami rain that night, I realized that this was without a doubt my proudest musical achievement," Grohl wrote. "All of those years spent in my bedroom practicing alone to Beatles records, sleeping in cold, infested squats on winter fan tours across Europe, battering my drums until my hands literally bled… it all paid off in this moment.
"I was watching the greatest living performer known to man sing my song to 1000 million people as if it were his own… Volumes have been written about his performance that day, as it truly was the best halftime show in history (sorry, JLO) But to me, I will always remember it as my life's greatest compliment."
Grohl didn't know it at that moment, but he would have another memorable moment involving Prince.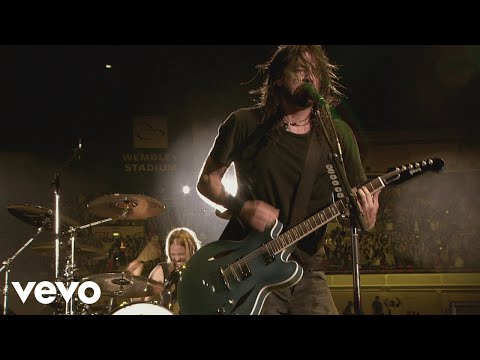 Grohl met Prince four years later
In 2011, Grohl went to see Prince during one of his 21 shows at the Forum in LA. When Grohl arrived, someone told him Prince would call him up on stage to jam. Grohl declined because he was so drunk but was able to meet Prince that night. They planned to jam the next Friday.
"I sat with that phone in my hands for a week, on vibrate, sleeping with it near my head, the whole thing, waiting for him to call," Grohl said during the Grammy Salute to Prince in 2020. "He never called." Grohl was worried but finally went down to the Forum on Thursday.
When Grohl checked if his equipment had arrived, Prince magically appeared, surprised to see him. Grohl had to remind him that they were jamming the next day. Prince asked Grohl if he wanted to play, so they did.
"I'm like, 'Oh god, this is amazing.' Then we end, and we're all like high-fiving each other. He goes, 'Man, you've got a heavy foot.' I was like, 'Yeah, I got a heavy foot. This is amazing [Under his breath].'
"Then we end it, and he's like, 'That's amazing, we should do that!' I'm like, 'Yeah, we should do that!' And he goes, 'What are you doing next week?' [Pause] And I never saw him again. [Laughs] I had a school fundraiser. The end."
Grohl clearly had to be living on Prince time. Although, catching time like that with Prince was rare, like trying to catch smoke in your hand. At least Grohl experienced many "divine" moments with Prince.
Source: Read Full Article