Cardi B and Nicki Minaj are two of the most successful women in the history of hip-hop, and there has, of course, been a history of beef between them. In 2018, they both attended a New York Fashion Week party where Cardi tried to attack Minaj by throwing a shoe. "Get this woman some f****ng help," Minaj said while discussing the altercation on the "Queen Radio" show (via CNN). "This woman's at the highest point in her career and she's throwing shoes?"
But aside from their tiffs, they both similarly work quite hard. Cardi's financial success extends far past her musical career. She collaborated with Fashion Nova for a clothing line, and the rapper's "Season 2" items made over $1 million in 24 hours, per TMZ. Cardi was the face of Balenciaga in a campaign that launched in 2020 and featured a giant billboard with her face plastered on the side of the Louvre museum in France, per Vogue. All these lucrative endorsements have paid off, and Cardi has a net worth of $30 million, per Celebrity Net Worth. "My family, whatever they want, they get," the "Bodak Yellow" rapper told CR Fashion Book in 2018. "Everything that I want to buy, I can get. I don't have to worry so much about my future." Although Cardi did admit to CR Fashion book that she "was a little bit happier" with "less money." 
Keep reading to see how much Minaj is worth in comparison to her rival.
Nicki Minaj's tireless finesse has Cardi B beat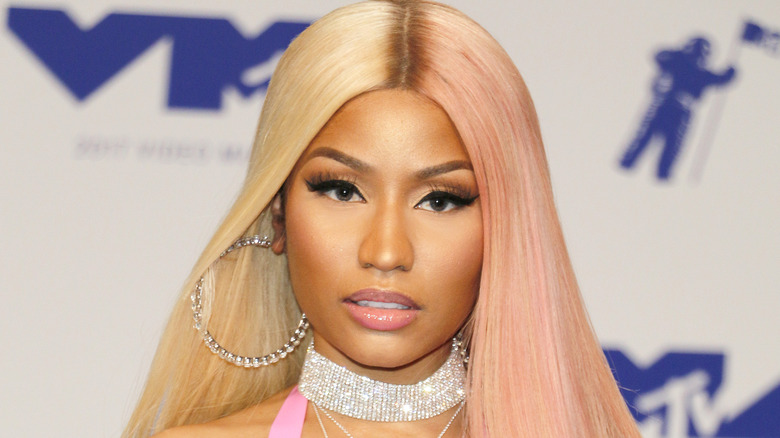 Nicki Minaj has taken her career extremely seriously, and she refused to sit idly by and let others control her fate. "People don't know how heavily involved I am in my own career," she told Billboard in 2014. "I'm on 15 to 25 conference calls every few days strategizing with my team." This business savvy led to a slew of lucrative endorsement deals for the "Anaconda" rapper. 
In 2012, Minaj was signed to a seven-figure deal by Pepsi to be the face of the company and appear in an international commercial, per The Hollywood Reporter. The next year, she was a judge on "American Idol" for just one season, and took home $12 million for her efforts, via Reuters. Minaj has racked up some exorbitant numbers performing at private gigs as well. Floyd Mayweather forked over $50,000 to have the rap icon perform at his daughter's birthday party in 2014, per TMZ, and in 2015 she pocketed between $300,000 and $500,000 for appearing at a Bar Mitzvah, via Newsweek (you may remember the iconic photo). These tireless efforts allowed Minaj to become a massive success. She is worth $85 million according to Celebrity Net Worth. And has Cardi beat!
"Want success. Don't want fame," she advised on Instagram in 2019 (via HotNewHipHop). "Fame fades. Success can't. Y'all be wanting to be famous. Work hard. It's the WORK that will stand the test of time," Minaj added.
Source: Read Full Article