I have a confession to make: I never read Little Women. I'm sure it was assigned in one of my various high school English courses, but I literally don't even remember the spark notes. Furthermore, I made no effort to watch any of the hundred television and film adaptations. That's about to change.
Today, the trailer for Greta Gerwig's (Lady Bird) rendition—starring Emma Watson, Saorise Ronan, and Meryl Streep—finally dropped. Honestly, the whole thing looks amazing, but it's Timothée Chalamet who will get my butt in that seat on Christmas day. Exhibit A: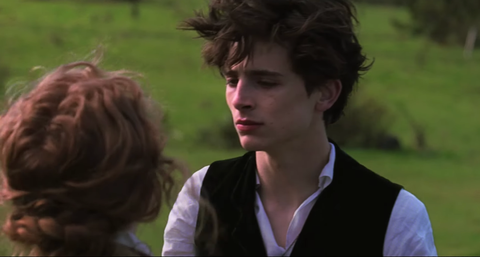 Timothée plays Laurie—short for Theodore Laurence—who falls in love with Jo March (Saorise), a girl who writes and doesn't really want anything to do with him, despite their insane chemistry. I know the whole entire point is that women are more than just one half of a love story, but…how dare?
Most of us fell in love with Timothée during his Call Me By Your Name press tour with Armie Hammer, but I promise you, Little Women Timothée is hotter than CMBYN and Lady Bird Timothée combined. Exhibit B: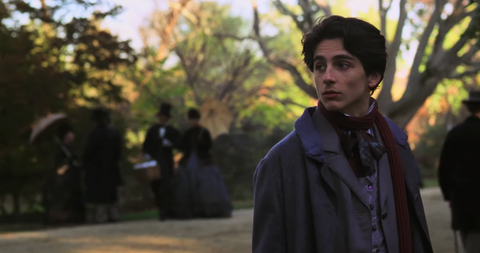 But he's more than just his perfect face! Timothée has already passed the heartthrob flirt test. Please read this exchange and tell me you're not a puddle:
Marmee March (Laura Dern): "My girls have a way of getting into mischief."
Laurie (Timothée): [Smirks] "So do I."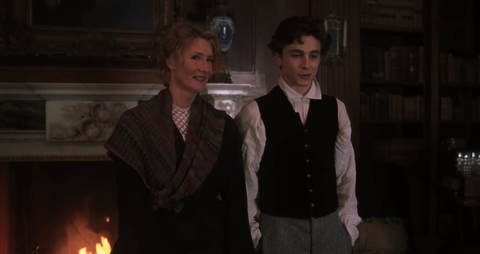 Then he starts professing his love to Jo, who calls him a "disaster" and I'm full-on sobbing over two people I know zero about. I know I'm not alone in this. Here's what Twitter had to say:
I honestly saw a 10 second clip of Timothée Chalamet telling Saoirse Ronan he loved her in the Little Women trailer and cried pic.twitter.com/fVbVBfG2pS
Imagine thinking that I'm going to do anything else today aside from daydream about Timothée Chalamet's Laurie in the #LittleWomen trailer. IMAGINE! pic.twitter.com/aBwtCc074E
upon reviewing the little women trailer, i have finally come to the rare conclusion that i, Austin Geter, was wrong. you all were right about timothee chalamet and i will never speak ill of his beautiful being ever again.
Even actual Little Women stans agree. "Wow, didn't think i would ever see someone as a better Laurie than Christian Bale, but Timmy is so perfect just based on this 😭" This quote is brought to you by Cosmo's very own Sarah Weldon in our group chat. Again, I have not seen any single version of Little Women, but I know in my heart of hearts that I agree.
Now, without further ado, please enjoy this peak Timothée content:
Source: Read Full Article