If you've been following the artistic duo 2 Men Drawing, you might be surprised by the rare pop of colour, added in collage detail, of a golden-crusted lasagne and the recognisable red neon sign in their latest works. They'll adorn the rotating gallery wall of Fitzroy stalwart Marios Cafe, with profits from any sales to be donated to Parkinson's Victoria.
Peter Mills and Bruce Harvey of 2 Men Drawing, pictured with Mario Maccarone (centre), owner of Marios Cafe. Credit:Chris Hopkins
Peter Mills, an architect, and Bruce Harvey, a former advertising executive, usually stick to the chiaroscuro effect of pencil and charcoal when drawing. "Colour scares me," Mills confesses as we meet at Harvey's garden studio in Brighton.
It's hard to imagine this remarkable team being unnerved by anything. Their first show together, some 40 years ago, was inspired by the owner of another of Melbourne's beloved Italian eateries, former Collins Street haunt Vivaldi's.
It was a handy lunch spot when Mills was at architecture firm Bates Smart, and Harvey worked in-house for Myer's ad department. "We used to draw on the tablecloth and throw them away, but Joe, the owner, suggested we buy proper paper," Harvey recalls. "He would keep our drawings, and we could have an exhibition."
Lunch (plus wine) was on the house. They donated the $8000 proceeds to the Melbourne City Mission, a kind gesture that led the fledgling 2 Men Drawing to their next gig. "The fellow from the Mission changed jobs and became program manager at the ABC," Harvey adds. "He rang us up and asked if we'd like to draw on the radio, which we thought was a bit unique."
A drawing by Peter MillsCredit:2 Men Drawing
Harvey and Mills would sit in on shows, sketching the guests. "One was a guy called Trevor Green," Harvey explains – then managing director of the Melbourne Symphony Orchestra.
That meeting led to several years of capturing the orchestra while they rehearsed, and two exhibitions. "It was the best drawing exercise," Mills says. "We had to learn how to draw people who weren't static. They were moving with their instruments all over the place. We'd have to take photographs with our heads and remember where they were 10 seconds ago."
One man at the MSO would pop up again. "One of the violinists had a huge beard," Harvey recalls. "We love life drawing too, and one day we decided to go to the University of the Third Age in Malvern. There he was, but with no clothes on, playing his violin."
The first brushstrokes of Harvey and Mills' story were dashed off in The Waiter's Restaurant on Meyers Place sometime in the '70s. "I was just married and was looking for an architect to redesign the dump of a house that I had bought, and Peter was recommended," Harvey recalls.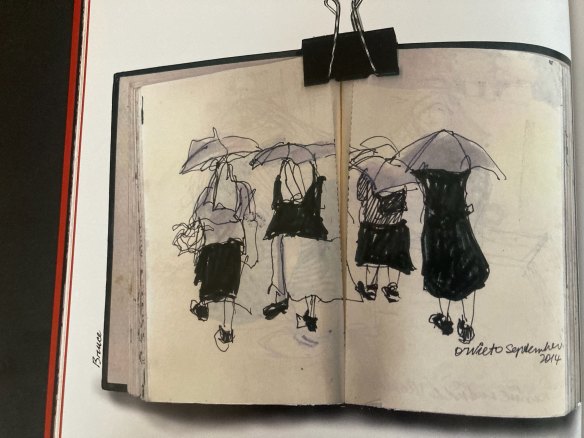 A drawing by Bruce Harvey.Credit:2 Men Drawing
Sketches of a proposed kitchen soon gave way to them capturing the likeness of fellow diners. "We realised we shared this passion and it became a habit we couldn't stop," Mills says. "Whenever we met for lunch, on the excuse of doing his house, we'd draw together over a glass of wine wherever we could find somewhere with paper tablecloths."
This was back when the CBD's laneways were just beginning to flourish. "Degraves Street and Flinders Lane were really good places to hang out," Mills recalls.
While their careers required them to be adept at sketching, Harvey says their skill sets were quite different. "Peter's work demands attention to detail, and if you look at his drawings, you can see that. My work is more related to press layouts, loose drawings."
Harvey says Mills will work on one drawing, "while I would have done four and thrown half of them away."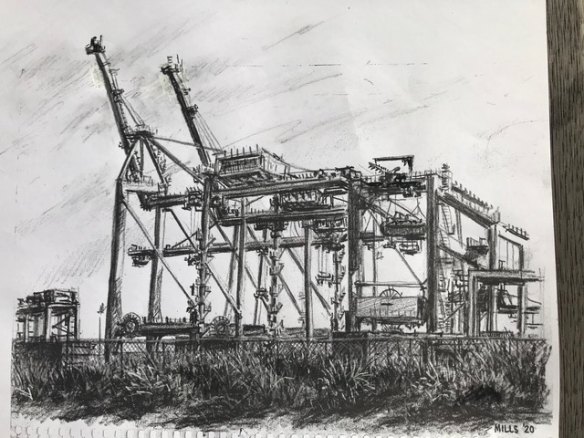 Webb Dock at Port Melbourne as drawn by Peter Mills.Credit:2 Men Drawing
Mills responds: "I fill up book after book with scratchy details, but what I admire most in Bruce's work is his ability to capture the spirit of something quickly".
A lot has changed during their time drawing together, not least Harvey's profession. "My daughter took me to an advertising agency where she was working about a year ago and into this massive room with people sitting around in a circle, monitors in front of them, absolutely quiet," he says. "I thought we were in the accounts department. Something has been lost."
Mills has also seen a lot of change in his line of work. "Architects don't draw by hand anymore. It used to be our primary means of communicating."
"[This] life drawing is a good example of our contrasting styles: Peter's detailed and complete, mine sketchy,loose and incomplete," Bruce Harvey explains.Credit:2 Men Drawing
They've enjoyed drawing alongside one another all these years immensely. Mostly. "Bruce gets really crabby with me sometimes and it pisses me off," Mills chuckles.
"We made an agreement," Harvey adds. "We tell each other exactly what we think, the truth, because not many friends will. They'll just say, 'Oh, that's lovely'."
Mills wouldn't have it any other way. "I couldn't possibly have done any of this on my own. It would have been boring. Who would I talk bullshit with?"
Harvey agrees. "Without the combination of our friendship, we wouldn't have achieved the half of what we've done."
An exhibition of sketches by 2 Men Drawing looking at daily life at Marios Cafe Fitzroy will be on at Marios Cafe from January 17 to February 6.
A cultural guide to going out and loving your city. Sign up to our Culture Fix newsletter here.
Most Viewed in Culture
From our partners
Source: Read Full Article