No two Spider-Man suits are the same, and they each have their pros and cons. During Spider-Man: No Way Home filming, Tom Holland and his Peter Parker predecessors, Andrew Garfield and Tobey Maguire, got to compare their Spider-Man suits. According to Garfield, Holland felt somewhat jealous of The Amazing Spider-Man star's costume — but we can't really blame Holland for his reasoning.
Tom Holland's Spider-Man suit has its challenges
By now, it's no secret to Spider-Man fans that Holland has a love-hate relationship with his suit. As honored as he feels to don the web-slinging hero's gear, the actor has told countless stories of the complications he's had while in costume.
For one thing, the Spider-Man suit isn't always flattering — the material is skintight and tends to hug all the wrong places. During an appearance on The Graham Norton Show, Holland said it "makes you look small in all the areas you don't want to look small."
Beyond the physical appearance, Holland's Spider-Man suit isn't always practical. The costume is mostly one piece with no zippers. As one can imagine, getting in and out of it can prove to be a challenge. That means he can't regularly go to the bathroom, use his phone, or even scratch his nose.
"I have no skin showing," he said on Late Night With Seth Meyers in 2019. "I'm straight-up, head-to-toe in lycra. I can't even use my phone, and I'm 23. I use my phone a lot. I've become so good at liking pictures with my nose."
Tom Holland was jealous of Andrew Garfield's Spider-Man suit during 'Spider-Man: No Way Home'
Holland is one of many actors to have played Spider-Man in big-screen and small-screen adaptations. So, his Spider-Man suit is just one of many costume variations.
When Holland came together with Garfield and Maguire for Spider-Man: No Way Home, the three actors had a conversation about the differences between their suits. Garfield described the chat in a recent interview with Variety.
"There was talk about going to the bathroom and, you know, padding around the package. We talked about what worked for each of us," Garfield said.
Apparently, Holland was jealous of Garfield's Spider-Man suit because it had one feature Holland has requested for years: zippers. Garfield said his costume contained zippers by the hands so he could take them out when needed. Meanwhile, all Holland could do was use his phone with his nose.
For what it's worth, Garfield said in the past that he's a big fan of Holland's suit. During a game of "Actually Me" with GQ, as seen above, the Tick, Tick … Boom! actor said he liked Holland's the best.
Tom Holland also admired 1 aspect of Tobey Maguire's suit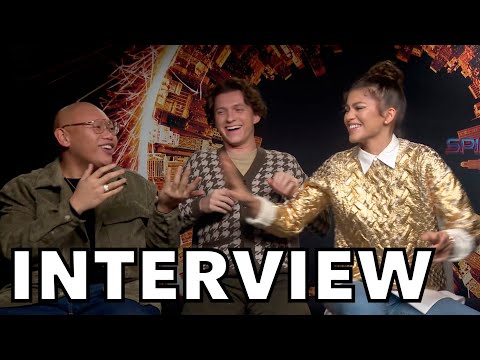 In addition to Garfield's Spider-Man zippers, Holland has shown appreciation for the realistic nature of Maguire's costume. Speaking to Jake's Takes in December 2021, as seen above, the Uncharted star said he liked seeing how "tattered" the first Spider-Man suit looked after fights.
"You know how he always has the rips in his costumes and the rips on the mask?" he said. "I really like that because it brought a kind of realism to the injuries that Spider-Man can get."
Fans can see Tom Holland, Tobey Maguire, and Andrew Garfield rocking their Spider-Man suits in Spider-Man: No Way Home, now in theaters.
Source: Read Full Article