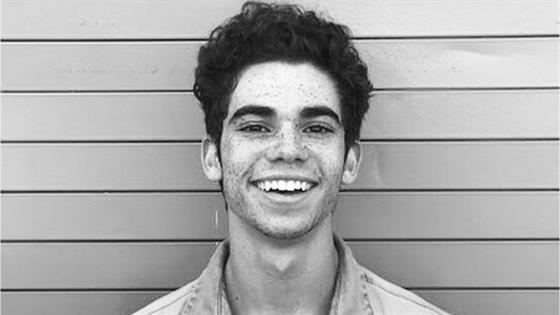 It's been about a week since Cameron Boyce's death.
On Saturday, Sofia Carson took to Instagram to pay tribute to her late Descendants co-star.
"To our angel, There are not enough words. There will never be enough words," she wrote alongside a photo of Boyce. "I couldn't bring myself to do this because doing this makes it real. Letting you go is not something I know how to do. And I just can't fathom living in a world without you. I love you, Cam. And I will love you. Forever."
Dove Cameron, who shared her own tribute earlier this week, showed her support by writing "I love you" in the comments section.
Cameron and Carson weren't the only ones to pay their respects. Kenny Ortega, the director of the Descendants films, also expressed his condolences on social media.
"My Love, Light and Prayers go out to Cameron and his Family," he wrote on Instagram earlier this week. "Cameron brought love, laughter and compassion with him everyday I was in his presence. His talent, immeasurable. His kindness and generosity, overflowing. It has been an indescribable honor and pleasure to know and work with him. I will see you again in all things loving and beautiful my friend. I will search the stars for your light. Rest in peace, Cam. You will always be My Forever Boy!"
A source told E! News the Descendants cast was in "complete shock" after learning of Boyce's death. In fact, the insider said "they were getting ready for Descendants 3 press and had really been looking forward to being together again."
"The cast is incredibly close, and this is such a devastating loss," the insider noted, adding, "They've all been texting since they got the news. It's going to take a long process to heal. For now, they're all leaning on each other to get through it and sending their love to his family."
Many of Boyce's Jessie co-stars paid tribute on social media, as well—including Skai Jackson, Charles Esten and Debbie Ryan. Adam Sandler and Salma Hayek, who appeared in Grown Ups with Boyce, did the same.
In addition, several of Boyce's fans have honored him on social media. Boyce's father, Victor Boyce, recently thanked them for their love and support.
"It really does help to ease the pain of this nightmare I can't wake up from," he wrote in part of a post. "I can't thank you guys enough."
News of Boyce's death broke earlier this month. He was 20 years old. His family confirmed he "passed away in his sleep due to a seizure, which was the result of an ongoing medical condition for which he was being treated." The medical condition was later revealed to be epilepsy.
Source: Read Full Article