It's been 20 years since Piper Perabo left her stage fright in the dust thanks to her bar-dancing pals at the most raucous country-western saloon in… New York City.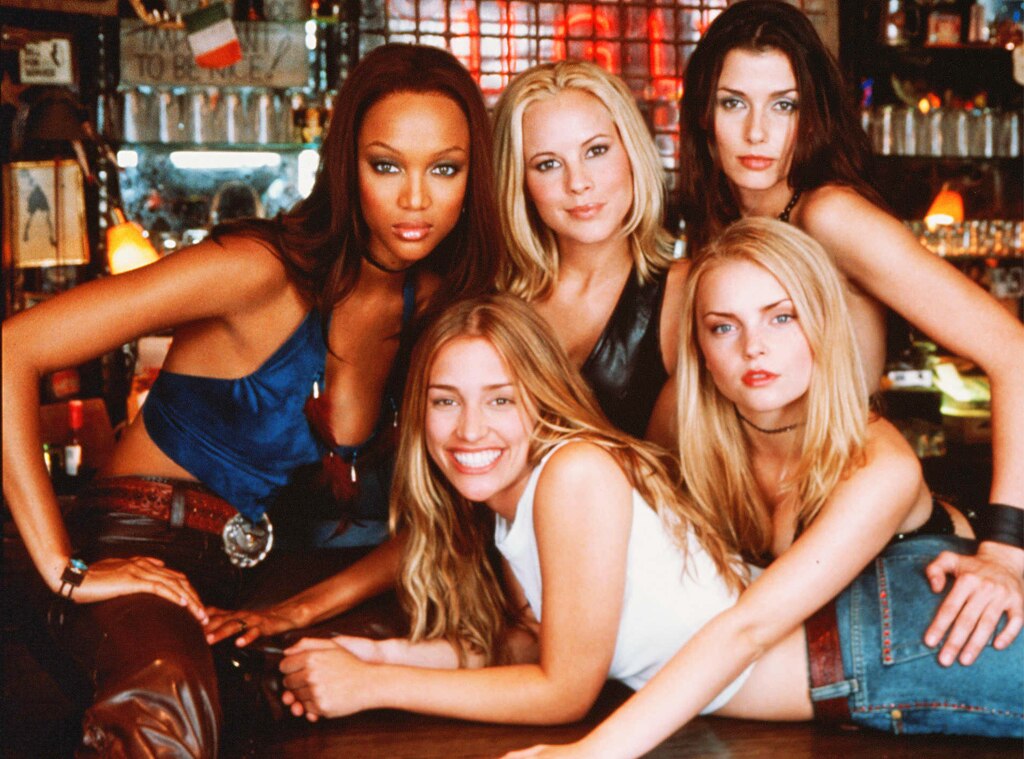 Welcome to Coyote Ugly, where the fierce, sexy bartenders call the shots and the studded leather pants flow like wine.
It's been 20 years since the romantic dramedy full of dancing, singing, high-heeled boots and bellybuttons hit theaters, making bar-top dancing and wielding a water gun like it's high noon in the desert look like the most fun you can possibly have at a job, so long as you've got your girls by your side and a plan that doesn't involve warding off drunken frat brothers forever.
Though it was largely filmed on sets in L.A., the bar in the movie is based on a real-life chain of saloons, starting with the flagship Coyote Ugly in New York City that was opened by NYU alumn Liliana Lovell, who followed her heart into bartending rather than take a job on Wall Street. Like last year's Hustlers (minus the criminal enterprise), Coyote Ugly was inspired by a 1997 article in GQ written by Elizabeth Gilbert (Eat, Pray, Love) about her experience as a bartender at the famously hands-on drinking establishment.
The "Do we serve water in this bar?!" scene ("Hell no, H2O!") was ripped from reality and aspiring staffers really were given "auditions" that more often would amount to one-and-done nights scrambling behind the bar for ladies who couldn't properly sass the thirsty clientele.
At first (and second…and probably third, too) glance, the 2000 film looks like your basic flesh fest—and it's that, too. 
Reminiscent of another movie that came out in 2000, Charlie's Angels, which showed a lot of skin yet was ultimately about the bond between butt-kicking secret agents, at its own rewatchable core Coyote Ugly is about sisterhood, tough women looking out for each other and building a family where you find one as you're growing up and figuring out who you are.
And in case you forgot, or were distracted by the whiskey spraying everywhere, this movie is packed with famous faces. Check them out, then and now, no beer goggles necessary:
Trending Stories
Rob Kardashian Enjoys Dinner Date With IG Model Aileen Gisselle
Laguna Beach's Kristin Cavallari & Stephen Colletti Reunite
Teen Mom's Kailyn Lowry Gives Birth to Baby No. 4
The Ohio University grad broke out of the acting pack as Violet, an aspiring singer who leaves home in New Jersey for the wilds of New York to pursue her dreams—and who gets a "second audition" to be a Coyote Ugly bartender after she impressively diffuses simmering tensions between two rowdy patrons.
Perabo filled the ensuing decade with films in a variety of genres, including the family-friendly hit Cheaper by the Dozen (and its sequel), horror thriller The Cave, rom-com Imagine Me & You, the haunting Christopher Nolan drama The Prestige, and the sci-fi action movie Looper. The longtime political activist (she was arrested protesting Brett Kavanaugh's nomination to the Supreme Court in 2018 and at one of Jane Fonda's "Fire Drill Friday" climate change demonstrations last year) played a CIA agent on the USA drama Covert Affairs for five seasons, earning a Golden Globe nomination in 2011.
In 2019 she co-starred with Idris Elba in the Netflix comedy Turn Up Charlie, and has moved onto a recurring role on Showtime's Penny Dreadful: City of Angels. Along the way, she married husband Stephen Kay in 2014 and she's stepmom to his daughter.
Talking to Variety in 2020 about the movie that started it all, Perabo said that Coyote Ugly "really got me in the door and I've been making movies for 20 years now because of it. I think, sometimes, that's what people still associate me with. It's weird because I don't really dance on bars, but that's OK, I really like the story of a young woman with a dream."
The supermodel and sometimes-actress (Higher Learning, Life-Size) was the most famous person cast in the movie amid then-newcomers such as Perabo, and she stole all her scenes as Zoe, who's first seen flaunting her tips at an all-night dinner along with a couple of her fellow bartenders. She's also smizing, though we didn't know it at the time.
Already a no-last-name-needed star, the Victoria's Secret Angel and first-ever Black model to pose solo for the cover of the Sports Illustrated Swimsuit issue launched her own production company; started hosting America's Next Top Model in 2003, guiding the always-entertaining competition through 23 of 24 "cycles"; won two Daytime Emmys for The Tyra Banks Show; hosted America's Got Talent for two summers; and made history when she came out of modeling retirement at 45 to grace the cover of the SI Swimsuit issue again in 2019.
In January 2016 Banks welcomed her son, York, via surrogate with then-partner Erik Asla.
Meanwhile, she also is the one who has been banging the drum for years for a Coyote Ugly sequel—and time does not faze her. She made Life-Size 2 in 2018, 18 years after the original came out, and she's not ready to pour one out yet for her big idea.
"I feel like we need to do some type of rallying cry to social media, you know, kind of like a petition to get people to sign to make the sequel," Banks told Variety recently. "I actually really want to produce it. We have really been wanting to do that and even had a form of a treatment with the original writer." (The credited screenwriters are Todd Graff and Gina Wendkos.)
The Australian star of stage and screen plays Kevin, the nice guy who Violet doesn't trust at first (pretending to be the bar owner was not a way into her heart) until he proves he has her back—so much so that Kevin allows Violet to auction him off to the highest bidder so she can repay the $250 she owes Lil.
While he has starred in West End productions of Wicked and Kiss Me Kate, Garcia is perhaps best known on U.S. shores for showing up in Doctor Who, Flight of the Conchords and House or for films such as Riding in Cars With Boys, Kangaroo Jack, Confessions of a Teenage Drama Queen and, most recently, Murder on the Orient Express. He's set to appear in Kenneth Branagh's Hercule Poirot follow-up, Death on the Nile, as well.
Garcia has two children with wife Nathalia Chubin.
Talking to Variety about Coyote Ugly, Garcia recalled, "It absolutely boosted my career. It was a Hollywood film and ended up being a pretty successful Hollywood film and certainly with someone like Jerry Bruckheimer, that was fantastic. It certainly opened the door during the years that I was in L.A., which was four or five years after that. And then certainly coming back to London, it helps if you've got a couple of international movies for the casting."
Lil, the badass boss at Coyote Ugly based on real-life owner Liliana Lovell, doesn't take any crap from customers and she's not one for second chances—but she sees an underlying current of toughness in Violet and gives her another shot at proving herself worthy of the tailored crop-top. (Similar to how Baywatch actresses wore specially tailored swimsuits, every Coyote Ugly actress' midriff was bared in its own way.)
In an all-too-common disappointing twist, however, Bello recently revealed to Variety that, at 32, she was deemed "too old" to be one of the dancing bartenders.
"I had argued for it because I worked at Hogs and Heifers, I said, 'Why can't I dance?'" she recalled. "And I was told that I was too old. The truth is the movie was run by men, right? All male producers, a male director, so I don't know where that information came from, but that information came to me. It was different back then. I remember arguing about it, but I wasn't gonna win."
Bello's film resume has since been packed with complex, robust roles in The Cooler, A History of Violence, Thank You for Smoking and Prisoners, as well as a bit of fun in the likes of Grown Ups. She has continued to mix TV in with her movies, starring with Kiefer Sutherland in Touch, going toe to toe with Billy Bob Thornton in Goliath and for awhile test-driving the detective role Helen Mirren made famous in an Americanized version of Prime Suspect.
She joined the cast of NCIS in 2017 and has been going back and forth between L.A. and the San Francisco Bay Area, where her fiancée, chef Dominique Crenn, the only female chef in America who holds three Michelin stars, is based.
And redemption came one night when Bello was in Johannesburg, South Africa, and visited a gallery that had an upstairs bar that hosted Coyote Ugly nights. "So I went to it and surprised the crowd and did a little speech and song and danced on the bar," she told Variety.
We bet the patrons loved it.
"Do we serve water with our whiskey?" Rachel rhetorically wonders, right before the girls launch into a boot-stomping, bar-slapping routine to the strains of "The Devil Went Down to Georgia."
Moynahan had just finished her run as Big's cheated-upon wife Natasha in Sex and the City, and Coyote Ugly was her breakout role on the big screen. She played the wrong woman again in Serendipity, then it was onto The Sum of All Fears, I, Robot, Lord of War, Grey Matters, Prey and Ramona and Beezus, all the while also doing TV work on Six Degrees, Eli Stone and Bunker Hill.
She has now played Assistant District Attorney Erin Reagan on CBS' Blue Bloods since 2010, and an 11th season is in the works. Aside from having that full-time job for the past decade, Moynahan was in Battle: Los Angeles, Midnight Sun and John Wick and its first sequel, playing Keanu Reeves' titular revenge seeker's dearly departed wife Helen.
In real life, Moynahan is mom to son Jack with ex-boyfriend Tom Brady, and in 2015 she married businessman and father of three Andrew Frankel in a Hamptons ceremony.
The Polish-born actress brought her classical ballet training to the bar as Cammie in her American film debut.
Miko's films since include Save the Last Dance 2, Clash of the Titans and Step Up: All In, and her TV works includes Law & Order: SVU, Blue Bloods, Criminal Minds, Chicago Fire, and the Amazon Prime series Hunters. She also appeared in the music videos for The Killers' "Mr. Brightside" and "Miss Atomic Bomb."
The dedicated environmental activist also started her own foundation, EkoMiko, as well as a line of eco-friendly EkoMiko Candles.
In honor of Coyote Ugly's 20th anniversary, she posted a clip montage that fans put together of Cammie's best moments, writing in the caption, "This was such an amazing experience. A big thank you to my first agent @nickstyne for literally putting his butt on the line when getting me this audition by totally believing in someone who had zero credits, no working papers to work in the US, broken English, but already years of hard work behind her as a dancer and a heart full of passion! A huge thanks also to @jerrybruckheimer for literally launching my career @coj3 [Chad Oman] for staying up all those nights to make sure I get my 0-1 Visa…and of course #bonnietimmermann for seeing something in me and casting me in this classic! And of course all the amazing girls @piperperabo @officialmariabello @bridgetmoynahan @tyra for showing me the ropes and dancing with me."
The New Zealander made her film debut in Peter Jackson's haunting Heavenly Creatures in 1994, then proceeded to prove she could handle any sort of role in any genre, including that of Violet's sensible best friend Gloria.
She may be most recognizable to some as Charlie Sheen and Jon Cryer's stalker neighbor Rose on Two and a Half Men, but Lynskey's been a real standout in quirky indie films such as Away We Go, Hello I Must Be Going, The Perks of Being a Wallflower, The Big Ask and XX, an anthology horror film that included a segment directed by Annie Clark (aka singer St. Vincent). She's also been a regular on TV, most recently co-starring on Hulu's Castle Rock and playing real-life conservative activist Rosemary Thomson, a supporter of Phyllis Schlafly's fight against the ERA, in Mrs. America, also on Hulu.
Lynskey was married to actor Jimmi Simpson from 2007 until 2014 (they separated in 2012). In 2017, she and Jason Ritter announced that they were engaged.
Who better to play Violet's caring but concerned, blue-collar dad Bill than Dan Conner?
Goodman was already a prolific star of stage, film (Coyote Ugly was one of five movies he had come out in 2000) and TV, as well as a busy voice actor. And he continued on in that vein, with highlights including The West Wing, Treme, Damages, Community and Alpha House on TV and Argo, Inside Llewyn Davis, Trumbo, Monster University, 10 Cloverfield Lane and Atomic Blonde on the big screen.
Among other things, he's been reprising the role of Dan Connor on what started as a reboot of Roseanne and then, after Roseanne Barr was fired, turned into The Conners. The ABC sitcom has been renewed for a third season.
That's the singer as…herself!
Rimes makes a cameo in the film and she's the singer of the original songs composed for the film by prolific songwriter Diane Warren. Perabo recorded them first, but was later told they were redubbing the tracks with Rimes' platinum-selling voice.
She has released nine studio albums in the past 20 years (in addition to the four she had made before Coyote Ugly and not including compilation LPs), and has acted mainly on television—most notably in the 2009 Lifetime movie Northern Lights.
That's where she met future husband Eddie Cibrian while still married to Dean Sheremet, and Cibrian was still wed to Brandi Glanville, the mother of his two kids. It's actually rather amazing Rimes was able to record so much music while busy dodging all the headlines. In 2010, speaking out about the scandal for the first time, Rimes said, "I take responsibility for everything I've done. I hate that people got hurt, but I don't regret the outcome."
She and Cibrian got married in 2011. Sheremet also got married again in 2011, to photographer Sarah Silver, but they announced their amicable split in 2016. Glanville became an author, podcast host and scene-stealing cast member on The Real Housewives of Beverly Hills.
A few months before an MTV show called Jackass proved that there is a massive audience for watching disturbingly reckless dudes injure themselves, Knoxville showed up in Coyote Ugly as "College Guy."
In October 2000 he became a star and hero to aspiring slacker stuntmen everywhere. Knoxville has made five Jackass films (not including Jackass Presents: Bad Grandpa) and is slated to write and produce another one. He's also been in a ton of other movies, most notably Walking Tall, A Dirty Shame, The Dukes of Hazzard, The Ringer, Nature Calls and Teenage Mutant Ninja Turtles as the voice of Leonardo.
He has a daughter, Madison, with ex-wife Melanie Cates as well as a son and daughter with second wife Naomi Nelson, whom he married in 2010.
That's the director of Armageddon, Pearl Harbor and the Transformers franchise in a "wait, is that Michael Bay?" cameo as a nameless photographer. It's not quite as random when you remember that Coyote Ugly was executive-produced by Bay's longtime pal and frequent collaborator Jerry Bruckheimer. Like Alfred Hitchcock, Bay also likes to show up in his own movies for a hot second, such as when he was a NASA extra in Armageddon or a bad driver in Bad Boys II.
Now, if the original cast is up for a sequel, Tyra is the one to make it happen. Though, at this point, we'll settle for one of those Zoom reunions, too.
"When Tyra and I were DMing, I was like, 'We have to really think about it,' because obviously we're all 20 years older and we have to rethink the story. Like, 'Who owns the bar? What are we all doing? Do we all still know each other? And what's it about?'" Perabo told Variety.
"Because that movie in 2000, that was a really different moment, that was the sort of stiletto-feminism and women's rights and we're maybe in the third wave of feminism now and things have evolved and I would want the movie to reflect that evolution."
Source: Read Full Article