Now that they've officially been dubbed Vice President and Second Gentleman of the United States, I think it's time to do a deep dive into Kamala Harris and Doug Emhoff's relationship timeline. ICYMI: The couple made major history on Jan. 20, 2021 when Kamala was sworn in as Vice President of the United States. In her new role, Kamala will be the first black vice president, the first Asian vice president, and the first female vice president in this country's history. For his part, Doug will be the first male second spouse and also the first Jewish second spouse in American history.
The moment was incredibly not just for the world, but for the two of them as a couple. After examining their body language on stage, Patti Wood, a body language expert and author of Snap: Making the Most of First Impressions, Body Language, and Charismatold Elite Daily: "What is striking is how we see that — with the world looking on as she turns from being inaugurated — this is their moment, exclusive of anyone else. Their focus is solely on each other. This — and his eyes looking down on her, her uplifted head, and open, up-raised arms — show their love."
That love goes back seven years now and I have their whole adorable story detailed for you below:
2013: They met on a blind date.
The world has Reginald and Chrisette Hudlin to thank for Kamala and Doug's adorable relationship. Reginald is a filmmaker who's a client of Emhoff's. Chrisette is a PR consultant and close friend of Kamala's.
When Chrisette first proposed the set up to Doug, the attorney admitted he recognized Kamala as the attorney general and replied, "Oh my god, she's hot." Chrisette gave Doug Kamala's number and, from there, their first date was set.
Obvi, like any self-respecting modern woman would, Kamala did Google her blind date before they actually met IRL – a tidbit she didn't reveal to Doug until a January 2021 interview with CBS Sunday Morning. "She said, 'Just trust me. Just trust me.' You know, she wanted me to just kind of go into it," Harris recalled of Chrisette's pre-date advice. "She said, 'Don't Google him.' I did!"
Doug was floored by the revelation. Case in point, this Instagram he hilariously captioned "When you find out your wife actually *did* Google you before your first blind date":
https://www.instagram.com/p/CKJ3U7Kplvs/
https://www.instagram.com/p/CKJ3U7Kplvs/
Anyway, back to their first date. Doug told CBS Sunday Morning that the day before their date he left Kamala a "ridiculous voicemail, which she has saved and plays back to me on our anniversary every year." Kamala was a fan of the ridiculousness. "It was adorable," she said of the voicemail. "The thing about Doug is that he is exactly who he is. He's just fully authentic and clear about the things he cares about."
Needless to say, the date went well. So well that Doug was ready to lay all his cards on the table. "The morning after our first date, Doug emailed me with a list of his available dates for the next couple of months. 'I'm too old to play games or hide the ball,' the email read. 'I really like you, and I want to see if we can make this work,'" she recalled in her 2019 memoir, The Truths We Hold.
2014: They get married and she's dubbed "Momala."
In a 2020 profile of Doug by Marie Claire, the attorney revealed he proposed to Kamala during a "decidedly unromantic conversation (she was deliberating between chicken or shrimp pad thai)" less than a year after their first date.
By August 2014, they were married. Doug and Kamala tied the knot in a courthouse ceremony in Santa Barbara, California. Kamala's sister Maya was the officiant. It was then that Kamala shared Doug's children, Ella and Cole, gave her a new monicker.
"When Doug and I got married, Cole, Ella, and I agreed that we didn't like the term 'stepmom,'" Kamala wrote in a May 2019 essay for Elle. "Instead they came up with the name 'Momala.'"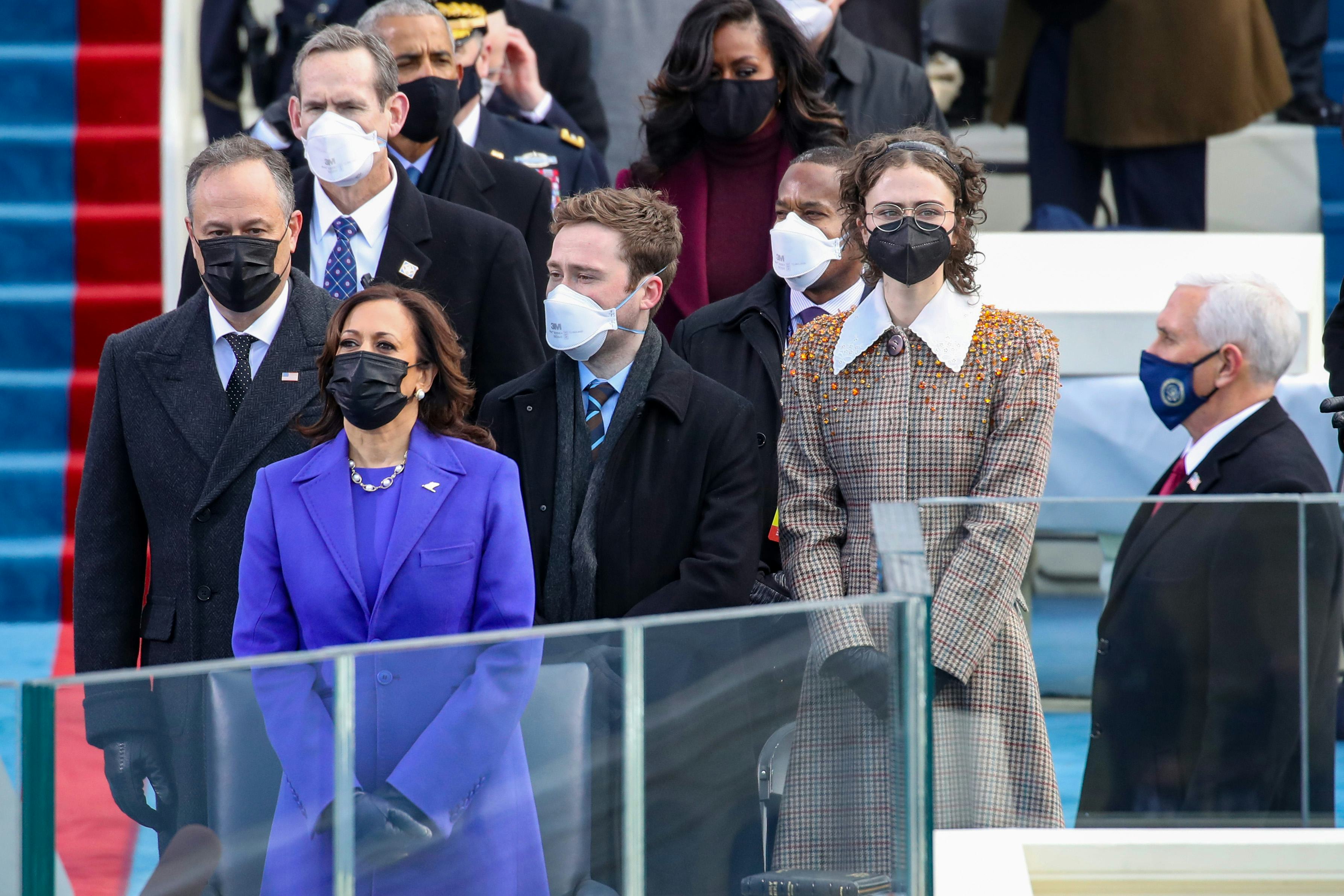 2016: Kamala runs for senate with Doug by her side.
In 2016, Kamala ran for senate in the state of California. Doug was by her side every step of the way, even coming with her to cast their votes at the Kenter Canyon Elementary Charter School Auditorium in Brentwood, California as seen below: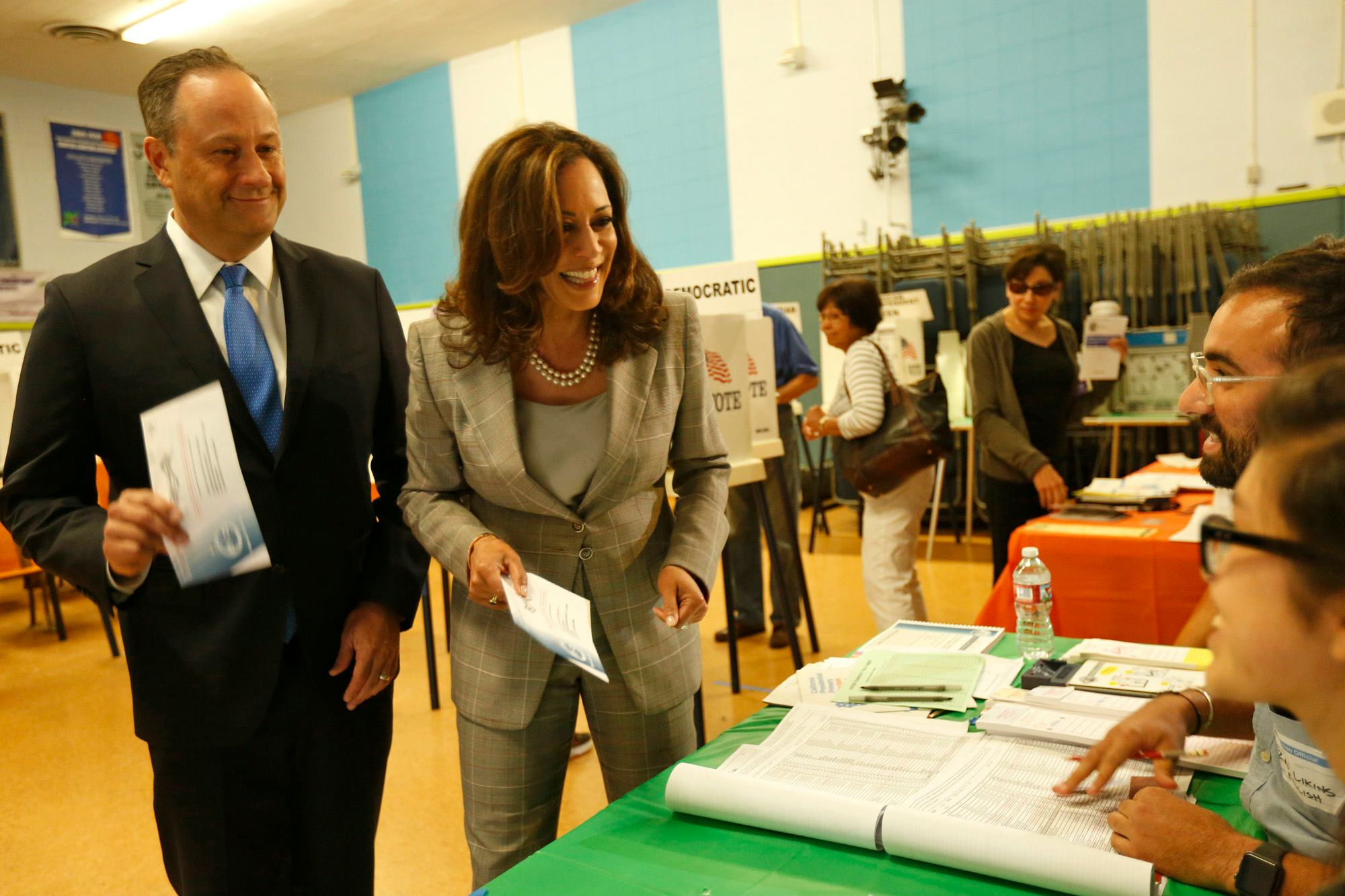 2017: Doug holds the Bible for Kamala as she's sworn into senate.
Doug held the Bible as VP Joe Biden administered Kamala's oath to office back in 2017.
Look! At! This!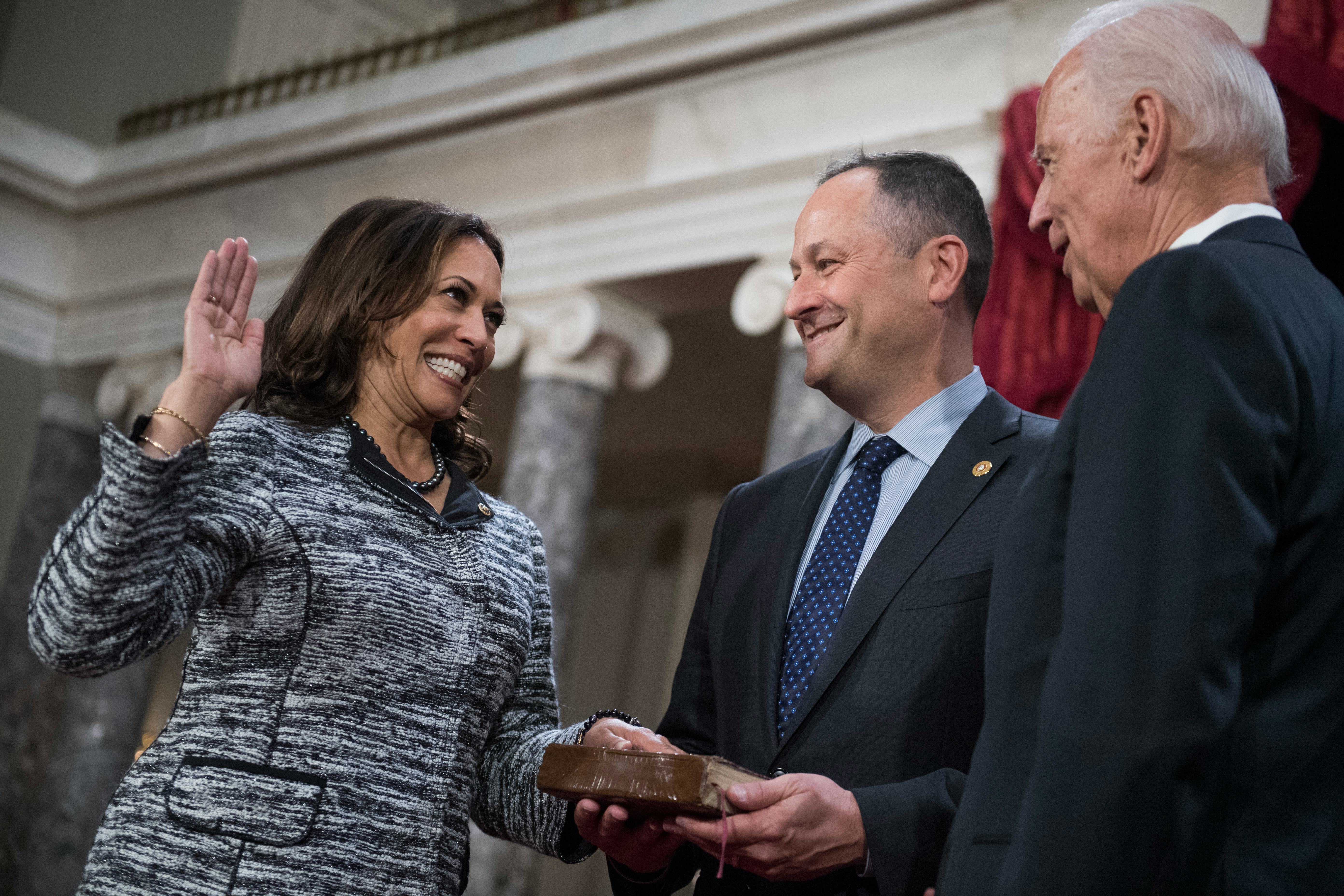 2019: Kamala runs for president with Doug by her side.
In 2019, Kamala ran an unsuccessful campaign to become the Democratic candidate for president of the United States. Doug could not have been more supportive the whole way through.
In fact, he made his way into the spotlight in June 2019 when a protestor jumped on stage and grabbed the microphone out of Kamala's hand during MoveOn's Big Ideas Forum in San Francisco.
As CNN put it, "Douglas Emhoff jumped in and wrestled the microphone from the protester."
Um, also, just a minute to appreciate this picture of Doug taking a selfie with Kamala on his campaign sticker clad iPhone just moments before she gave a speech on the campaign trail:
2020: Kamala runs for VP with Doug by her side.
In August of 2020, Joe Biden selected Kamala Harris to be his running mate in the 2020 presidential election. Per Town & Country, Doug's ear was reportedly "pressed to the door when Harris took the call from Biden asking her to be his running mate."
As the campaign continued, Doug stepped away from his prestigious job as a partner at DLA Piper law firm to fully support the campaign.
2021: Kamala and Doug officially make history.
Shortly after Kamala and Joe won the 2020 election, Doug permanently left DLA Piper to commit fully to his role as Second Husband.
The couple, of course, made history with the election. I know I already said it in the intro, but it serves repeating that Kamala will be the first female vice president, the first Black vice president, and the first Asian vice president. For his part, Doug will be the first Jewish second spouse and the first male second spouse.
In that same interview with CBS Sunday Morning, Doug said of the diversity he and his wife represent: "It reflects America. And that's what it should be. It should just be about love and unity."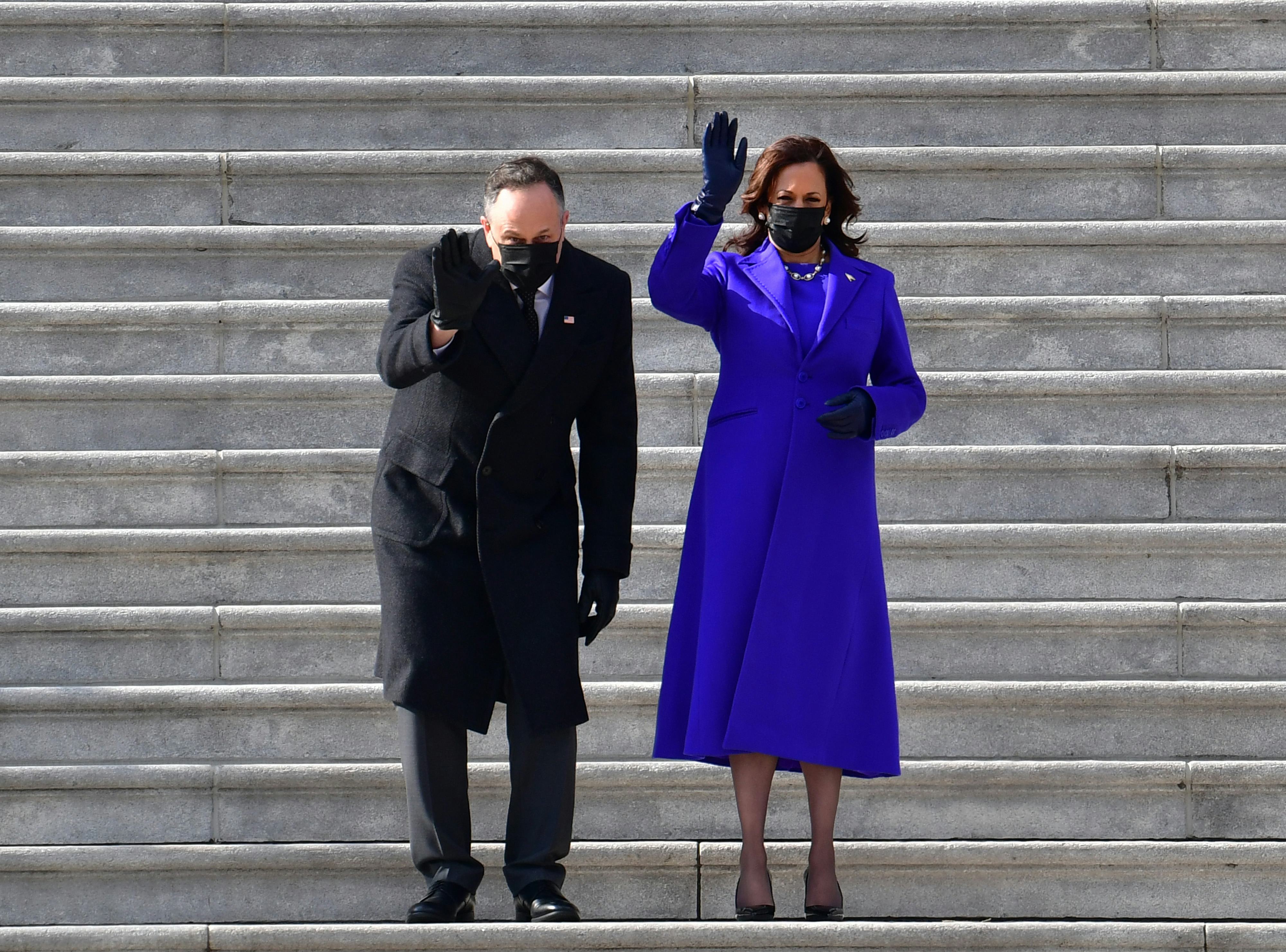 Amen to that.
Source: Read Full Article