When Hollywood legend Judy Garland visited Australia for her only tour here in 1964, the star made headlines around the world – for all the wrong reasons.
Judy Garland performing at Festival Hall during her disastrous 1964 tour.Credit:John Lamb
Infamously struggling with alcohol and substance abuse, Garland's much anticipated tour began well, with two successful sold-out concerts in Sydney, her vocal powers declared a triumph. But by the time she got to Melbourne, travelling by train as she reportedly hated flying so much, Garland, looking tired and frail, and much older than her 42 years (she died just five years later), had apparently had enough.
After hiding out in her hotel room for two days, when she finally took to the stage at Melbourne's Festival Hall 70 minutes late, it was clear things were not going well.
She slurred her way through the first half of the show, reacting to audience members' heckles and stumbling around, and she cut the second half short after kicking over a chair.
It was the beginning of Garland's career decline, yet a new stage show, Judy Australia – 1964 takes the ill-fated tour as its focal point in what creator Bill Farr describes as "a defiant celebration".
Farr, an art director who works in publishing, is a lifelong Garland fan ("Since my first listen to the Live at Carnegie Hall album in 1972") was inspired to write the narrative concert after staging an exhibition of pencil artworks in 2014, based on news photographs from the press coverage of the tour.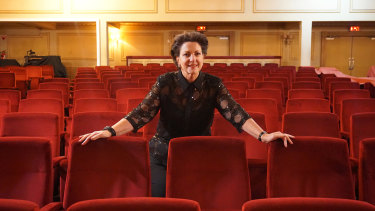 Opera singer Liane Keegan, who stars as Judy Garland.
Starring acclaimed opera singer Liane Keegan as Garland and Alistair Frearson (House Husbands, Secret River) as tour promoter Harry M Miller, the show is set entirely during the dramatic 11-day tour.
"Most people have a vague idea of the life she led … this is picking up a thread people aren't familiar with and developing it into that tiny narrative that sort of reflects her life in a way – because it starts off well and ends … quite badly," Farr says.
Keegan, who was based in Berlin for many years, has sung in opera, concert and oratoria, performing with opera companies and symphony orchestras around the world. She's a regular soloist with the MSO and a Mahler specialist. But she's also a Garland fan from way back.
"When I started singing at about 12 or 13 it was all Judy Garland. I loved it because it was slow enough for me to sing, and with Judy, you got the big, belty ballads," says Keegan, who also co-created the show with Farr and his production company, Skunkworks.
"There's something about the pathos and the power of her voice. She had an incredible ability to tell a story – which of course, is what we do in opera – and her storytelling, even in a song, is the full gamut of emotions that she can possibly give it. That left a great impression on me."
Judy Garland at the Southern Cross Hotel, Melbourne. Credit:Staff photographer
But performing Garland's songs live – backed by a seven-piece band – is a departure for Keegan.
"It's very different for me. I've not been given the opportunity to sing this sort of repertoire in Australia much – I did a Bernstein concert with the MSO last year and I sang two pieces in my classical voice and two in my jazz-belt voice and the orchestra nearly fell over."
Singing these songs is as much a joy as listening to them; both she and Farr understand the fervent fandom Garland still engenders 50 years after her death.
"It's the Piaf appeal; she was America's Piaf," says Keegan. "She tapped into everybody's hearts in Wizard of Oz and it didn't matter what she did or how she did it from then on, it was that Judy that people loved. The films she made perpetuated that, this beautiful little waif with this sweet voice but power when he needed it. Her voice wasn't a massive range and it wasn't one of the great voices of our time, wasn't trained – but it was that characteristic."
And the legend endures more than 50 years later; Keegan, who works as a vocal technician and teacher, says many of her young students are fascinated by Garland. "I compare her to Amy Winehouse," says Keegan. "Their lives had similar parallels."
The show tells a sad story, says Farr, "but the point isn't to reflect badly on Judy, rather than to celebrate an incredible talent and maybe just wish it hadn't ended the way it did."
Judy, Australia – 1964 is at Athenaeum 2, July 4-6. www.athenaeumtheatre.com.au
Source: Read Full Article