Andy Cohen had to physically separate the two — telling Kennedy to "stay in your f—ing seat" — before James walked out over LVP "sticking up" for Tom.
The "Vanderpump Rules" reunion kicked off with not just a showdown between Ariana Madix and Tom Sandoval, but also some major fireworks between the latter and James Kennedy.
Part One of the highly-anticipated three-part reunion aired Wednesday night on Bravo, and while much of the focus was, of course, on Sandoval cheating on Madix with Raquel Leviss, Kennedy got in on the action and had to be restrained by host Andy Cohen during a spat between him and Tom.
Things turned sour between the former friends after Andy asked Sandoval why he didn't come clean to Ariana about his affair sooner, a question which somehow turned into the cast also wondering why he didn't open up to his friends — James included — about what was going on with Raquel. Kennedy used the opportunity to called Sandoval an "opportunist," a label Tom then turned right back onto James.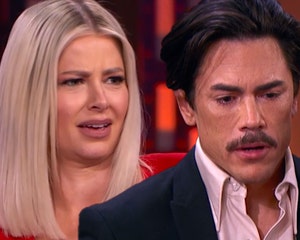 Vanderpump Rules Reunion: Every Bombshell Moment from Part One, Tom and Ariana Sit-Downs
"You f—ed [ex Kristen Doute] to get on the show, five days after we f—ing broke up. You used my condoms!" exclaimed Sandoval.
As the two kept yelling at one another, Kennedy jumped out of his chair and lunged toward Sandoval. Andy had to get between them, physically pulling Tom away and dropping all his question cards in the process. After sitting back down, Kennedy defended himself by saying what happened with Doute was back when he was just 21 … while Sandoval was a 42-year-old man.
As Tom said he always defended James in the past, Kennedy said he didn't want that anymore. "You're a p—y ass bitch and your band sucks d—," James exclaimed, "You're nothing, you're nobody, you're a loser and your f—ing bar is going down the drain. You backstabbing ho!"
"Get in my face again, I'll f— you up, motherf—er!" Sandoval shouted back, as James once again pounced out of his seat.
"I'll f— you up so quickly! Look at me, I'm way more ripped than you! I will beat his ass!" he seethed, before Andy again got between them, sat Kennedy back down and tried to cool things off. As Kennedy left the stage to use the bathroom, he then let out his already-infamous insult: "You're a worm with a mustache!"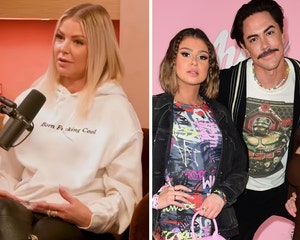 Ariana Madix Spills on Tom Sandoval's Other Alleged Affairs, Raquel FaceTime Sex Video & Billie Lee Rumors
After returning from the restroom, Andy told Kennedy to "stay in your f—ing seat" going forward … which he did, until the end of the hour.
As the episode came to a close, Scheana Shay then said she regretted having Raquel's back all season, something which caused serious tension between her and Katie Maloney throughout the episodes. She admitted to taking Raquel's word about feeling bullied by Maloney — who was pissed at Leviss for making out with her ex-husband, Tom Schwartz — as "Bible," and felt that, as someone who had been in a similar position in the past, she had to "protect Raquel at all costs."
"The word bully, we ain't teaching pre-K here, this is f—ing Bravo, we all signed up for it," said Kent, prompting a vicious back and forth between her and Sandoval, who called Lala a "bully" herself. When she brought up his affair, he said it wasn't a "get of jail free card" to be thrown around any fight, before accusing Kent of using Raquel "as a scapegoat" all season long.
"I am taking accountability, you are not," he added, before Lisa interjected and said that, yes, sometimes Kent could be "pretty aggressive" in the way she deals with others. That comment set off Kennedy, who felt Lisa was "sticking up for Tom too much." She denied doing that, Tom said Lisa was just "being reasonable" and Kennedy stormed out of filming — exclaiming that he wasn't "gonna listen to this s—" anymore. The hour ended with Raquel rolling her eyes at Kennedy's antics, adding, "Oh my god."
The "Vanderpump Rules" reunion will continue next Wednesday with Leviss in the hot seat … stay tuned!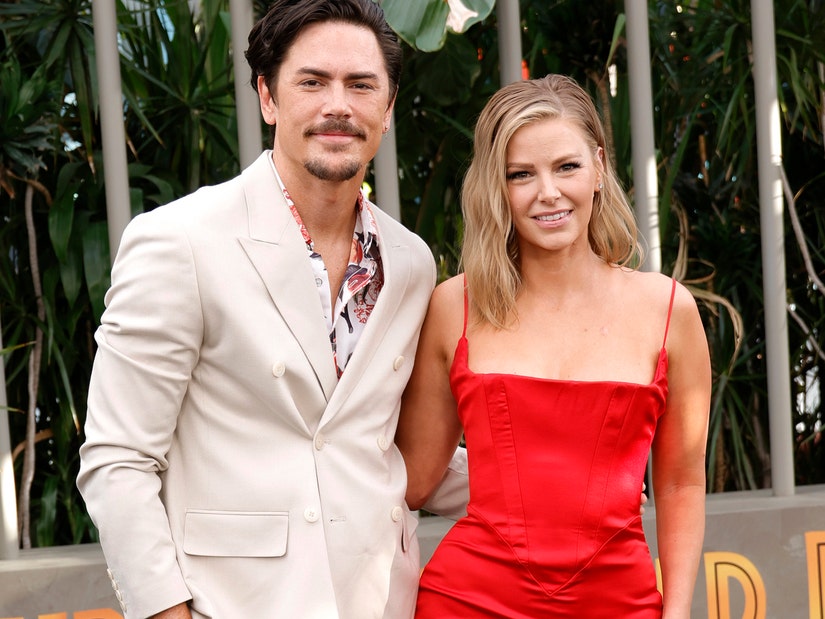 Source: Read Full Article