A passenger onboard claimed in a video shared to social media that a woman told them they shouldn't "start a revolution" and said they should be "grateful at a second chance at life."
Passengers on a Delta Airlines flight from New York to Ghana had a harrowing journey home when their flight was diverted to an island off the coast of Portugal.
Flight 157 was carrying 200 people Friday when it experienced a "mechanical issue with a backup oxygen system" and diverted to the Lajes Airport, a spokesperson for Delta told TooFab.
Those on board say they were stuck in a secluded part of the airport for 12 hours without food or water — a claim the airline denies.
Passenger Nana Asante-Smith claims the group was abandoned by Delta and treated like "encroaching roaches" by airport representatives.
Waiting for your permission to load the Facebook Post.
Facebook Post Unavailable
"We were abandoned by Delta and treated like encroaching roaches by airport representatives on Terceira Islands," Asante-Smith wrote on Facebook, adding that the airport reps seemingly had a "reckless disregard for human life and well-being."
Speaking to Business Insider, Asante-Smith said passengers were brought to a "partitioned section" of the airport because the Ghanaian citizens did not have the requisite visas to enter Portugal.
Per Asante-Smith, they arrived around to the Lajes Airport around 6:00 a.m. While the crew was shuttled away to a nearby hotel, passengers were told to stay put and contact Delta for further instructions.
"We were trying to reach out to Delta during this time, and ascertain what exactly was going on, to no avail," Asante-Smith told the outlet.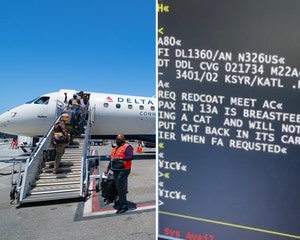 Woman Refuses to Stop Breastfeeding Cat Aboard Delta Airlines Flight: Report
Asante-Smith, who had been in Ghana with family and friends to celebrate her marriage, said airport representatives told them they would be given a meal, and that a plane from Boston would arrive in several hours to pick them up.
But the hours continued to pass with no resolution. Not only were they not fed, Asante-Smith claimed on Facebook, they weren't even given something to drink, with one elderly passenger claiming he was denied a bottle of water, and told instead to drink from the bathroom faucets.
Some time later, a small cafe opened allowing those with credit cards to purchase some food, while others continued to beg and plead for provisions before finally being given ham sandwiches, juice boxes, and crackers, per Asante-Smith.
It's a move she called interesting, noting to Business Insider that, "anyone who is intimately familiar with West Africa or our Muslim brothers and sisters knows that many people have dietary restrictions with eating pork."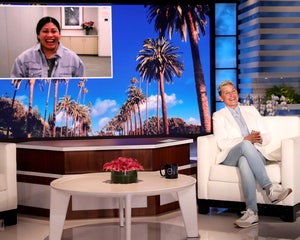 Woman Who Gave Birth On Plane Details In-Flight Delivery On Ellen
Desperate for information and to get home, Asante-Smith said they continued to inquire about their flight to staffers at the airport, but were met with hostility. Kiaundra Eggleston, another passenger onboard, claimed in a video shared to social media that a woman told them they shouldn't "start a revolution" and said they should be "grateful at a second chance at life."
"This female rep told us we should be grateful that they allowed us to be here, and our plane didn't crash in the sea," Eggleston tweeted.
Finally, around 6:00 p.m., a flight arrived at the Lajes Airport to take them to John F. Kennedy International Airport. Upon arriving in New York, many tried to take their complaints to Delta representatives, but were told the airline was overwhelmed.
Others onboard shared their experience on social media, including Ghanaian rapper, Sarkodie, who missed performing at an event in Detroit due to the diversion.
"It was unfortunate, but I know these things happen so I wasn't trippin' even though they communicated poorly and didn't have the courtesy to update us on exactly what was happening," he wrote.
Sarkodie continued, "This isn't new with this airline, especially from this part of the world (Africa), they keep sending these weak old flights (business class almost same as economy) to pick us up knowing very well they are not safe, but still risk lives."
Both Asante-Smith and Sarkodie say they haven't received their bags or been compensated for the incident despite Delta's assertion to New York Post that passengers' bags were sent on their original aircraft to JFK and that fliers had been given refunds.
In a statement to TooFab, a Delta Spokesperson said the 215 passengers onboard were given meals and "deplaned into a secure area" while waiting for an alternate aircraft from Lisbon, which departed for and arrived in JFK on Saturday.
"An alternate aircraft was dispatched from Lisbon to help our customers more quickly get to their final destinations while the original aircraft was repaired by maintenance technicians," the statement continued.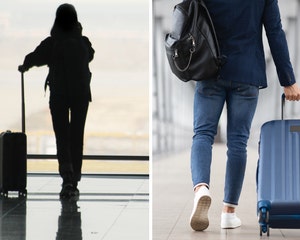 Husband Abandons Wife During Connecting Flight for Being Late – And The Internet Is Taking His Side
When asked about the diversion, the spokesperson said that the Delta flight from Accra to New York-JFK diverted to the Lajes Airport out of an abundance of caution after the mechanical issue, and noted that the aircraft was landed safely.
As for compensation, the spokesperson said refunds and "an additional gesture of goodwill" were provided to customers for the experience.
The original aircraft and crew have also since made it to JFK.
"We apologize to our customers for the delay in their travels," the Delta spokesperson said of the 12-hour ordeal.
"We also acknowledge the difficulty in extended rebooking and accommodation processes on arrival in JFK, during a weekend with more than 1,500 total flights (across all airlines) in the NYC area due to continued severe weather and Air Traffic Control (ATC) struggles throughout the weekend," they added, "which resulted in in a longer than normal process for booking alternate flights and finding hotels (which were in less supply in NYC not only from the challenged airline operations, but also due to the US Open happening this same weekend) for the select customers looking for those accommodations."

Source: Read Full Article