The maps Eddie Mabo drew of his home in the Torres Strait, which helped overturn the concept of terra nullius in 1992, have been immortalised in bronze by his daughter Gail. And this work, a stunning sculpture that combines a map with a creation story, is a finalist in Australia's richest Indigenous art awards, the 2022 Telstra National Aboriginal and Torres Strait Islander Art Awards (NATSIAA).
The artwork, Tagai, is named after the warrior in the sky who is part of an Islander creation story. This is also name of the constellation used to navigate throughout the Torres Strait Islands. A significant part of Islander culture, stars are used to determine the timing of rituals associated with planting, harvesting and hunting.
Gail Mabo's latest work, Tagai, is a finalist in the 2022 National Aboriginal and Torres Strait Islander Art Awards.Credit:Mark Sherwood
When you visit the region, Mabo says, you would be provided with a similar map made of bamboo and seashells to guide you between islands.
Her artwork was created to continue her father's legacy and to honour his memory. "When I first saw [the work], I cried," she says. "It was because I changed from using bamboo to this next medium [of bronze]; hopefully I can inspire other girls to step up and do something on a grander scale. For me, it's the matriarchal line, it is that history passed on through me, it is a talking point, it will empower others to think they can do that."
Last month marked 30 years since the landmark Mabo decision, and it's been an emotional time for the Townsville-based artist. Mabo remembers sitting in the car listening to the ABC reporting the court's decision, holding her six-month-old son and weeping; her father had died just six months earlier.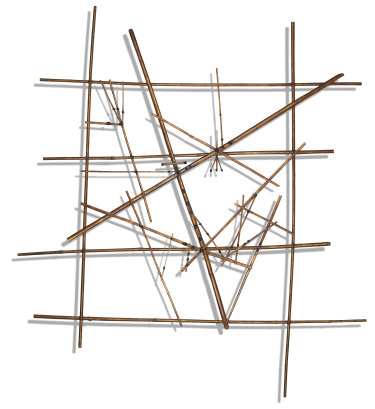 Gail Mabo's work, Tagai 2021. Courtesy of the artist and Umbrella Studio Contemporary Arts.Credit:Mark Sherwood
Another of the 61 NATSIAA finalists is Pitjantjatjara woman Sally Scales, who comes from Pipalyatjara in the APY Lands. Her work, Wati Tjakura, has been nominated in the painting category. Winner of the NATSIAA 2021 People's Choice Award, Scales lives in Adelaide and works in a studio alongside elders from the APY Lands. She is also a member of the Uluru Statement from the Heart leadership team.
"My artwork is that continuation of my family and lineage, it's also very rich in colour. I'm not afraid of colour, I purposely like to have lots, and to utilise it so it hits you in different ways," she says.
Wati Tjakura by Sally Scales. Courtesy of artist and APY Art Centre Collective.Credit:Mark Sherwood
Scales rejects what she describes as the "anthropological way of analysing First Nations work", so declines to comment on what her work is about. "I want people to see it and see it for themselves, rather than my dictating what it needs to be."
Port Augusta-based Adnyamathanha and Luritja woman Juanella McKenzie is a finalist for her woven work, Hold Me. It is based on the shape of a coolamon – a traditional object used to hold different things, babies, water or food – and made using some of her children's and her mother's hair, emu feathers, recycled materials and the hem of her grandmother's favourite dress.
The piece tells a personal story of five generations of strong, resilient women, she says, adding that it also carries her tears – she wept while making it and speaking to loved ones about her late grandmother's experience of being taken from her family.
Presented by the Museum and Art Gallery of the Northern Territory (MAGNT) in partnership with Telstra, this year's NATSIAA finalist list is weighted towards artists from remote communities, with 33 from the Northern Territory, 12 from Western Australia, 11 from South Australia, six from Queensland and just one from Victoria, Kent Morris. While more artists from the eastern states have made the cut recently, there are no finalists from NSW in 2022.
Juanella McKenzie.
This year's judges are Myles Russell-Cook, senior curator of Indigenous Art at the National Gallery of Victoria, and Dr Joanna Barrkman, curator of Charles Darwin University Art Collection and Art Gallery.
The selection panel included Wadjarri, Nhanda and Nyoongar man, artist, and Fremantle Arts Centre curator Glenn Iseger-Pilkington; Gulumerrgin (Larrakia), Wardaman, and Karajarri woman and National Gallery of Australia curator Tina Baum; and Arabana, Mualgal, and Wuthathi woman and MAGNT curator Rebekah Raymond.
​The prize money has increased this year and will see artists share in a total of $190,000 (previously $80,000) with the major Telstra Art Award doubling to $100,000 and each of the category awards tripling from $5000 to $15,000. Winners will be announced on August 5.
The 2022 NATSIAA exhibition is at MAGNT from August 6 until January 15, 2023.
A cultural guide to going out and loving your city. Sign up to our Culture Fix newsletter here.
Most Viewed in Culture
From our partners
Source: Read Full Article