Between the vibrant red and green tones and extravagant displays, holiday decorating can feel like a lot if you're a minimalist — and maybe even if you're not one. Sometimes we just want to dial it all down; to cut through the visual noise with calming design elements that still evoke joy.
Modern Metallics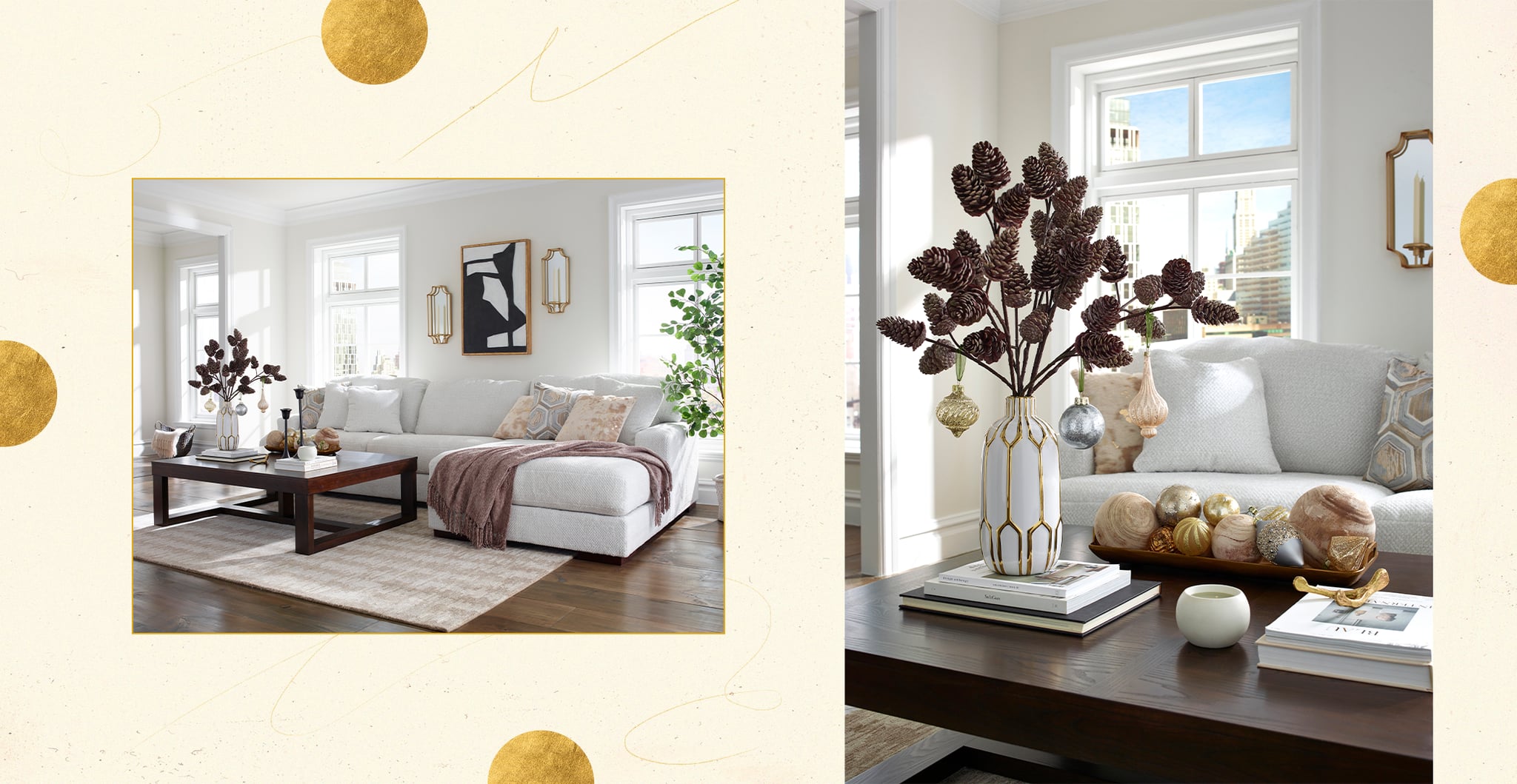 'Tis the season for more is more, but despite what your instincts may be telling you, less is more is the way to go this season, especially when it comes to metallics. Gold and silver tones will always be central to holiday decor, but keeping them to refined touches here and there is the difference between a space that looks tasteful and one that looks tawdry. Goodbye, metallic tinsel!
This trend is perfect for a bigger space, like a living room, where you can spread out your metallic accents and anchor them among larger-scale pieces. Some ideas: mixing in a few metallic throw pillows with your more neutral ones, corralling gold and silver ornaments for display on a coffee table tray or in a glass jar, displaying flowers or winter greenery in a metallic vase, or hanging gold wall-mounted candle holders. Even if you go for all four ideas, your space would still look more elegant (and definitely more unexpected) than the more obvious route.
Landers Pillow

$50
from Ashley

Buy Now

Meiling Pillow

$40
from Ashley

Buy Now

Zada 2-Piece Sectional with Chaise

$1,680
from Ashley

Buy Now

Posy Tray

$80
from Ashley

Buy Now

Dumi Wall Sconce

$60
from Ashley

Buy Now

National Tree Company 20-Piece Christmas Tree Ornament Set

$181
from Ashley

Buy Now

Mohsen Vase

$60
from Ashley

Buy Now

Watson Coffee Table

$340
from Ashley

Buy Now

Gold Resin Wish Bone Decoration

$28
from Ashley

Buy Now

Christmas 32

$54
from Ashley

Buy Now
Festive Botanicals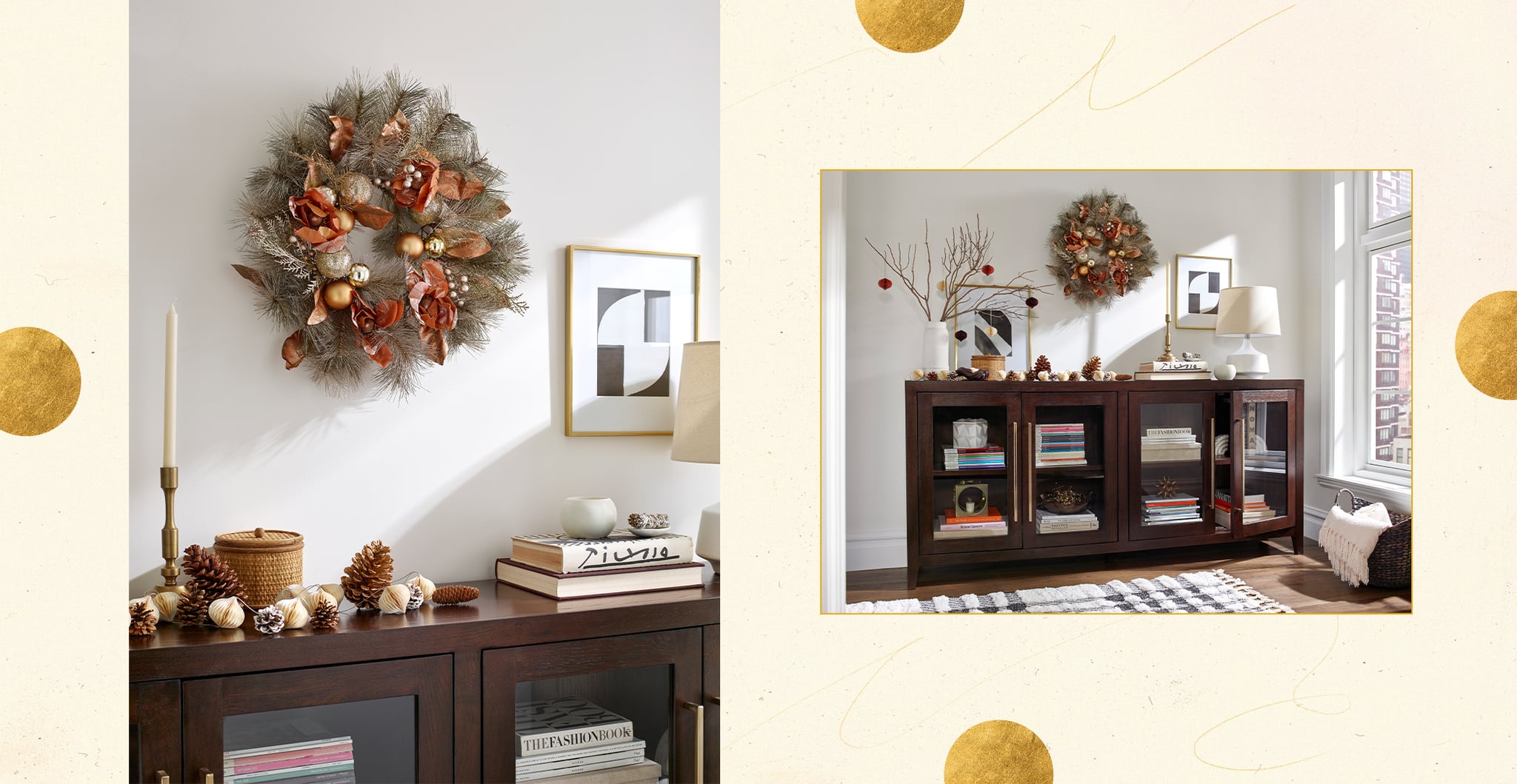 From wreaths to garlands to winter floral arrangements, festive greenery is an easy and elevated way to deck out your home for the holidays. If you live in a smaller space, you could even opt to go this route in place of a traditional tree. While this trend can work in any area of your home, for the most impact, try narrowing in on a space where it can be the true focal point. For example, you could center a wreath or botanical installment over a mantel, credenza, or entryway console.
Ashley has tons of great faux options to help you create eye-catching botanical design moments, and, even better, they don't require any upkeep. In addition to a wreath, try clustering together some pinecones, or display a branch with some hanging ornaments or string lights.
Christmas 24″ Frosted Wreath with Ornaments and Berries

$79
from Ashley

Buy Now

Balintmore Accent Cabinet

$1,570
from Ashley

Buy Now

Jayden Vase

$60
from Ashley

Buy Now

Set of Three Metal Taper Candle Stands

$95
from Ashley

Buy Now
Organic Modern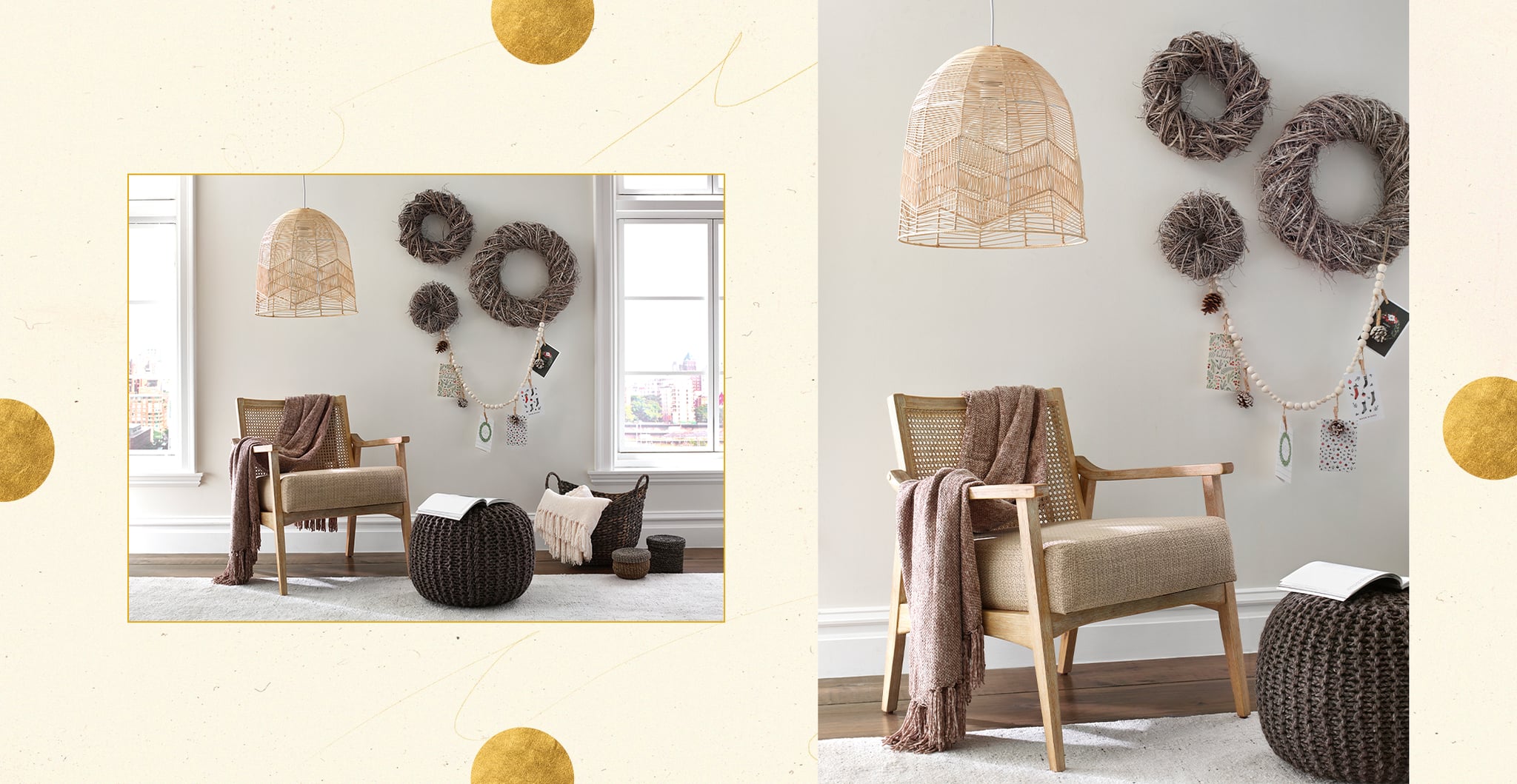 Natural, slightly rustic textures like rattan and washed wood have dominated the home-style space in recent years. If you're into that warm, earthy, and neutral look, keep it going with your holiday decor, too. Look for traditional decorations reinvented in organic textures. Think: ornaments, garlands, decorative trees, all made from materials like wood, woven yarn, or paper, and in calming tones like cream, beige, or brown.
We love the idea of transforming a little nook with these organic decorations so they look like a natural extension of the space. For instance, a trio of wooden vine wreaths, a wood bead garland displayed with holiday cards, and a woven basket piled with presents are the perfect complement to your existing pieces like a cane accent chair or rattan pendant.
Christmas Vine Wreaths

$55
from Ashley

Buy Now

Kalalou Wooden Garland With Clothes Pins

$80
from Ashley

Buy Now

Perlman Basket

$180
from Ashley

Buy Now

Kelly Accent Chair

$429
from Ashley

Buy Now

Jonathan Y Sofia 1-Light Farmhouse Coastal Rattan Plug-In or Hardwired LED

$89
from Ashley

Buy Now

Set of Four Natural Wooden Spheres

$60
from Ashley

Buy Now

Latricia Pouf

$100
from Ashley

Buy Now
Source: Read Full Article