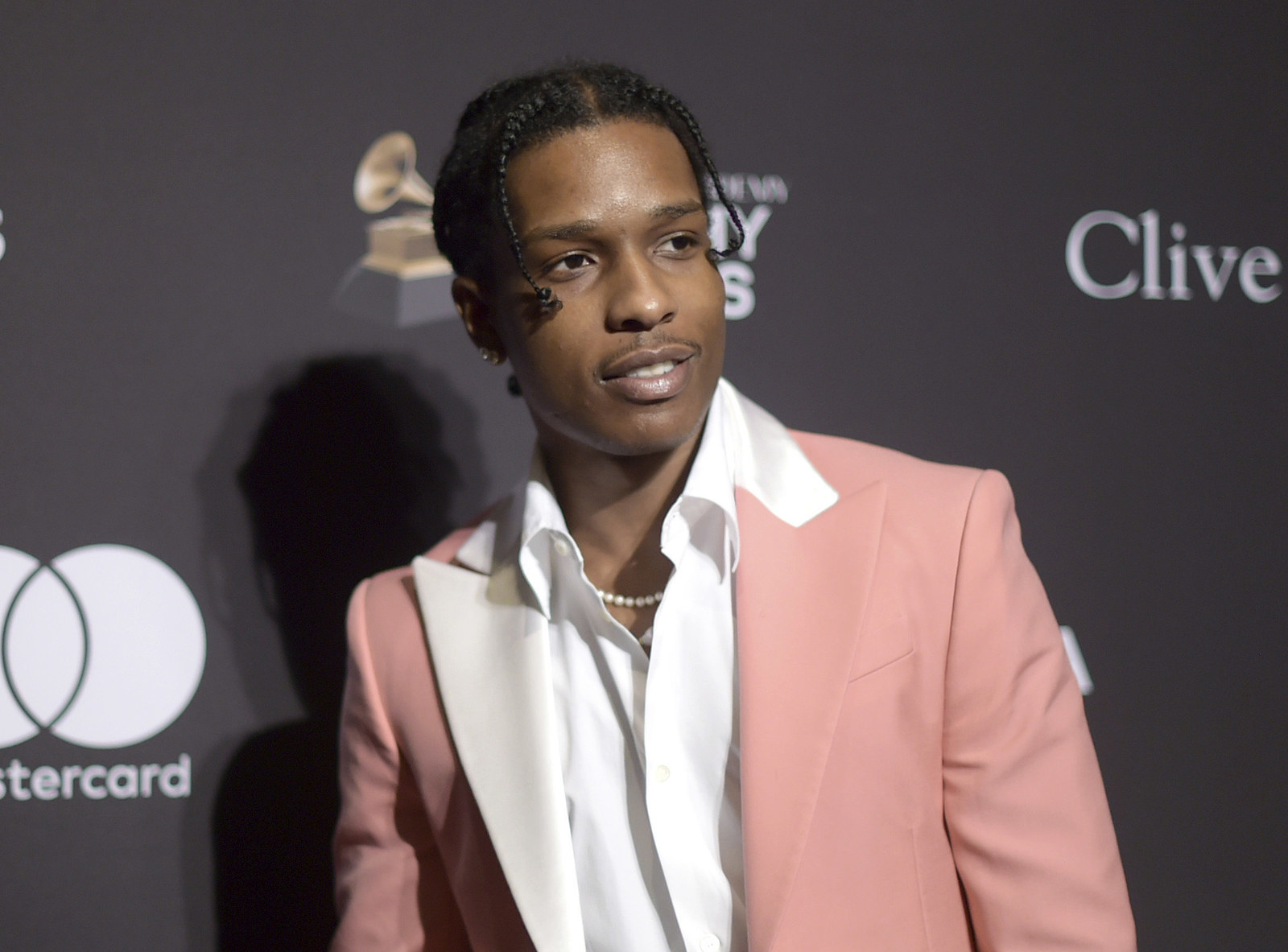 A$AP Rocky at Pre-Grammy Gala
President Trump said Friday that he was going to speak with Sweden's prime minister to try to help free rapper A$AP Rocky, who has been in prison since he was involved in a fight before a music festival in Stockholm last month.
"Just spoke to@KanyeWest about his friend A$AP Rocky's incarceration," Trump tweeted Friday. "I will be calling the very talented Prime Minister of Sweden to see what we can do about helping A$AP Rocky. So many people would like to see this quickly resolved!"
Kim Kardashian West and Kanye West have been lobbying Trump and other senior members of his administration to get involved in the 30-year-old's case.
Rocky, whose real name is Rakim Mayers, allegedly got into a fight on June 30 with two men who had been harassing the artist and his entourage. According to TMZ, which first reported the brawl and obtained video of the incident, the rapper was talking intensely with two men who kept following him and his group because Rocky allegedly broke a pair of their headphones. A woman then accused the two men of grabbing her, and that's when Rocky and his entourage allegedly got physical.
Rocky's attorney and manager have said that the artist acted in self-defense after
"a group of men" continued to follow, harass, and then physically assault them.
"Video footage shows the assailants following Rocky, while he pleads to them that he does not want any issues. Rocky volunteered to go to police for questioning," John Ehmann, the New York-based rapper's manager, said on Instagram. "On the day of his arrest, I spoke with the U.S. Embassy Consult who informed me that his request to visit Rocky was rejected by police, which violates article 36 of the Vienna Convention on Consular Relations, to which Sweden is a signatory."
On Thursday, Kardashian West thanked the president, Secretary of State Mike Pompeo, and senior adviser Jared Kushner for their efforts to free the rapper and his two associates.
The West's have a close relationship with the White House. In May, BuzzFeed News reported that Kardashian West helped free 17 federal prisoners from jail in the span of three months after a highly publicized meeting with Trump and Kushner about criminal justice reform. Last year, Kanye West shocked basically the entire world when he showed up to the White House to have an official meeting with the president donning a red MAGA hat.
On Friday, Trump tweeted that had spoken to West about "his friend A$AP Rocky's incarceration" and said that he "will be calling the very talented Prime Minister of Sweden to see what we can do about helping A$AP Rocky."
"So many people would like to see this quickly resolved!," the president stated.
The White House did not respond to BuzzFeed News' request for more information on how the president and his administration have been involved in trying to release Rocky.
In addition to Kardashian and West, Justin Bieber and other celebrities, as well as Rep. Adriano Espaillat, a New York Democrat, have spoken out about Rocky's detainment and a Change.org petition has garnered nearly 617,000 signatures.
"Everyone deserves to be treated equally and A$AP Rocky's rights continue to be violated. It is not a fair process," Espaillat said in a statement, adding that he has been in contact with the state Department and the US Embassy in Sweden.
In his Instagram post, Ehmann said that Rocky and his associates are being held in "horrific" conditions, which include "24/7 solitary confinement, restriction of amenities for the most basic of human functions, lack of access to life sustaining food as well as unsanitary conditions."
https://instagram.com/p/Bzs3voJntGH/
Last Monday, Rocky's team filed an appeal with the Swedish Supreme Court to have him released. However, on Friday, a Swedish judge sided with prosecutors, ruling that the rapper was a "flight risk" and that he had to stay in jail another week while police continued to investigate the fight, the Associated Press reported.
A spokesperson with the State Department told BuzzFeed News that it was aware that the Stockholm District Court has ruled that prosecutors have until July 25 to complete their investigation.
"One of the most important tasks of the Department of State and U.S. embassies and consulates abroad is to provide assistance to U.S. citizens who are detained abroad," the department spokesperson said. "We engage on these cases at all levels to fulfill our mission to US citizens."
More on this
Kim Kardashian West Has Helped Release 17 People From Prison In The Last Three Months

Michael Blackmon · May 7, 2019

Kanye West Just Visited President Trump At The White House And…A Lot Happened

Tanya Chen · Oct. 11, 2018
Kanye West
Brianna Sacks is a reporter for BuzzFeed News and is based in Los Angeles.

Contact Brianna Sacks at [email protected].

Got a confidential tip? Submit it here.
Source: Read Full Article