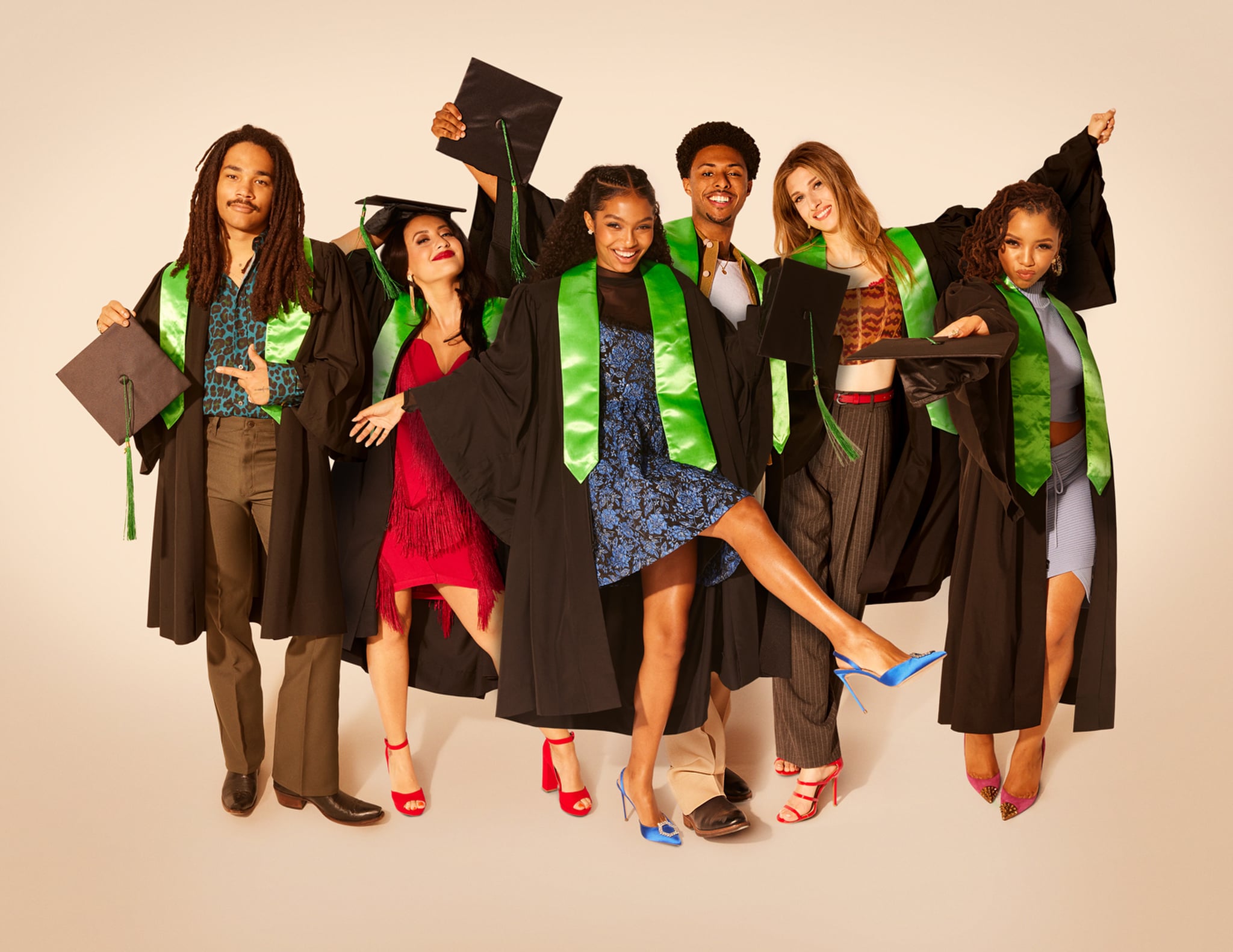 Senior year on "Grown-ish" is speeding right by us as the show gears up for the most anticipated moment of college: graduation. The Freeform series returns on Jan. 27 to finish out its fourth season framed around the big day for Zoey (Yara Shahidi), Luca (Luka Sabbat), Jazz (Chlöe), Doug (Diggy Simmons), Ana (Francia Raisa), Vivek (Jordan Buhat), and Nomi (Emily Arlook). Over the years, we've watched these characters grow from clueless freshmen to mature young adults. And now, they're getting ready to embark on a new chapter in their lives.
"It started off with just really being a college show," Buhat tells POPSUGAR. "But as the title suggests, it's not 'College-ish'; it's 'Grown-ish.' It takes on more of the real-world problems outside of college as well: relationships, politics, and all of that kind of stuff. So it's almost letting people know before they get into college, and while they're in college, to soak in everything else because college can seem like its own little world. But if you don't prepare for what's happening afterwards, you might be in for a little bit of a shock."
In 2018, "Grown-ish" started off by solely centering the college experience at Cal U and of course included the typical relationship woes many young adults go through. But the show has since taken a more courageous approach to explore other real-world issues, like drugs, colorism, racism, the Black Lives Matter movement, student activism, and so much more.
Shahidi echoes Buhat's sentiments about the show's growth, telling us the reason the show wasn't titled "College-ish" is because the writers realized "it didn't capture the essence of what we were trying to do, which is growing up, and it happens well outside of college for so many people." She adds, "At the core of this story, it's about every character figuring out what it means for them to grow up. I think that's why we chose the name, and I feel like we've been pretty true to it."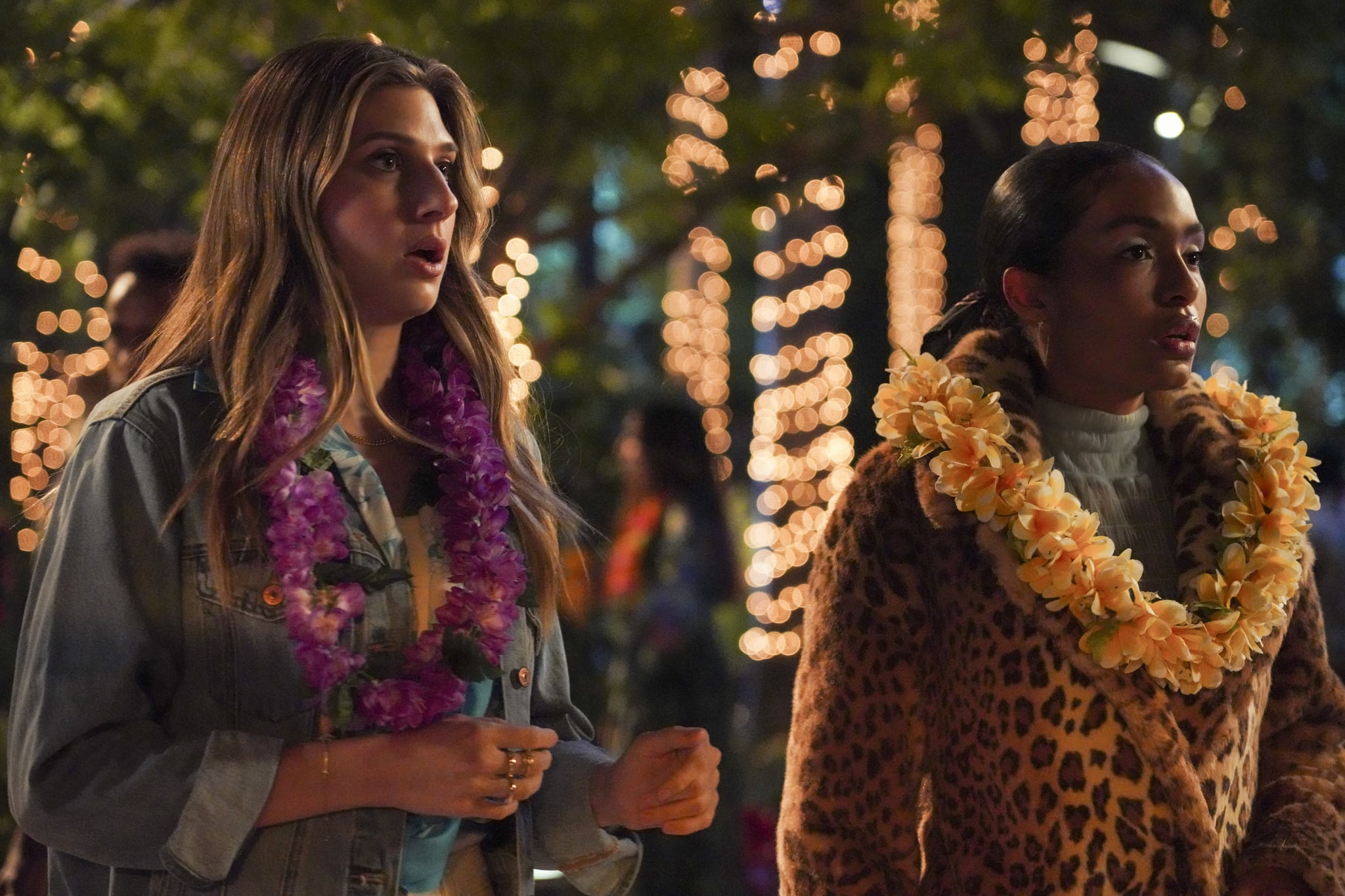 "Grown-ish" mirrors some of life's biggest moments for college students. But it also highlights some of the more minor things that aren't often discussed when it comes to adulting, like life going on despite our circumstances — something that Buhat appreciates being "normalized" on the show. "Something I'd like this show to carry onto other shows is just how normal it is when something weird happens to a friend, [and] it's not like, 'Oh my god, this is the most shocking thing,' and it's going to last the whole season," he says. "Vivek was dealing drugs and all that kind of stuff, but it was just a part of life . . . it wasn't necessarily the main driver. And that happens a lot in everyone's lives, where all these shocking things happen, but life still continues."
The cast believes the show's existence helped open doors for other series to follow suit and tackle more racy topics centered around college students. "I think other shows came out after us that were kind of the same premise, which is beautiful," Raisa says. "I think it definitely opened a door for more than just college shows, but more diverse, ethnic characters, [too]." And to her point, Simmons adds, "I hope the dialogue we have and how specific our stories are to what people of color go through, people of different sexualities, etc., that it can maybe [be an] example of what's possible to see on television."
Source: Read Full Article