You can add painter and curator to Skepta's list of accolades. The acclaimed British-Nigerian rapper is set to curate a special collection of artwork at Sotheby's upcoming "Contemporary Curated" sale in London.
Happening twice a year, the "Contemporary Curated" sale will feature around 90 to 120 artworks in total, with Skepta selecting between eight to twelve works that seek to capture the energy of Nigeria. Among the art he's chosen, fellow Nigerian artist, Olaolu Slawn will be featured, along with works by Frank Bowling and Lynette Yiadom-Boakye.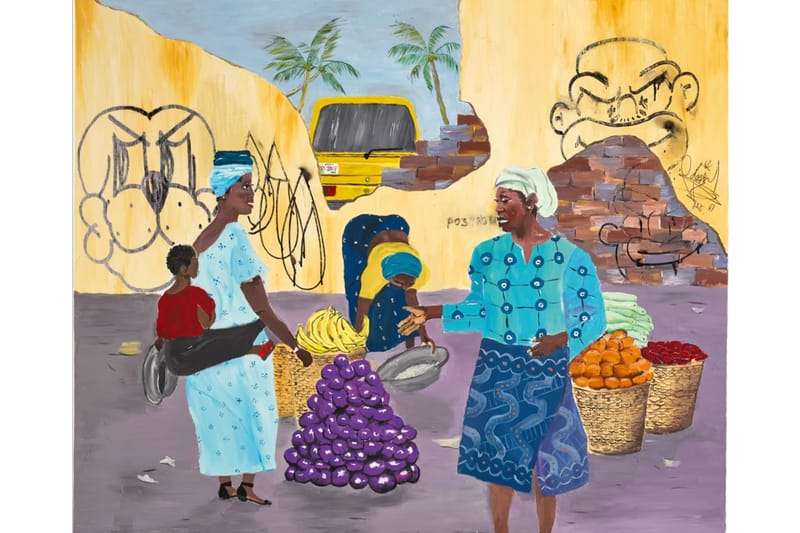 Skepta, Mama Goes to Market, 2021. Courtesy of the artist and Sotheby's.
Perhaps most notably, Skepta will also auction one of his own paintings — the only one he's created in his adult life. In an interview with Financial Times, the rapper was quick to note that being a professional artist was not necessarily his motives behind the work. "I did it because I was just super-frustrated in my house" he said, adding that due to all the cancelled shows during spring of 2020, he just wanted a way to express himself and promptly "ordered the oil paints and the canvas [on Amazon]."
Titled Mama Goes to Market, Skepta created the work in a week and depicts three African woman — one of which is seen carrying a child on its back — in the same way as the rapper was once carried by his mother. The painting carries a pre-estimate of £40,000-£60,000 GBP / $46,000-$69,000 USD. Skepta told Financial Times that he is hopeful that "Jay-Z" or "Dave Chapelle" will be the buyer.
Sotheby's "Contemporary Curated" sale will take place in London from September 7 to 13.
Elsewhere, Pace Seoul reveals Osulloc Tea House at expanded art complex.
Source: Read Full Article