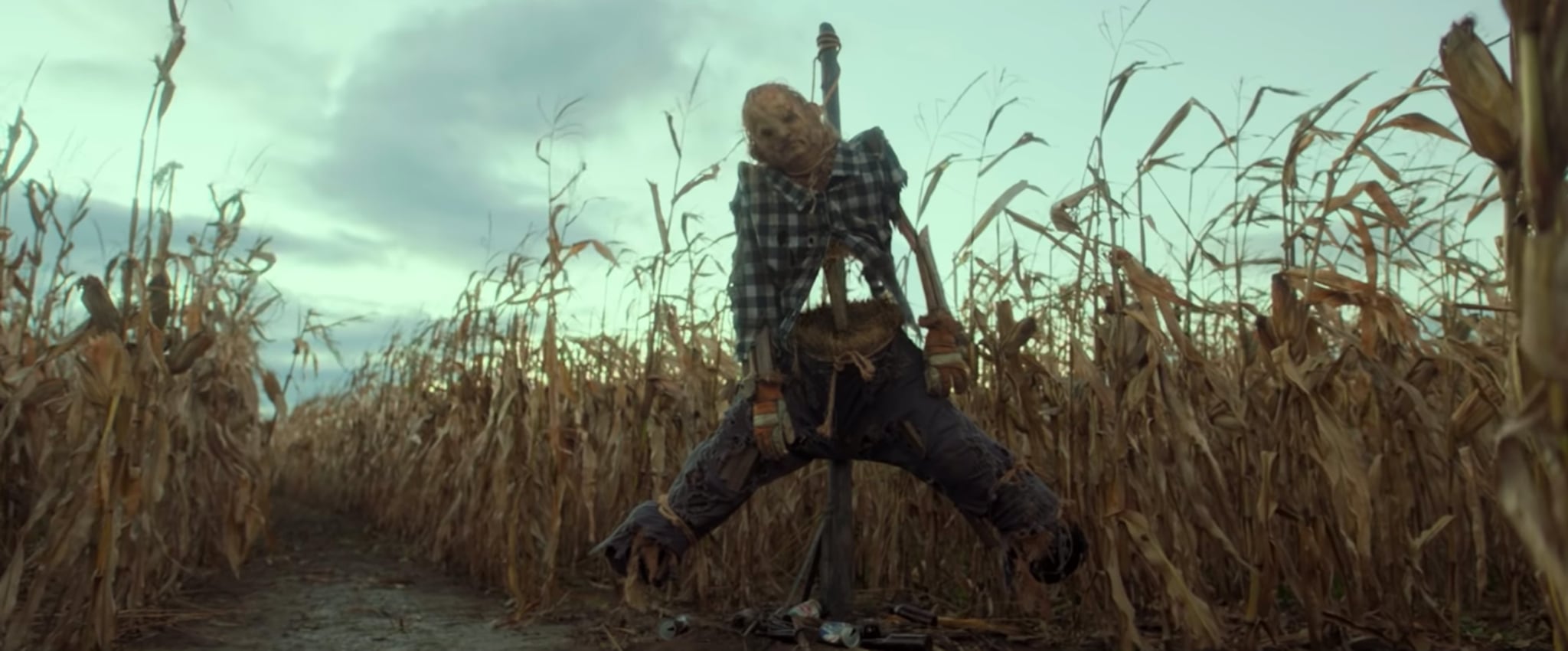 Guillermo del Toro's Scary Stories to Tell in the Dark (directed by André Ovredal) is out in theaters on Aug. 9 and already ramping up to be one of the biggest movies of the Summer — not to mention horrifying. The movie is based on Alvin Schwartz's children's trilogy (yes, you read that right: children), which was originally illustrated by Stephen Gammell. In fact, del Toro read the books in his youth and found Gammell's illustrations to be "unsettling."
The books are a series of spooky, keep-the-lights-on-forever stories born out of folklore and legends that we all have likely heard throughout the years in varying forms even if we've never read the books. Schwartz did a lot of research through the Library of Congress and American Folklore Society and consulted folklore books like American Folk Tales when coming up with scary stories. The movie adapts several scary tales from Scary Stories to Tell in the Dark (1981), More Scary Stories to Tell in the Dark (1984), and Scary Stories 3: More Tales to Chill Your Bones (1991). What is particularly noteworthy about this trilogy is that it was often challenged between 1990 and 1999 due to its graphic and violent content. Many parents complained that the books were too scary for their children and tried their best to ban them from schools and libraries; the American Library Association's publication Booklist, however, objected to the complaints. In 1993, the youth editor told The Chicago Tribune: "These books are not for the very young . . . They are more for the middle-school kids, who are perfectly able to cope with this kind of thing. They're creepy tales, and kids love them."
Though the movie will be as scary as ever, it is safe to assume that not all the stories made it onto the screen and understandably so given the volume of text. In fact, del Toro decides to take some liberties in creating original monsters that are a combination of several illustrations from the book, like the Jangly Man. Another key difference is that while the books are an anthology, the movie weaves in a narrative to connect the stories they use in the form of a group of teenagers in 1968 who come across a haunted book of scary stories.
We've rounded up some of the stories we can expect to see on the screen. Read on with lights!
Warning: Spoilers ahead for Scary Stories to Tell in the Dark!
The Haunted House
In the movie, it appears that Sarah Bellows wrote the haunted book of tales and is the one driving the plot. According to the official movie synopsis, in the town of Mill Valley, "the shadow of the Bellows family has loomed large. It is in their mansion on the edge of town that Sarah, a young girl with horrible secrets, turned her tortured life into a series of scary stories, written in a book that has transcended time — stories that have a way of becoming all too real for a group of teenagers who discover Sarah's terrifying tome."
In the book, "The Haunted House" story is more about a preacher man who lives in a haunted house and runs into the spirit that haunted the mansion. She's looking for her killer and wants the preacher to bury her properly.
The Big Toe
"The Big Toe" finds a little boy who stumbles upon a big toe in his garden and his mother cooks it for dinner. At night, the boy begins to hear a voice calling out, "Where is my to-o-o-o-o-e?" and getting closer and closer to his bedroom before spotting him and saying, "You've got it!"
The Dream
A woman named Lexi Morgan has a dream about walking into a shady-looking bedroom and meeting a woman with long black hair, black eyes, and a pale face who tells her to run away from this place because it's evil. The next morning, she tells her landlady she has to leave; when her landlady recommends another town to go to, Lexi travels there and goes into a house that someone suggests, only to realize that she just walked into her nightmare and that the woman who opens the door is the one from her dream.
The Red Spot
In "The Red Spot," a young girl named Ruth get a spider bite on her cheek that grows into a bumpier and bumpier red spot until it explodes to reveal a ton of baby spiders that come crawling out. One thing's for sure: this story reminds that our fear of creepy bugs and spiders crawling into our bodies when we sleep and laying eggs is not just in our heads.
Harold
The mangled scarecrow you've probably seen in the movie's promos and posters is none other than Harold. Farmers Thomas and Alfred put him together and name him after a competitor. They treat the scarecrow like their very own life-size voodoo doll by torturing him in lieu of their rival until Harold "wakes up" and seeks his revenge by murdering Thomas (Alfred escapes in the nick of time). If we weren't already scared of scarecrows in the middle of cornfields, we certainly are now!
Source: Read Full Article