Last year was the year where life (partially) opened up again for the world. We were treated to some of the best albums that complemented the strongest discographies in world music and the recent times of festival season have proven that the world is now at a much more level playing field when it comes to showcasing talent on the biggest stages. Dave bagged his first headline slot at Manchester's Parklife following his show-stopping album, We're All Alone In This Together, while the new-gen of festivals across Europe showed that independent artists now have the pulling power to attract huge crowds overseas, without the help of labels and execs alike.
There's a huge and intriguing new batch of emerging talent to be discovered, along with new places to discover them. Where previous years have been ruled by those who have accumulated the most sales and through the restraints of chart positioning, there's now a mixed collective of hot-on-the-block music festivals that are celebrating everything from hip-hop, UK rap, and drill, to Afrobeats, soul, and R&B. In a nutshell, the old-fashioned days of gate-keeping have expired and there are new music festivals, and talent, ready to break the boundaries and create memories for you, that will last forever.
Here are our picks for the best music festivals to attend in the UK and Europe for 2022.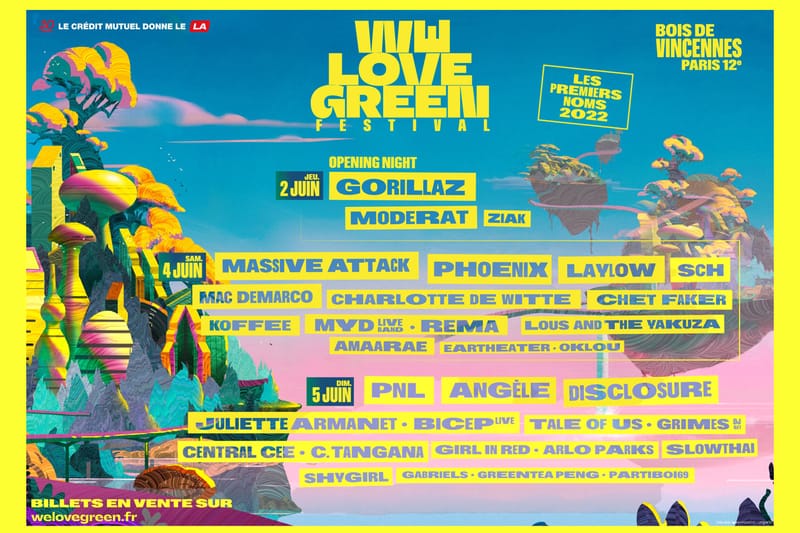 We Love Green
Le Bois de Vincennes, Paris, France
June 02-05 2022
As a festival that invites wild and exciting artists who represent the current music of our time, We Love Green festival specialises in building the bridge between indie and electro music. While the French music scene doesn't lack superstars, the three-day event welcomes musicians from all over the world, but still pays homage to those who built up the nations integral music culture. Along with the indie and electro sonics, WLG also welcomes a vast array of hip-hop, with previous performers being the likes of Migos, Tyler, The Creator and Action Bronson.
This year, those in attendance will be treated to performances from Mac Demarco, Central Cee, Koffee, Greentea Peng and plenty more. But, for those who are art and food-lovers, there is also a lot of extra activities you can get involved in: check out the intriguing art that will be on display, and also be sure to pick up some of the cuisine that comes from all corners of the world.
Be sure to grab your tickets for We Love Green festival here.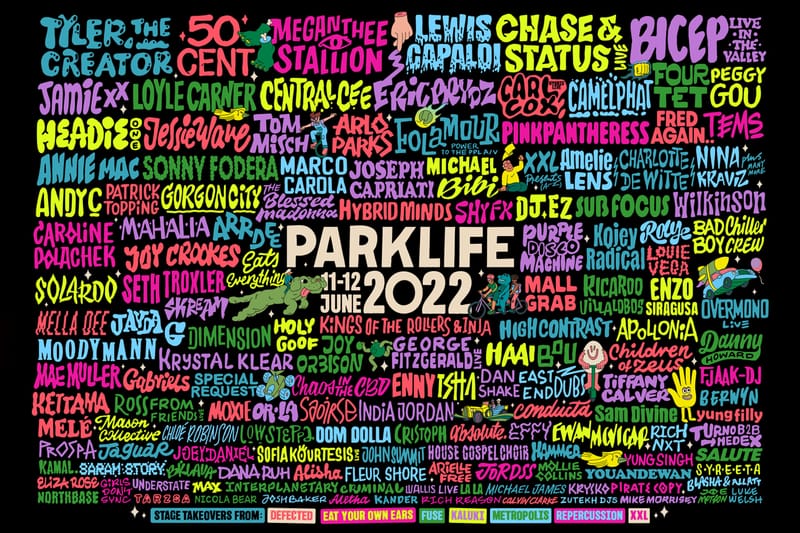 Parklife
Manchester, UK
June 11-12 2022
Parklife has been one of the UK's most popular music festivals since its launch over two decades ago. Now, the Manchester-born event has become the largest metropolitan festival in Britain and has continued to up the levels each year its weekend comes around. The inner-city festival takes the Mancunian grounds of Heaton Park, with those who purchase tickets being greeted with the most cutting-edge live music production; from the sonics, to the overall visual laser shows and pyrotechnics.
This year, the rainy city welcomes Tyler, The Creator and 50 Cent as its main headliners, while the likes of Loyle Carner, Headie One, Central Cee and Chase and Status will also hit the stage to represent the UK's integral music scene that has helped build Parklife's reputation since its birth in 2000.
Purchase your Parklife tickets here.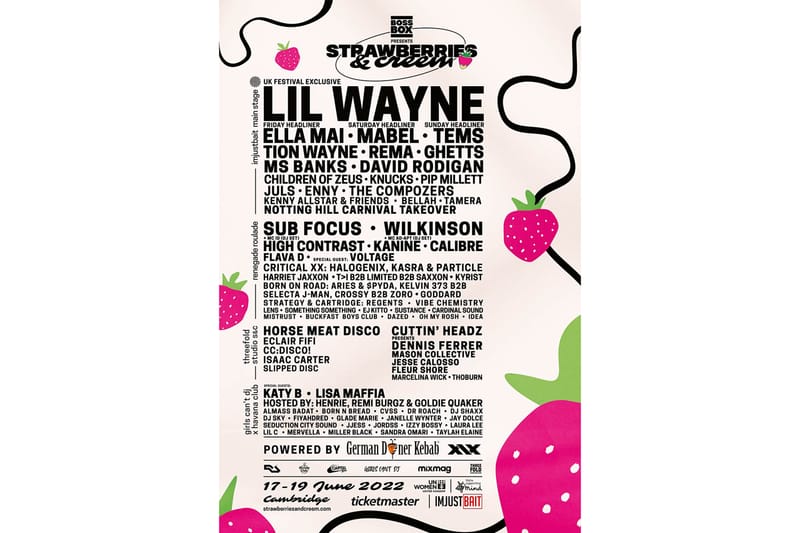 Strawberries & Creem
Cambridge, UK
June 17-19 2022
Strawberries & Creem was founded by a small group of friends in 2014, and has rapidly become the biggest music festival in Cambridgeshire. Through championing only the best of up-and-coming and established Black talent in the UK and across the world, S&C has continued to not only support the music, but also local businesses from emerging fashion brands to finger-licking food stalls. The motto has been "Celebrate Heritage, Champion Future," since its launch and last year's line-up introduced the festival's most diverse and gender-balanced roster ever with over 60% of the weekend's performers being female.
This year's lineup features another blend of the best in hip-hop, R&B, Afrobeats, drum and bass, house and more. Reaching out to some of the most world-renowned names, Lil Wayne headlines the weekend this time around, while you'll also be able to catch the likes of Ella Mai, Ghetts, Tems, Children of Zeus and a Notting Hill Carnival takeover across the four stages that are all a short walk away from each other.
You can buy your tickets for Strawberries and Creem here.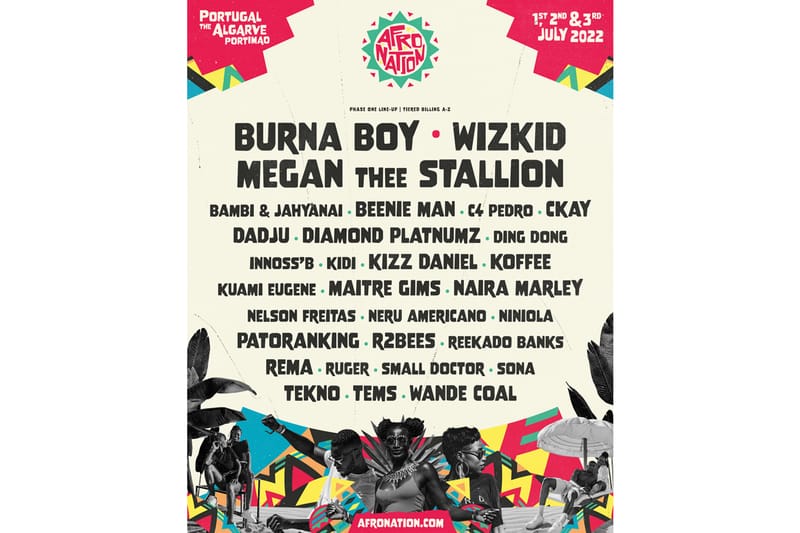 Afro Nation Portugal
The Algarve, Portimao, Portugal
July 01-03 2022
For those who are seeking a weekend full of sun, sea and sand, Portugal's installment of the iconic Afro Nation festival is the one for you. Boasting 125 miles of coastline and an average temperature of 25 degrees in July, The Algarve is the perfect destination for the ideal summertime motive. While the location sits top of the pile aesthetically, its music welcomes a pleasant mix of Afrobeats, hip-hop, R&B, dancehall, amapiano, Afro house and more. The talent is divided across three stages along the Praia Da Rocha beach in Portimão and if you're lucky enough to grab a VIP ticket, you'll have exclusive access to special areas including a private beach.
This year, Afro Nation Portugal is headlined by the likes of Chris Brown, Burna Boy, Wizkid, and Megan Thee Stallion, while UK front-runner, Pa Salieu, also fits into the bill.
The festival welcomes people from all over the world to come and dance, and while it's based on one of the more remote beaches in the EU, it's only spotted an hour away from Faro International Airport and can be reached from most major UK and European airports in just under three hours.
Grab your tickets for Afro Nation Portugal here.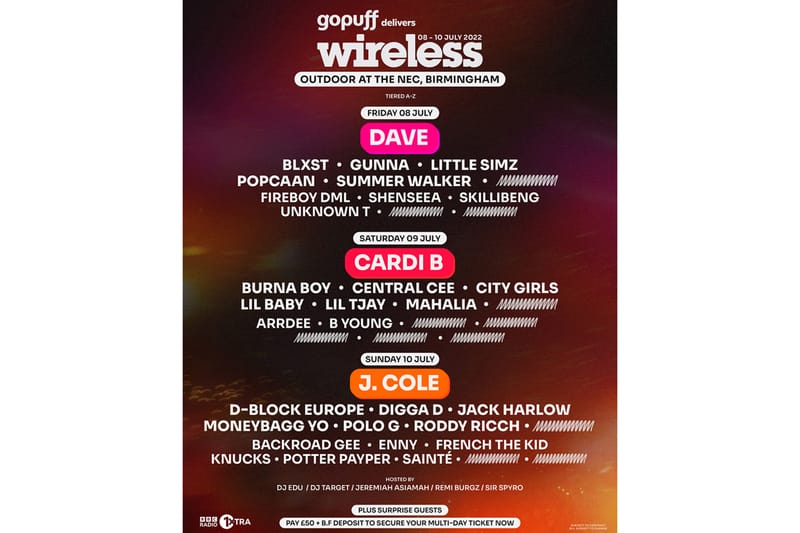 Wireless
London & Birmingham, UK
July 01-10 2022
As one of the biggest festivals to come from the UK, Wireless spreads across a 10-day window amongst three locations in London and Birmingham. With each venue having three days to present their line-ups that are firmly rooted in hip-hop, grime, UK rap, drill and R&B, the festival also makes a conscious effort to give up-and-coming artists the limelight alongside some of the most successful names in both American and British music.
While Wireless continues to represent forward-thinking artists from both sides of the pond, the event has been put in place to champion Black excellence and music alike. Keeping this in mind across its headliners this year, attendees can expect to see Dave, J Cole, A$AP Rocky, Cardi B, SZA, Nicki Minaj close the shows.
Purchase your Wireless tickets here.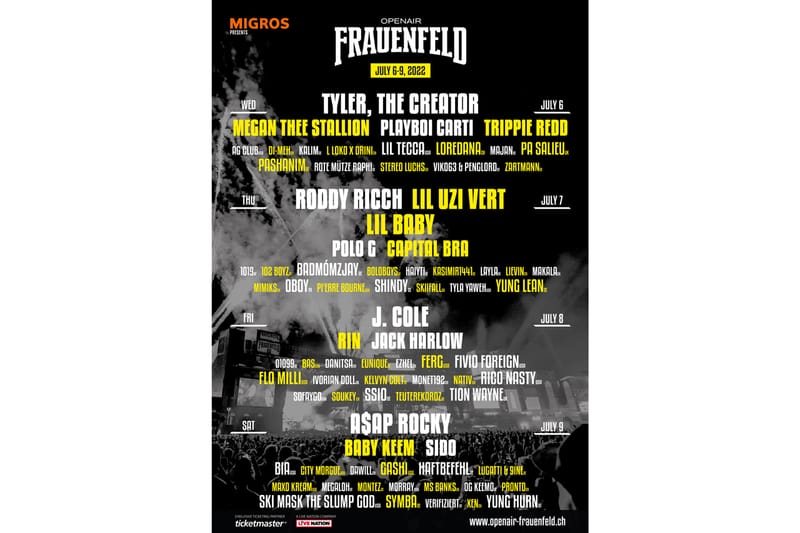 Openair Frauenfeld
Frauenfeld, Switzerland
July 06-09 2022
Standing as one of Europe's biggest hip-hop festivals, Openair Frauenfeld's lineup often looks towards the world's biggest rappers, from both sides of the Atlantic. Nowadays, the lineups are nothing short of Hall of Fame standards, with Tyler, The Creator, J Cole and A$AP Rocky being this year's headliners.
The traditional three-day party is considered to be the biggest open-air festival in Switzerland and also backs itself to be the biggest hip-hop festival in Europe. However, with previous names gracing the stage in past years being the likes of Jay-Z, Eminem, Kendrick Lamar and Wiz Khalifa, Openair Frauenfeld definitely has a case.
Grab your tickets for the festival here.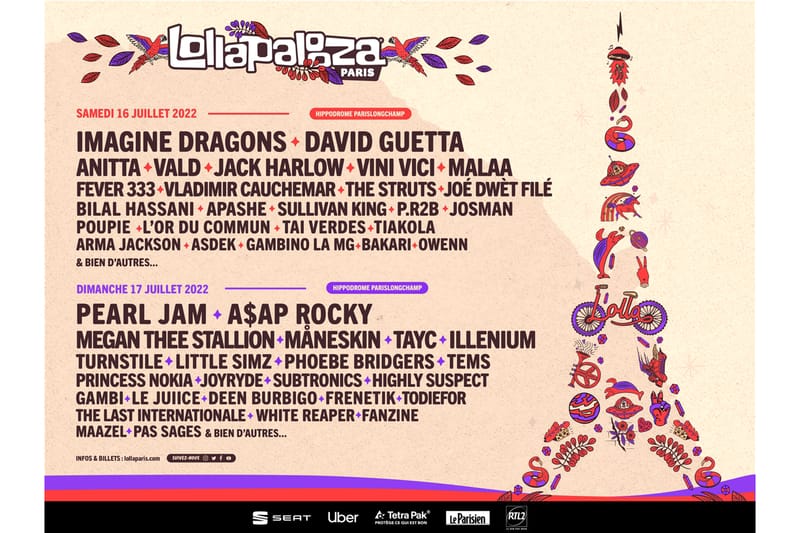 Lollapalooza
Paris, France
July 16-17 2022
Lollapalooza Paris is the French edition of the worldwide music festival brand. Continuing to bring an ever-impressing lineup year on year, the two-day event boasts a wide variety of genres between rock and pop to Paris for one of the city's most spoke-about weekends. After a two-year hiatus, the festival is now back for its fifth anniversary, while its American counterpart in Chicago will celebrate its 30th birthday.
If you're lucky enough to grab a ticket this year, you'll be treated to a star-studded roster from the likes of Imagine Dragons, Jack Harlow, A$AP Rocky, Little Simz, Tems and lots more. Located in the heart of the city, Lollapalooza promises food, drinks and plenty more of entertainment that embeds itself with French culture, while also dipping in and out of trends set across the world.
You can get your Lollapalooza tickets here.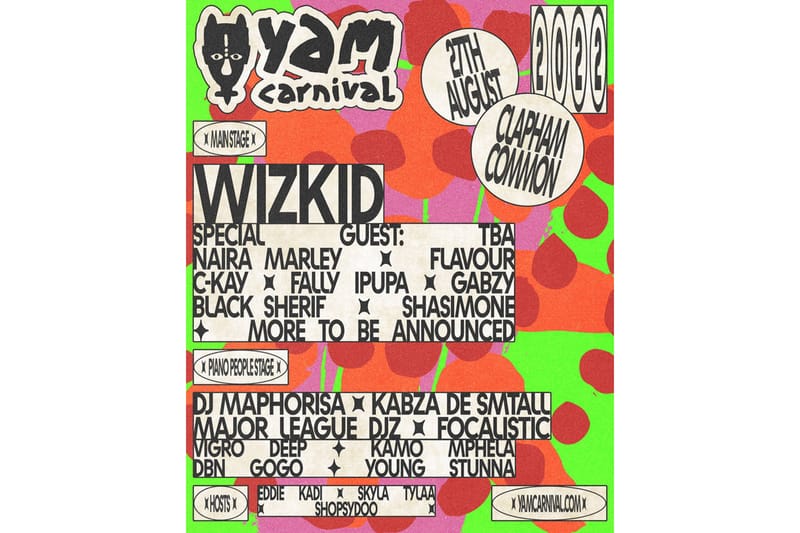 YAM Carnival
London, UK
August 07 2022
YAM Carnival is London's brand-new Afrobeat music festival that originally, was supposed to launch in 2021, before the COVID-19 pandemic forced it to cancel. However, coming from the creators of Afro Nation, the day-long event will welcome live music from the Afrobeat, reggaeton, R&B, hip-hop and dancehall genres across its three stages. With its best-in-class lineup featuring Wizkid, Naira Marley, Flavour, Gabzy and more, the Clapham Common-held event will also welcome food trucks, as well as Caribbean cuisine and American-inspired dishes from New Orleans Creole.
Attendees on the day can also expect to see masquerade culture including traditional homage to ancestral spirits, with rich costumes, structures, masks and dance rituals from around the globe being on display.
Get your tickets for YAM Festival here.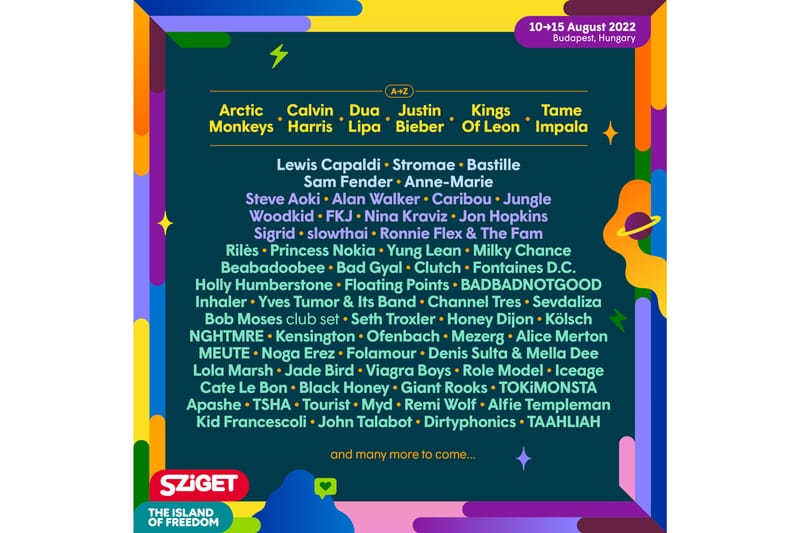 Sziget Festival
Budapest, Hungary
August 10-15 2022
As Hungary's most popular music festival, Sziget prides itself on its genre-spanning lineup that covers everything from rock, indie, pop and rap, while also diving into all varieties of dance music. The event is now 28 years strong and over the years, has welcomed the likes of Kendrick Lamar, Ed Sheeran and Rihanna. This year, however, its main acts boast Slowthai, Justin Bieber and Tame Impala; making this the place to go if you want a bit of everything.
But, this five-day event doesn't just stop at the music. The Hungarian festival also lays on all other kinds of activities such as a cinema, theater, contemporary circus shows, sporting events and even a beach that you can swim in.
Grab your tickets for Sziget Festival here.
Source: Read Full Article