Do you remember the first time you had Gatorade? I do. How could I forget? It was at football practice during a hot summer day. My team was toiling away, and our coach busted out a massive orange jug filled with yellow liquid that wasn't quite water … and certainly not urine. Little did we know that we would never have the same appreciation for hose water again, as that magical yellow-orange liquid, gave us a jolt of energy to power through that sweltering afternoon.
If you're outside of the United States, Gatorade may just be a funny American sports drink. But within, the drink just goes hand-in-hand with sports, like peanut butter and jelly. Is that the reason for our success in every Olympic Games? Probably not, but it most definitely has helped many American athletes along the way. On that topic, however, it's interesting that the U.S. performs consistently well throughout virtually every major sport in the world, but always performs poorly when it comes to the world's game.
There are too many reasons to list why this is, but a noticeable shift has been taking place for almost a decade now and there is no other player who is perhaps attributed to leading this change than 24-year-old Chelsea and U.S. men's national team (USMNT) forward Christian Pulisic.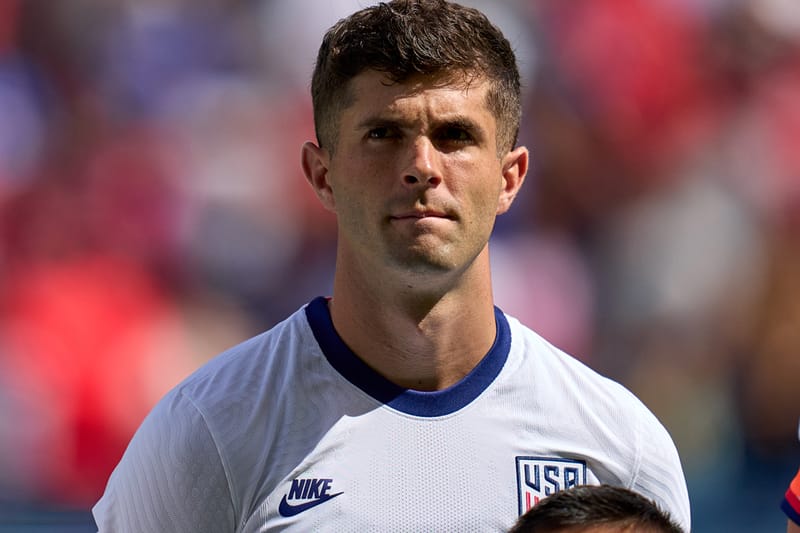 Photo by Robin Alam/ISI Photos/Getty Images
From taking the world by storm at Borussia Dortmund to hoisting the UEFA Champions League trophy back in 2021 with Chelsea, Pulisic arguably has more expectations than any other American soccer player in history. However, you'd never sense that while speaking with the young star. Calm and collected, he understands how the country has performed in the past, but exudes confidence in the potential the U.S. has going forward.
Pulisic, along with legendary midfielder Lionel Messi and NFL stars D.K. Metcalf and J.J. Watt, worked with Gatorade on a special series dubbed the Gx Fuel Tomorrow Collection, which spotlights the four athletes' stories and experiences beyond the field of play. Each bottle was co-created with one of the athletes' personal input through various symbolic images laid throughout. For Pulisic, this translated into a collage that represents his footballing journey.
"Pulisic's deep passion for soccer and his community came to life during the design process, where he emphasized his belief that sports have the power to bring people together from all walks of life," said Sean Huls, Head of Design for Gatorade, in an interview with HYPEBEAST. "The bottle features a tiger to match his forearm tattoo, which he raises over his eyes when celebrating on the field, as well as a nod to the three places closest to his heart – Hershey, Dortmund and Chelsea. The handshake symbolizes Pulisic's hope for the game of soccer to bring people together no matter who you are, what you look like, what you believe or where you come from."
Just in time for Pulisic's collaboration with Gatorade and his first FIFA World Cup appearance, Hypebeast hopped on a call with the young star to discuss the tournament and how the U.S. can further advance in the sport.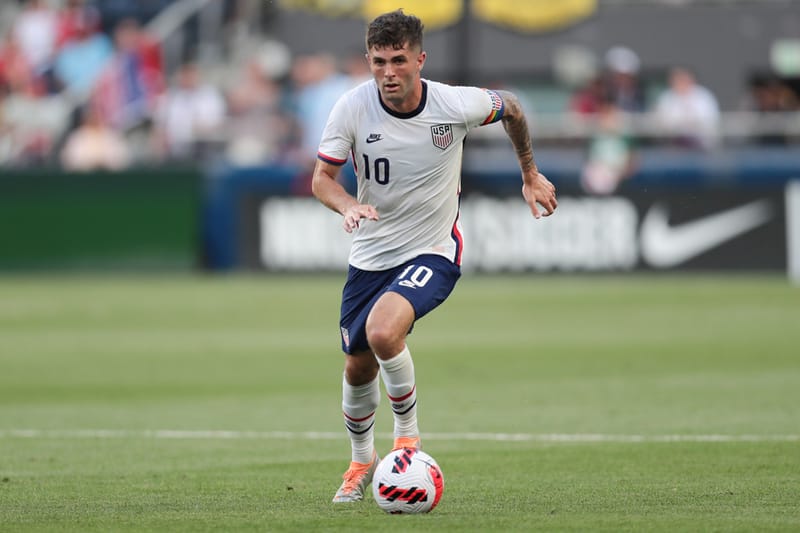 Photo by John Dorton/ISI Photos/Getty Images
"We're going in there with a nothing to lose attitude."
Can you remember your first memory of trying Gatorade?
I remember just being at youth tournaments and they'd have these big coolers where you could get a cold Gatorade. After a game, that was like gold to you.
What were/are your go-to flavors?
I always enjoyed lemon-lime. I don't know why, it was just my classic go-to. But any type of grape flavor, orange, glacier freeze, I was big on all of that too.
Who were your biggest influences growing up and what made you gravitate to playing soccer as opposed to say baseball, American football or basketball?
My parents were the first ones who influenced me toward soccer. My dad obviously played professionally [Christian's father Mark Pulisic had a nine-year career with the Harrisburg Heat of the National Professional Soccer League, and was inducted into the team's Hall of Fame] and my mom played in college as well. I was always kicking a soccer ball around. I'd always watch soccer with my dad and his friends too, Premier League and Champions League matches mostly. Luis Figo was one of my favorite players. I always told my dad that I wanted to be a pro when I was older.
How was it like to work with Gatorade on this project?
It was really fun. I've never been able to design a product before. I came into it not really knowing how it would go, but they already had some ideas with some things in my background and I added some things of my own, like the tiger — which is similar to my tiger tattoo that I love. The message of inclusivity and passion was important too, and the final product was even better than I thought it would be.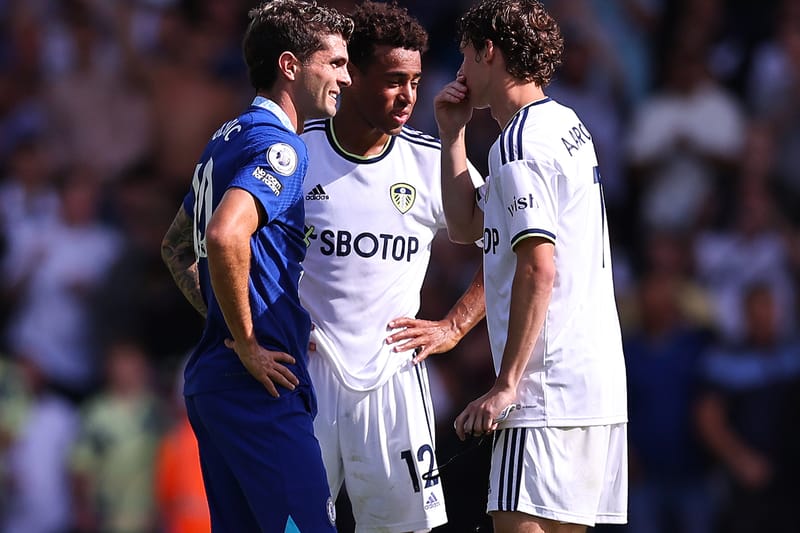 Photo by AMA/Getty Images
"I think we can really start catching up to some of these countries where it is the only sport and that's the main difference."
The World Cup is only a few months away. From an American's perspective, this team feels special with all the young talent playing in Europe and of course Jessie Marsch in the Premier League. Can you talk about expectations and why this team is different?
This is my first World Cup. There's going to be a few guys who might have been there before, but it's a very young team and we're all very excited. We're going in there with a nothing to lose attitude. We're going to go in confident and hopefully shake up the tournament a bit, have the country behind us and give everything.
Have you spoken to your Chelsea teammates about the England game in particular? You've played with or against so many of those players and it seems like that is one of the biggest group stage matchups.
We've had conversations and jokes. It's going to be fun playing against those guys. That's definitely a big one that's marked on the calendar, but you know, the first one is Wales and we have to take it game-by-game.
Sticking with Chelsea and your club career, winning the Champions League has to be one of your biggest achievements. Is there a particular game or moment that is amongst your most cherished?
That's a good question. My debuts are always something that I remember. Scoring my first goal at Dortmund, I'll never forget. Scoring my first goal at Chelsea, I'll never forget. Those moments stick with you for a long time.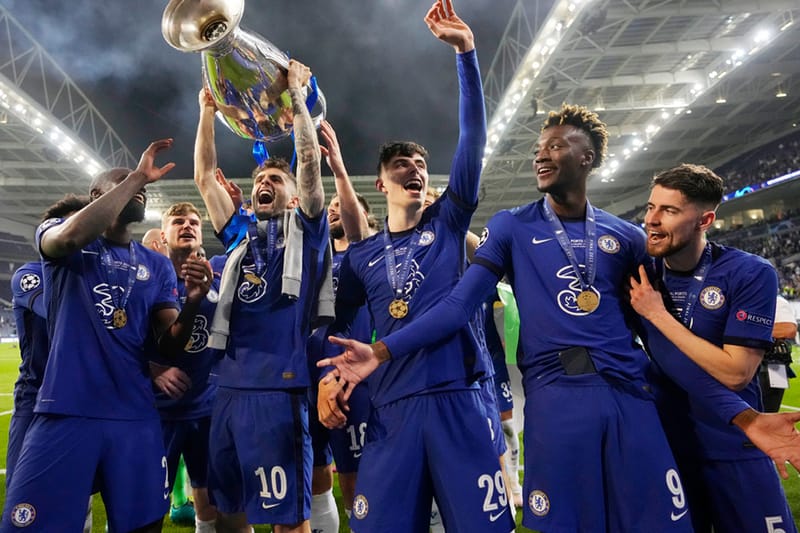 Photo by Manu Fernandez – Pool/Getty Images
Now that you've played a good amount of club football in Europe, you can see that there is such a cultural element to football abroad. What do you think is still needed to cultivate the same type of fandom within the United States?
We've come a long way in the seven or eight years since I first left to play internationally. When I come back to the States, seeing the support for the game and the amount of people wearing soccer jerseys — even my jersey — is much more frequent than before. Obviously, we're not going to take away from those other incredible sports that go on in America but soccer has grown so much and there has been a huge push in fan support.
We're on a good path with how the MLS is going and how youth soccer is growing in the States that I think we can really start catching up to some of these countries where soccer is the only sport.
Shop the Gatorade Gx Fuel Tomorrow Collection here.
---
For more on football, FIFA unveiled the 2022 World Cup emblem.
Source: Read Full Article