2022 marks the 20th anniversary of HUF, and in the two decades since Keith Hufnagel founded the brand it's grown from a small shop on Sutter Street in San Fransisco's Tenderloin district to a storied skateboarding syndicate that's known and respected the world over. Besides clever graphic designs (it's hard to overstate the impact of HUF's infamous "Plantlife" print or their "FUCK IT" branding) and boundary-pushing team riders (RIP Dylan Rieder), a key piece of HUF's growth has been its collaborations with
Nicholas Llanton/Hypebeast2 of 3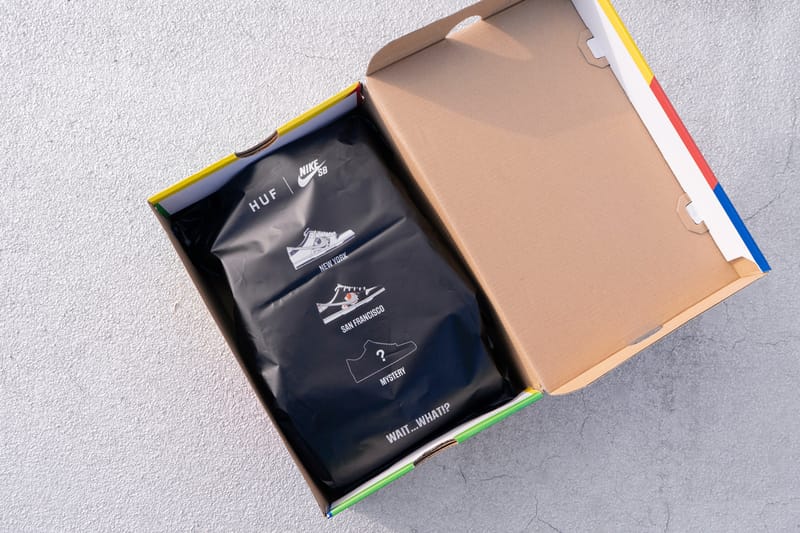 Nicholas Llanton/Hypebeast3 of 3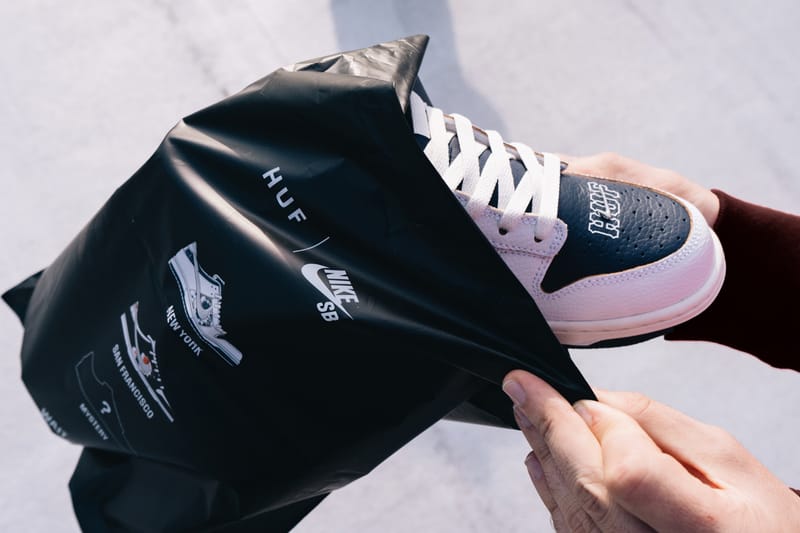 Nicholas Llanton/Hypebeast
Packaging
Any compelling sneaker collaboration has to have equally interesting packaging. To set their SB Dunk Low apart from the competition from the moment the box is first opened, El Khatib and Tanghal opted to put it in a mysterious "grab bag" inspired by both the classic "mystery box" of decks that many skate shops offer and "blind box" toys like Medicom's long-running BE@RBRICK series. Tanghal, who came up with the concept also notes that the bag is a way for HUF to "f*ck with resellers," as you don't know what shoe you're getting until your bag is torn open. "We made sure the bag was tamper-proof so it actually has to be ripped open" noted El Khatib. "You can't just open the bag, see what you got and reseal it."
As indicated on the packaging, buyers of the shoes may receive one of three colorways — "New York," "San Fransisco" or "F&F" — each with an increasing degree of rareness. The most rare pair, not pictured here, is a green-and-gray colorway that draws from 2004's HUF x Nike Air Max 1, the brand's first Nike Sportswear collab.
"Wait…What?!," a marketing tagline for the collaboration that's also featured on the bag is a callout to one of Keith Hufnagel's signature catchphrases. "Keith would always say Wait … what?!," chuckles Tanghal. "No matter if you were telling him something or showing him a meme, that was the first reaction you'd usually get."1 of 3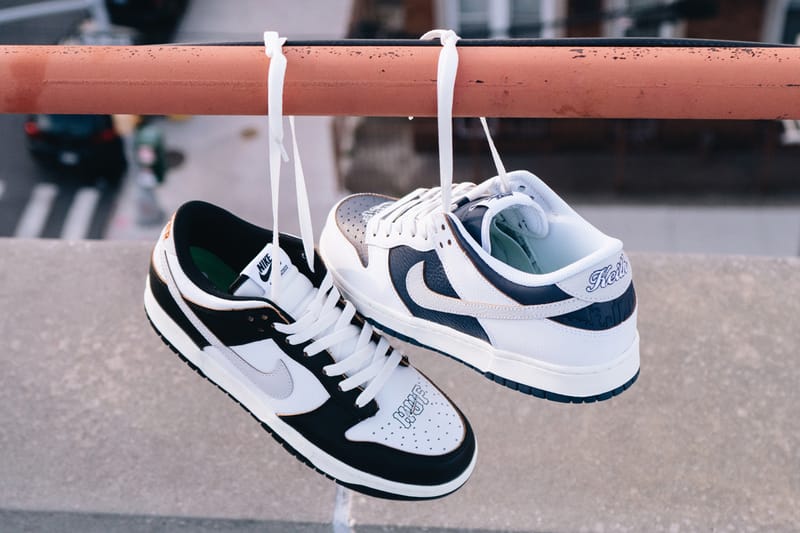 Nicholas Llanton/Hypebeast2 of 3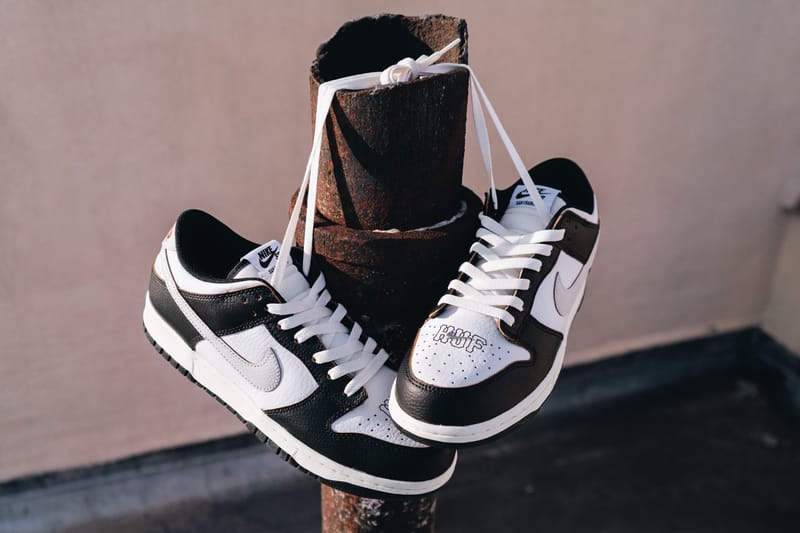 Nicholas Llanton/Hypebeast3 of 3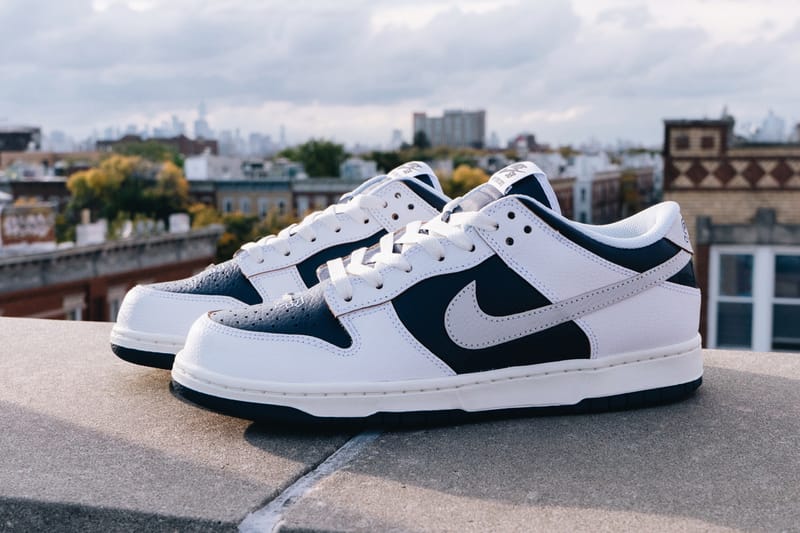 Nicholas Llanton/Hypebeast
Colorways
The HUF x Nike SB Dunk Low collection's two primary colorways (not counting the F&F pair) are inspired by the two cities that shaped Keith Hufnagel as a man, a skater and a business owner: New York City and San Fransisco. Hufnagel was born and raised in NYC and learned how to skate in the city's streets — but then moved to San Fransisco to attend college at SF State. He dropped out after a semester to turn pro, quickly became known for his exploits bombing the city's hills, shredding at Embarcadero Plaza and eventually opening the first HUF store.
Both pairs are inspired by their respective city's baseball teams, with the New York City pair drawing its elegant mix of navy and white from the New York Yankees and the San Fransisco pair offering a mixture of white, black and grey plus a dash of orange to nod to the San Fransisco Giants. Both feature raw edges on their overlays for a nod to the HUF x Nike SB Dunk High as well.
Of extra-special note is that each pair was built on an original SB Dunk Low last, providing an OG-style look and shape that predates the changes made in SB's "Blue Box" era and onwards. "The reason we were able to get that OG shape is because we have a long history with Nike," El Khatib said. "They don't offer that to brands that didn't collaborate with them in the early years of SB." The last pair to feature that original construction? 2021's Supreme x Nike SB Dunk Low.1 of 3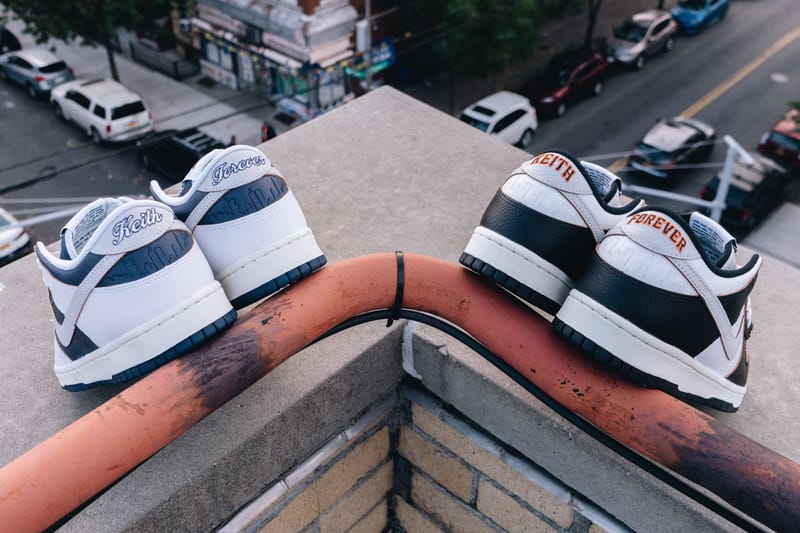 Nicholas Llanton/Hypebeast2 of 3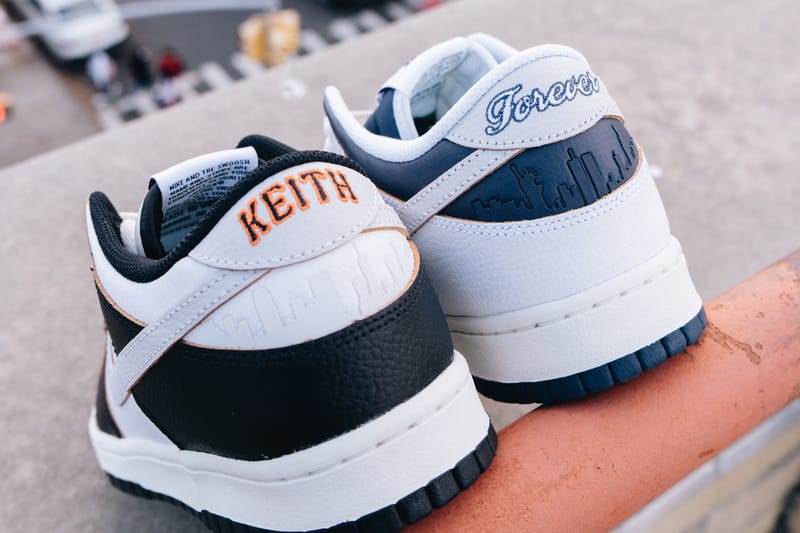 Nicholas Llanton/Hypebeast3 of 3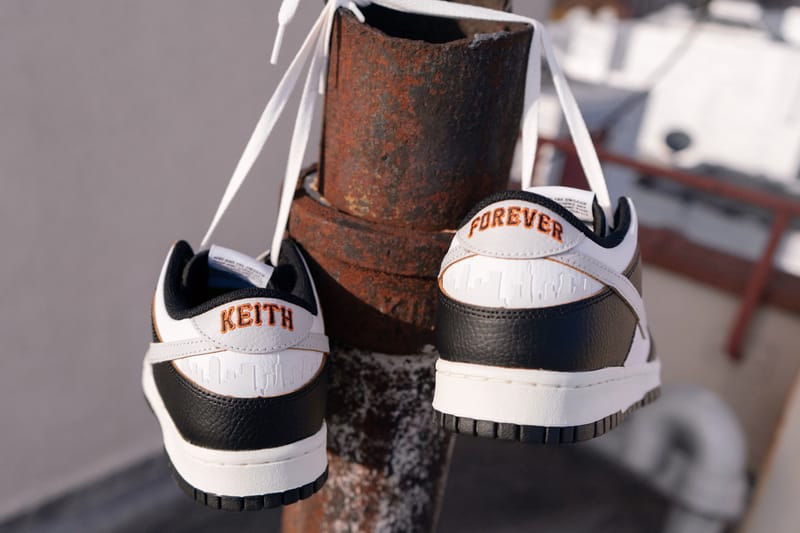 Nicholas Llanton/Hypebeast
Heels
The heesl of the HUF x Nike SB Dunk Low are its most detailed — and most meaningful — area. Each shoe's heel tabs read "Keith Forever," embroidered in either a Yankees or a Giants-inspired font. This a flip on the brand's "HUF Forever" tagline, and, more importantly, the shoe's most direct nod to the late Keith Hufnagel. "We started actually working on the shoe after Keith passed, but the conversations about collaborating with Nike again began when he was still with us," says El Khatib. "[The process] was pretty heavy, as you can probably imagine," adds Tanghal.
Directly below the "Keith Forever" hits sit a custom cityscape graphic. This is a modern-day reinterpretation of the skyline seen on the heels of the friends-and-family only hyperstrike version of 2004's HUF x Nike Air Max 1. Continuing the collection's tradition of paying homage to New York City and San Fransisco, the NYC pairfeatures landmarks like the Statue of Liberty, the Twin Towers (a truly memorable nod to Hufnagel's upbringing in '70s and '80s NYC) and the Empire State Building, while the SF pair offers a nod to the Coit Tower and the Transamerica Pyramid.
Both cityscapes are done up in a special reflective material from Nike dubbed "HF Weld," which is typically used industrially with PVC and polyurethane. "We tried to embroider the graphic at first, just like the [hyperstrike] Air Max 1, and then we tried standard reflective print, but those weren't coming back the way we wanted," said Tanghal. "When Nike offered up this material, it was perfect."1 of 5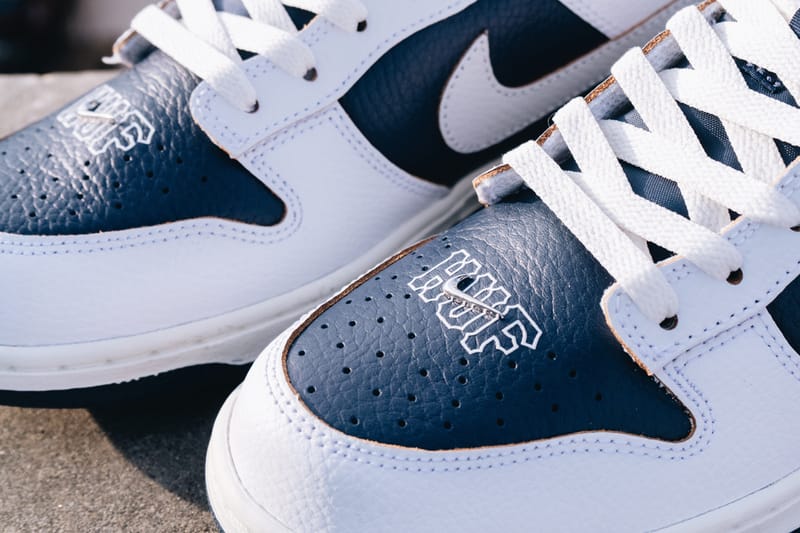 Nicholas Llanton/Hypebeast2 of 5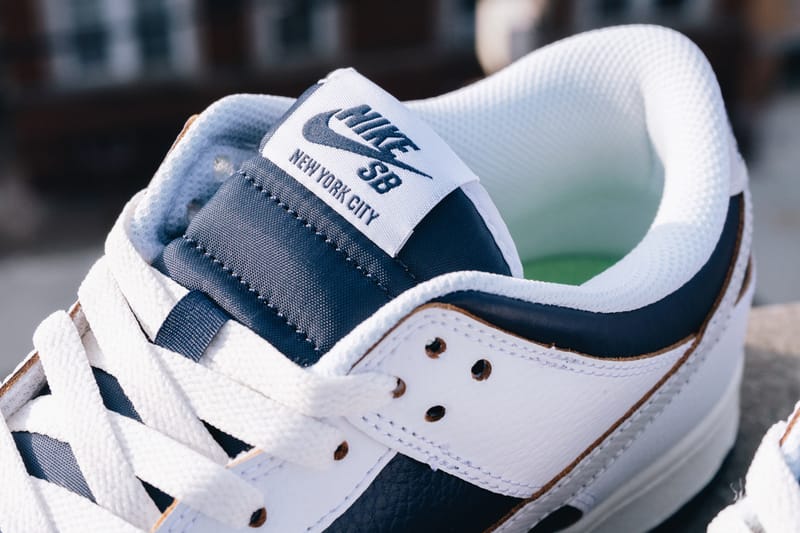 Nicholas Llanton/Hypebeast3 of 5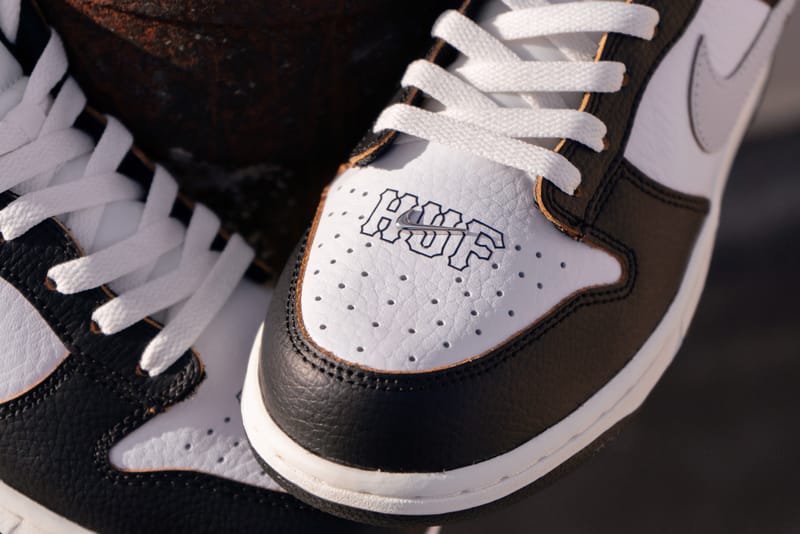 Nicholas Llanton/Hypebeast4 of 5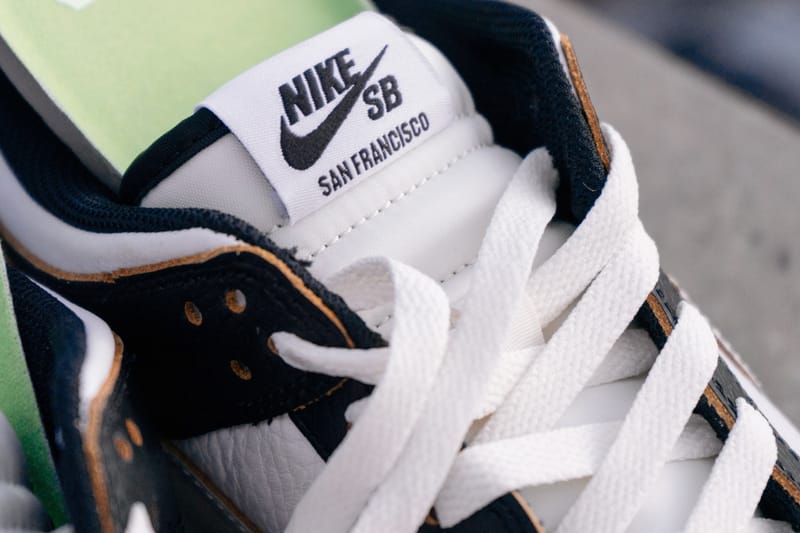 Nicholas Llanton/Hypebeast5 of 5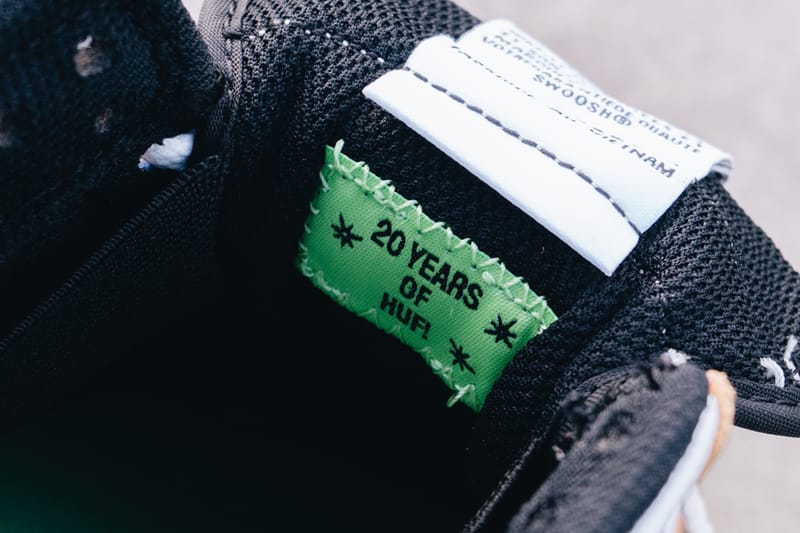 Nicholas Llanton/Hypebeast
Toeboxes and Tongues
Apart from the above-mentioned heel graphics, the detail that initially caught the eye of many SB savants on the HUF x Nike SB Dunk Low was the co-branded toebox hit. According to El Khatib, it was made as another bi-costal tribute. The HUF logo was the same one that was used at the first HUF store in San Fransisco, while the jewel Swoosh is meant to represent New York City as it's a detail that's usually seen on the Air Force 1 — a true-blue NYC staple. "Jewel Swooshes are usually made from a jelly material but we were able to do them in chrome instead," he said. If you look closely, you'll even notice that the pattern of the perforations on the toe box had to be changed to accommodate the special detail.
The SB Dunk Low's original fat tongue is nowhere to be seen, as it's been replaced by a thin nylon Air Jordan 1 tongue. So far, this swap has been a point of contention for SB heads: some appreciate the nod while others pine for the fat tongue. Per the HUF crew, though, the swap was a nod to the original "sought-after" skate shoe, as the Air Jordan 1's flat bottom, durable leather and (at least in the latter half of the '80s) accessability made it a favored silhouette of skaters, a position it still holds today.
Finishing touches are supplied by custom Nike SB tongue tags that either read "New York City" or "San Fransisco," while if you flip the tongue over and apply a little pressure to the internal midfoot straps you'll see green "20 Years of HUF!" and "20 Years of Nike SB!" tags on the left and right tongues' inner halves.1 of 2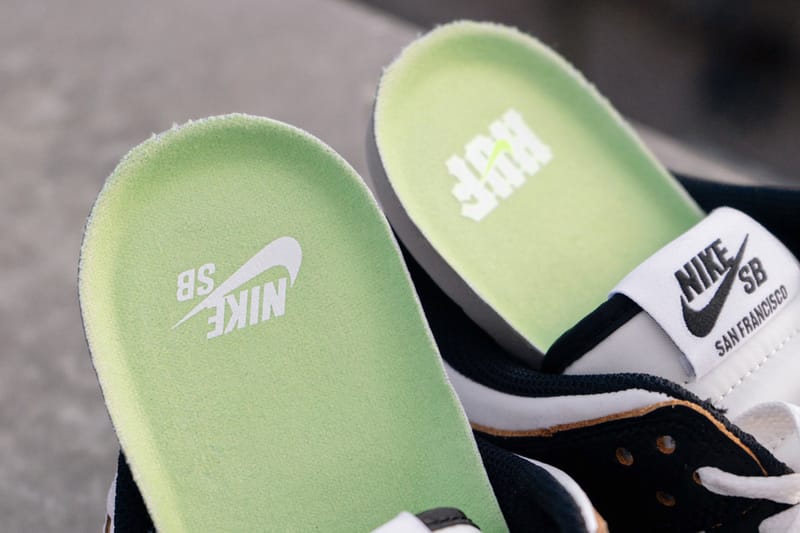 Nicholas Llanton/Hypebeast2 of 2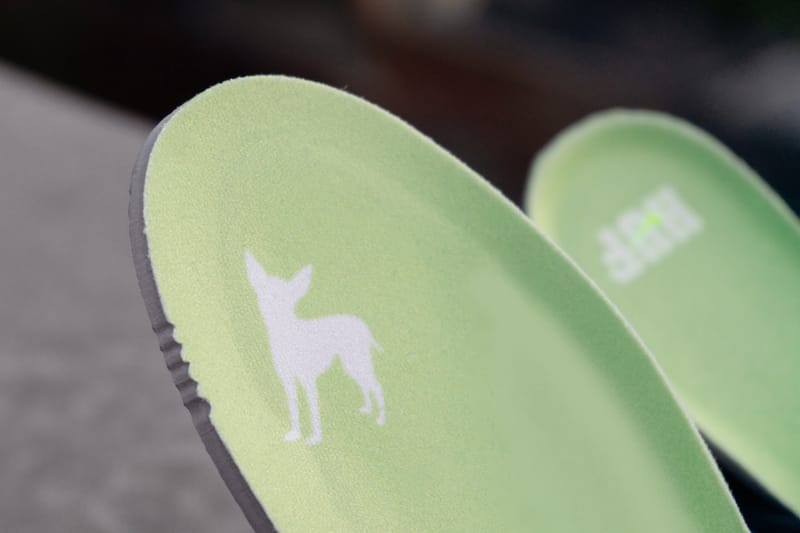 Nicholas Llanton/Hypebeast
Insoles
"It's what's on the inside that counts" isn't just an adage that applies to human beings — it applies to sneakers as well. Therefore, the HUF x Nike SB Dunk Low's insoles are just as tricked out as its outer half is. From heel to toe, the insoles are dressed in HUF's signature bright green shade and feature co-branded detailing towards the rear, directly above the Zoom Air unit that's always embedded under the heel.
If you pull the insole out of the shoe, you'll also notice a special graphic on the front. It's a silhouette of a Chihuahua, but it's not just any Chihuauhua. It's Bones, Keith Hufnagel's beloved dog and and the unofficial mascot of HUF's first store. OG HUF fans might also recognize Bones from a famous photo of Hufnagel and Lance Mountain in front of the original HUF store.
"Keith never put Bones on a leash," said El Khatib, who created the insole illustration. "He'd always be running around the shop having a blast and making friends."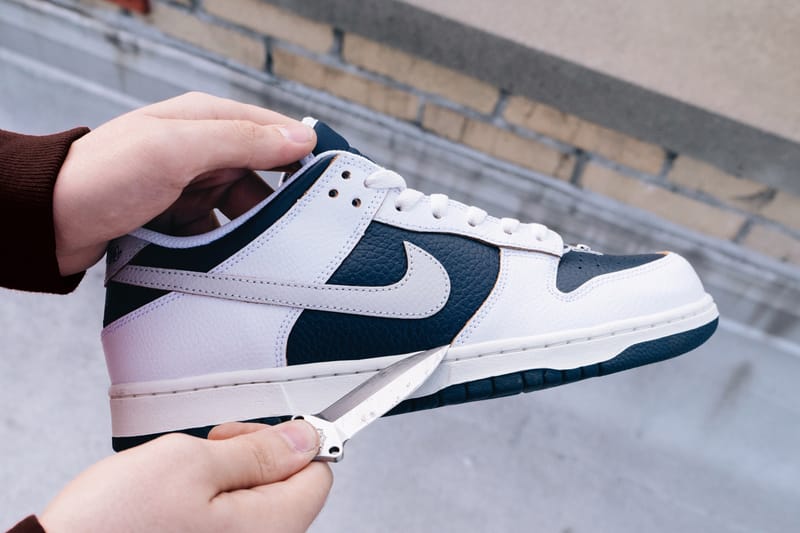 Nicholas Llanton/Hypebeast
Hidden Detail?
Top to bottom, outside to inside, the HUF x Nike SB Dunk Low is absolutely packed with details, a storybook in footwear form. However, there just might be a bonus "chapter" hidden under the quarter panels. Take a knife or razor blade to it and see for yourself.
---
A raffle for the HUF x Nike SB Dunk Low collection went live on Copdate earlier this week, and the shoes will drop on the HUF webstore today, October 22. A global release at skateshops and on Nike SNKRS will follow in November. The MSRP for each pair is set at $130.
Source: Read Full Article